Danny Morrice took a trip to Tasmania looking for wind, waves and adventure. Having heard relatively little about the place, he relied on google maps and local tips to score, which is a little riskier than heading to Perth, or Cape Town, but the only way to get the thrill of discovery.
Danny rides for RRD
I wasn't sure what to expect from Tasmania. Since it's only an hour flight away from the urban delights of Melbourne, where I'm writing this now, I really wondered how wild it could possibly be.
It didn't take long before our flight started to make its approach down to Hobart runway to get a better idea. Even from the plane, you can see places all around the island that are on a par with loads of the world's best kite spots – from the Hood River to Sandy Point in Perth. Tazzy's a gift for kite surfers and surfers alike.
The aim for our mission was to suss out as many good kite sessions as possible and see what this beautiful Island had to offer on our journey. Wild camping was on the agenda, so having loaded up our trusty budget hire car, we embarked on a journey on Wednesday afternoon to our first stop, which we thought would work with the wind direction for the following day.
Friendly Beaches, part of Freycinet National Park, was the place we chose for our first night. We rumbled into the camping ground at dusk, grinning at the kangaroos that were all over the place. Then, we set up camp on what was to turn out to be a wet and windy night. Trying to live on the cheap, we were slightly unprepared with our $30 K-Mart tent. We were awoken at 6am by a northerly gale and buckets of rain. This was our first grasp of the 'never trust a Tazzy forecast' rule that someone had already told me. Sodden through, we decided it was time to hunt down good coffee and head north to find a beach that would work with the northerly winds.
After a few hours of exploring rocky inaccessible beaches we headed up to Bakers Beach on the northern side of the island. This was a tip off from a local who seemed to know this could be the place to score a Tazzy northerly session like no other. When we eventually arrived we only had a small window of light left, with very little beach for a launch and 30 to 40mph gusty bang onshore winds. So it was an interesting start but we stuck at it and headed out. Soon, we were locked in for a fully powered strapless air session. We came off the water feeling pretty stoked on the raw power and wildness of the session that had just gone down.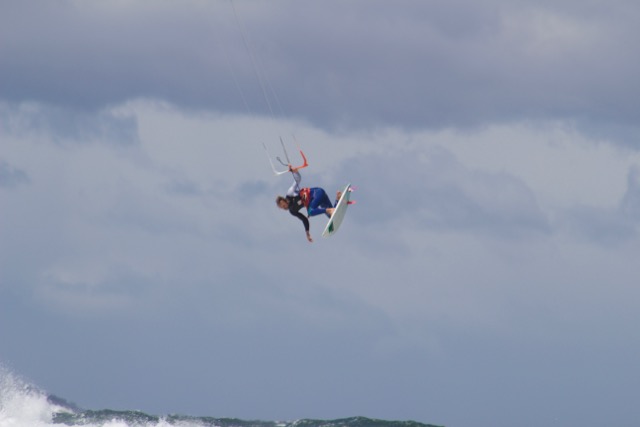 After spending the night in a cheap and cheerful holiday park up north, we headed back down south to Bruny Island. With a SW wind again howling on our way down, it seemed that we could be on to score a second full power session.
The ferry crossing to Bruny is only about 20 minutes, but as soon as you arrive there and start driving, it feels a load more desolate than mainland Tazzy. We first went to check out a spot along the Great Bay Road. With epic clean waves on one side and a massive, flat water bay the other, it could have been the set up for some of the greatest sessions ever. However today it wasn't going to work; the wind was a bit too offshore for a session without support. But, if you're ever there, it's definitely somewhere to go and ride in a strong southerly with a large swell.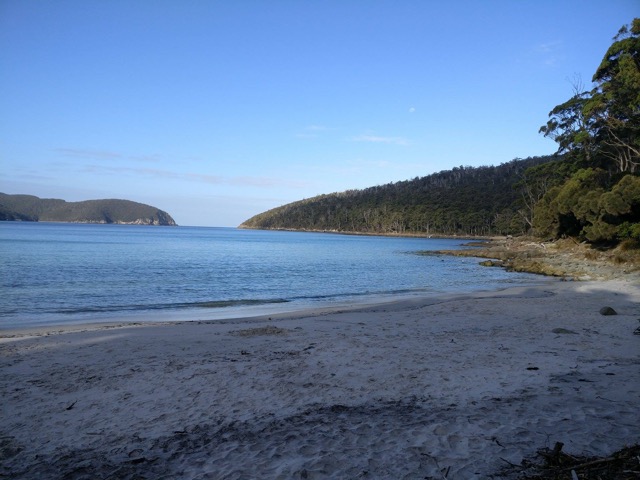 Changing tack and searching the map for south-facing beaches, we came across Cloudy Bay. We arrived there to a super strong onshore wind, and a massive sandy beach. It actually looked a lot like south coast UK on a strong southerly: full white out of water and again an epic looking 6-m strapless air session.This time, I headed out alone in what felt like eerie conditions, with big punchy squalls coming through thick and fast. It was a game of constantly watching what was out at sea and heading my way.
After a post-session stop at the closest winery, we headed off to find our camp spot for the night. We drove over to the east coast of Adventure Bay, where we would be sheltered from the howling gale that was still going on. There, we stumbled upon one of the most beautiful beaches I have ever been on in my life. To make it even better, a completely still night gave us some peaceful sleep.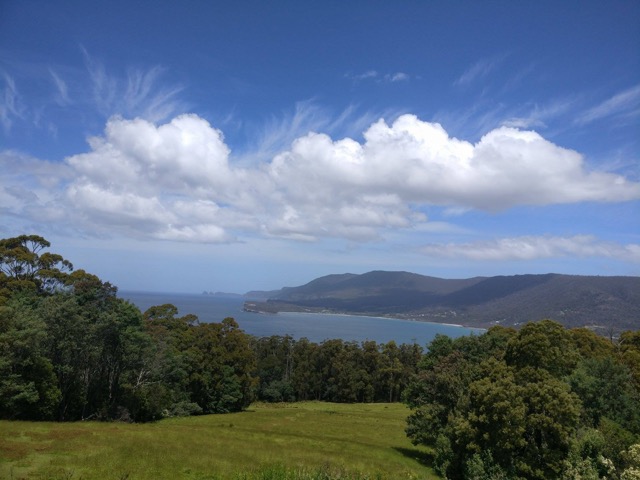 The next few days were spent windless, exploring Bruny Island's hidden treasures. What with sampling plump oysters from Get Shucked and knocking back some of the best coffee I've ever found from The Penguin café, we weren't short of things to do to pass the time.
Our next destination was Eaglehawk Neck, the next Island up north on the east coast of Tasmania. Accessible by bridge, it was a lot busier than Bruny but the view from the cliff as we arrived into the bay looked really promising. There was a steady 15-knot breeze coming in onshore, with some decent looking waves on the inside. I headed out from the main beach on the 13 for a short but sweet session in shoulder high waves. The wind was a bit strange – seemed there was definitely some local thermal affecting it, with hot and cold patches of air coming into the bay, killing the wind for five minutes then bringing it back in strong.
We found funny local effects like this in a lot of places in Tasmania. It felt like a lot of wild weather hit the Island with loads of raw power, only to be obstructed by local sea breeze effects, unless the front was a full-blown gale. With this we found sessions few and far between on our week's adventure. To sum it up, for us, it was lots of driving for not enough water time. Lesson learned. I think local knowledge is the key to any trip like this out in the wild islands.
With our flight departing at 8pm on Wednesday evening, we figured we could definitely score a good session in the morning as a lot of wind was forecast, this time again from the south. We searched every south-facing beach we could find within close proximity of Hobart.
Then we stumbled upon Clifton Beach. With great messy waves and a sand storm at the top of the beach, it was a stormy perfection. Dan Sweeney and I headed out on the 8 and 6 before Dan got blown off the water on the 8 with gusts of 40mph+ coming through.
It was a fun survival session to end on a high with – and one to remind us of how wild Tasmania can really be.