Julia Castro rides for North Kiteboarding and writes to us from Morocco on the Dakhla Downwind adventure.
I was home at Fuerteventura on my way to go kiting when I received a message from Soufiane Hamaini, boss at Dakhla Spirit: "Why dont you come to Dakhla? We are doing a downwind and I would like you to come and enjoy the experience"
When Is it? -I replied-
14-22 August, -Mr. Hamaini replied-. This was about 3 of August so… I didn't have much time to think about it or buy tickets. Few hours later I found a plane ticket in my inbox. The adventure was on. I didn't know what the plan was, what to expect and wasn't even sure where I was going but, sometimes the best plans are made just like this, without giving it too many thoughts.
The Airport
Luckily, I got my good friend Mariam Hernandez to join me in this adventure. It was not her first time in Dakhla so I was happy to have her as my guide. We arrived quite early to the airport since none of us knew how the flight company was going to behave when seeing our boardbags (is not that they were big, just normal size boardbags) but it was first time for both of us to fly with this company and we wanted to make sure we had enough time.
So yes, nightmare took place. They wanted to charge us 150 euros per board bag and per way and, Mariam booked her tickets through a company that cancelled her flights without telling her. I ended up not having to pay after kindly discussing with the whole company about it. Mariam wasn't as lucky, she had to buy a new plane ticket and pay the 150euros fee.
The Arrival
We arrived at DAKHLA'S airport which was something like arriving in the moon. After the horrible start of the day, we were beginning to be super stoked and excited but, yet another surprise was waiting for us:
Surprise #1: Boardbags did not make it which ment that I did not have any clothes or kite gear and Mariam got her clothes but no kites.
Surprise #2: no office where we could claim our bagage.
What now? Well, good thing we weren't the only ones who had no boardbag. Some other Spanish guys also had nothing so we didn't feel as bad. After some minutes, Soufiane arrived to pick us up and bring us to the Spirit camp. Later on we would find out that our board bags would make it, maybe, on Wednesday so, 5 days after our arrival.
Whatever.
The way there was beautiful. The city was covered in Morocco flags since soon there was a national party to happen. The road was quite small and hectic, it was just perfectly fitting the place. Huge empty spaces followed. We were in the middle of the desert. The view was completely magical and absorbing. I started doing some photos and they all looked so epic! Not because of my skills but because of Dakhla's awesome light.
We arrived to the camp and, I was like in a dream. It was so beautiful, so peaceful, so idilic! The Dakhla Spirit camp is set up in a hill so you get an awesome view of the whole huge flat water lagoon. I promise you, I have traveled the whole world and, this place, is one to put in your list. I was also surprised by how much peace was emanated from the place itself. Just arriving at the place already gave you a breath of pure and fresh air that made you feel calm and comfortable. We had three days before the event started to enjoy the place.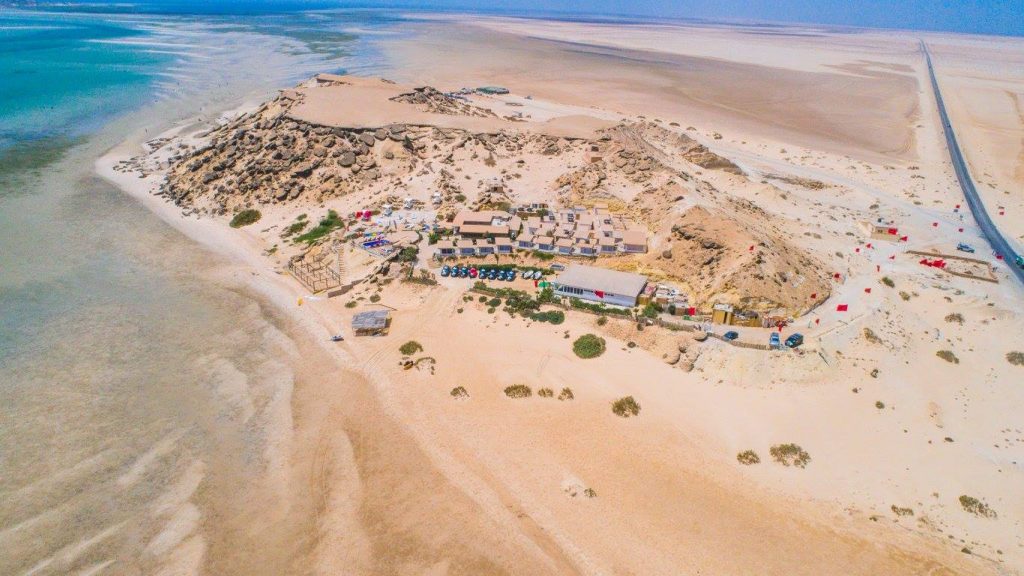 The Start
This downwind is not "only" a 500km downwind, it is an adventure, it is another way of getting to meet the country, it is another way to get to know new people and it is a big event in the region. For the first day of the downwind we had a huge opening ceremony with a bunch of authorities coming to receive us, local music, bunch of media, etc.
After receiving the authorities we went to the beach, put our kites in the air and started the adventure. The warm up: 20 km where ahead of us. First stop was the white dune. I saw it in photos a million times but its nothing compared to seeing it in person. It is so beautiful! It is so weird and magic at the same time. Imagine a huge sand dune in the middle of the sea – there you go! Everyone was having a blast on the water jumping off the sand dune, trying to climb it with their kites… It was almost more fun watching the people get crazy on the dune than going crazy yourself, Aberrahim, one of the workers at Dakhla Spirit was being the showman together with Carl Ferreira.
The First Day
11am was the meeting time, well, the time where everyone had to be in the water already. We spend the night back at the Spirit camp so, it was a perfect excuse to go check the famous speed spot. If you love flat water, you gotta go there. Next, white dune again (if someone wanted more of it) and then finish line was somewhere in the middle of nowhere 35km away from Dakhla Spirit. This first part of the downwind is quite beautiful, we found a huge bay, several beaches… And huge cliffs, the funny part of the cliffs is that you can jump extra high! Why? Wind coming up the hill gives you an extra boost that makes it super fun to ride.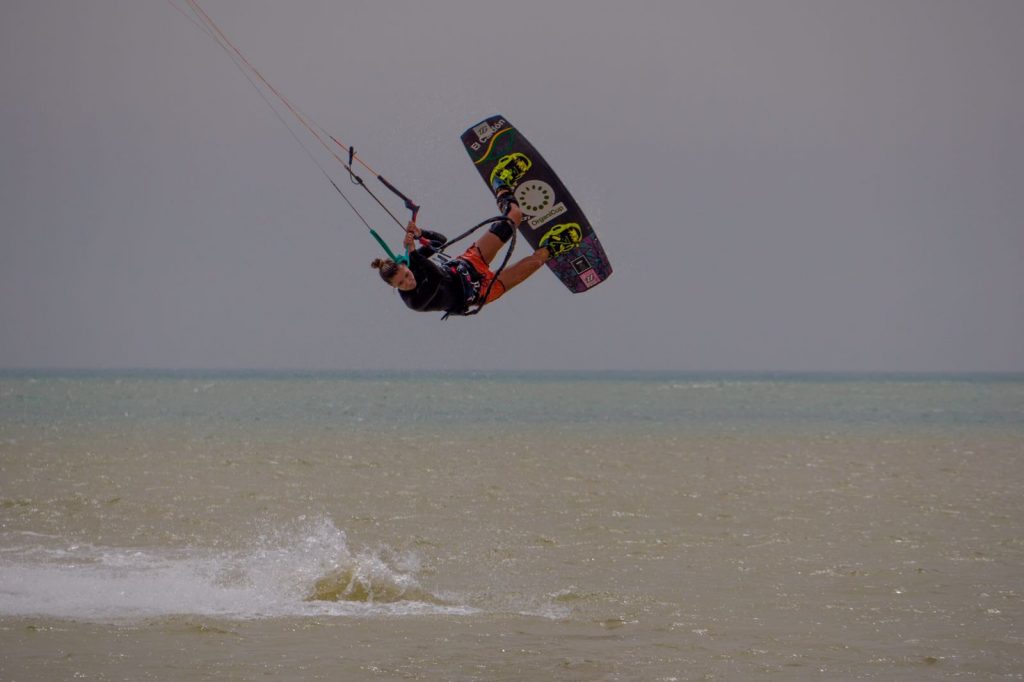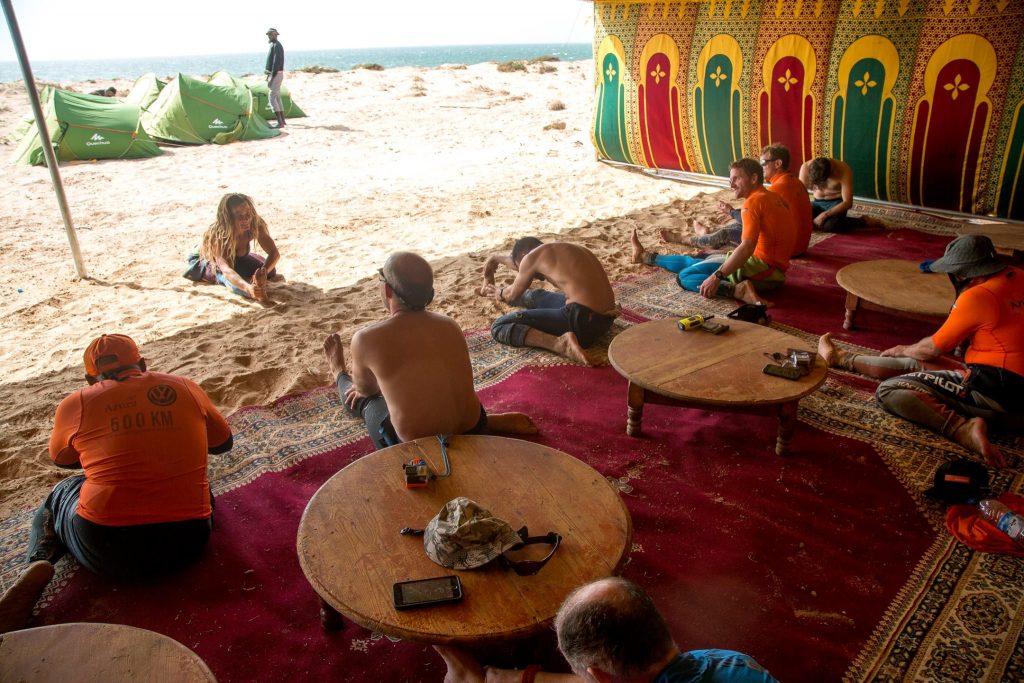 Will keep you updated about the rest of the adventure 🙂
Julia Castro