Freestyle, foiling, surfing, surf foiling, fishing, swimming with sharks, culture, hanging out with the locals and with Youri Zoon – Louka Pitot ticked a lot off the list on his recent trip to the Maldives. And photographer 'Shampoo' was there to capture some appropriate pictures of one of the world's most beautiful countries…
Photos: Mohamed 'Shampoo' Ashan
---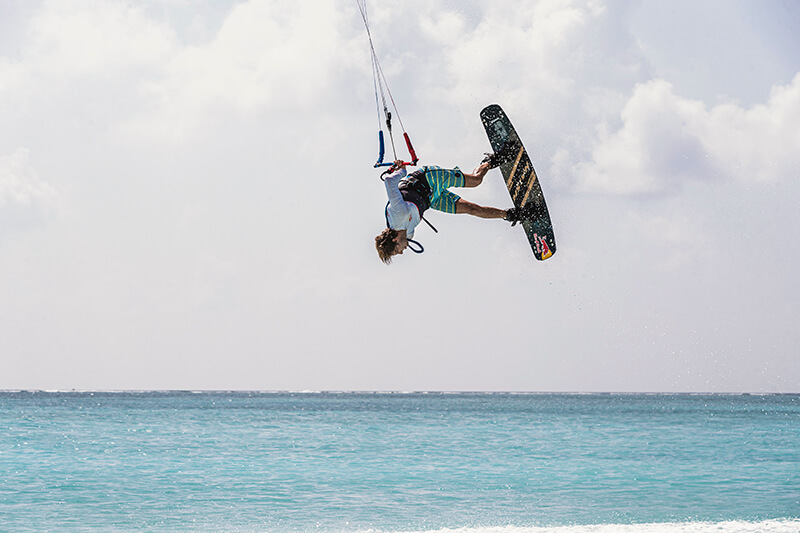 When adventure calls, you listen, and go… 10 days of exploring and kiting in the Maldives… I can't imagine a more perfect scenario. When I was invited on this trip, I instantly had the biggest smile on my face, and without any hesitation I of course said yes. Let me paint you a quick picture… the whitest sand, the bluest water, hardly anyone in sight, waves, and wind… it doesn't get much more magical than that. After I got off the call, I began packing right away.
On the 1st of February I landed in Malé, the capital of the Maldives, where I met Red Bull Manager 'Maffaz' and photographer 'Shampoo', who I would be spending the next 10 days with. Tired from traveling, we decided to visit the capital and explore the culture. Much to my surprise, there were local street markets all over and the most delicious local food. This was the perfect start to our trip and set the precedent for the epic adventures to come. The next day we took an hour and a half ferry to the island of Ukulhas, our first kite destination. We got our gear organized ready for first light and explored the island. I discussed the action plan for the first day of riding, deciding with the photographer which angles we wanted to capture, and we went to bed early in preparation for a full day of hot sun and riding. To say I was excited would be an understatement… I was frothing, chomping at the bit to get out there and experience the beautiful blue waters of the Maldives.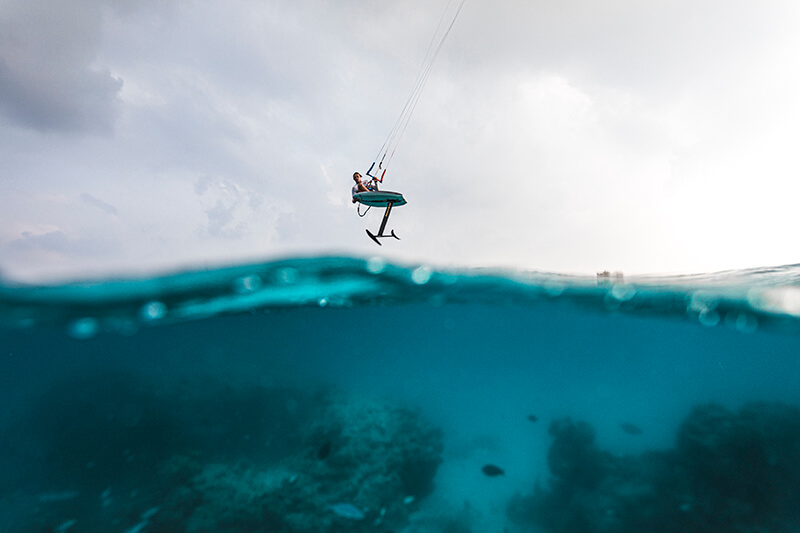 Morning came, and I was rested and more than ready to get out on the water. We headed to a sand bank called Mathiveri, about 15 minutes from Ukulhas, where we had our first, and only, freestyle focused session of the trip. It was incredible – the water had multiple shades of the brightest blues and the wind was absolute perfection — we were in a freestyler's paradise. I pumped up my 12m Torch, grabbed my Traverse and was ready for action. I also got to immerse myself with the local community and had around 10 local shredders from Ukulhas that joined us on Mathiveri to kite. It was so much fun riding and connecting with the locals, and afterwards sharing lunch with them.
The next day, we took a 30-minute speedboat to another island called Rasdhoo, one of the most popular destinations for diving in the Maldives. It was nothing short of beautiful. We headed out for a lightwind foil session on the second bank, right next to the island. I'd forgotten my four-line bar in my suitcase on Ukulhas, whoops! So my Torch and five-line bar would have to do. In the end, it was super fun and I even managed some freestyle foiling. I foiled with local rider Hantey, who moved from island to island with us and showed us the ropes.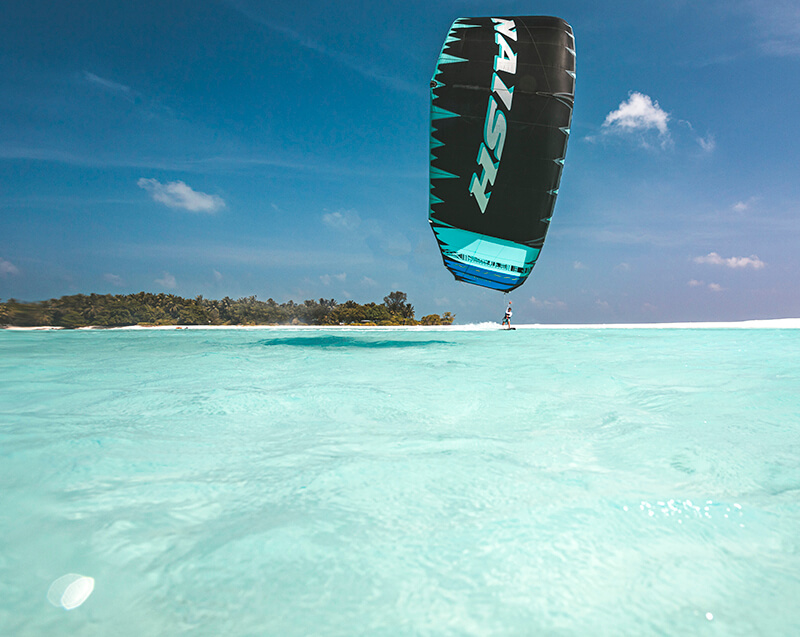 The next day we traveled back to the capital, Malé. This was our first day of waves, and as there was no wind we grabbed our surfboards and headed to the local surf spot. Everyone was very welcoming and we had a blast. The following day we headed to another island called Dhiffushi, located in the northern atoll. Unfortunately we didn't have any wind or waves, so we decided to shoot some lifestyle images. We explored the island and enjoyed an incredible sunset. Then we scored an epic sunset surf foil session, despite the waves being small. Our last two full nights in the Maldives were spent back down south on an island called Maafushi. These last two days were so much fun – there was a kite event organized by the locals, and Youri Zoon was the event host [Ed: you can read all about it earlier in the mag]. It was so great to catch up with Youri and watch the locals shred. While on Maafushi we also swam with sharks, kite foiled, and went fishing where we caught a 55-pound tuna. Busy times!
The trip had come to an end and it was time to head back to Mauritius, which I am lucky enough to call home. But I could not be more grateful for my time in the Maldives – it was such an amazing experience exploring the islands and getting to know the locals who reside here. It's safe to say, I will be back! ■
This feature originally appeared in TheKiteMag #46. To read the full issue, subscribe here.