Regular TKM contributor Julia Castro has spent a bunch of time in the Philippines over the last couple of years and gotten to know the PKA inside out. Not all of us are quite so familiar with it, so she's written us a handy guide.
PHILIPPINES KITEBOARDING ASSOCIATION TOUR (PKA)
I came to the Philippines for the first time in 2016. I didn't really come because I wanted to visit the country but for a competition I wanted to take part in. My idea was to stay 1 month and leave. I ended up staying 3. Here is why:
How I met the PKA family starts on quite a curious way. I was wakeboarding at CWC when I realized I completely ran out of money. Yes, completely.
Talking to my friend Mars from Boracay Kite Center , he found the solution to my problems. There was Philippines national tour stop on the other side of the country. Prize money for first place is: 500 dollars. With that money I could survive for another month and a half. 
 I took my last few pesos and bought a bus ticket to Manila to meet the shuttle that was taking us to the competition spot. 
 What nobody told me is that taking a day bus in Manila (instead of the night bus) is a really bad idea. Normally the bus takes around 7-8 hours from Naga to Manila. But when we had already 7 hours of bus ride, I was not even close to the city due to the heavy traffic. The shuttle was leaving at 7pm, oops it was that time and no, I was no where near the pickup place. Luckily, the PKA team decided to wait for me until I arrived around 2 hours later.
So that was me making my presentation to the PKA family, entering the bus all stressed out and with a little shy smile due to all the time I knew they had to wait for me.
WHAT IS THE PKA?
The PKA stands for Philippines Kiteboarding Association. They are the organizers of the Philippines Kiteboarding Tour which is crowning the champions of the country in freestyle, twin tip racing and hang time.
WHAT DO I NEED TO KNOW?
The competition is open for everyone. Filipino's or non Filipino's. Professionals and amateurs. Like, imagine, you come from Poland and you want to experience what competition is like, maybe you want to join the racing… Here you can!
The prize money is equal for men and women. Yes, you heard it right. It might be the only competition around the kite world where this happens. I think I can speak for all the girls in the world, THANK YOU PKA!
Every year they try to go to new locations. Philippines has more than 7.000 islands and they aim to bring kiteboarding to many of them. Two birds are shot with 1 bullet: new kiteboarding locations are discovered and kiteboarding is shown to more people.
They aim to train local talents and expose them to competitions to gather experience for international tours.
By discovering new spots around the Philippines they also want to give Riders of different nations a chance to discover Kite Spots around the country that normally they would never visit.
Since last year, the PKA Tour also aims to train the youth and give them a chance to become Olympians in Argentina 2018.
Normally, competition is going on the whole day and in the evening's there are sponsored dinners or parties so everyone can gather together, get to know each other… And have some fun after the hard days work.
If you ever visited the Philippines, you know it can be a mission to travel through it so normally most of the competitors and crew travel together for several hours, which makes a little family at the end of the day. PKA has been going on for 4 years, I've taken part in the last 2 and it's been an amazing and crazy journey.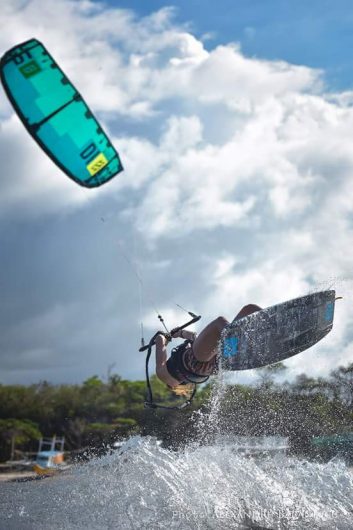 From doing 10 hour trips through the open sea in a mini bamboo boat, from doing 14 hours road trips on a bus, from having 3 days of rainy competitions, to kiting in the most amazing locations with the best winds. PKA will give you the best adventures, show you the best places and make you feel part of their family. Give it a try next year. We will be waiting for you
For more info visit: https://www.facebook.com/pkatours
And don't forget to visit: www.facebook.com/fuertejulia