Until just recently, Leo Verrecchia had never left Australia before. When the opportunity to travel came along, he shrewdly chose two of the windiest spots on either side of the Atlantic for his first trip away from home, and certainly wasn't disappointed by the first, northern Brazil.
---
It has always been a dream of mine to travel the world, explore new places, meet new people and experience diverse cultures. And the 'kiteboarder career' is one that can potentially give me the opportunity to chase my desire to travel, all while doing something that I love. After finishing high school a year ago, I have been saving up all year to go on a kite trip to two of the best and most famous countries for kiting on the planet – Brazil and South Africa. Having never travelled overseas before by plane, I was extremely keen to leave Australia and head off on a kite adventure.
The strict Covid rules in Australia made leaving the country quite challenging. After submitting two applications and getting rejected the first time, I kept trying and finally received my exemption to leave Australia. As I hadn't flown overseas before, I figured it would be a good idea to go with a friend. Anthony Brown graduated from the World Class Kiteboarding Academy just over a year ago, so has fortunately travelled to Brazil and South Africa before. Plus, Ant was sick of the strict Covid situation in Australia too and was itching to come with me to progress our kiting overseas. I found it pretty weird to travel overseas during this awkward time, having to get Covid tests and wear a mask the whole trip. When leaving home in Brisbane, the international airport was almost completely empty. No one is travelling overseas at the moment. I guess this is just the new norm now.
Ant and I were pretty jet lagged when we arrived in Brazil. It is on the complete opposite side of the world to Australia, so our usual times were flipped. But the two 14-hour flights plus an 8-hour layover in São Paolo were the main reasons why we were so exhausted. We spent the first month in a place called Pipa, a touristy beach town in Brazil – not great for kiting, but Ant had a film project for a luxury resort there. His payment was for us to stay there free of charge, so we got to live the high life for a month – eating delicious chef-cooked meals every day, getting to drive around in a Polaris, having a ride in a helicopter, kiting, and just having fun exploring the town and experiencing the Brazilian culture for the first time. Our stay in Pipa went by so fast, however our trip had only just begun.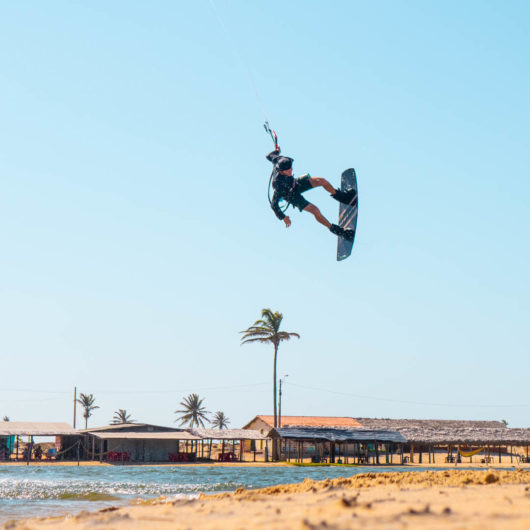 The real reason we came all the way to Brazil was to progress our freestyle, to meet and kite with my fellow Naish team riders and other pro kiters, to make new international kite friends, gain travel experience, get international exposure and of course to have fun. Ever since I learnt my first few unhooked tricks, I have always dreamed of kiting in the Taiba and Cauípe lagoons – flat water, perfect consistent wind, surrounded by insanely high-level riders. Ant and I arrived at our accommodation in Taiba one month ago now and have one more month to go. I can now confirm this place is as good as everyone made it out to be. I am meeting and riding with pro kiters every day. I've noticed that we are all such a close community, with kiters coming together from every corner of the planet, riding and hanging out together in one of the best freestyle kite spots in the world. And I am so fortunate to have the opportunity to experience this while I am still young. I can absolutely get used to this awesome lifestyle. It is so relaxed and laid back here in Taiba. The rules are also less strict in Brazil compared to Australia which is great.
The day starts off with a solid breakfast: avocado on toast, eggs, porridge, fruit, or cereal if we are feeling lazy. Then a quick stretch before either going for a morning kite in the lagoon, or to chill out with some of the other kiters. After some lunch or a nice bowl of açaí, we all usually go for a sunset session. There are about four or five buggies that everybody takes down to the lagoon. The sunset sessions are my favorite. It's a bit cooler, and the wind is usually a little bit lighter and better for freestyle. Everybody throws down insane tricks and we all push each other. The girls are ripping and sending it hard too which is awesome to see. There is always someone on the camera, capturing all the cool photos and crazy tricks on film. After kiting, if it's a chill night, we take the buggies back home, eat dinner, edit some kite content, and then go to sleep. Or if we feel like having a big night, we'll drive to Cumbuco where all the nightlife is and go to a club or party. It's been great to hang out with some of the Naish international team riders like Louka Pitot, Stig Hoefnagel, Tom Seager, Ewan Jaspan, and Katie Potter. They are all great friendly people, awesome kiters, and really enjoyable to hang out with, as are the other pros and lower-level riders. We all have so much in common and it's exciting to see everyone's progression on the water.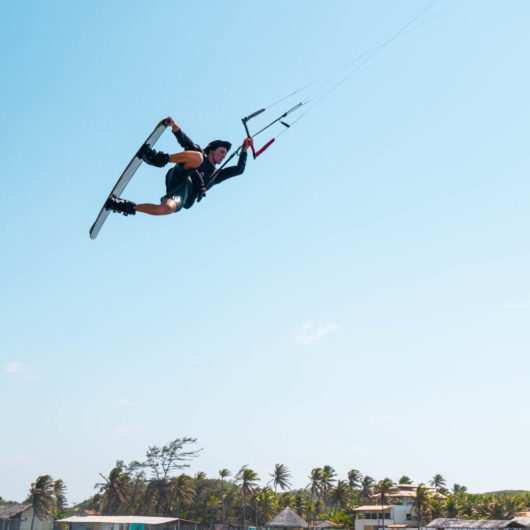 As for my own progression in Brazil, I have felt that it has been pretty slow. Don't get me wrong, I'm still landing a lot of nice tricks and been perfecting them all now. But there are a lot of new tricks on my mind that I haven't been able to land yet. Currently, I still feel as though I'm a bit stuck on the single handle-pass level. Getting to that next level of double handle-passes is so challenging for me, but I know I will eventually unlock it. I know we all progress at different rates, and I still have one more solid month of riding here with everyone plus the years to come.