Rob Kidnie teams up with partner in crime Jason Wolcott for their annual sojourn to the Indonesian archipelago. This year the wind is very much 'on' and Rob scores one wave that he'll be reliving for a long, long time…
As the weather in Australia starts to get on the chilly side and the wind decides to turn itself off in my part of the world, it is time to start thinking about going somewhere warmer where the trade winds are blowing. Like most Aussie surfers, we start leaning towards our favorite neighbor, with its 17,000 wave drenched islands: Indonesia. It is the land of countless surf spots yet to be discovered, or maybe only known by local fisherman with a different view of their potential use to us wave riders. For them, these swells are sent from Hell to send them and their boats to a watery grave… in sharp contrast to us kiters or surfers, where we look at it like a liquid paradise designed to imprint life long memories that can never be forgotten.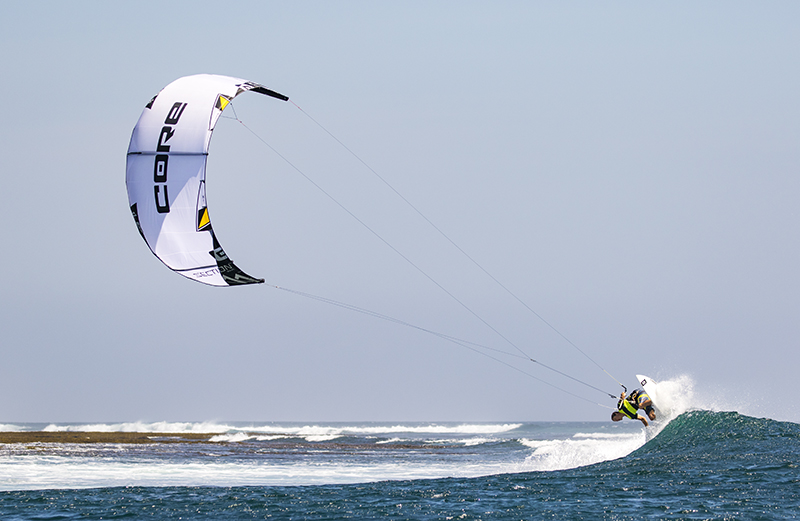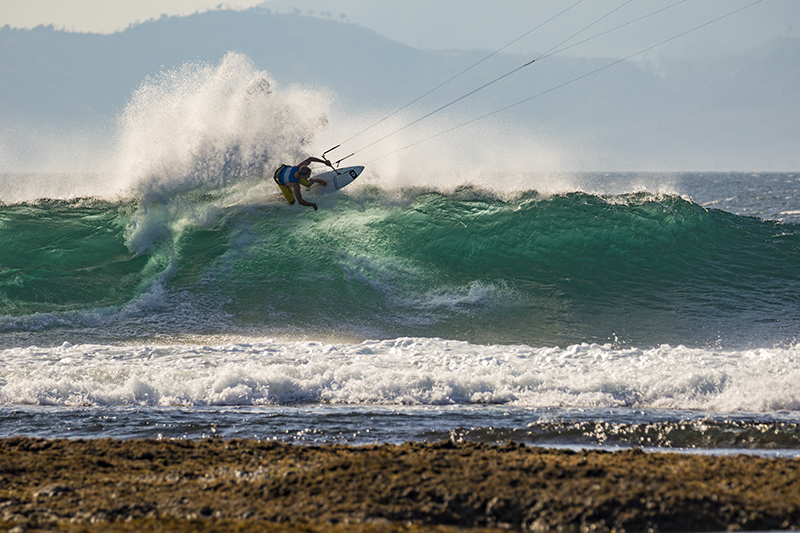 This trip I had extra motivation and enthusiasm. Firstly, because I had been pretty much skunked with terrible wind for nearly a year – I did a big road trip up the east coast of Australia fully loaded with kite gear and only kited three times (although did score some sick surf). The second reason I was frothing was because I had just received the latest kite release from CORE, the new Section 2 wave kite and also the Ripper 3 board. Then the icing on the cake was Mystic generously fully loaded me with some gear. Everything from matching luggage to a shiny new harness and clothes. I felt like a kid at Christmas. All I needed was a blessing from the wind gods to actually get to use this stuff and not just carry it around.
THE ISLAND OF THE GODS
With all these new toys and tickets booked to the land of the Nasi Goreng, it was necessary to get someone to help document this trip. And I actually had two people: my partner in crime and love of my life, my girlfriend Anna Kuzmina, who is quite skilled in photography these days. Then along for the ride also came Bali expat Jason Wolcott, one of the best kitesurf photographers around and in my opinion the best kite water photographer, with over 60 cover shots on his résumé. Being that Jason lives in Bali, this was our initial rendezvous. But we didn't stay for too long on the Islands of the Gods. Yes, you can kite there, but normally only with your biggest kite and a million wave-hungry, angry surfers. We had decided we wanted to go and explore the Indo archipelago some more to source some fresh new spots and to give our travel taste buds something to savor. We had decided on not a 'totally new' spot, as we had been to this area before, but got skunked with hardly any wind. But it was time to roll the dice again, you can't be unlucky all the time, right?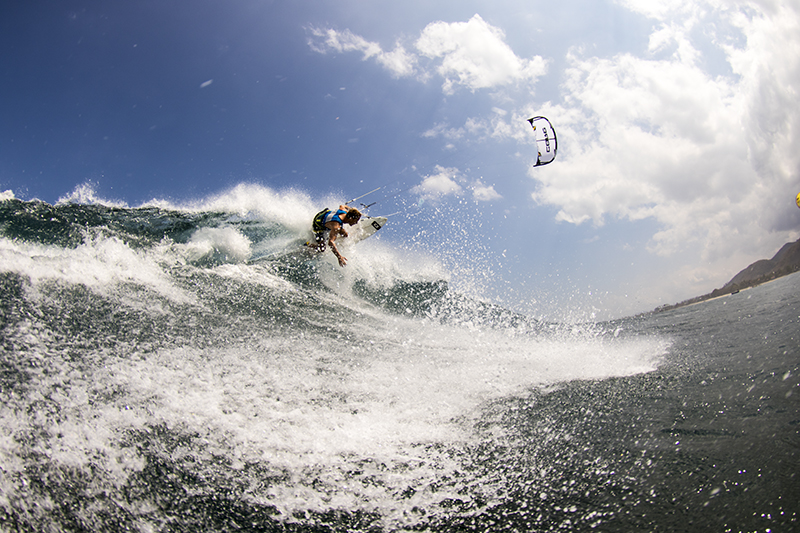 With our destination sorted, it was time for a short flight on a rickety, propeller driven Chinese plane out of Bali. Rickety planes are definitely not my favorite mode of transport, but are for sure the preferred option over a 30 hour bus ride with a few inter island ferry crossings thrown in… I actually think the ferries are more dangerous than the planes, if you can believe that. The flight ends up being painless and my worries were put to rest as we descended into our destination airport – well I say airport, it was actually a shed in a field… I noticed on the way over that the landscape was heaps browner, meaning a lot drier than the last time I was here. This is a good sign as it hopefully means the thermals will work better as long as the ocean temperature is on the cooler side. The last years were the opposite with the landscape being lush and green, with warmer than normal ocean temperature caused by La Niña or El Niño.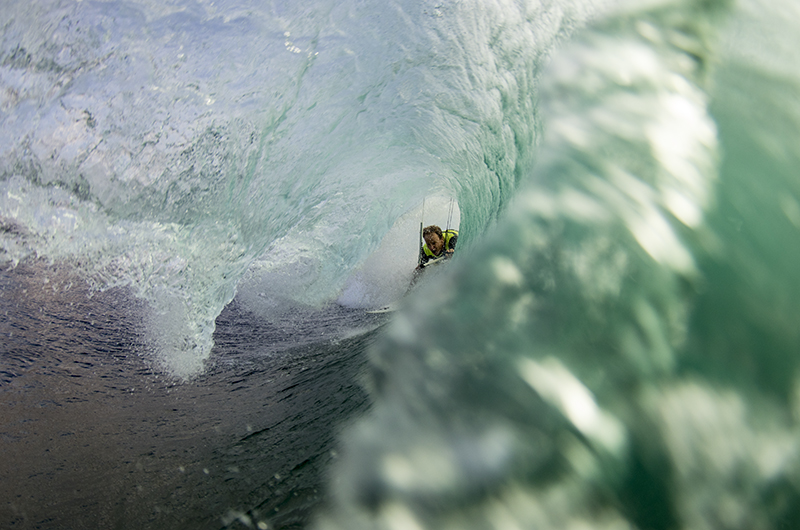 Once we landed, we gathered our equipment praying that everything arrived in one piece. It had. Then it was time to organize our taxi for the three hour sweaty journey on dry dust roads littered with motorbikes and random animal drawn transportation. The drive itself was quite tortuous with terrible music rattling out of blown speakers and with the driver making radical turns as he swerved other road users as well as living and breathing obstacles… But we did have a few more positive signs that things were starting to swing our way this trip. As we sweated our asses off in the car, we all quickly noticed the trees that lined the road swaying hard in a solid breeze, which made the rest of our journey a lot less painful.
REFRESH SESH
Once we had arrived I couldn't get my board off the roof of the car quick enough. The conditions weren't perfect – being a little bit onshore. Ideally it is better to be perfect side shore and even a little cross off. This helps the wave throw the lip and barrel more, especially when it is low tide. With the wind more onshore the wave is less groomed and more crumbly, better for chucking turns as opposed to getting barreled. But beggars can't be choosers, can they? There was wind and waves, a dropping tide and two, maybe three hours of daylight left.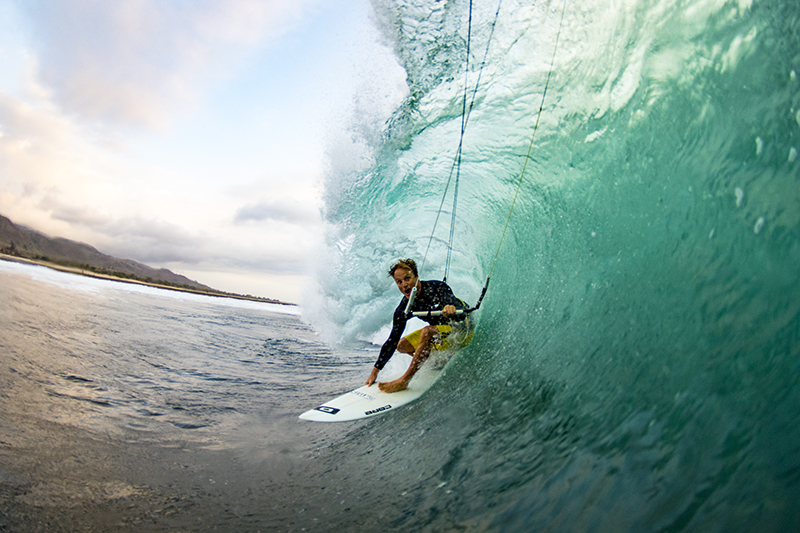 As I exploded my bags in my new digs looking for fins and wax to get the session started, JW was meticulously bolting his water housing together with his go-to fisheye lens. The adrenalin was flowing hard now, even after a day of hectic travel. The goal now was to charge some low tide barrels if possible. And as luck would have it, this first session was actually the best of all the sessions I had with JW. The wind was perfect 15-18 knots so I was nicely overpowered on my white 11m Section 2. I could have ridden a 9m. But with wave kites having so much depower these days I feel it is better to be overpowered than underpowered. Especially with later afternoon sessions because, as the sun drops to the horizon, so does the sea-breeze effect and the power in your kite as the land cools down. The good thing about wave riding in lighter wind though (especially when photo shooting) is the wave looks much more glassy and beautiful. When the wind is over 20 knots it is great fun but the waves always look more blown out and less photogenic, and this is exaggerated more when shooting from the water.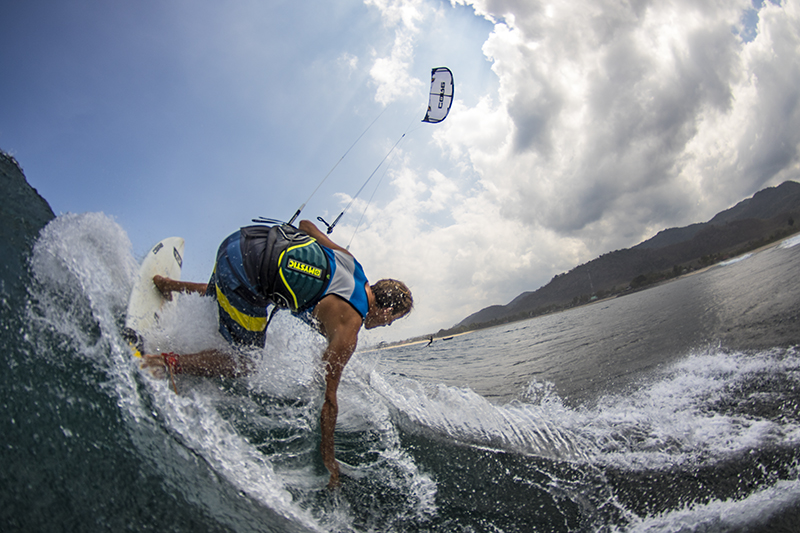 Anyway, the session started off pretty slowly as we waited for the tide to drain out. The waves were head high with occasional head-and-a-half or maybe higher sets coming every 30 minutes or so. As much as I wanted to get barreled, it just wasn't happening and I was forced to trade off waves with a couple of other guys, but only doing turns. I can't complain too much as this is ok, but give me a big fat barrel over a turn any day of the week. Halfway through the session the tide was dropping out fast and unfortunately this often sucks the swell out with it. So I was doing long tacks out the back in the hope of snagging one last big one, but so were some of the other guys. We had all come a long way and were hungry for waves. I spotted something bigger than I had seen yet that day and my pulse quickened, it was my turn to go on this one because I was the furthest out. But let me tell you a secret: the second wave of the set is often the best… Why? Firstly, because the first wave often cleans out the bumps on the next wave. The second factor (and most important reason to me) is that the previous wave causes lots of water to drain off the reef, making the next wave pitch crazily. If your stars align correctly then, when the water rushes back to the impact zone, it can cause a surgey back wash and make the wave throw a lip more than other waves at that time, often nearly doubling the size of the barrel…
So as the wave approached me I took a gamble and put on my poker face, signalling to the rider behind me that he should go on this one. Inside I was hoping that luck would be on my side and my gamble would pay off, leaving me with the next wave being bigger and better. I quickly turned and it was a good one. I took as many deep breaths as possible as I rode the swell 150m or so towards JW, who was waiting like shark bait just to the outside of the impact zone, an area that is marked by a boil on the water. This boil is normally where you line up to get a good barrel. But if you're feeling brave and want to get a deeper barrel you go inside the boil. Due to JW and his big camera housing, I had that extra motivation and some 'Kodak courage', so I picked this line…
As you approach the impact zone, this is when things get interesting, because if you're too deep – especially with the later afternoon dying wind – you can get in trouble because it will be hard to get away from a close out. Plus with the water surging back from the previous wave, this has the tendency to cause your kite to lose power at the most inopportune time. Which is exactly what happened and I felt the power begin to go… Thankfully, after years of paddle surfing, I clicked in to surf mode, forgetting about the kite at this critical time and hoping that the German engineers back at Fehmarn had really dialed the drift into the new 11m Section 2. While all this was happening, I was thinking about something JW had said to me in the past, which was: 'Don't make spray as you come into the shot'.
Normally I like to drag my ass or side of my body to help me slow down and also get me closer to the face of the wave and away from the lip. It feels wicked, but absolutely destroys what could be a classic photo. So with all these factors in mind I raced towards the boil. As the lip starts to throw I thought I was going to get pitched over the falls, but I somehow corrected it and was inside the vortex and flying towards JW. The thing felt like it was wider than it was high and the view has been burnt into my mind – the deep blue almond shaped liquid cylinder sucking off the low tide reef, with JW's face of concentration wielding his oversized camera at my head as I race towards him. I kind of wish he was a little closer or I was less deep but the outcome wasn't too bad…
SCORED?
You know you scored a good one when you see the photographer busily scrolling through the viewfinder to stop and bring the camera close to their face and hold it there. Followed by a push of a button to zoom and check for sharpness. As I saw Jason doing this I knew it must have been ok…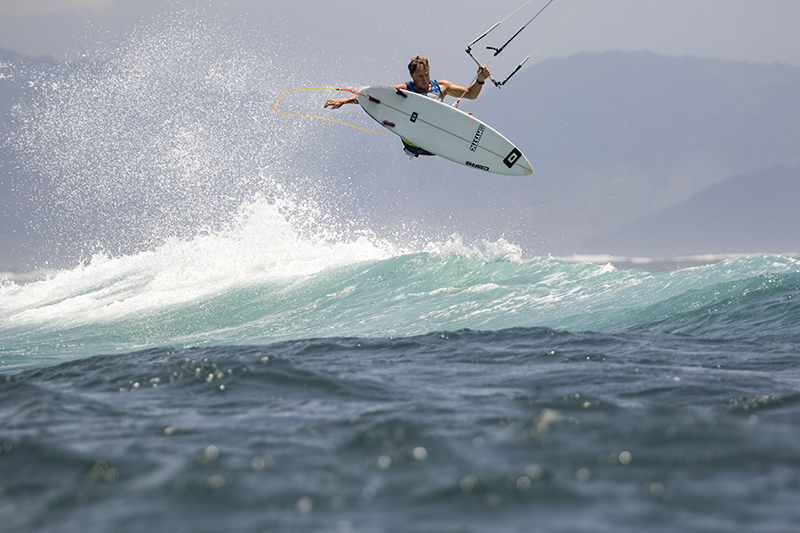 The rest of the trip was actually amazing, with the best wind I have seen in the 12 years or more I have been coming to Indo. With wind from breakfast to dinner some days, when normally you're lucky to get two or three hours a couple of days of the week. The problem was it was kind of onshore every day and we never really got the big swells. But with onshore wind it is a great opportunity to test out the new kite, which I absolutely love.
That first session of head-and-a-half was about as big as it got. The forecast had a few bigger days but the swell periods were always at the 13-14 second mark, not the classic 17-20 second period you need for Indo perfection. This kind of goes to show that it is more often about the period of the swell than the size of the swell. Indonesia is a fickle place for a kitesurfer, but if you have time up your sleeve and all goes to plan you might be lucky enough and score some epicness. And this year we got some luck for sure…
This article originally appeared in TheKiteMag #23. To subscribe, go here.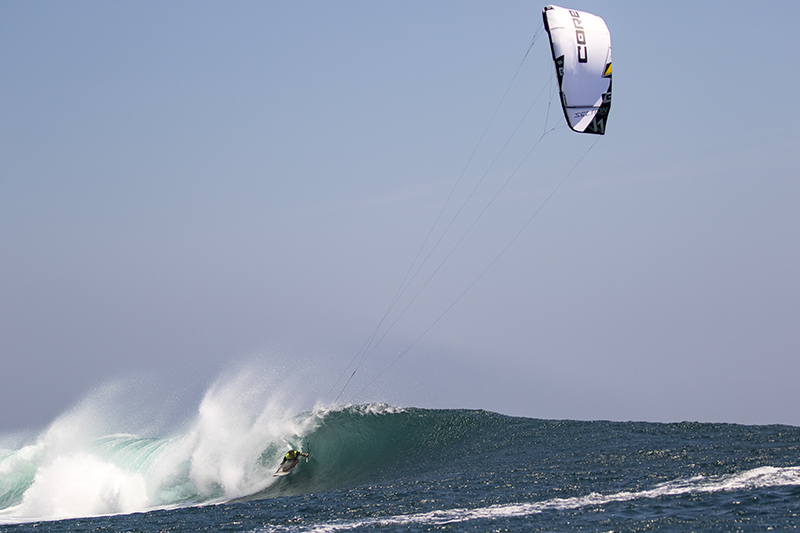 To travel to places like this or others, visit www.kitesurfholidays.com