Sometimes breaking up is hard to do… James Boulding had fallen a little bit out of love with the famed lagoons of Taiba and wasn't feeling the vibe for heading out there for this season. But a quiet chat in a Welsh pub persuaded him to rethink his plans and to give Brazil another chance…
Photos: James Boulding
James Boulding
I first traveled to Brazil in 2007. I was fresh out of university and kitesurfing had completely taken over my life. I had seen Brazil mentioned as the promised land, with wind every day and hundreds of miles of kiteable coastline, with warm winds and coconut-supping babes. It seemed too good to be true, but the first chance of a trip I jumped at, through some friends who had moved out there to live in Taiba, and I wasn't disappointed… Year on year I then made the pilgrimage back to improve my skills and to immerse myself in all things kiting… Then, around three years ago, I lost the love… Why? Overcrowded lagoons and expensive flights for starters. And then just too many days in a row doing the same freestyle air trick just burnt me out. So I turned away from trips to the Promised Land.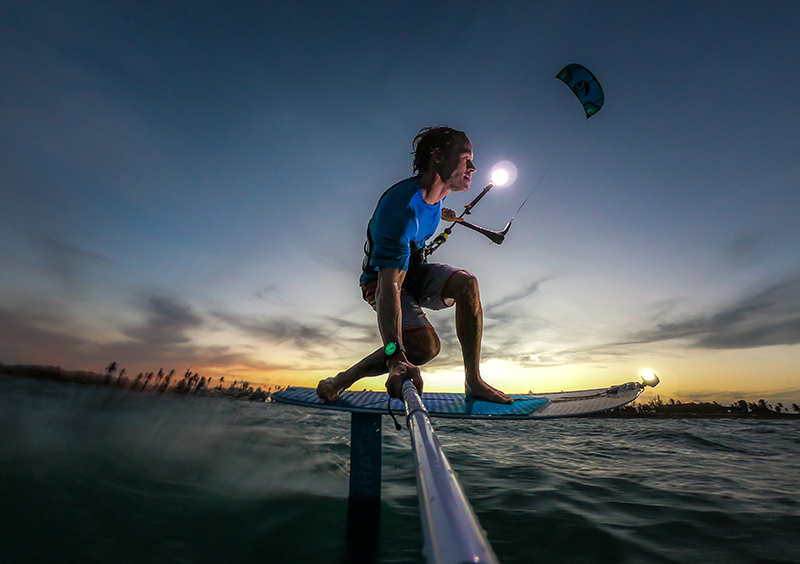 Cut to a cold, wet and windy Rhosneigr Kite Park Jam huddled in the (very) local village pub and I was persuaded by friends and Cabrinha team mates Alex Maes and Annelous Lammerts to try a spot they had been going to for years. They had already built a hand rail the previous year and plans were laid out for a new kicker. The spot is south of Fortaleza where the kiting crowds thin out and there is a much more relaxed vibe. The kiting is still typically Brazil but it almost feels like you're back in time, before kiting had taken its grip on the country's now infamous coastline.
Step forward a few weeks, and things quickly took shape. We managed to transport possibly the biggest (and heaviest) wooden kicker ever built in kiteboarding to the lagoon estuary where we planned to keep the features. Each day we were alone, except for the local fishermen who would wave happily, grin with their toothy smiles, and offer satsumas as they headed out to fish during the low tides…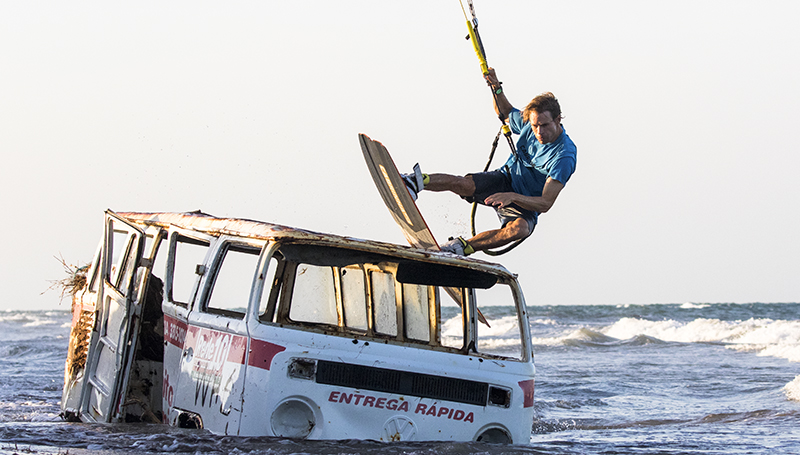 Lume light
I had brought with me an assortment of camera equipment, and the best thing with Brazil is the guaranteed wind, day and night, so I made sure to bring flashes and triggers to shoot pictures in the dark, and also some Lume Cubes – the latest tech in lighting for videography and photography – to light up the features so we could ride. It's one thing doing freestyle in the dark where take offs and landings are a given, but for some states of the tides our handrail needed to be ollied on to (a way of jumping onto a slider without the use of the kite to lift) which – if missed due to not being able to see – would result in catching a front edge onto said metal rail and toothless smiles similar to some of the local fishermen… The added bonus of having light to brighten up the scene a little before the flashes kick in is that you have better ability to get points of focus. Shortly after sunset your camera's ability to autofocus will become nulled by the dark. And a more mundane fact was that they were also a bit of a lifeline for finding our way back after we were done!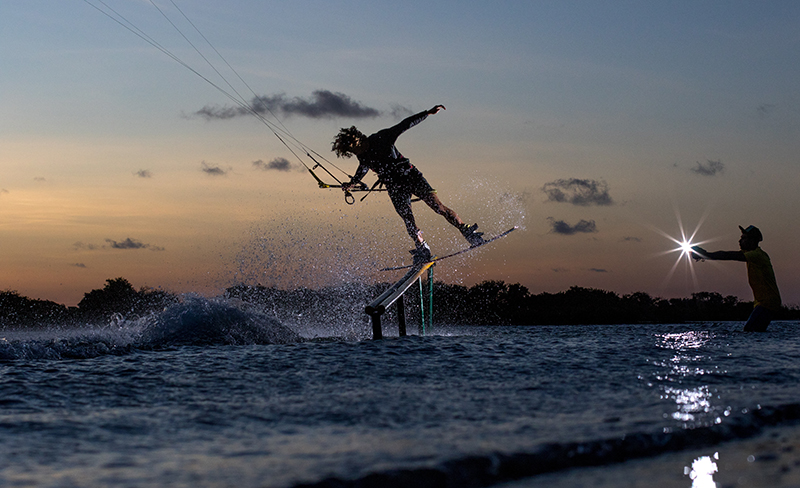 DIY slider projects in my experience are mainly successful due to hard work and persistence. It rarely ever works out the first time, so the ability to keep going and overcome the problems along the way is the key. On the face of it there wasn't much that could have gone wrong once we had finally finished building and started sessioning, but the full moon tides threw a spanner in the works once or twice and made us sweat it out for the satisfaction. In any case, if these things were easy, wouldn't everyone be doing it?!
Annelous Lammerts
Like every other winter it was time to head back to Brazil to ride in those perfect conditions but, like last year, we weren't going to one of the famous lagoons. Three years ago we visited the Kite Mansion in Icapuì and we discovered a perfect lagoon where no one had kited before. We were so happy to escape the crowds, and we had our best freestyle sessions there, so we decided that from that point we would just spend all our time in Brazil at the Kite Mansion. Two years ago we built our first sketchy kicker and handrail, which got me into park riding and helped both Alex and I win the coveted Triple S wildcard. This year we wanted to build a proper kicker and the owners from the pousada, Sam and Nico, were really motivated to help us. I still can't believe how much fun we had combining freestyle and park riding every session…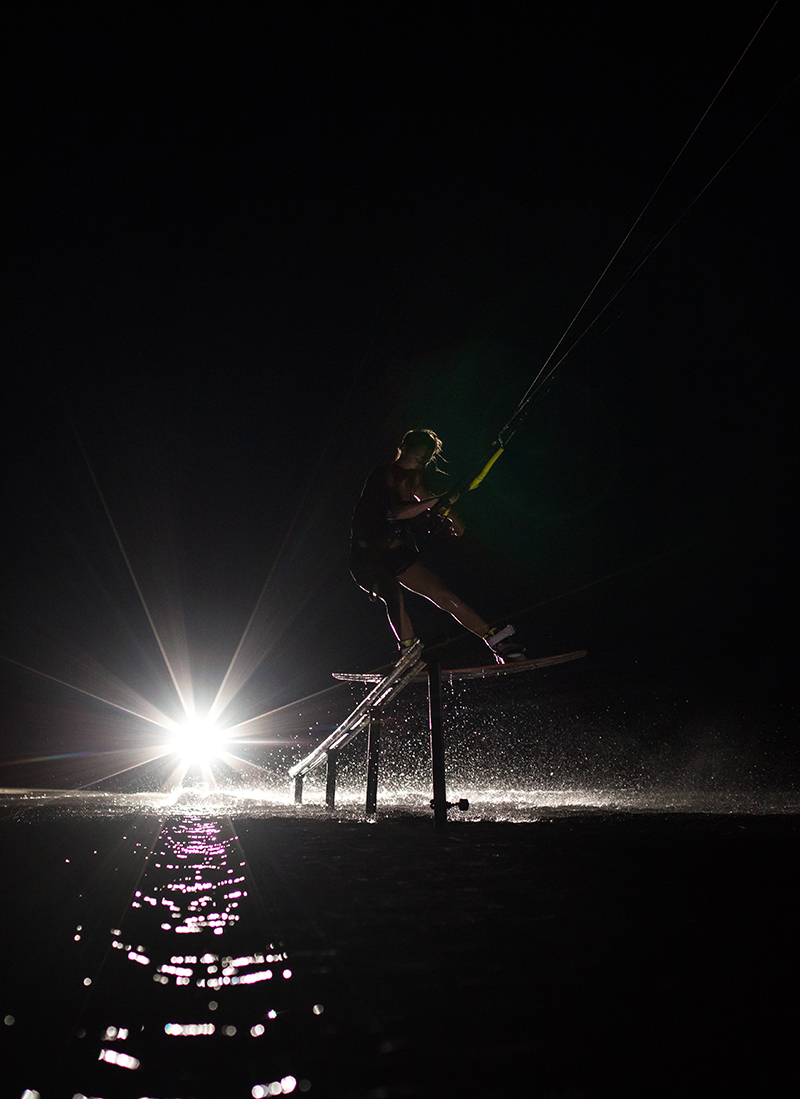 After the final stop of the Kite Park League in Wales we were all ready for some warmer conditions and it was great to get back to Brazil. Sam found the proper plastic that we needed and once we arrived we started to build the kicker. Getting the right dimensions was the most crucial part so we spent a lot of time drawing and changing our minds about the size and especially the angle of the kicker. Luckily, we had some help from Xavier, owner of La Source Cable Park, who has a lot of experience building obstacles. Once we had calculated the right dimensions we got help from a local guy who builds furniture and he had all the equipment that we needed. A week later the kicker was finished and we couldn't be more excited to give it a try. We just had to figure out the buoyancy and the kicker would be ready to go…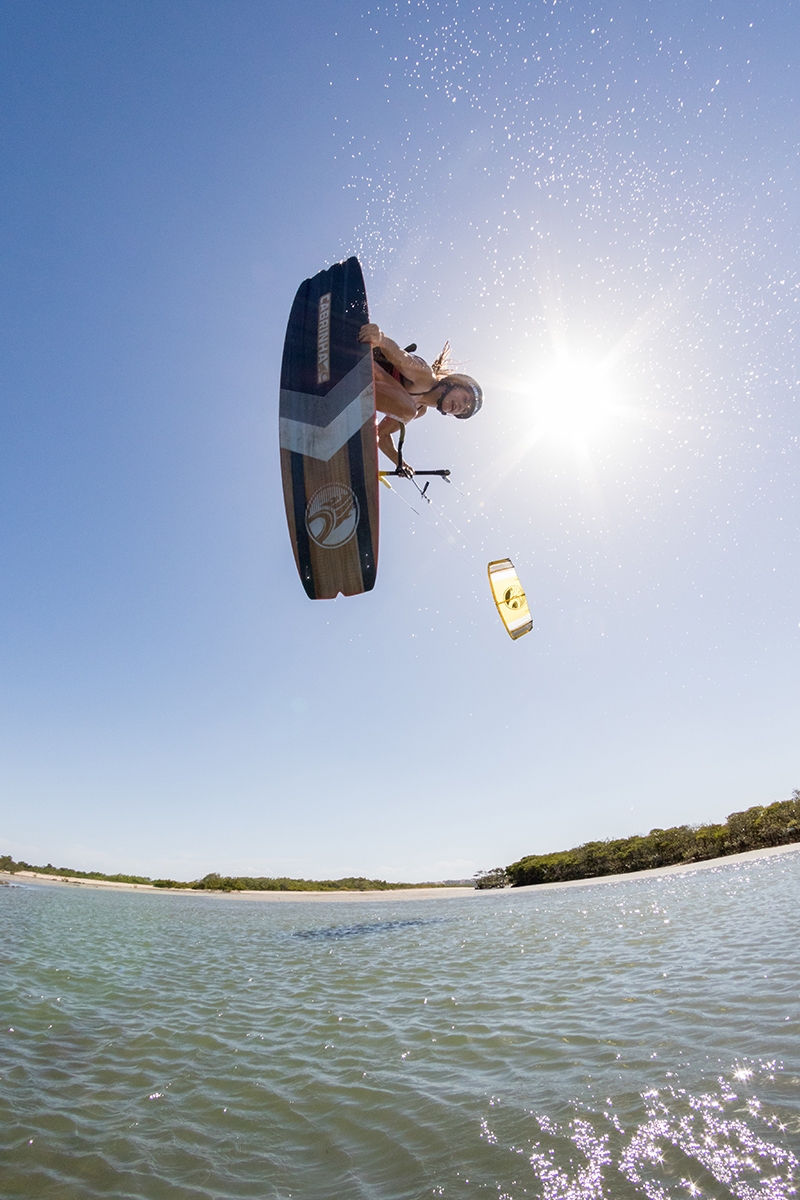 The trashed kicker…
We decided to put the kicker in the water in front of the pousada to make sure everything was okay before renting a truck and bringing it to the lagoon, which is 10 minutes downwind of the Kite Mansion. The only problem was that the kicker was really heavy and we needed 15 people to carry it! We got some help from people at the pousada and we found out how to make it float perfectly. We couldn't be happier, and the kicker was looking so good! Unfortunately though, at the end of the day the wind picked up like crazy and the small waves showed up. The kicker started to move so much that we had to take it out of the water or it was going to break up. All the people from the pousada had left for a downwinder, so there were only six of us which wasn't even close to being enough people to take the kicker out of the water. So we tied the kicker to a car and pulled it out. It broke the kicker in half, but it did save the plastic sheets on top which was the main goal. But the disappointment was pretty massive and it felt like we put in all that effort for nothing. We still learned a lot about how we could improve the kicker and the next day we started the process again. Finally the kicker was done, just a bit later than we hoped. We painted the logos on the kicker and the next day a truck and eight locals came to help us put it in the lagoon.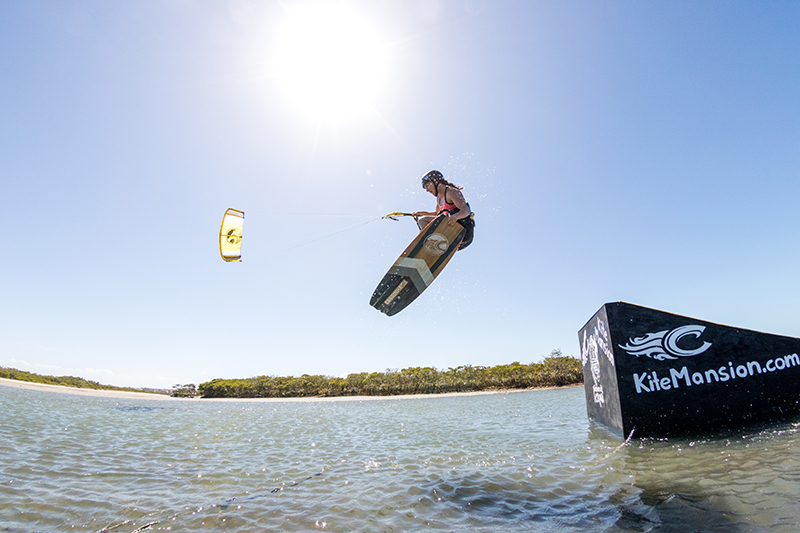 It was really a dream come true seeing our kicker in the lagoon! The first day was so much fun but we just had to find a good way to store it during the night. The lagoon is tidal so it means that when the tide comes up and down there is a lot of current. On day two we arrived at the lagoon and the kicker was on the beach. But through trial and error we learned and found the best way to store it, and ride it during the day. There are too many stories about our missions, from getting attacked by mangrove flies way after sunset, to losing the kicker when the full moon hit and the current was even stronger. But in the end I am super happy we made it happen!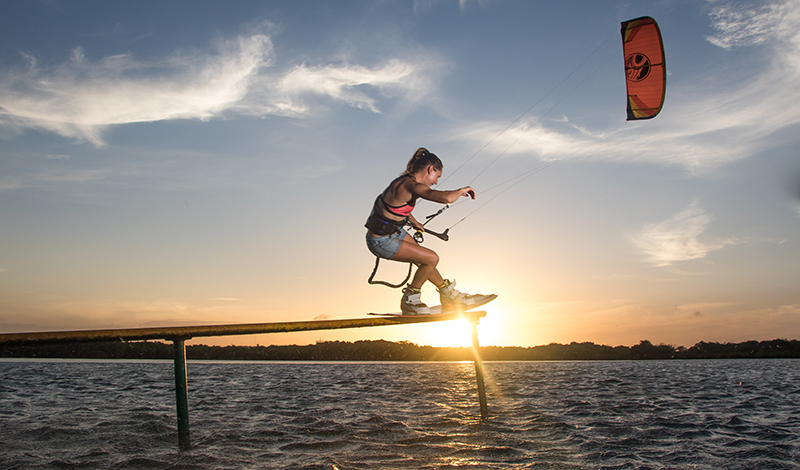 Everyone in the "Kite Mansion Crew", as we call ourselves, was killing it on the kicker and it was super motivating to see everyone landing new tricks. For me one of the best moments was when we had the kicker left foot forward and the handrail in the middle of the channel to the right, followed by the barrel. It was so much fun to do an air trick, followed by a rail hit, and ending the line with a fun barrel hit. That was something that Alex and I always wanted to do, and finally worked out. One of the worst moments came later when I wanted to film Alex and I crashed the drone, but luckily it ended up being fine and we could still shoot everything!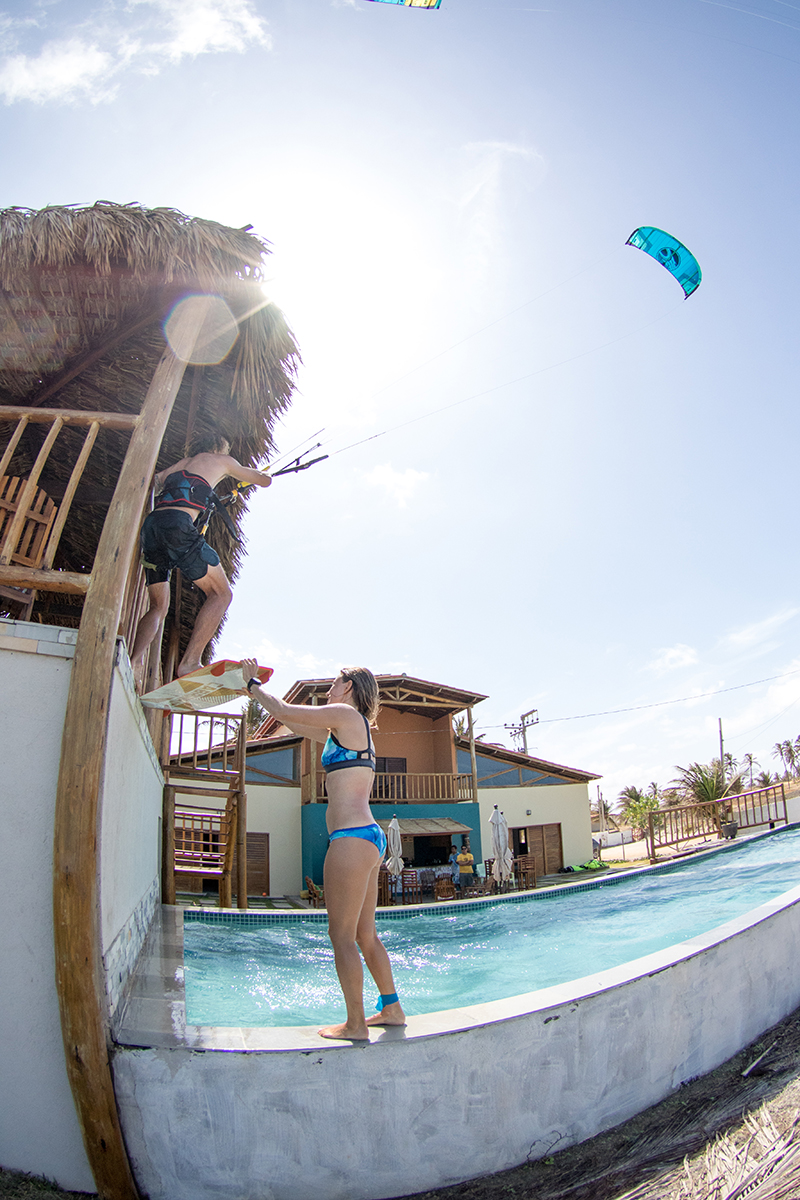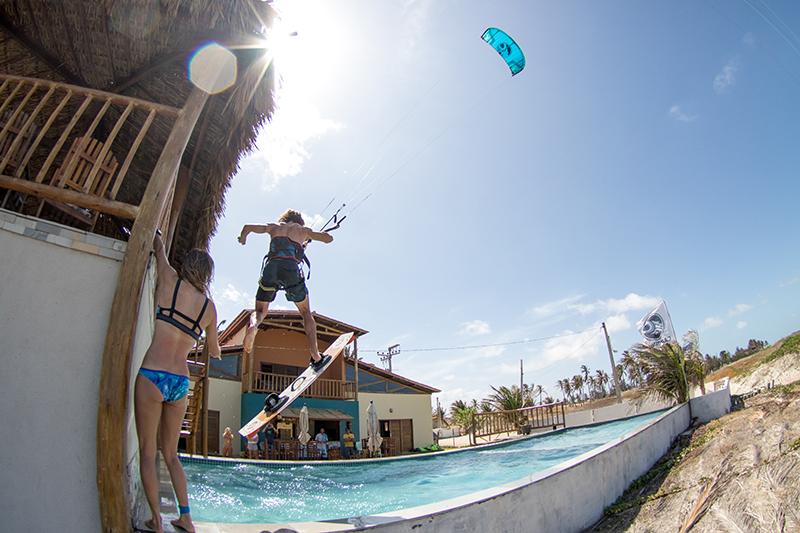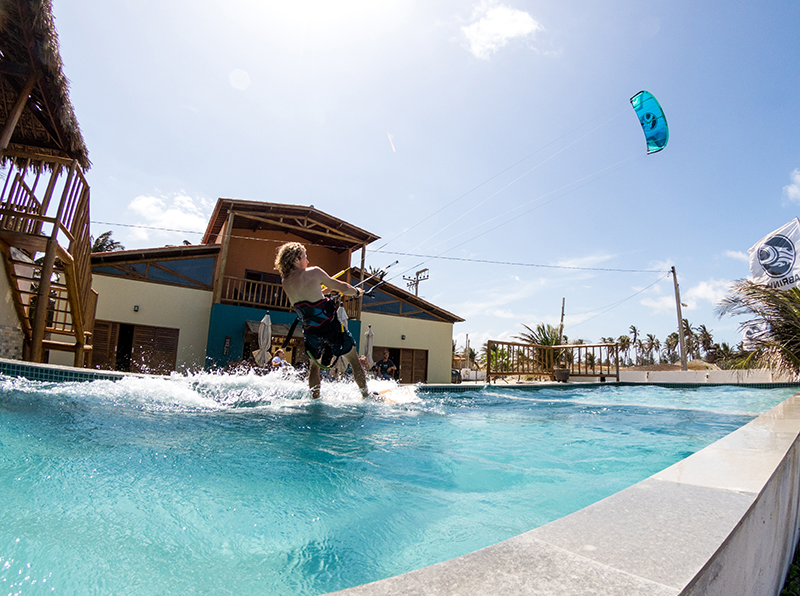 In the end I'm super happy that it worked out and I look forward to releasing our videos. I'm really stoked to have landed my first ever rewind and – even though I didn't land some tricks that I wanted to get – I know I got super close to them and still progressed a lot. It was a bit unlucky and frustrating to end the trip without wind on exactly the days with the perfect tide to ride the whole day, but that's part of kiteboarding! Even in Brazil a typhoon far out at sea can mess up the wind. I miss riding the lagoon, our perfect kicker and the awesome crew a lot, and I'm already daydreaming of what we are going to do next year…
Alex Maes
I have traveled to Icapuì with my family for 10 years now, a Belgian friend had a hotel back then and we had some great kite trips there. The hotel closed a few years later but luckily in 2008, after seeing the potential of the place, two of my dad's best friends – Sam and Nico – decided to open a pousada, and the Kite Mansion was born! The set up at the Kite Mansion is just perfect and after discovering the most uncrowded lagoon three years ago which is only a few minutes away from the pousada, we knew it was the perfect place for a kite park! It took us a few years but we finally made it happen this season.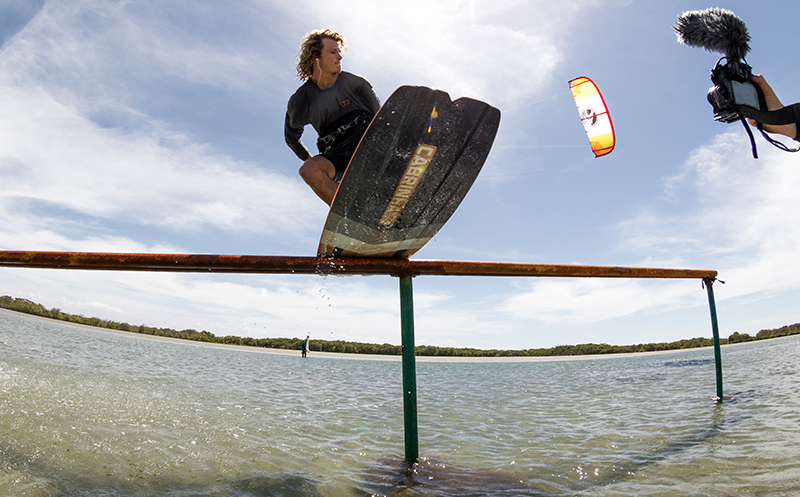 Drawing Lines
One of the most special things about the lagoon is the opportunity to do lines – the first time we saw the spot I knew it was the perfect place to make it happen. Lines are a big part of skateboarding, wakeboarding and other boardsports, but in kiteboarding it is still something that hasn't been done much. The lagoon here has two long water channels with sand on both sides which makes it look like a cable park setup, then the wind is perfectly oriented for both left foot and right foot tricks and it just keeps on going forever. Doing an air trick and – straight after that – taking a rail is the best feeling! The possibilities are endless and I would love to see this format in a comp – it is a completely different way of riding. Getting the good speed in and out of all your tricks is crucial to do a line, and the goal is to not switch your feet or leash which pushes you to improve your switch stance and to spin both ways. I'm sure that we are going to see some insane lines at the Kite Mansion in the next few years.
This year our main goal was to build a proper kicker. I mean which rider never dreamed of riding a proper kicker in Brazil? So that's what we did and with the full support of Sam and Nico, the owners of the Kite Mansion, the mayor of Icapuì, and all the Kite Mansion crew, we made it happen! Riding sliders are always a mission but with the right crew it is the most rewarding thing! We had a few setbacks along the way and we ended up with not as much footage as we would have liked, but that's how it goes in kiteboarding and, in my opinion, that's what makes it so special when you end up with the photo or clip that you wanted.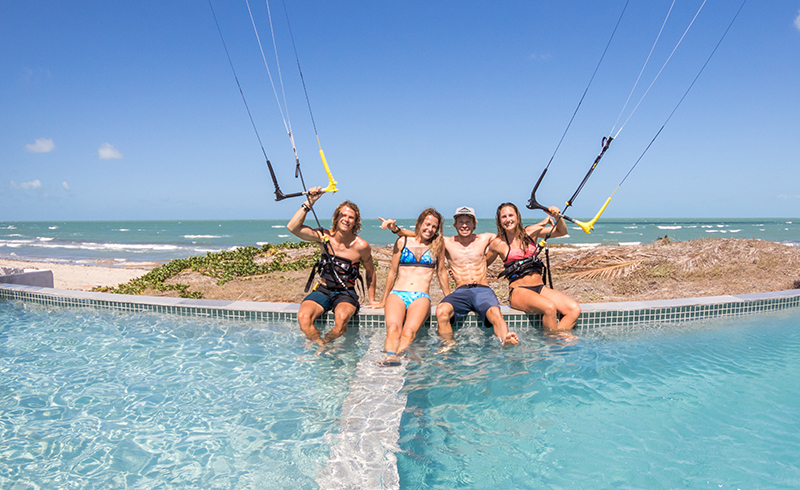 I hope this project will inspire other riders to do their own slider projects and try other things. Kiteboarding is so diverse, which is the beauty of it – if you are tired of doing the same trick over and over, build a little slider and you can always go back to your previous trick later, it keeps it fresh and entertaining. Find a spot and a good crew and you'll be surprised how much fun it is!
To ride rails and kickers in perfect conditions, by which I mean flat water and consistent wind, is every rider's dream who is into this discipline. As with most dreams though, you have to work hard to make them happen.
Manuela Jungo
I was very enthusiastic when Alex and Annelous told me about the spot they found in Brazil and the plans they had. A month later I was sat on the plane en route to Fortaleza with James Boulding. First impressions of the Kite Mansion were great with nice clean rooms and amazing food, which is very important for me when I travel!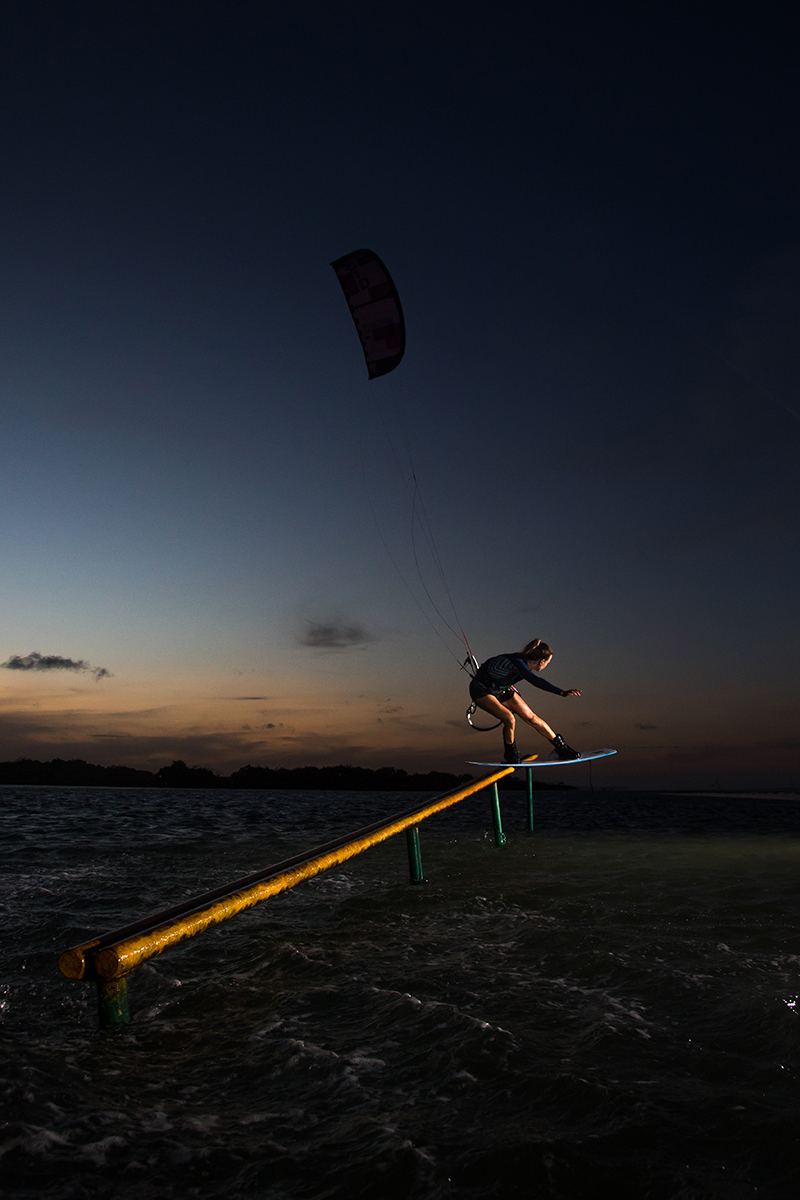 Sketchy session
Our first mission was to bring a handrail to the lagoon, a feature which they already had from last year. I must say it did look a bit scary for me. It was all rusty and, depending on the position in the water and tide, there was a big ollie on. Which meant that the consequences of not making it were bad… A serious injury this far from a hospital was not fun to contemplate. I am normally the one that wants to practice a lot before I am ready to shoot, but there was no time and the setup was too perfect to waste any time. I was nervous as soon as the light faded but the motivation of the crew was so supportive and the adrenaline coursing through my veins certainly heightened my concentration. We also used Lume Cubes to light up the entrance to the rail. At a certain stage, it was pitch black and I think my tiredness started to kick in and I misjudged the ollie. I did not quite make it and flew up over the rail. I got away with a few scratches but it was definitely time to call it a night and head home in the dark. To come back from a crash is not an easy process. It is something every athlete has and not everyone deals with it the same way. I had this situation a few times during this trip. My way of overcoming the fear was just to take a step back and take it easy. It is just a mental block and very important to face the fear right away to not let the fear win. The longer the fear is left to fester, the harder it can be to come back to it afterwards. Luckily without serious injury I was able to address this quickly and re-gather my composure and confidence, another bonus with a place like Brazil where the wind blows daily.
Blue Steel
Shooting tricks on the kicker was a lot of fun. The wind is so consistent that we were able to experiment a lot and tried to make the shots look unique and refine them by looking at each shot on the water until we were satisfied. To do this it was important to have a good body position, holding a grab properly and trying to rely on the right time for the flash to fire and capture this. I must say that the hardest part was to have a decent facial expression! In general, when you are concentrating, the last thing you need is to worry about what your face is doing, it can be a source of amusement when reviewing the shots afterwards as a group, as there are always some funny 'blue steel' looks in there.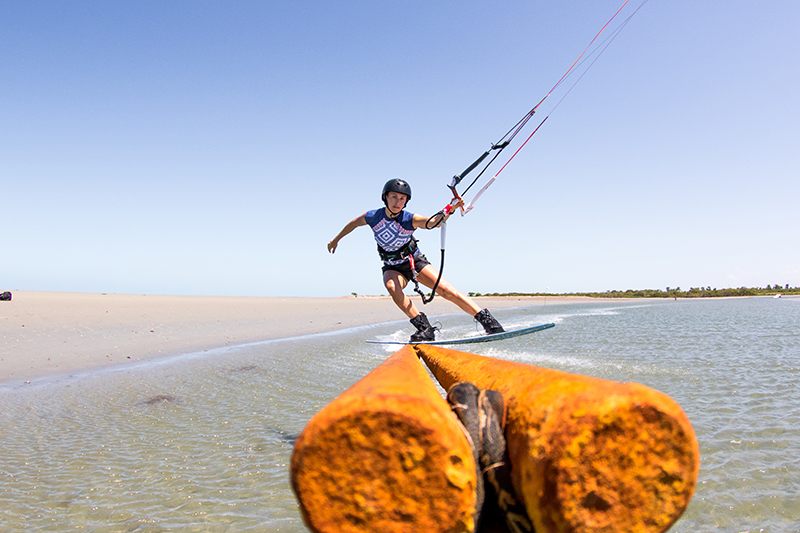 In the end, it was very hard for me to leave. We had such a good routine with the crew. Everyone helped each other with their riding, to shoot and move and position features. It is vital to work together on a rail project and everyone needs to put their full effort into it or problems arise. I think our results show the hard work that went into the project and it definitely brought everyone closer as friends, as we overcame each challenge that arose. I want to give a big thank you to the whole Kite Mansion crew for an unforgettable trip.
This article originally appeared in TheKiteMag #24. To subscribe, go here.