20 years into her kiting career, Jalou Langeree has moved on from the competition scene, handing over the torch to her fellow North surf rider Capucine Delannoy. In this interview, Victoria Stuart from North Kiteboarding spoke to both riders about competing, following in their brothers' footsteps, and the fire within…
Photos: Ricardo Pinto (unless stated)
---
Jalou, you've been three times Kite-Surf World Champion. How does it feel for you to see strong young riders coming through – do you have a sense of 'sisterly' pride?
I'm definitely proud. Peri Roberts won this year's tour, and I see the fire within her, the way she trains. I see that with Capucine too. You need that fire to become World Champion. It's not in every rider; they don't all breathe that same kind of energy. I see myself in their energy – that fighter's mode energy. And I love seeing that when it appears in the next generation. I can really relate to Capucine – hers is almost like the brother situation I used to have, traveling together all over the world, our parents there to support us – it seems like history repeating, how fired up they are as a team, with the same sponsor. Although for me, even though I was so close to my brother, I felt I was more in his shadow. Whereas Capucine is a different character – she's pretty outspoken, gets results and is pretty confident for her age. I like seeing that mentality of wanting to win; she's so hungry for it.
And now you're ready to hand on the baton?
Yes I'm not planning to compete anymore. I'm not the Capucine anymore who is fired up to kite in every sort of condition. I'm just trying to go when conditions are best, rather than feeling that I have to go because I need to train. I'm practicing tuning in with what is going on… being in the moment.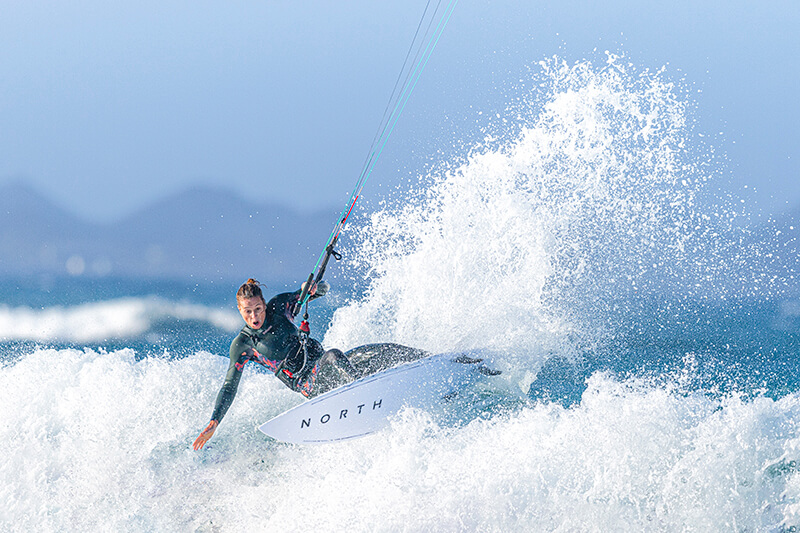 How do you feel about female equality in kiting when you look back on your successful competition career?
I had a hard time celebrating my wins, because there was always that gap in a male-dominated industry. When I started kiting it was all about performance, and I had to learn to ride like a guy, because that's when I was feeling 'seen'. Now kites are slowly changing and I'm happy to see that they're getting more female-friendly – it helps grow the sport. Now you see a movement, now you see everyone interacting. I didn't get a platform for years before I got seen; I was just the sister. Capucine has only just joined the team and look at the platform she's already getting. That's great, because that's how it should be. Looking back, I had to work super-hard and not just be good at Instagram. These days you can be good at posting on social media and be the star but hardly even kite, just stand on the beach with your board… That's hard for me to see!
Yeah, social media has a lot to answer for!
These days we all put so much of an expectation on ourselves – that makes me worried for the next generation. I hope they don't all believe what they see on social media, the 'finished' product, especially if they are more kind of fragile. It breaks my heart even thinking about it…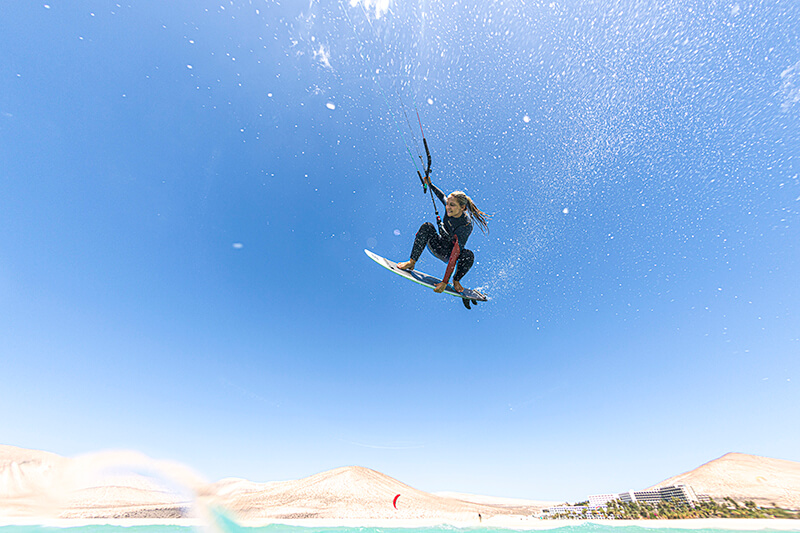 Capucine, what's your take on this issue?
There is a lot to say about social media! Women doing kite pictures in a bikini… I'm not sure that helps women – we are way more than a bikini picture! But I feel like there are more women posting sick tricks on Instagram now, and that works way better. I have an agency in Brazil who help me with sharing content and choosing pictures.
So, you are the current Kite-Surf Vice-World Champion, and Junior World Champion in strapless freestyle. Congratulations! How did you find the competitions?
I won every event in this year's GKA Kite-Surf World Cup, but unfortunately one bad result from Cape Verde last year still counted, so I couldn't win the 2021 title. But the competitions were awesome. I really like to compete with the girls on tour – we're always pushing each other to the next level. It makes you push your limits. Sylt, on the North Sea, was a highlight for me. Conditions were challenging, and it was pumping 25-30 knots all day. I was super pleased that I landed my signature double frontroll in my heat, the first time a woman has landed this move in a competition!
Jalou talked about you having 'the fire' within you. Do you think you have a strong will?
In competition you have no other choice. There is so much stress and pressure, and for that you need a strong mind. If you don't, you won't be able to land your tricks or move forward in the heats.
Jalou feels she and her peers had to really step up and work hard to get the same recognition as men in the sport. What's your take on being a young woman coming into the limelight in an extreme sport arena traditionally dominated by men?
When Jalou and I were in Fuerteventura together recently we had the same conversation! I personally feel like it's getting better. At my first competition everything was all about the men, and there were only six girls. Now, because there are more girls and the level is getting higher, it helps us get more recognition in the sport. Take the double frontroll for example – two years ago there were only about two men doing it, now there are men and women doing it. The same with kiteloops too.
Has Jalou been an inspiration for you?
Jalou has been a real big inspiration for me. I always watched videos of her waves because I love her style. When I started to compete in 2018, I had my first ever heat against her. I was super anxious, but I landed all my tricks. She won for sure, she was riding very well, but it was such a good experience that I said to myself "this is what I want to do". In Fuerte we talked a lot because we have a similar story, both having a big brother. Sometimes it can be hard to be the little sister and Jalou gave me a lot of advice.
Yes, she said she felt she was in the shadow of her brother. How is your relationship with your brother Camille?
When we're competing on the tour, I train with all the girls – being part of a female community helps a lot. But in Brazil almost no girls are doing strapless, so I train with my brother. Of course, if Camille is doing three frontrolls, I have to do two! We really support each other on the water but we're also super competitive. He lives two minutes from home so I see him every day. We train all the time together, work out together, and my Dad spends hours on the water coaching us. Sometimes Camille and I fight, but not very seriously; we're really close.
Do you find people often still introduce you as "Camille's sister"?
I remember at the beginning it was hard for me – I was proud to be his sister, but I also wanted people to say I was Capucine. I think now I'm starting to win some competitions we are still "Capucine and Camille", but we have our own names too. It's great to be recognized as brother and sister, but to still have our independence.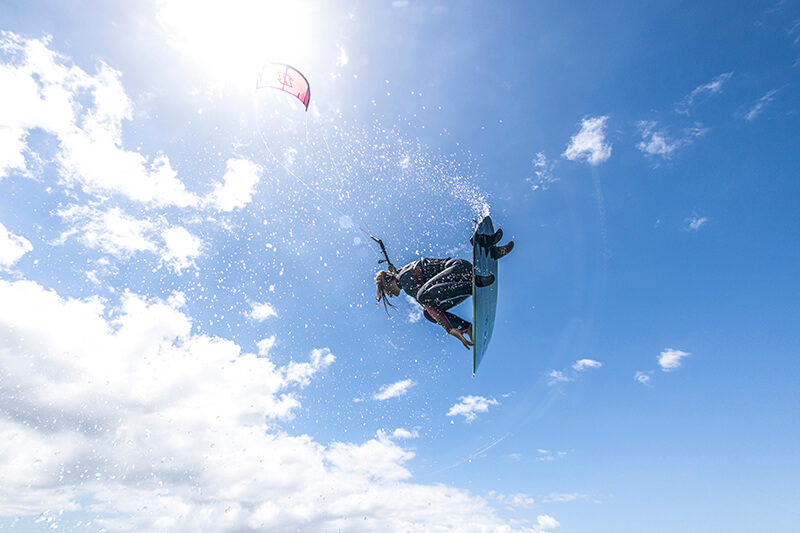 How do you balance schoolwork and kiting?
I'm in my first year of high school and studying online. Usually when I'm at home I study in the morning, and in the afternoon I train. I try to study a lot before and after the competitions but take a break while I am competing, when you need to be completely focused. By the end of the week, you're just so tired, because it takes a lot of concentration and you always have to be ready to go in your heat, because it can start at any time.
What does the future hold for you? Any travel plans?
My dream is to be World Champion. I would love to be that for a few years. I want to improve my wave skills, because next year the tour is going to have more wave events than freestyle, so I'm going to train in Ibiraquera in southern Brazil. You can kite in every condition there. Prea where I live is perfect for freestyle but there are no waves. I would also love to ride One Eye in Mauritius soon… ■
This feature originally appeared in TheKiteMag #45. To read the full issue, subscribe here.