Kari Schibevaag's latest exploits see her heading north for her annual pilgrimage to try and see whales which migrate there each winter. But – this being Kari – it isn't your standard whale watching trip…
The summer was finally over and I was ready to travel up to my ocean friends. I packed my car with all my toys for a new season together with the whales, and it was finally time to drive up north and start my time there.
Tromsø was the destination, and I was all set, with a boat and a place to stay. The whales had been there last season and I was hoping they would return again this year. In fact, the last two seasons had been great and I was really looking forward to sharing some sessions with them again…
The first time I was in the water with them has always stayed in my memory – I kited and swam and SUPed, and the feeling you get when you are with them is truly special and something I simply can't get anywhere else.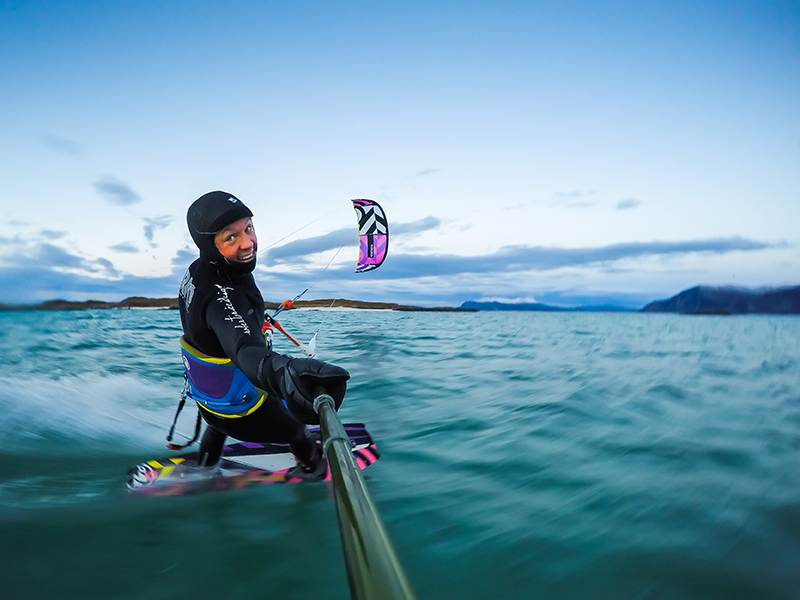 Change of plans
But this year there was a problem: when I came to Tromsø, the whales were not there… They had decided to make their base four hours to the north in a town called Skjervøy, and to the fjords up there. I had never heard of this place before, but I was not going to miss out and so I packed up and headed north, determined not to miss out on my annual encounter.
Skjervøy is a town on a little island in the north of Norway, Shervøy. It's a small place with a population of only 2,912 and the primary industry is fishing. When I came up there I was pleasantly surprised as I didn't know what to expect, but it was a town that offered plenty of options for watersports – and now it also had the whales!
Disturbed water
When I first arrived, I was amazed by the water. It looked like it was boiling with so many whales there – both Humpbacks and Orcas. I've never seen so many whales at one time and it put a big smile on my face. My dog Truls was also so happy to see his friends again. He loves the whales and was happy to be out on the ocean again.
On my first day, I met some people who offered to take me out on their boat. It was so crazy to see them again in this magic light. The light combined with the high mountains as a backdrop made Skjervøy an incredible place to see the whales.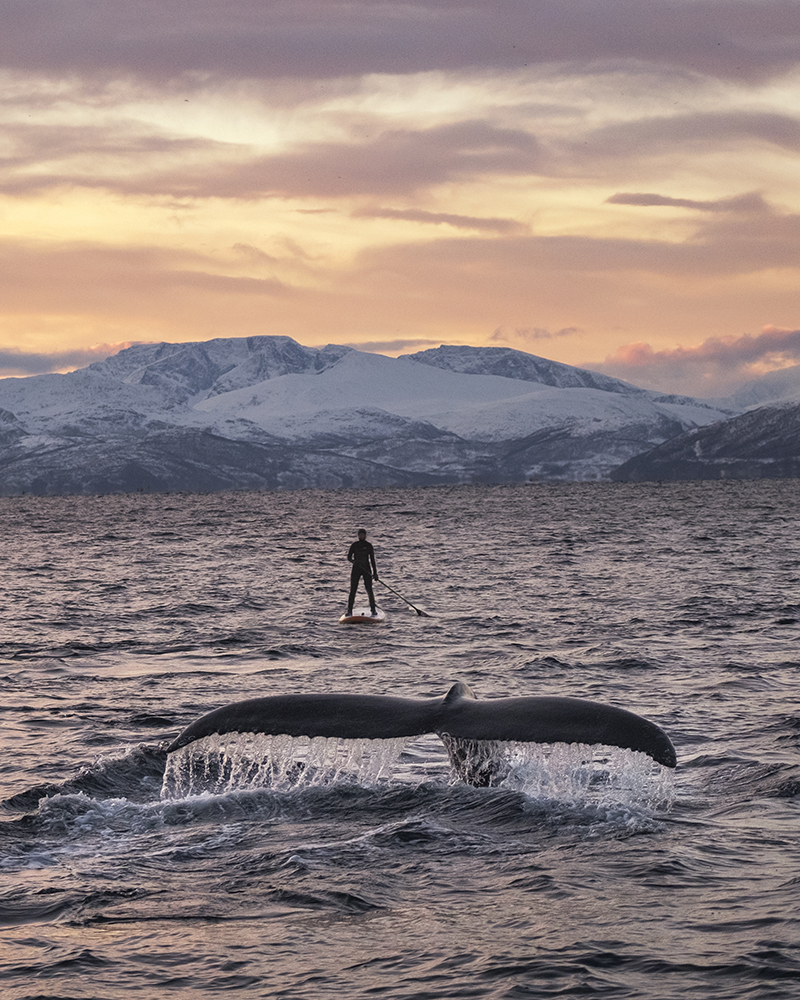 The next day I was driving around to look at the place and also to see the whales. I got to a little fjord and suddenly there they were… I pumped up my SUP and went in with them straight away. There were so many of them and they were boiling around the board. I was alone, the weather was perfect, and it truly was one of the most impressive moments of my life.
Storm kiting
The forecast was for a storm to come in and it seemed like the perfect opportunity to try to kite with the whales. I was driving around a bit and after a while I found this crazy nice place with mountains around, a small beach to launch and get out on to the water. It was wintery and it was a powerful storm, but it felt so good to be out there in these stormy conditions with the whales. The mountains feel so big and I felt so small. The wind kept pushing harder and harder and eventually it was time to go in. But what a session and what a place.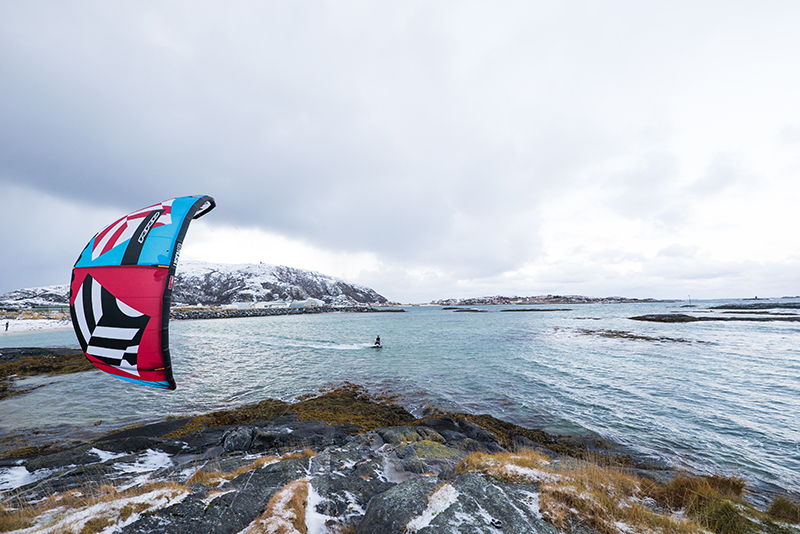 As it gets dark at 2pm (unless you have the Northern Lights) it was time to return to the van and I was all set for an afternoon there and was glad that the van had a heater… As I reflected on the day I could not help but think that I'm the happiest girl in the world! To have time to be here and have the passion to live this life 100% is so special for me. I love it.
This article originally appeared in TheKiteMag #24. To subscribe, go here.