Galicia in northwest Spain may not be one of the country's better known kite spots, but in a year when travel is currently restricted, RRD rider Abel Lago feels lucky to call it home, and has been making the most of the waves that hit the perfectly lined up coastline there.
PHOTOS: JAIME MARTINEZ
---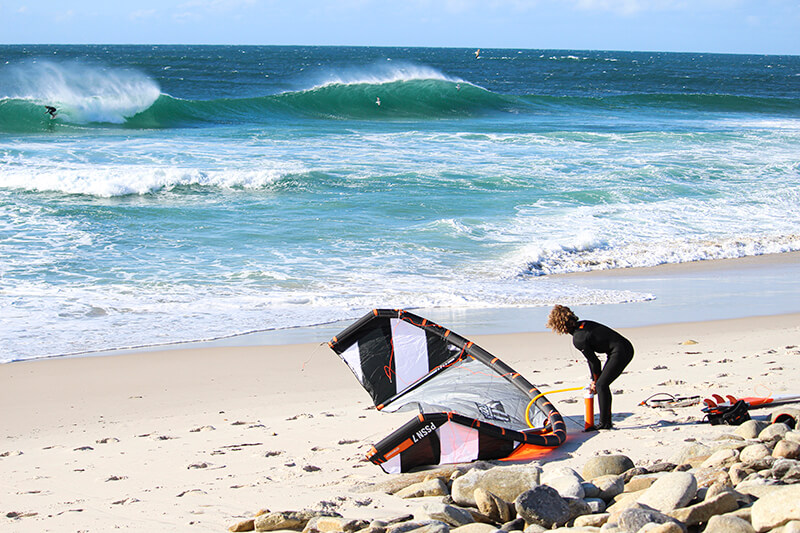 Normally at this time of the year I would be traveling to Cape Town for testing and shooting with RRD International, but because of the Covid situation we stayed at home and have had to ride with whatever conditions the weather gods throw at us. Luckily for me my home spot Galicia is one of the best spots in the world throughout the whole year – in spring and summer it gets a lot of wind and nice waves, while in winter it has big waves and strong wind almost every day, though unfortunately, winter also brings a lot of rain and grey days!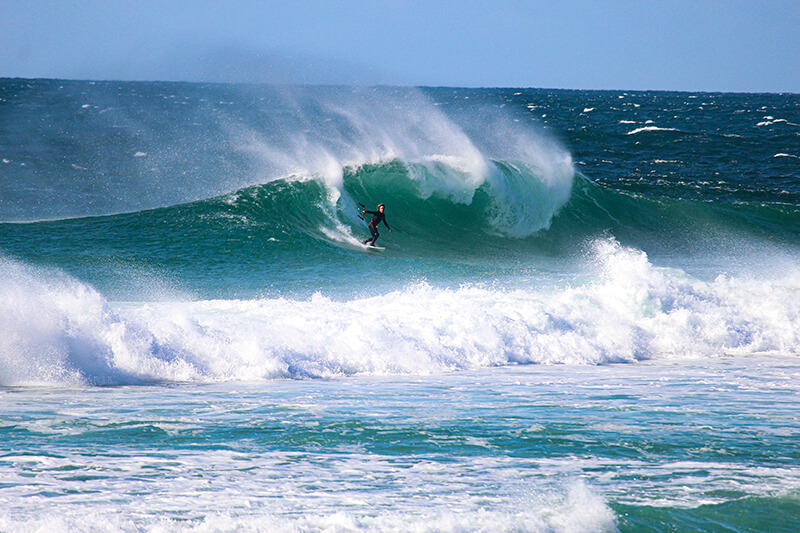 We have many good kite spots in Galicia. In the winter with low pressures, almost every single spot works, and in the spring and summer with predominantly northwest and northeast winds, spots like San Xurxo, Doniños or Traba have conditions like Hawaii, with clean waves and side off winds! The kite scene here is still very small – because we have so many surf spots, and surfing is easier and cheaper, people start surfing and don't tend to move on to kiting. Kiting is growing but it will take time. To give you an idea, I own a kite and surf school, and on a typical summer day we might teach 100 surf lessons but only four kite lessons!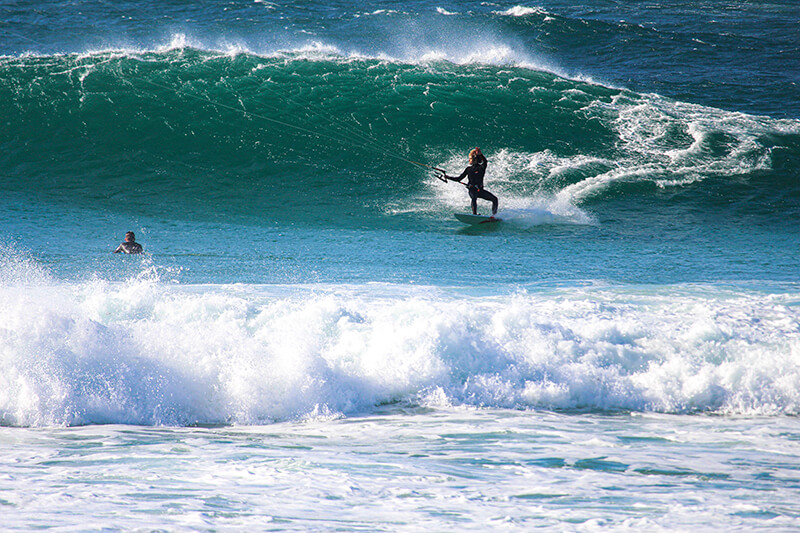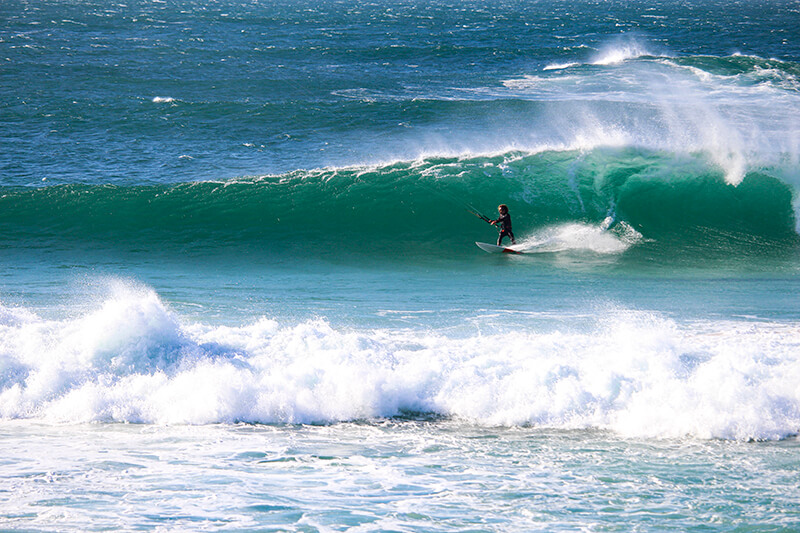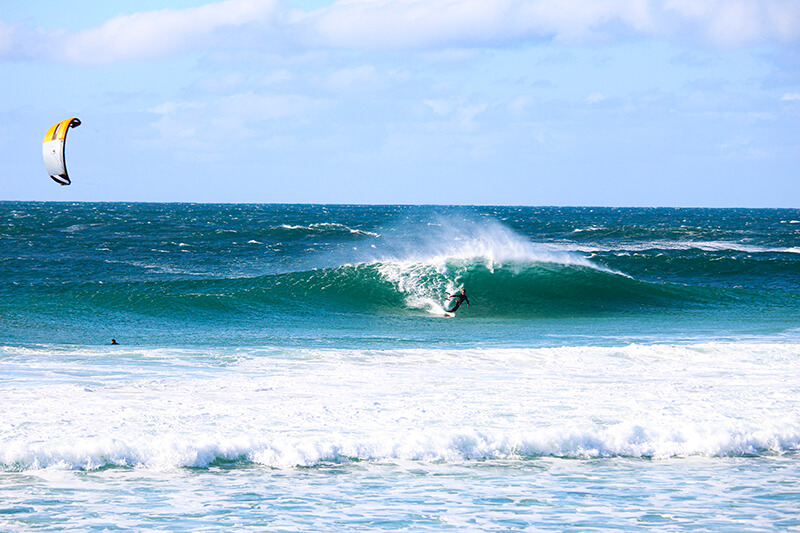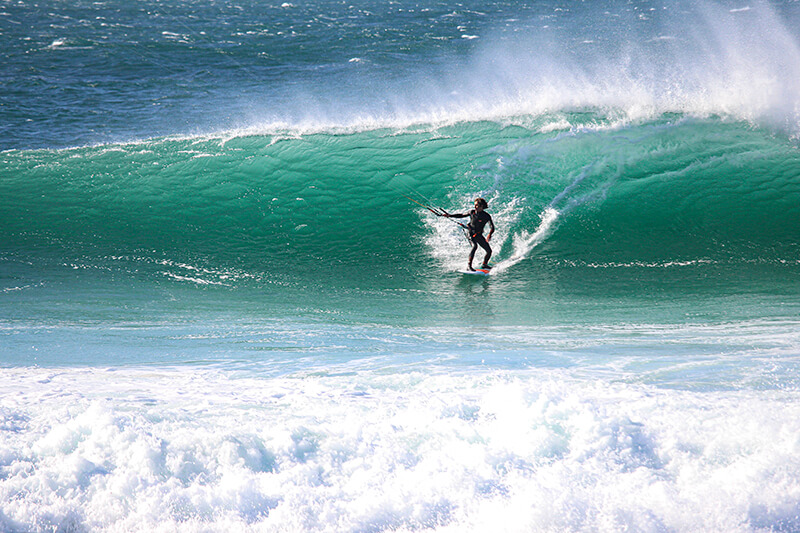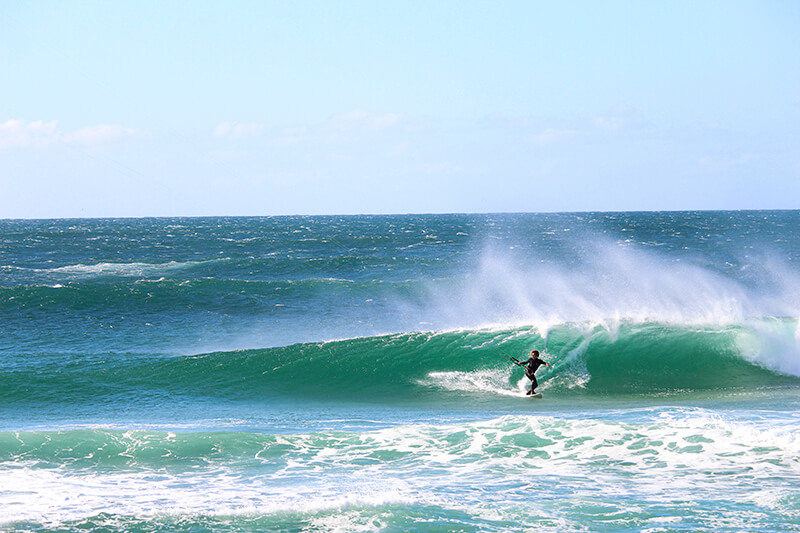 On this particular day the wind was coming from the north, and there were downpours of rain throughout the day. However between the downpours we got a few hours of sun, and so I headed to a surf spot near my home that is normally really crowded with surfers. But because of the Covid restrictions in my area, there were only a few friends on the water and I was able to stay a bit deeper in the right pointbreak. The wind there is really offshore and gusty, and the waves are powerful and fast, but I was able to surf some good ones. I was on my 7m Passion kite, overpowered most of the time but underpowered on the inside. But it was really fun to ride with a kite at a spot that normally we only surf.
After a long session there I hit up a big plate of pasta (I'm sure most kiters would do the same!) and fruit. I stopped eating sugar a long time ago so I tend to crave fruit. I love all types of food but I like to eat healthily and here in Galicia it is easy; we have a lot of vegetables, fish and good meat. Over my meal, I mulled over what this year would bring. Part of the RRD team have flown out to Cape Town to do some testing and shooting, but as I am not allowed to fly out of Spain, I will wait until the designer is back, then do some final testing of 2022 gear here in Europe, maybe in the Canaries, or at home in Galicia or in Tarifa, depending on the conditions and forecast around April. It may have been a different winter to normal, but hopefully there is some travel for me on the horizon, and in the meantime, I will keep enjoying what home has to offer… ■
This feature originally appeared in TheKiteMag #41. To read the full issue, subscribe here.