Brazilian photographer Andre Magarao spends a lot of time in the kite mecca of Cumbuco, and recently caught up with with a couple of local legends, Erick Anderson and Alex Neto, guys who would almost certainly never have had the opportunity to become professional kiters if it they hadn't grown up at one of the most consistent kite spots in the world…
---
Andre: If you have ever been to Cumbuco, you will have seen Erick riding around. He is one of the stand-out locals and is a unique, super-steezy pro rider. He is one of the few guys that actually spends time riding on the ocean when the lagoon is only a few kilometers away. It's easy to recognize him because he pretty much always rides with super short lines.
Alex is like the unofficial mayor of Cumbuco. He knows everyone, is super nice, and he is also an epic rider. You can see him riding anything – freestyle in the lagoons, ripping the waves or foiling when the wind drops. If you haven't met him in Cumbuco you will have seen his beach buggy – he has the coolest looking buggy in town…
//

How did you start kiting?
EA: I started when I was 11, thanks to my Cumbuco friends, mainly Yago Morais. He and his crew were some of the first locals to start kiting around here. He let me use his gear and taught me some basics. It started as a bit of fun and grew into a love for the sport. My story is similar to a lot of locals' stories. Every day I would go to the beach and help the tourists with whatever I could. Even though I couldn't speak any English, I tried my best to help, and that way I met some nice people who would leave behind some gear so I could kite.
AN: I've been surfing since I was quite young, and back in 2006 some of my surfer friends learnt how to kite and then got jobs teaching at a kite school in Cumbuco. The Swiss owner gave me permission to have lessons with my friends, and I'm so grateful to them for teaching me. I learnt pretty quickly, achieving backrolls and frontrolls in the first month. In the beginning I didn't have my own gear so had to borrow from the school and could only ride on the ocean in front of the school. Back then Eudazio da Silva and Set Teixeira already had their own gear so could ride wherever they wanted. As soon as I got my own gear, I started to ride with them at the lagoon and my riding evolved a lot.
//

How was growing up in Cumbuco watching all the pro riders? Is there anyone in particular that inspired you most?
EA: I feel very blessed to have grown up here. Not many people can say that their home town is known around the world as one of the best places to kite. It is unique because everyone here has some involvement with kiting. To grow up around this strong kiting culture, and ride with the best in the world, really helped my riding evolve. My main inspiration was Aaron Hadlow. He has so much style and makes it look super easy – I still watch his videos today. But now we also have a sick new generation of riders like Carlos Mario, Adeuri Corniel and Valentin Rodriguez.
AN: I've always watched the videos and took a lot of inspiration from the older guys on the tour. All of them were really important for the evolution of the sport and the current level of the tricks that we do. It was inspiring to be able to ride with them when I was growing up. And it's super cool to be able to compete with them. So for me it's a dream and I'm really grateful to be able to live my dream and do the thing I love.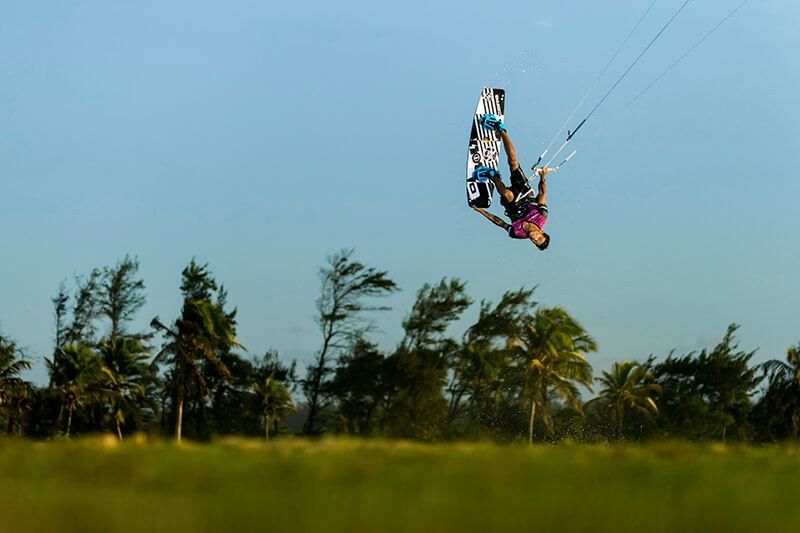 //

You've both participated in events here in Brazil and abroad. How important were the events for your evolution as a rider?
AN: Really important, they made a huge difference. In 2011, I met the Austrian sales rep for Liquid Force and had the opportunity to go to Austria to help on some demos and to ride a few European events; I also got to compete in a World Tour event. In 2013 I got a deal with Best, which meant I was able to travel and ride the entire tour. And in 2014 I finished fifth in the Freestyle World Tour.
EA: Every contest is a good opportunity to progress the level of the riders and create some extra motivation – the youth events for kids in Brazil are a good example. I miss the days when we had more local events – they really helped me improve my riding. In 2011 I participated in my first ever Brazilian Championship and came second in the amateur division. In 2016 I came second in the Brazilian Championship again but this time in the pro division. It was a really important event – Alex Pastor also participated and I beat him! It was then that I realized I had the level to compete with the best guys out there. In 2018 I participated in the WKL event here in Cumbuco, my first time competing at a World Tour level. It was my dream – I came third in that event and this allowed me to travel, to get to know new places and people. Now that I'm part of the elite, my dream is to be world champion…
//

How was the GKA tour for you last year Erick? Why did you decide to ride with 18-meter lines, the only rider on the tour to do this?
EA: I've always dreamed about going to Morocco and finally got to go there. It was an epic experience and I couldn't be happier because I won the best trick event. It was definitely a very unique experience. At home I came fifth in the Cumbuco event. When it comes to gear, I think everyone has a different taste. I really like to test different set ups – when I got my CORE quiver, I tried all the different possible options. When the wind is good, I feel like the 18-meter lines give me a more stable kite and make the handle passes easier. But when the wind is lighter, I have to go back to longer lines.
//

How was the 2019 season for you Alex?
AN: 2019 was epic – I changed kite sponsor and am now riding for Duotone. I'm happy that I feel comfortable on the new kites already which is important for any athlete chasing top results. I was also able to travel to a few stops on the World Tour and did a coaching project. Later in the year I worked on a video project with Volkswagen, alongside Alina Kornelli, Fernando Fernandes and martial arts legend Rodrigo Minotauro. Overall, it was a very successful season. Plus I had some great sessions in Cumbuco, a lot of downwind trips with my friends and of course lots of freestyle sessions in the lagoons! As well as that I'm also wave riding and foiling.
//

How was competing at home?
AN: It is always awesome to compete here with the home crowd cheering for you. I wasn't able to prepare as well as I would have liked because I was busy with a few other projects, but I was happy that I got through to the semis. The event wasn't easy for anyone; the level is super high right now and it makes every heat very intense. I'm super happy that I had the opportunity to do my best and defend the Brazilian flag.
EA: Having my friends and family close by definitely makes everything easier!
//

I see you riding on the ocean quite often Erick, even though the lagoon is right there. Why is that?
EA: I love the ocean. I grew up doing the downwinder to the lagoon every day – a four kilometer downwinder from Cumbuco village to the Cauipe lagoon. The lagoon is epic and having it right there helped my riding process much quicker. The wind is so consistent and having the flat water draws riders from all over the world. But it was on those downwinders that I realized I also love to ride on the ocean for the variety and openness that you don't get in the lagoon.
//

How's the wind over there towards the end of the season? I've heard this story that on December 1st the wind shuts down and only turns back on on July 1st…
AN: Ha, that's a myth! In December it rains sometimes and the wind is a bit up and down until June or July, but we do have windy days in the off season. If it's not good enough for freestyle there's definitely enough to wave ride or at least foil. Last year there was a lot of wind in December. Let's hope this year is like that too.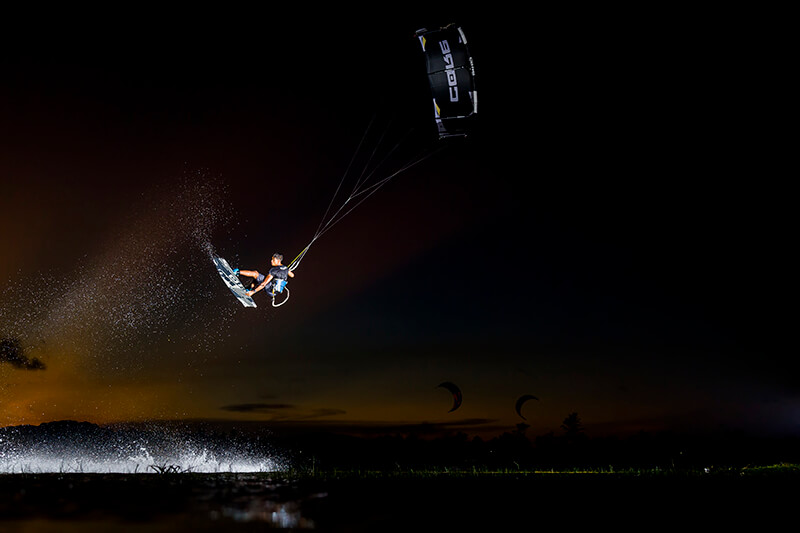 //

How's the Covid-19 situation in Cumbuco?
AN: Since the start of the pandemic we have been staying at home. The situation was a bit scary in Fortaleza, and as Cumbuco is close to Fortaleza we had the same restrictions as them, even though we had very few cases here. When things improved, we were allowed to kite a bit as long as it was by ourselves. When I saw other sports canceling events, I realized the same was going to happen to kiting. The situation has improved now, and we have some tourists from southern Brazil and I'm keeping my fingers crossed that a few foreign tourists will come later in the season.
EA: I thought 2020 would be the year I would start traveling more, but as soon as everything started closing down and the events got canceled, I realized that wouldn't be the case. In the beginning it was really scary here – Cumbuco was so empty – it was weird to see. Even buying food was hard for some people because a lot of jobs were lost. Although we can now kite and surf again it's been a weird off-season, not only because of the pandemic, but also because it's harder to stay motivated without all the pro riders here. The locals haven't been training that much. Carlos Mario is coming back from his injury and Set Teixeira has been busy with other things. I have definitely missed the good vibes of everyone riding together. Now that things are opening up again, I am keeping myself busy with training and coaching, and the tourists from southern Brazil keep the coaching side busy. ■
This feature originally appeared in TheKiteMag #39. To subscribe, head here.