Big Air talent Giel Vlugt recently took part in the Red Bull King of the Air, making it into the semi-final on his rookie year. Before he headed to Cape Town he got some practice in at home, and we spoke to photographer Rein Rijke who spent the day snapping Giel in classic Dutch autumn conditions with some moody skies in the background.
---
The forecast looked pretty epic, 35+ knots for some Big Air and I was looking forward to shooting with Giel. He is relatively new in the world of Big Air and it was going to be our first collaboration together. We decided to visit two locations that day and started off at Slufter Bay. This bay, located at the southwest tip of the Port of Rotterdam, has plenty of shallow flat water and for many Dutch kiters is a favorite spot to visit.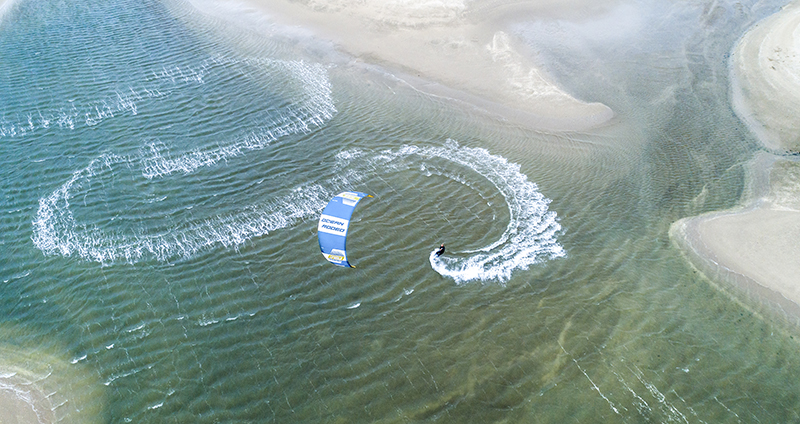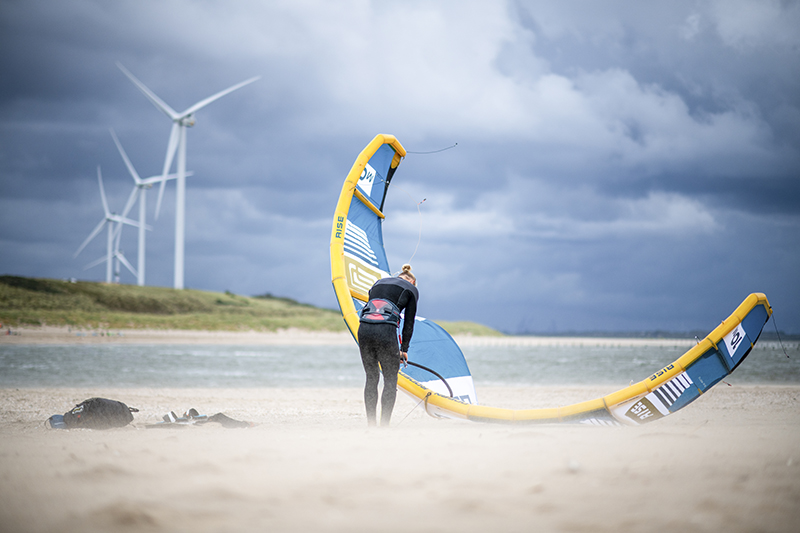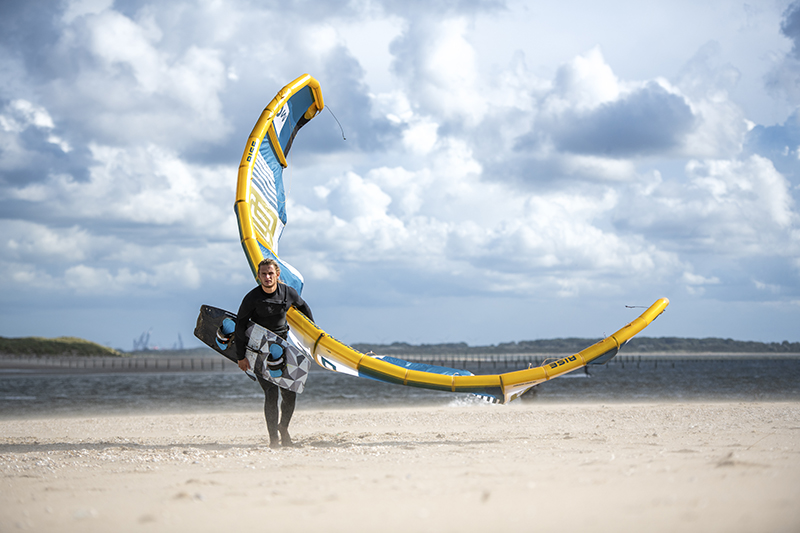 I photograph a lot of pro riders and every rider has their own autograph, timing and style. Shooting Big Air is a pretty technical discipline to photograph, so with Giel I had to quickly learn his key moments to shoot and connect with him to produce the best possible images in no time. We tried various settings and tricks, and although unfortunately the wind wasn't as radical as we'd hoped for, I was still pretty impressed with what Giel could do with his Rise kite. Even with only 25 knots of wind, he was sending it and doing some insane loops and board offs. That morning he showed why he totally deserved a spot at the King of the Air, and in my eyes was an outsider to win the event.
In the afternoon we moved to Scheveningen, a place a bit further north along the Dutch coast. It gives me, as a photographer, the opportunity to create images that represent the adventure and action that comes with Big Air kiting. Shooting into the direction of the pier gives the viewer a bit of an idea how high these pro riders jump. Alternatively, while standing on the pier, shooting into the direction of the lighthouse gives you a totally different perspective.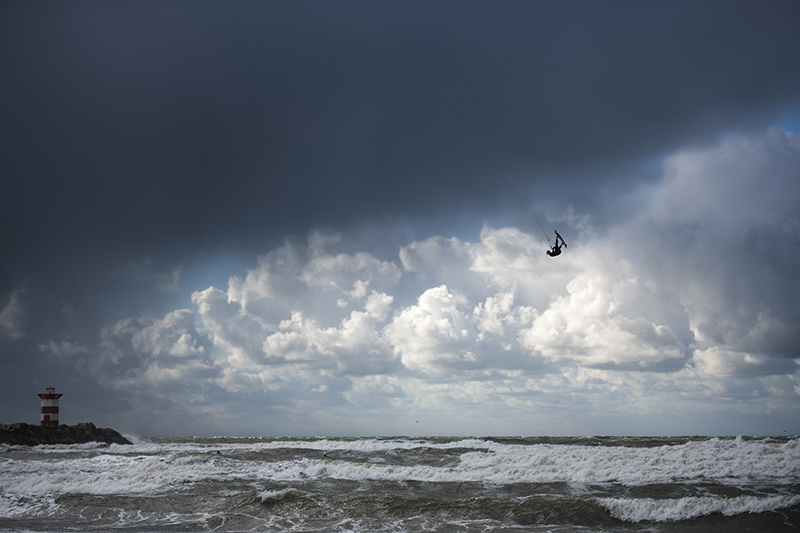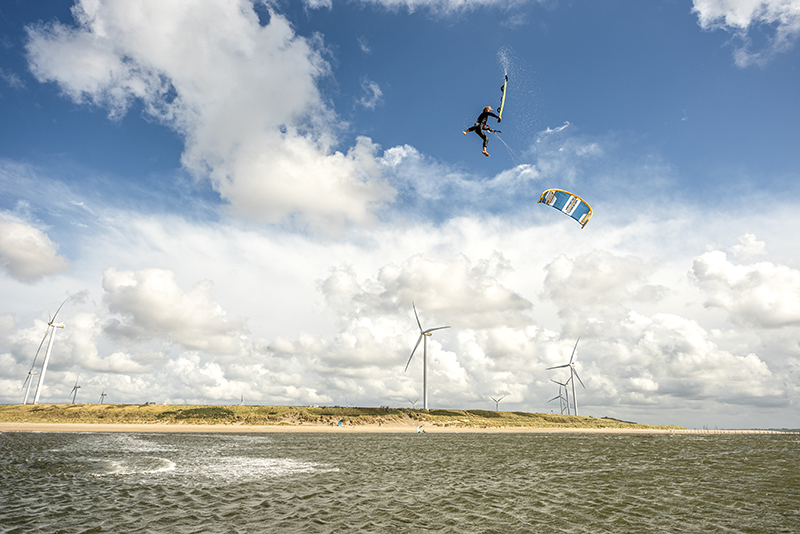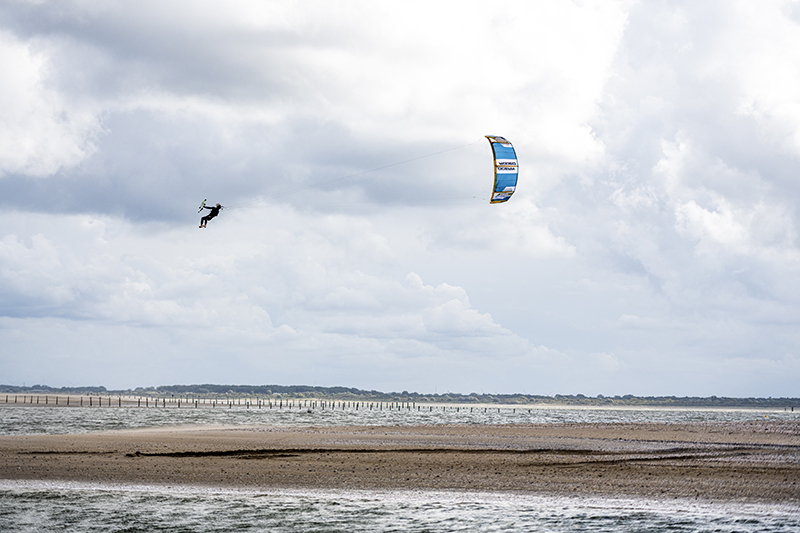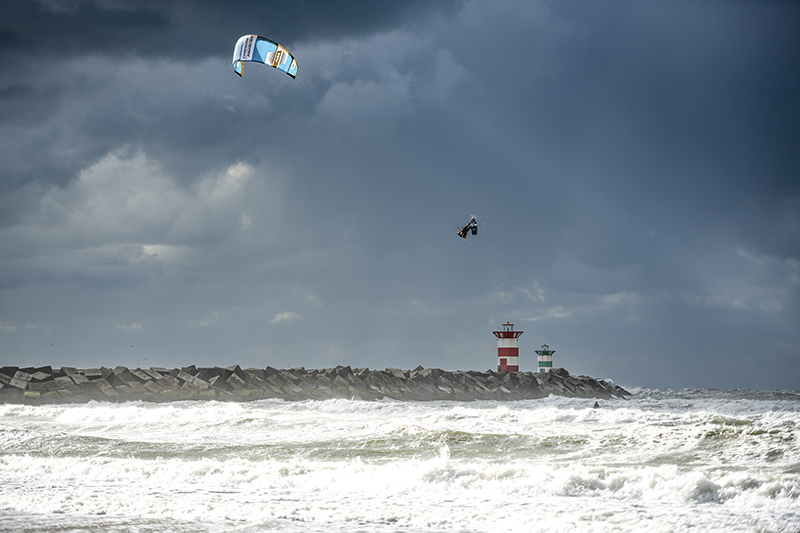 One of my favorite photos of the day was taken in Scheveningen. Beforehand I told Giel that photographers love the sun and he should really try to time his jumps into the sun. Giel was kiting in typical Dutch cloudy weather and when I spotted some rays of sunlight on the ocean, all I could hope for was that he remembered my advice. When the ray of light came closer, I could see him getting ready and he completed a grade 10 move and pulled off one of his best jumps of the day. With the dark sky as a perfect backdrop and the sun on his kite, it produced the exact photo I was hoping for.
All in all it was so much fun working with Giel, and all I wished for next was some serious 40+ knots of wind in Cape Town to let him off his leash and show the world what he is capable of. ■
This feature originally appeared in TheKiteMag #45. To read the full issue, subscribe here.