When Keahi de Aboitiz knows that the photographic opportunities are going to be sweet, even if that means riding unlikely breaks, he gives photographer John Bilderback a shout. And John knows that when Keahi gets an idea in his head, it's best to go along with it. John sent through one teaser shot and that was more than enough for us to pull the trigger on this one…
---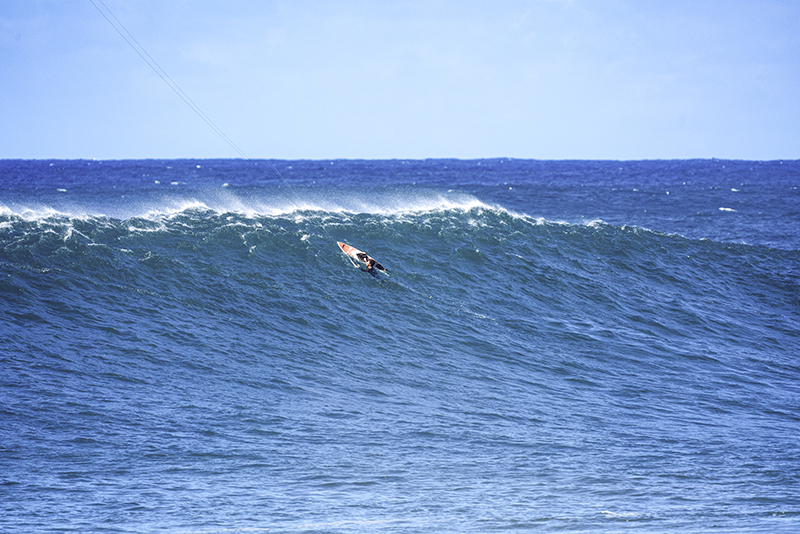 It's a no brainer when my phone rings and Keahi de Aboitiz' name is flashing. If the four times world champ calls and it's forecast ten feet, I quickly pick up… Whatever I'm doing… Especially changing diapers.
Now most of us know that Keahi loves kiting waves and that he's a great surfer to boot. But lately I think he's been confusing his sports. He keeps taking his kite out at Off The Wall, what we used to call Kodak Reef. This is not a kite spot, not even close. It's one of the most famous surf spots in the world. In fact if you searched the world for a more unfriendly spot to kitesurf, it would be hard to find one. Plus if you do mess up and something horrible happens, it will all be covered by the world's entire water sports media… like you might as well have been on the front lawn of the White House. The surf is big today, even by Hawaiian standards. In fact they are holding the Hurley Pro World Tour surfing contest at Sunset Beach and it is serious and challenging. At this size, Off The Wall is plainly too big to surf. It moves all over and "there are a few big scary lumps out there for sure", to quote Keahi. That's from a guy who doesn't scare very easily. It's really best at about half this size. So, yeah, I pick up. "Hmmm, really, uh huh, okay!" Damn, I'm gonna need a babysitter, quick, he's going out at Off The Wall again!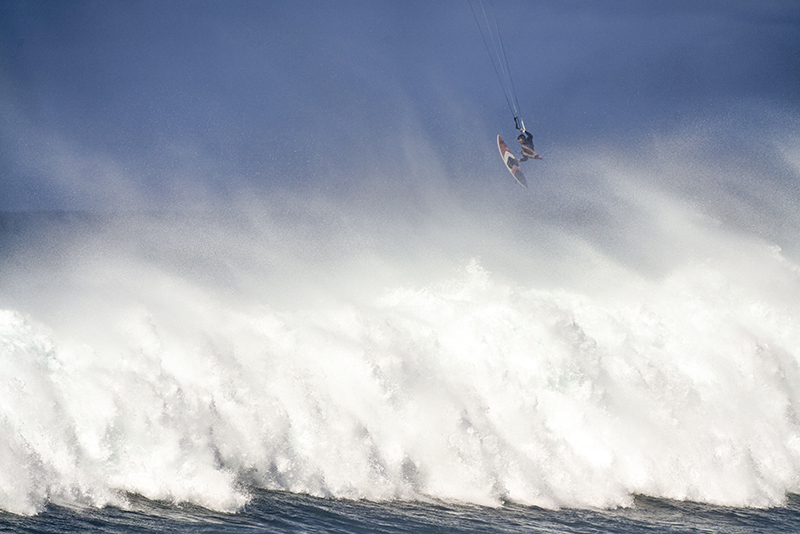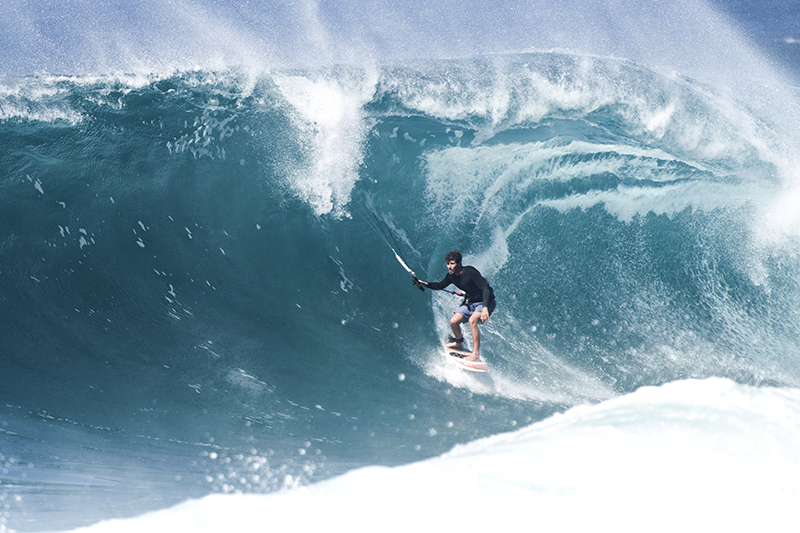 It used to be a simple matter of grabbing gear and running down to the beach – no big deal – batteries, cameras, cards, off. Now, having a six year old and two one year old twins, it's much harder to be there instantly for Keahi. As a full time daddy, I have a mountain of BSE (baby support equipment), a network of flexible child-rearing assistance, and I just need a permission slip from my wife. But miraculously, I find myself free, on my electric bike with my kids' bike trailer crammed full of my cameras, tripod and a few dolls with cheese and cheerios stuck to their cheeks. I'm cruising the bike path from my house at Backyards about a mile and a half to Pipeline and Off The Wall. The contest at Sunset is in full swing. The beach is a sea of tourists, the parking lot a truck fest with all the local heavies mobbed together in their beds watching the contest and pumping their music. The bank of giant-lensed TV cameras bring millions of people from all across the world to this spot wave by wave, and it seems like everyone everywhere is focused on this particular beach.
And I'm riding right by. It's hard because Sunset is my home break and where I focused my efforts as a surf photographer. For twenty years I rarely missed a single swell out there. And for several years I was the official Triple Crown photographer. So it's not lost on me that today I'm heading away to meet a lone guy, somewhere else, while no one is looking… Sure enough Off The Wall is massive, and the swell is pretty west so most of the waves are too big to begin with, but are also hitting the reef too straight on and closing out without any real shape. The wind is veering and backing down from a too east side-offshore direction. And there, unfazed, is Keahi pumping up a 10m Drifter on the beach. Very few of the tourists' eyes watching him are able to understand what they are seeing. Then the kite goes up. And then the level of confusion goes up. And then whoosh, he's off the beach. At this point the bright orange Cabrinha 'what is that' soaring over the lineup blows his cover entirely. Every eye in the vicinity is now on him. With a few dozen guys surfing Pipe, and no one at Backdoor or Off The Wall, he slips out between explosions on the inside reef. He boosts over a big whitewater, and the crowd goes "Ah-ooooo!" And then the first set appears and the wind backs to nothing.
Keahi has this technique he uses, Moona and Reo too, when the fickle wind on Oahu's North Shore backs off temporarily. They get the kite into an efficient position and then get off their boards. They look like they are body dragging, but it's not intended to take them anywhere, it just keeps the kite up. And in this way they survive the lulls and are still aloft when the wind comes back. It is grandmaster level skills. And this is what Keahi is doing pretty much right off the beach. Most kiters would already be planning a hasty retreat anyway they could, and finding significantly less insane conditions somewhere else. But Keahi is happy to just hang under his kite as 10-foot sets roll in and feather during the lull in the wind. His dogged and fearless persistence paid off eventually though. It took about two hours of hard work and patience but eventually he found a few waves with promise and chased them down. He also narrowly escaped detonation in the oversized cross-ups backwashing diagonally outward into the swells and survived a couple of warped clamping barrels he pitted himself in.
While millions watched the world's best surfers grind through heats on the livestream at Sunset Beach, Keahi just snuck down the road and had a solo session of his own, under the radar, stage right… ■
This feature originally appeared in TheKiteMag #46. To read the full issue, subscribe here.