Facing an empty calendar without her familiar contest schedule, multiple world champion Bruna Kajiya wasn't going to let a canceled GKA Tour keep her down. The Brazilian North and Mystic team rider escaped from Covid lockdowns in Spain to seek out an epic freestyle session and discover a wilder and rawer version of the pro kiter's dream.
Photos: Claudio Cabral (except this main feature image, Samuel Cardenas)
---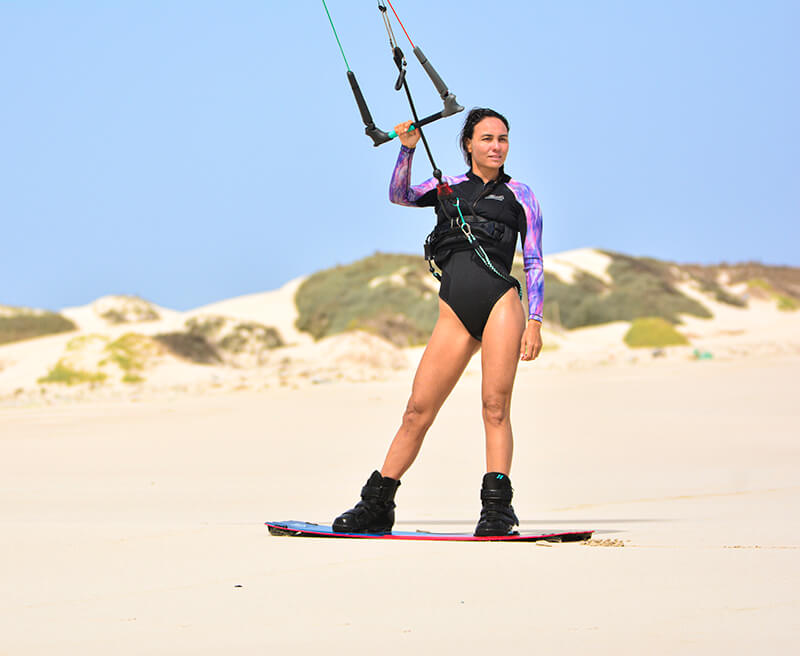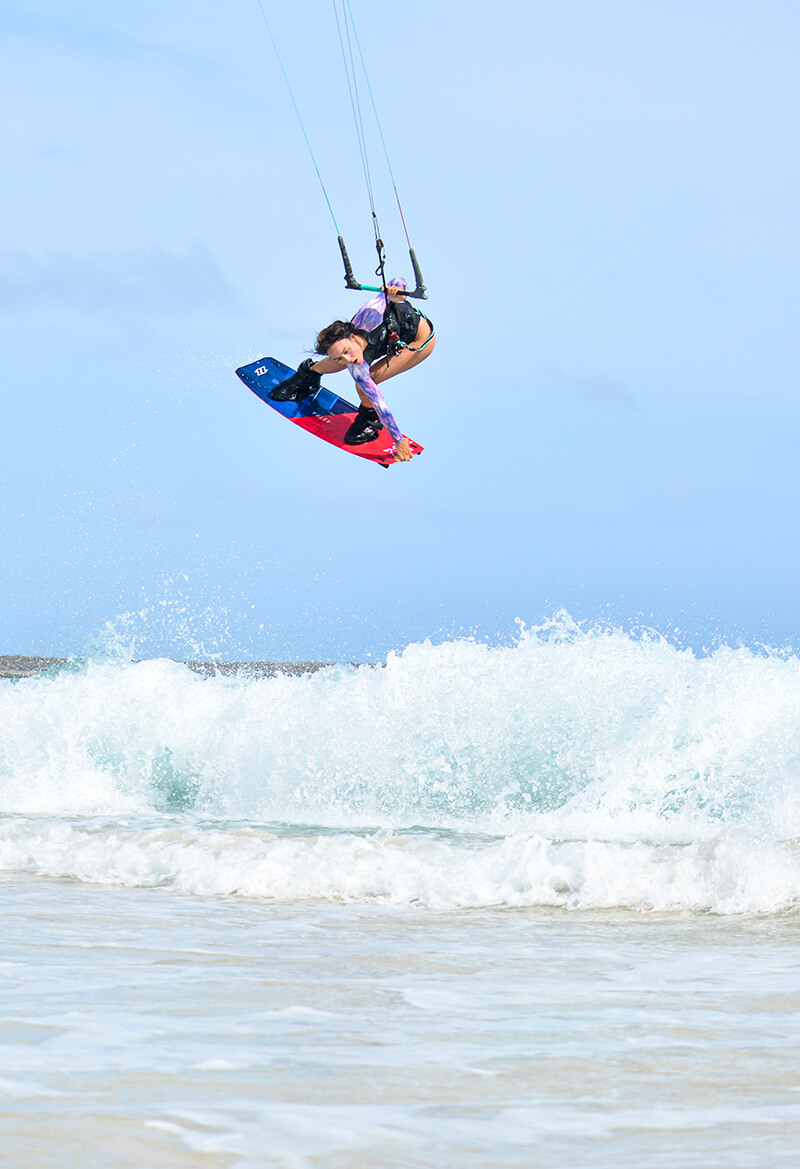 When you hear the name Cape Verde, what comes to mind? For most of us kiters, it's waves… beautiful open-face waves… big barreling waves… dream waves… But when I boarded my flight from Lisbon to Praia, Cape Verde's capital, I had something different in mind: freestyle. A far-fetched idea perhaps, especially since everyone I talked to about it, including local kiters, turned up their noses. It wasn't an entirely implausible idea, as I saw it. The spot is notorious for waves, but no one ever tries to freestyle or explore the islands for freestyle spots. That was my edge. As my Grandma used to say: "Seek, and you shall find." I can't remember the last time I went on a kite trip without knowing what I would find, and the risk of not finding anything just added more thrill to the search. I'd chosen to visit Cape Verde because it was close to Europe, open to travel to, and warm with good kiting conditions. It was February, and I was feeling the need to escape the European winter and explore somewhere new, especially given I had time off competitions. I was seeking a destination that was out of the box, something different. I wanted to explore.
I've been staying in Tarifa, a place I fell in love with when I started traveling for kiting, and it's now my second home. To get to Cape Verde, I had to fly from Malaga to Lisbon. Traveling was quite difficult – especially with a Brazilian passport – given the pandemic at the time was at its worst point in my country. Controls at check-in were very strict, checking documents to see why you were traveling and if you were allowed to. For the first time in my life, I understood how it feels to be discriminated against simply because of where you come from. Although I hadn't been in Brazil in months, I was almost denied entry on multiple occasions. Finally allowed on my flight, I saw a curved coastline lined with rocks from the plane – an intense contrast between the dry red terracotta soil against the smooth deep blue ocean. The contrasting colors were marking a line from side to side, showing me all the possibilities that lay ahead. Once I arrived on the island, life felt normal, as I hadn't experienced it since the start of the pandemic. The easiness of the Cape Verdean culture and talking to locals really helped.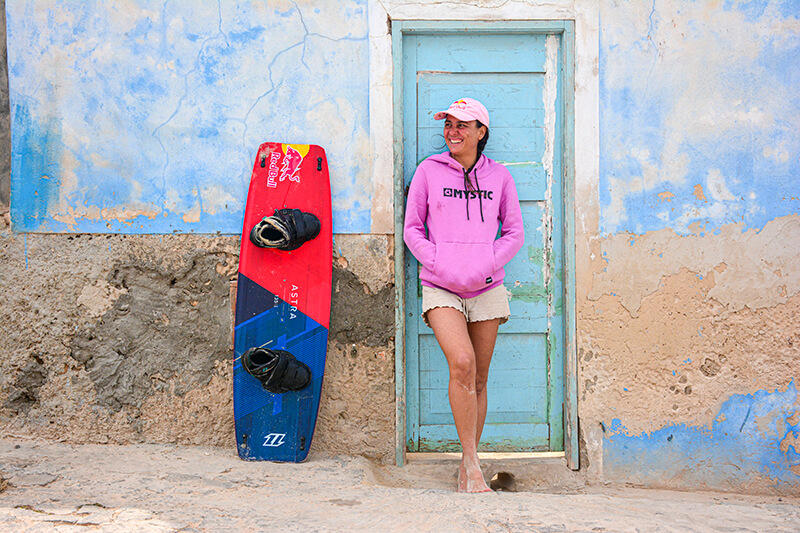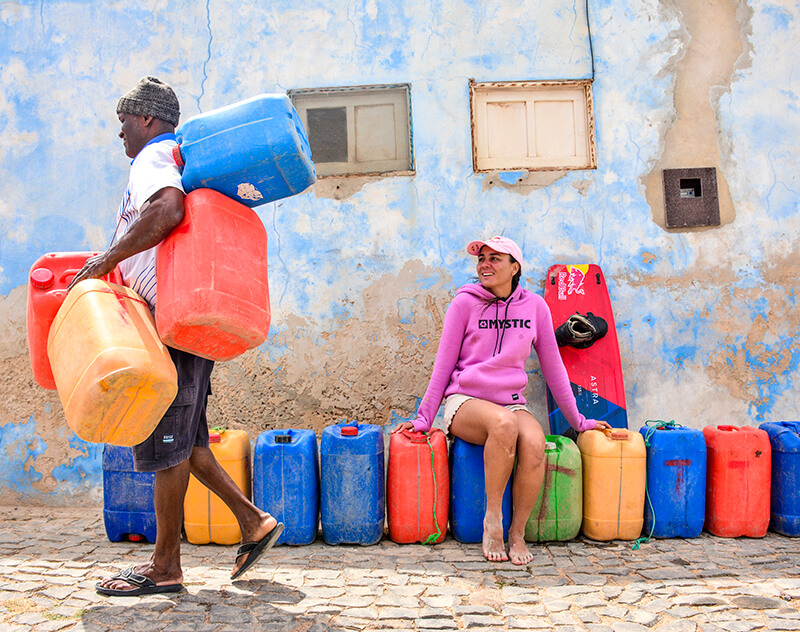 Going by the local knowledge, I was on the best island to freestyle. In any case, traveling between islands would be complicated, as there were very few boats and planes. So my first stop off the plane was a spot right in front of the town, where lies a small island with a white sand strip about 50m long and the promise of a dreamy freestyle bay. Unfortunately, I can't say exactly where it is because one of the conditions to get 'directions' from the locals was to keep it secret! From the mainland, it looked as I just described. So, with my 9m Pulse kite, I headed across the channel, eager to pop, pass and land. However, upon reaching this 'flat' bay, I realized that it wasn't flat at all, due to the enormous swell circling both sides of the island and meeting right where I was. On top of this, the wind was very patchy. Although strong on the gusts, there were large gaps between them. Unable to perform technical tricks, I decided to head back to the beach, only to discover the wind was too gusty and light to make it back. Thus, my first session finished with a two-kilometer walk up the beach. Not getting my hopes down after this first attempt, I waited for more wind to come. Two, three, four days went by and… nada. I spent these days driving around the island's dirt roads and inspecting potential spots. Sitting on the edge of my seat round every corner of the coastline, filled with curiosity and a sense of discovery, I felt like a child again.
On this island with zero Covid cases, it was easy to adjust to the slow-paced rhythm and the empty beaches. There isn't much to visit on the island apart from raw nature. I had many drives to paradisiacal beaches, ate local food every day, and interacted with the locals who have a very bright and happy culture. After getting lost a few times and getting my 4×4 stuck in the mud, my spirits soon lifted with what I found – an oasis among the predominant volcanic grounds of the island. A white sand beach with small turquoise waves rolling in, making a long, flat patch between them. Now I just needed the most critical piece of the puzzle to show up for the actual test to start. On the fifth day on the island, I woke up with the sound of the wind blowing on my window. This was it. Excitedly I packed the 4×4 with provisions for a full day and headed to my newfound spot. In fact I was able to kite in two different flat-water spots with side-on winds that were just amazing. If it wasn't for the wetsuit, I could say I was in the Caribbean, but a wilder version of it.
Cape Verde is a nation on a volcanic archipelago of 10 islands, with consistent winds from November to April, and a sunny climate year-round. For me, the trip to Cape Verde was worth it because traveling to do what I love is my passion and my job. Of course, there were positive and negative aspects of this new way of traveling and interacting with people. I think traveling during the pandemic is a very personal decision. It's hard to recommend it to other kiters without knowing whether they've been vaccinated or not, how things will be at their destination, or what kind of restrictions they'll face on their return home. Things change so fast these days. It's been interesting to be a pro kiter during Covid. We are so used to traveling most of the time with our jobs and competing. But I feel like no matter what you are doing these days, it feels different. If you keep yourself curious and creative, you can always find other ways to express yourself as an athlete. ■
This feature originally appeared in TheKiteMag #43. To read the full issue, subscribe here.