While most of us can only dream of hitting the slopes this year, CORE rider Alina Kornelli took matters into her own hands and, taking photographer Lukas Stiller with her, headed to some snowkiting spots in Switzerland earlier this winter, rendering the ski lifts obsolete and the fresh snow all hers…
PHOTOS LUKAS STILLER
---
The months of October to December are normally the time of year when the whole kite family meet up at windy Brazilian lagoons. The freestylers amongst us will shred at Taiba lagoon until the sun goes down, striving for the money shot – a sick flashlight shot by photographers like Lukas. However, the worldwide pandemic meant it was risky to travel to Brazil as normal, and for this reason I decided to stay in chilly Europe. But watching social media and seeing those freestylers who had made it to Brazil having great sessions at the lagoons, made me kind of jealous. After a calm summer season at home one thing was certain – both Lukas and I wanted to get away, to find an alternative to the dream destination of Brazil and to dive into a new adventure.
Europe offers a huge variety of kite and travel destinations, and an easy option for getting away is packing up the VW camper and going on a roadtrip. However, we couldn't forget that this was winter in Europe, and the usual kite spots are not exactly the warmest at this time of year. Therefore, we opted for a snowkite trip. At the end of November we were on hold, waiting for the perfect conditions to get our winter trip started. The news painted a picture of snow chaos all round Switzerland, so we waited for two weeks of no fresh snow before we headed off. Leaving Germany behind we headed south, driving up small winding roads through an amazing and white Swiss mountain scenery until we arrived in Davos. We arrived just as all the snow chaos had disappeared, and the snow-covered mountains were shining in the sun – a true winter wonderland.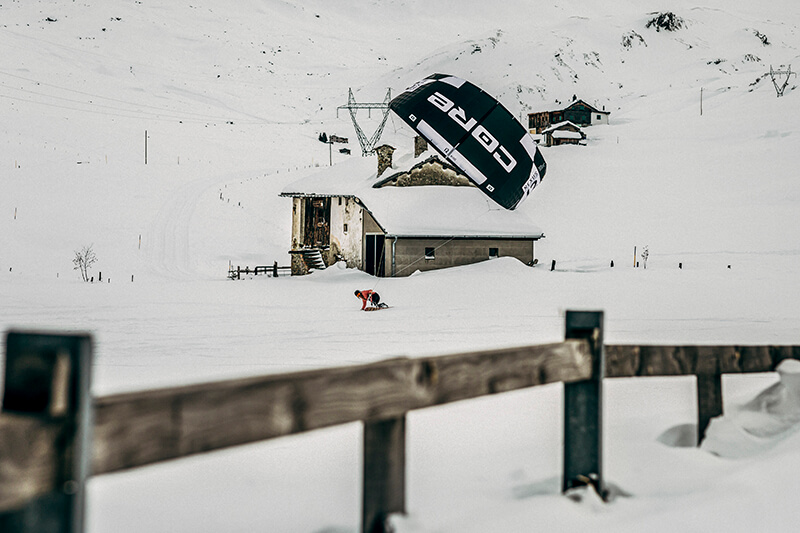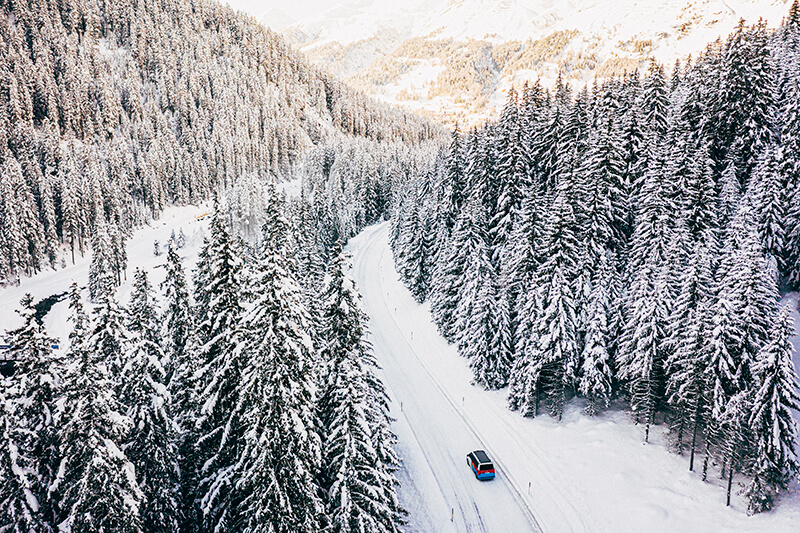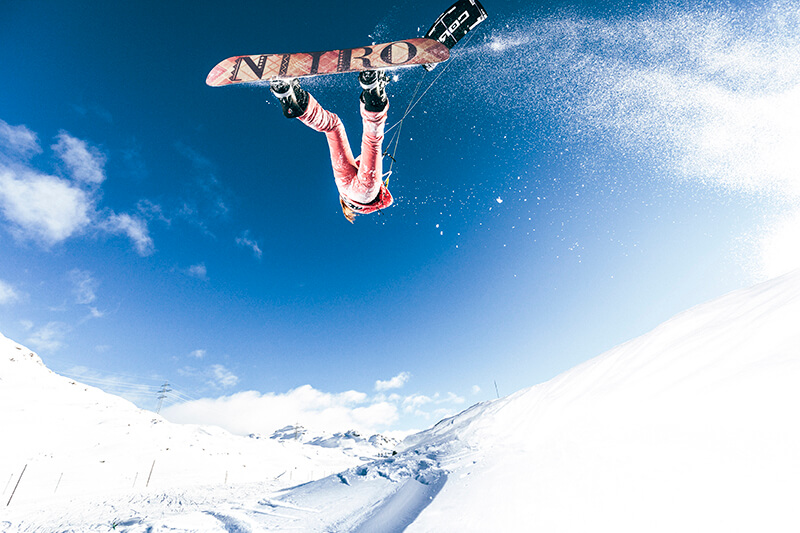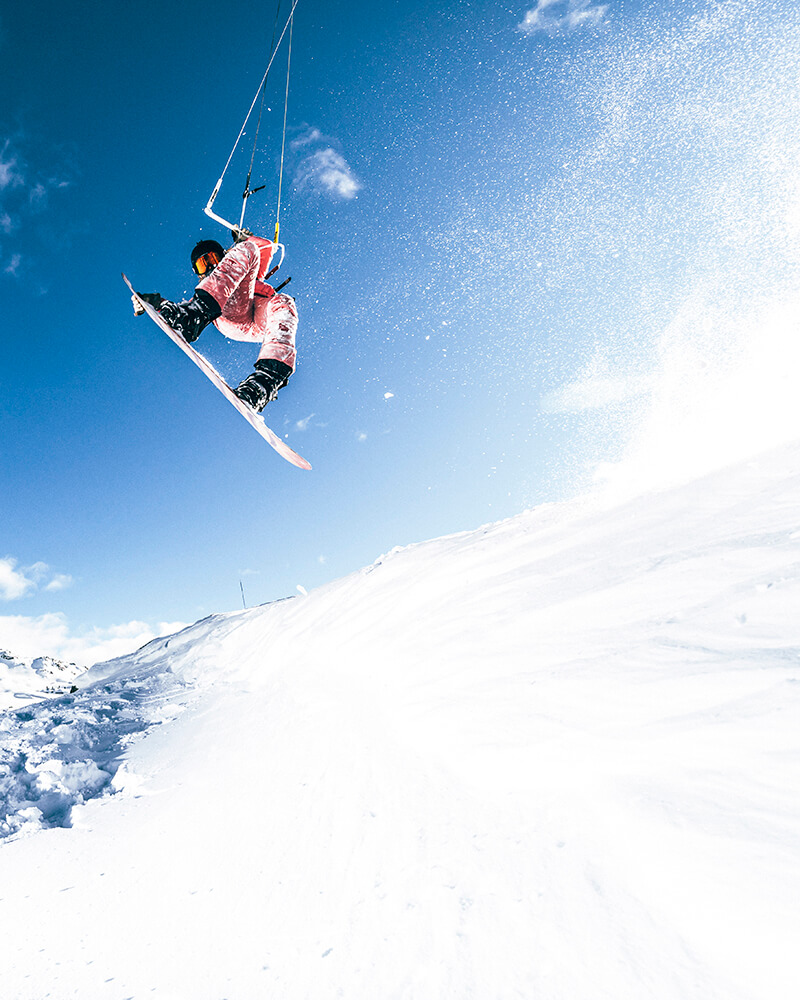 For this time of year we had packed our vans with snowshoes, sledges, snowboards, skis, walkie talkies, gloves and of course kite gear – this was primarily a kiting adventure after all. We drove up Flüelapass, a mountain pass 2383 meters above sea level, located near the ski town of Davos. The temperature was minus ten degrees and everything was completely covered in snow as far as the eye could see. The sun was shining and luckily the wind kicked in as we arrived. It was unfamiliar to me to inflate my kite on snow with ski boots and gloves on, and felt weird to Lukas to get his camera gear ready in the heated van, put on snowshoes and place his flashlight on the snow to shoot our first snowkite session.
After a while we realized that this would not be an easy Taiba shooting – instead it would entail a week full of new challenges like trudging through deep snow, kiting in shifty, gusty and cold wind conditions, driving up icy roads, getting stuck in the snow, camping in temperatures of minus ten degrees and communicating only with walkie talkies. It was a new experience for both of us, but to be honest that is exactly what we were looking for after a quiet time at home in Germany.
We got to know three different locations during our week on the road. After the first stop at Flüelapass, we headed on to the second and probably most famous snowkite location in Switzerland: the Berninapass. Bernina offered up epic conditions – powder snow, sun and perfect wind for my CORE GTS6 15m, but unfortunately the wind died after two powered hours. Hungry for more, we drove on to another snowkite spot called Lunghin. This spot was probably the most exhausting one. I had to put all my gear, including my snowboard and snowboard boots, on my back and Lukas had to carry two fully packed backpacks and his flashlight in his hands, and we walked a long way up an icy slope to reach the spot. It was super gusty but in the end we were successful with some nice flashlight shots.
After this we found out that another lockdown was just around the corner, so we only had one more day of our trip. For the last day we left the kite and photo gear in the car and hit up Davos for a crazy snowboard session. All in all, it was a great trip, and I would say we were lucky to have chosen probably the best week of the early Swiss winter season. ■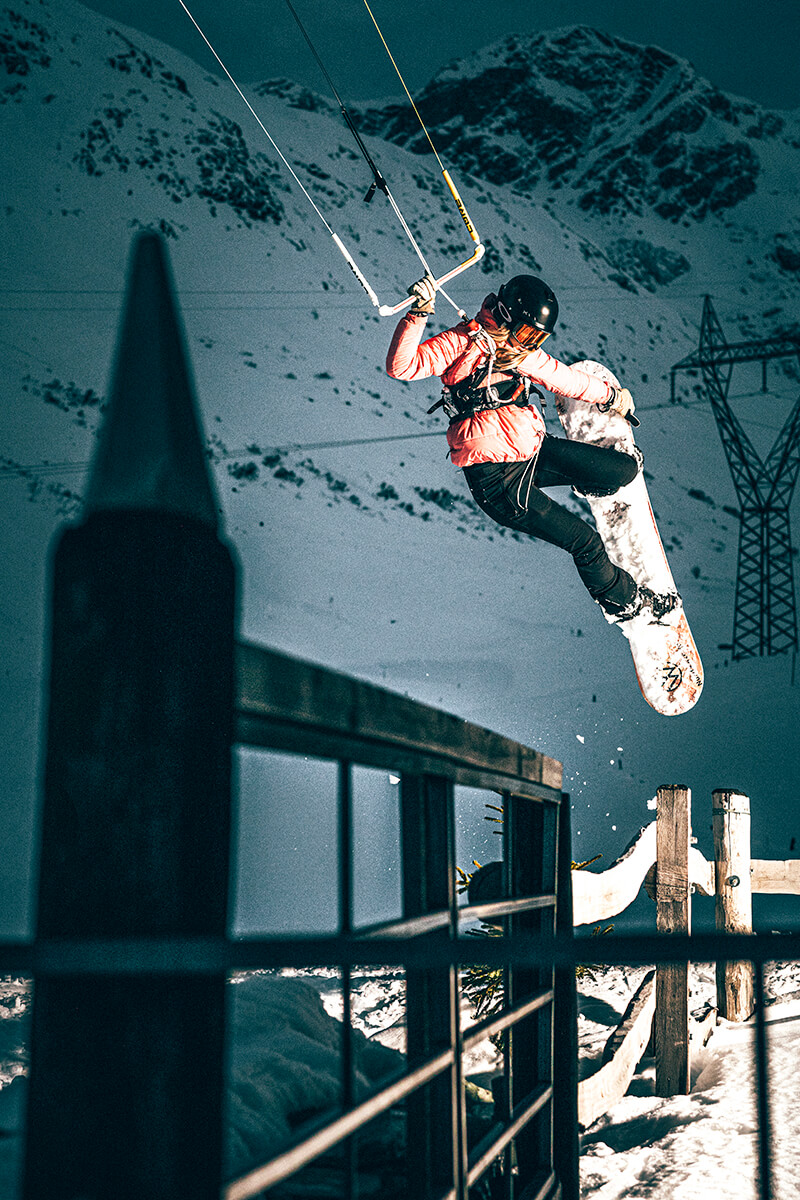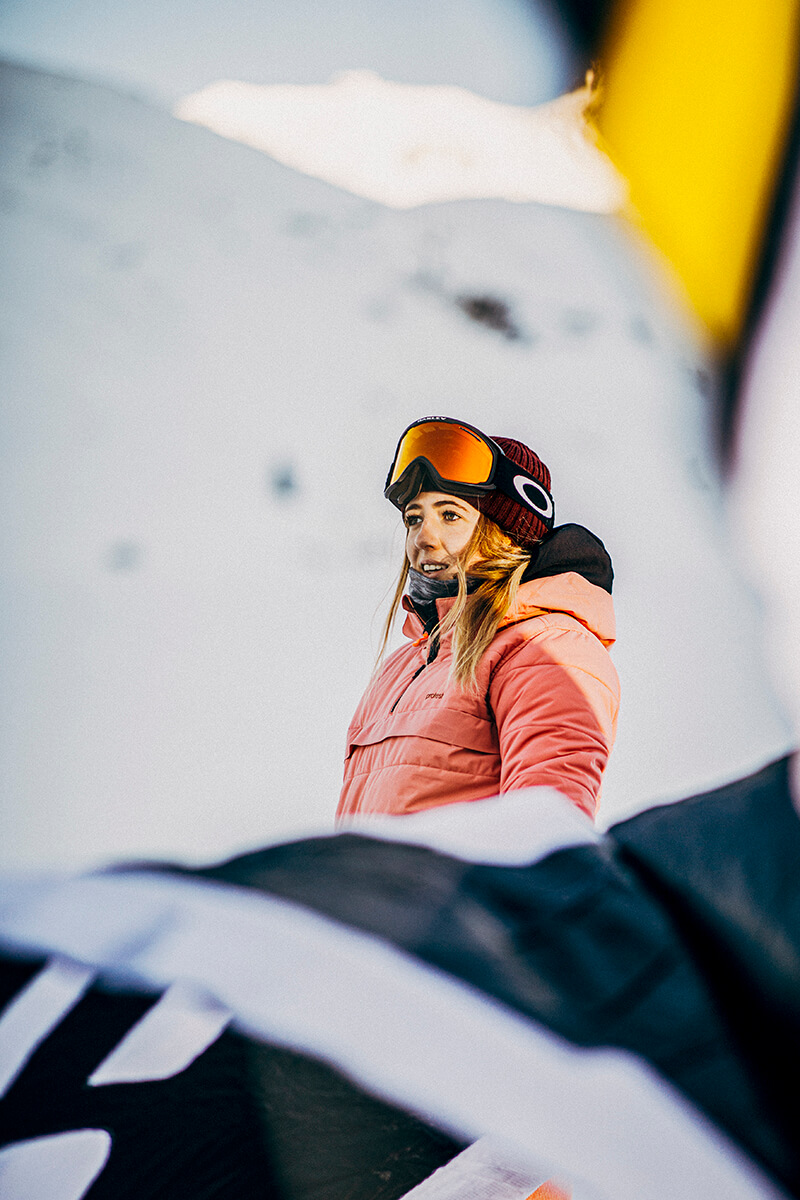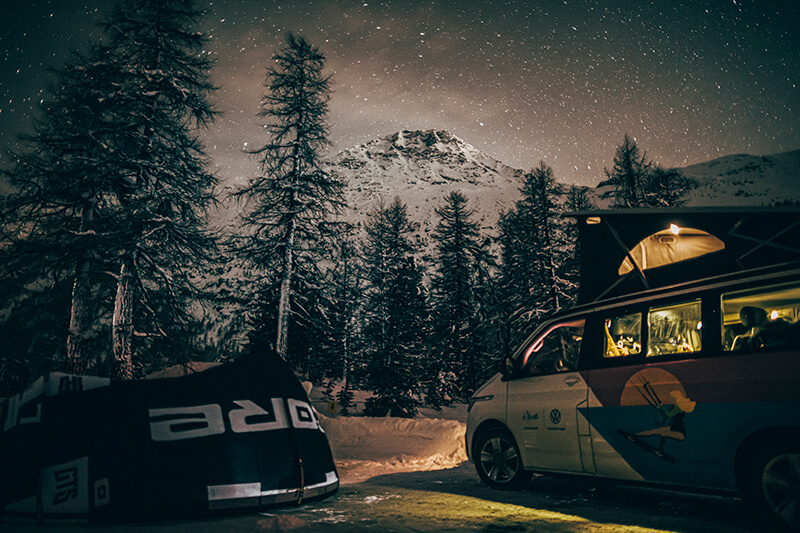 This feature originally appeared in TheKiteMag #41. To read the full issue, subscribe here.