There's a big problem with magazines like ours: we're offering you an impossible dream. We're showing you pages and pages of unattainable moves in unattainable places… We all love imagining ourselves into these kiting nirvanas pulling the flawless moves that you see within these pages, but we know that these guys and girls are pros… it could never be us…
Or could it?
As editor of TheKiteMag I'm not a teenager anymore and I'm pretty sure that I know my limits on a kiteboard. But do I? Or have I just allowed myself to believe that I've plateaued so I can take it easy? Deep down maybe those reasons you give for not really pushing hard and going for new moves are actually excuses. And maybe it's the same for you, maybe you have got more in you… Maybe you're not too old to get your (donkey) dick out and see where things end up. So went a conversation between competent wakestyler Tony Litke, and 'definitely plateaued' Ned DeBeck one night. And so the next day, the #brostyle game was on… – Alex (Ed.)
Photos by Melodie Devries.
Tony
Have you ever noticed how once someone starts kiting they quickly discover their niche in the sport, be it twin tipped big floaty airs, strapless flickety tricks or down the line waves and often never really expand their horizons beyond that? So I guess I wasn't that surprised to discover that all my kiting buddies, some who had been kiting for 10 years more than I, had never pulled their (donkey) dick out and tried unhooking. Coming from windsurfing one of the biggest advantages I saw in kiting was its versatility. From 12 knots to 40 knots and from flat water to heavy waves, you can get rad with pretty much the same basic kit of a few kites and a couple of boards. Thus this lack of diversity among kiters surprised me. When I started kiting I knew I wanted to ride waves but when I came across wakestyle on YouTube I knew that would be my second love, and I made it my mission to get my buddies doing it too – I would become the local wakestyle proselytizer.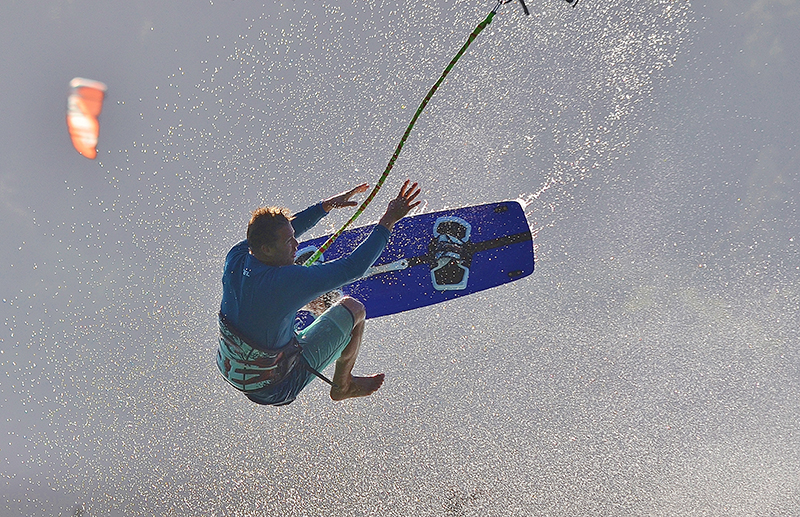 Ned
Despite being a kiter since 2007 and working for Ocean Rodeo since 2012, I've never had any interest in unhooked riding. Wakestyle is for wakeboarders, kids, and people who don't care about their knees (right?!). Everyone knows the worst wipeouts come from unhooked trick attempts… Like most of us, I was drawn to kiteboarding by the apparent freedom, big airs, and soft landings. Add some strapless, and I've still got loads of room to progress nearly 10 years in. Why would I ever unhook? I'm too old and smart for that now!
Tony
Nobody here on Vancouver Island was really riding wakestyle, so I had the internet teach me. Every time you pull that bar all the way in it seemed a long way from how simple those tutorials made things look back home… "Oh crap how is this going to work! My arms are getting yanked out! I'm going to eat it so hard!". It was full on 7m conditions the day I finally committed to really go for that first unhooked Raley attempt in Paracas, Peru; not exactly ideal learning conditions but what did I know (I don't think the internet tutorials really emphasized enough how preferable 12-14m days are for learning). That was an enlightening day…
Ned
It's interesting to take a step back and really look at wakestyle riding. Why are (relatively) few kiters doing it? Why do so many of us shy away from it? I think there are a few things at play here. The exposure on the discipline is largely at the 'pro' level in magazines and videos. Landings are hard, and it seems like half the pros are all wearing knee braces. You only see teenagers or 20-somethings try this stuff, the tricks happen so fast, and for the average kiter (let alone new spectator) the difference between a Back Mobe and a KGB is… well, they don't even know, and that's just it! Conversely everyone can quickly grasp a big air with a tail grab, and those look pretty cool too. We all figured wakestyle is just for bros, and with Tony being such a bro, we called his unhooked sessions #brostyle.
Tony
After months of incessant badgering to get my buddies on the wakestyle (now #brostyle) train it all came to a head after plenty of beers around a Nitinat campfire in mid-July. Five boozed-up and overconfident unhooked virgins dropped the hammer and committed to make tomorrow the day they pulled their (donkey) dicks out. Morning came, the thermal wind kicked in and there were some nerves amongst the candidates for sure with at least a couple trying to make a solid effort to bail out. Unlucky for them I wasn't letting them get away that easily though and after some "positive reinforcement" the guys were pumping up, sourcing longer kite leashes, putting their safety systems in suicide mode and asking questions about what exactly they were about to attempt. Because there is no internet at Nitinat, it's not like they could do any of their own research.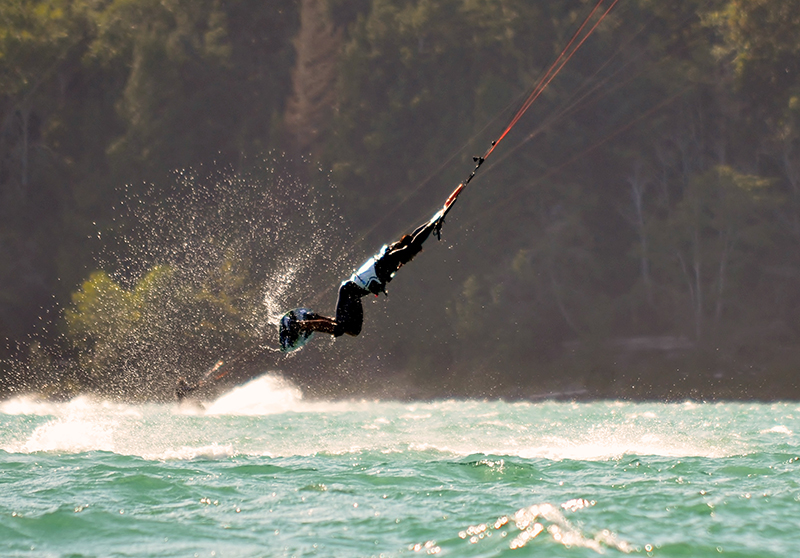 Ned
After all the trash talk, we had no choice but to suit up, venture into the unknown, and pop those unhooked cherries. How hard can it be? Just pop the donkey dick (I like chicken finger), ride downwind, and then just go for it right? Well… maybe not so much. Our attempts were anything from pitiful to scary and everything in between. I think I tried to unhook 3-4 times before realizing I had to really ride downwind, not just 'less upwind'. Others reverted to the 'never ever ever let go of the bar' mentality, and half of us sent it like we were trying to boost moonshot 40 footers – not the greatest for Raleys. One thing that quickly became apparent to all of us though: this was actually pretty fun.
Tony
This was probably the funniest thing I have ever seen in eight years of windsports. Kiting is inherently individual, and unlike other boardsports, you kind of want to stay the hell away from everyone else. It's rare to get that jam-session mentality going where a group of your bros are all trying new moves for the first time, destroying themselves, and egging each other on to keep trying. The boys were all just killing themselves, sending it hard, eating it, recovering and then cruising back and forth on the lake giving the "look my (donkey) dick is out" gesture to everyone they knew cruising by. Surprisingly, a couple of them even threw down some pretty legitimate Raleys…
Ned
A few half decent attempts, a lot of crashes, and some minor cuts and bruises later we reconvened with massive grins and beers. Needless to say, there were a lot of laughs, excessive hand talking with kite bar motions, and continued trash talk. Everyone agreed that this was something that needed to happen again on a regular basis. This time it was the Raley, next time something else. The unhooked cherries were popped and we were already looking forward to the next team #brostyle session.
Tony
This isn't a pro story, none of us are expecting to throw down Double Back Mobes anytime soon. We are just a bunch of guys in our 30s who discovered a fun way to push ourselves, try something new and having a stupid amount of fun doing it. So the next time you are at the beach and you find yourself stagnating and bored with the same old tricks you've been doing for a while, rally some buddies, reach down, take your dick out and go for it. You'll be better for it. Just maybe wait for a 12m day…
This article first appeared in issue #16 of TheKiteMag. To subscribe, head here.