Colleen Carroll gave up on waiting for the snow and instead headed south to one of the spots where it all began for her: Baja and the La Ventana Classic. She found that – although plenty had changed in Baja since her last visit – the vibe had stayed the same…
Typically, my winter months are spent hopping from one warm and windy destination to the next in an attempt to stave off the cold wet days at home, when we only have daylight from about 9am to 4pm! However, this year I was longing for some time in the mountains surrounded by frozen water and to get back to my boardsports roots and spend a few weeks snowboarding. So, uncharacteristically, I planned some time at home in the dead of winter. The only problem was that winter decided it wasn't going to make it to the Cascade Mountains until much much later in the season.
So I sat at home in Hood River, Oregon, checking the snow report and making plans for the spring until one day, I saw a post reminding everyone to register for the La Ventana Classic down in Baja, Mexico. The event was only a few days away but "The Classic" was one of the first kiteboard events I ever attended and my fondness for the community behind the event suddenly hit me. A few more minutes scrolling through Facebook and I learned that Sensi Graves, Brandon Scheid and Vincent Bergeron would also be there and that locals Fritz Otiker and Layne Mullard had recently built a slider. Checking flights and I discovered that prices were at an all-time low…. I was sold.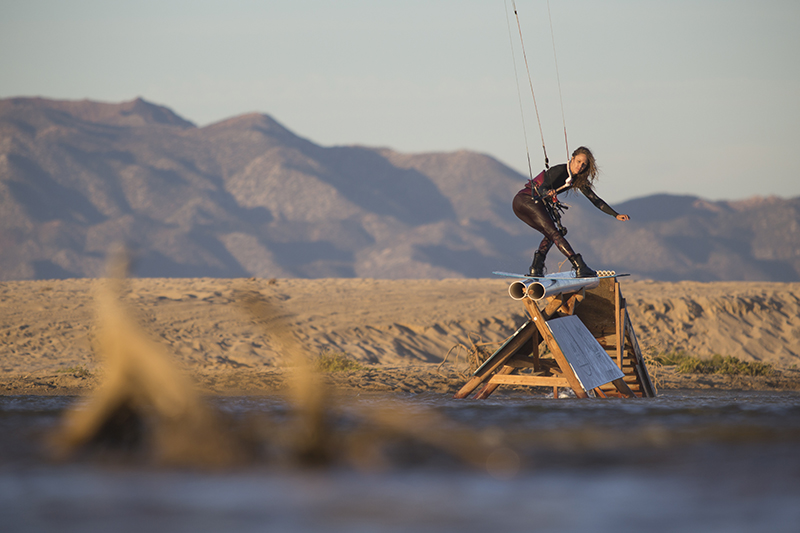 48 hours later I boarded my flight destined for Cabo San Lucas, B.C.S. Mexico and – just as the sun was setting that same day – I found myself surrounded by friendly faces at the registration party held at Palapas Ventana. It was a trip down memory lane and a totally new experience all at the same time. Everyone had the same motivation for being here as all those years before: to have a good time, spread the kiteboarding stoke and to raise money to send local kids to school. And while the event had swollen to epic proportions since my memories of it all those years ago, the vibe was familiar.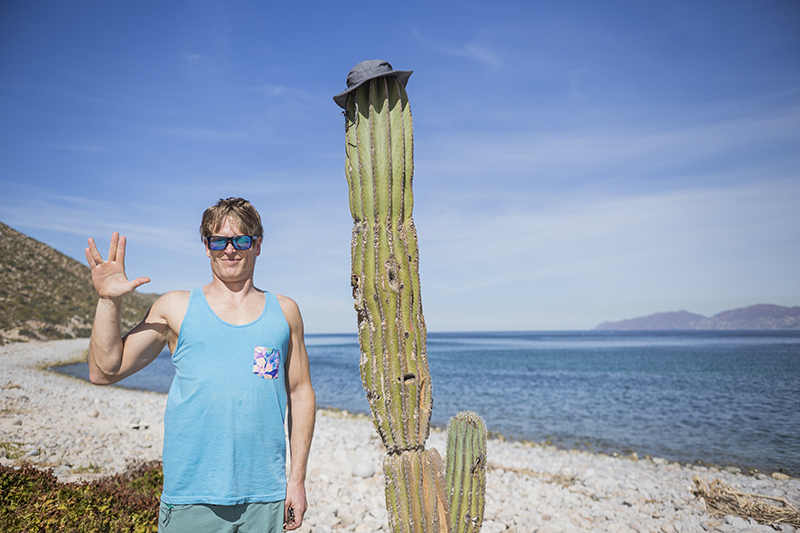 Although the event was familiar, the town of La Ventana was a whole new animal. What were once empty lots were now glamping compounds, condo complexes, swanky beachfront homes and restaurants offering trendy varieties of superfoods. The La Ventana View (a newsletter sent out once a week with local happenings) informed me that you could attend yoga, pilates, barre, art events, food markets, language classes, game nights, musical performances and more almost every day of the week. Just heading down the beach or driving the main street through town, I was blown away by how much La Ventana had got it going on.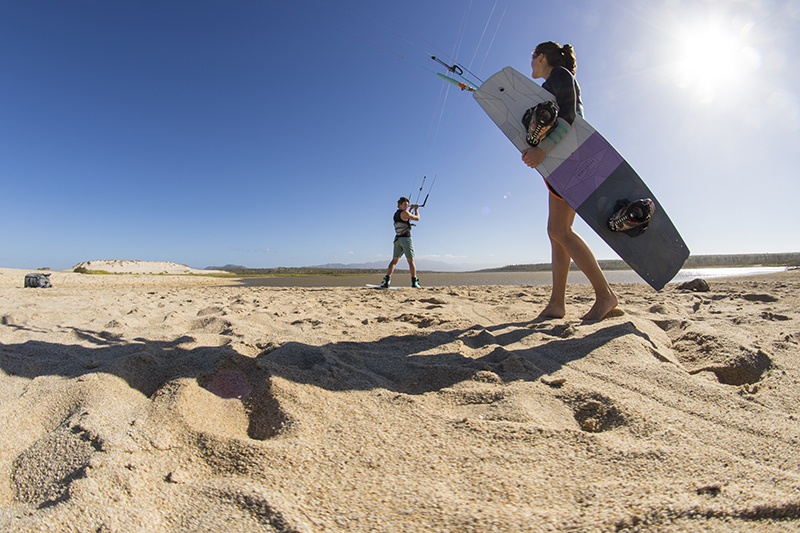 The next day, after making my initial cruise through town, checking in at The Classic and making the rounds to see old friends, I found my usual kiting compadres Sensi, Brandon and Vincent and we sought out the newly built slider park. We made our way through the cordon maze on the outskirts of town that leads you to Choko Lake, a.k.a poo lagoon. Its namesake originating from the murky brown waters and shallow muddy bottom that contrasts strikingly with the Sea of Cortez's clear teal color and tan sandy beaches. Unsurprisingly, the lake is not the top choice for most of the thriving kiting population that frequents the town… However, a few crafty locals decided that poo lagoon was in fact the perfect location for their very own slider park. Said locals, Fritz and Layne, along with the sweat and camaraderie of friends that are never hard to find around these parts, built an incline to flat bar as well as a kicker out of PVC tubes with wooden bases. The designs of the features were simple, thoughtful, and they utilized materials they could easily attain locally. It was the perfect setup.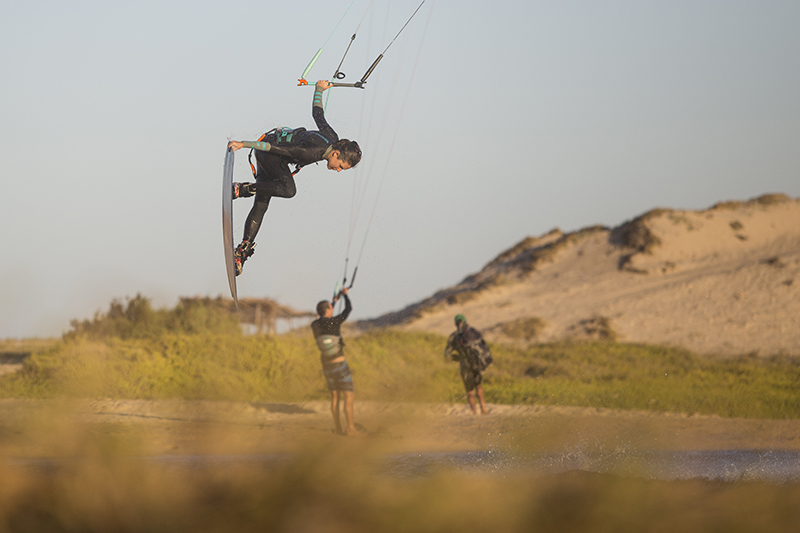 Upon our arrival, the lagoon was empty except for these two new man-made additions. Already feeling all sorts of warm fuzzy feelings for this do-good kite community after spending the morning at the charity event, I was super excited to spend the afternoon riding in their new kite park. Brandon was the first to get on the water and quickly adapted to the angles of the incline to flat bar. With shallow water on the upwind side of the feature, it definitely wasn't a zero consequence obstacle but the stable construction and mellow angles made it easy enough to get used to and, shortly into the session, all three of us were trying new hits, gaps and having nothing short of an epic session.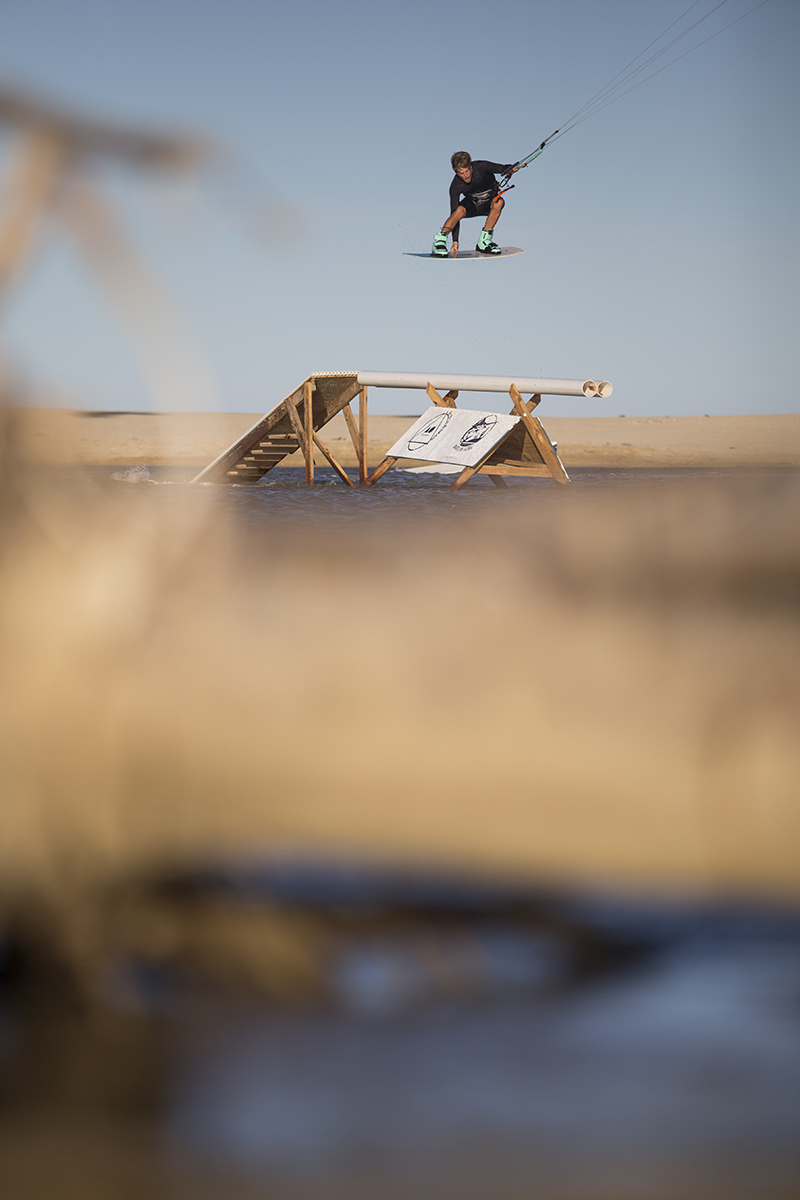 Not long after we really started to enjoy ourselves in the park, we noticed that we were no longer alone. Gradually approaching from the sandy back road that leads to Choko Lake, the Mexican Policía were making their way to the water's edge. For a quick second I wasn't sure how this was going to fare for us. I've only personally experienced fair treatment from Mexican Police but we've all heard the stories. I also wasn't sure if they would think these standing features were a good thing to have in their lake. For a few tenuous minutes, the three of us continued to ride with one eye on the Police truck. Nothing. No lights, no movements from behind the dark tinted glass, we couldn't get a read on them.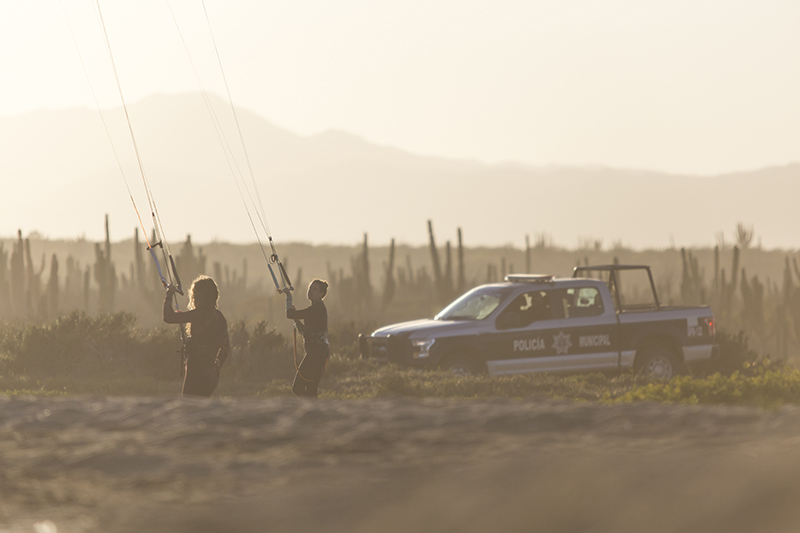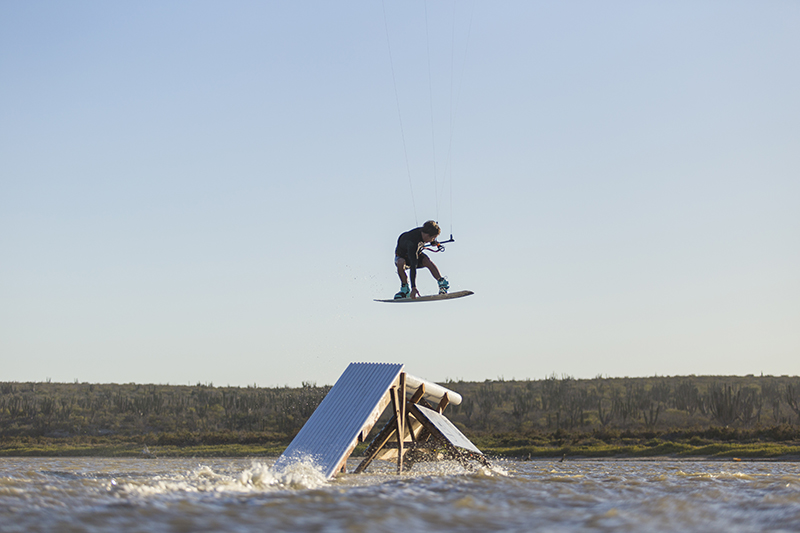 And then Brandon offered a symbol of friendship. He threw up a big shaka with nothing but smiles as he passed nearby their parking spot. Only moments after, the Policía stepped out of their cars and for a brief time cheered us on, even giving a friendly honk of approval as they departed. We carried on until the sun dipped low, casting deep shades of orange across the desert and lighting up the cordon forest in gorgeous hues that made Vincent giddy with his captures. After packing up for the day and navigating the desert roads back to town, we stopped on the side of the road for the best Al Pastor tacos I've ever had.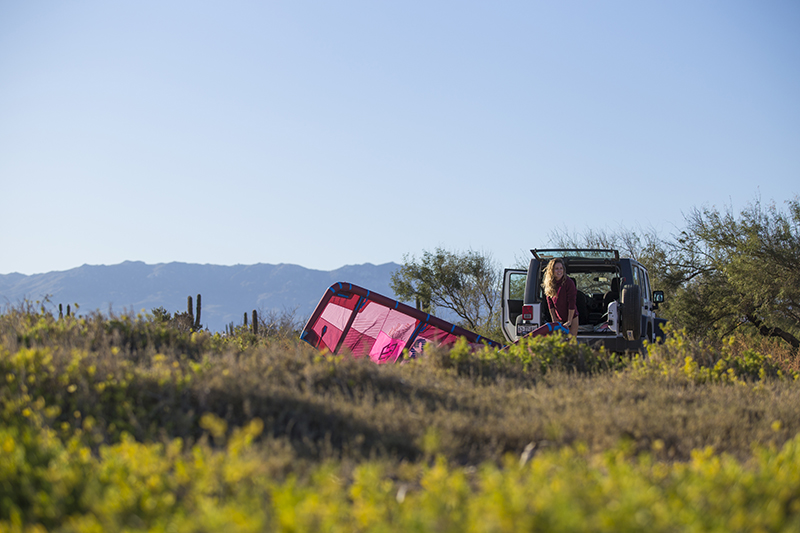 Full to the brim after eating way too much, I realized how easy and relaxing this all was. Good friends, wind, food, what more could a girl want? And this was only day one of the trip. I kept saying aloud throughout my week in La Ventana that I was just so happy to be there. To join in for the fundraising event, party with new and old friends, and slide in to the chilled vibe that hadn't changed a bit since I had last visited.
This article originally appeared in TheKiteMag #25. To subscribe, go here.