There are few brands as iconic as Naish. The brand's roots go back to the 1970s when a teenage Robby Naish learned how to windsurf at his home beach on Oahu. From there, Robby went on to win over twenty world titles in windsurfing. During this period the Naish family ran the Naish Hawaii shop in Kailua and, when kiting emerged in the late 90s, Robby was quick to embrace the sport. As kiting took off, Naish kiting did too, and the brand was at the heart of the sport during those sketchy first few years… Naish continue to innovate and to be at the heart of the sport to this day – here Robby and other key members of the Naish crew talk us through the brand's background and how they strive to remain truly innovative to this day…
Naish were quick to commit fully to the sport of kiteboarding – why were you so confident that it was going to be commercially viable?
Robby Naish: In all honesty, I was not so confident in the beginning that it would really be very commercially viable. Don Montague, my good friend and sail designer at the time was the first to see kitesurfing's potential. He quickly convinced me to get into it. We began developing kites and kiteboards for ourselves initially and pretty quickly started to have an awful lot of fun with them. It did not take long to see that kitesurfing had real potential beyond Maui and that is when we became the first licensee of the inflatable strut patent and began developing a commercial product for a launch in 1999. Even then, our first ad introducing "the sport" to the world was a black page with the words "Absolutely, positively the wrong sport for 99.9% of the world's population."
The rest of the windsurfing industry thought we were crazy, and there really was no other real competition in kitesurfing. But once they saw our initial success they pretty much all jumped on board and began making kites within a year or two.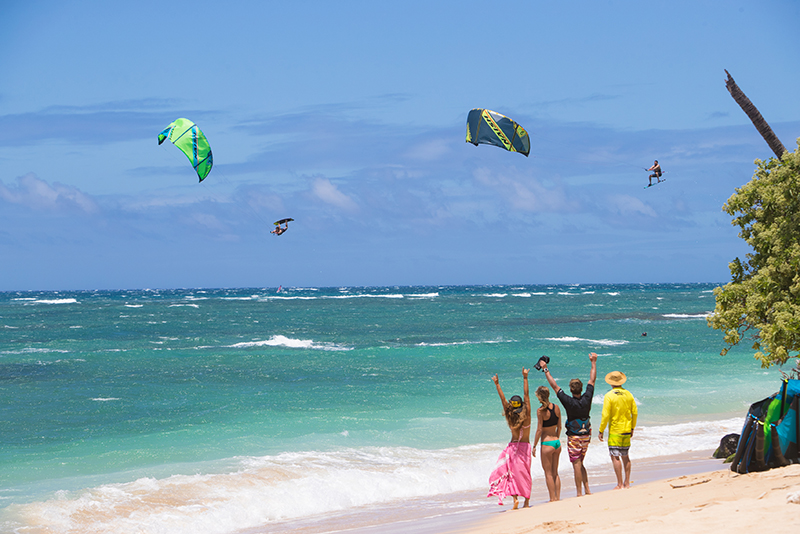 Can you talk us through some of the ups and downs and the iconic Naish kites of those very early years?
RN: There have honestly been a lot of ups and very few downs over the years. There have been many mistakes along the way and we have learned a lot, but all of them have been part of a very positive process and experience. You have to remember what we started with. Going from simple two line kites to the four line AR5 with depower was a revolutionary step that advanced kitesurfing to a whole new level. Being able to sheet the kite in and out through your harness… Being able to depower added so much control and precision to your riding that it truly changed everything. Later the push away trim loop (or chicken loop as we used to call it), made the sport a whole lot less dangerous and has since become the industry standard.
In the beginning there were challenges developing a computer design program for inflatable kites, as well as learning how to set up manufacturing for them. It was all totally new. Those were really fun times, as we were pioneering a whole new sport and industry. Things of course settled down over the years and things do not change as quickly. They still improve though, and the gear keeps getting better and better, with a whole lot more players involved in developing equipment.
Kiting has diversified massively since the early days with a lot of different disciplines and consequently a lot of different equipment requirements – how hard is it to keep up with things as a brand?
RN: The sport has certainly grown and specialized in different directions. There is a lot going on and there are plenty of things to keep everyone busy. It is important to stay focused, allowing time for experimentation but remembering to really focus on our core products. We want to have the best possible equipment for our team and the areas of kiting that they want to continue pushing to the next level, but your average kiter wants intuitive, dependable, great all round kites and boards that they can do whatever they want with. The constant motivation of both R&D and team is to evolve and push forward; in design, in materials and in riding, which keeps the sport moving forward. And although not everything has mass market commercial viability, the high performance segments are important for us as a brand… it is where we come from and in our DNA… and what we learn all adds up to better overall products in the long run for everyone. It is just important to remember the needs and level of the average kiteboarder out there on the water around the world, and to always have them constantly in our sights.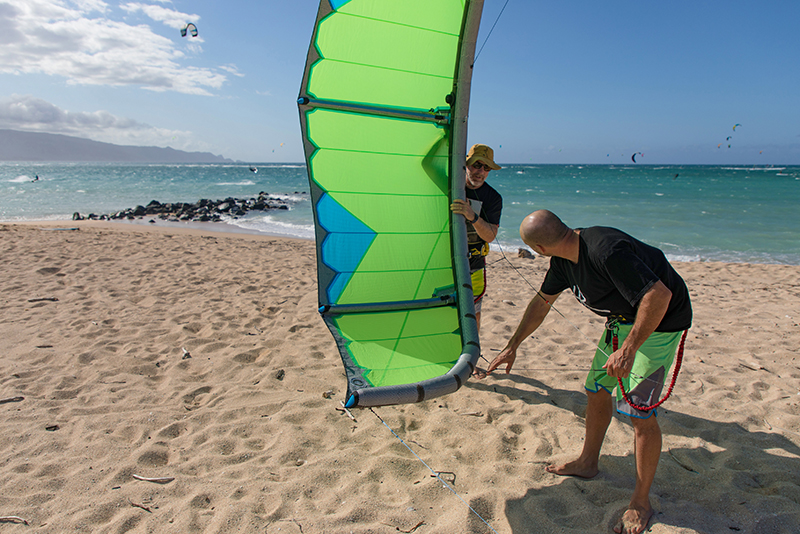 Which products have you been most proud of developing and how do you think they have helped to mold the sport of kitesurfing?
RN: Big steps forward for the sport were certainly the AR5, the push away chicken loop, the original Mutant board, the X2, the original Boxer kite (although it was against the grain in terms of design from the rest of the industry) and I am still proud of the Sigma series of kites, the Pivot… We have been here since the birth of the sport, so our products and our riders over the years have had a pretty profound impact on the sport. Most people kiting today have not been doing it for all that long, but the list of people that rode Naish at some point over the years is pretty awesome, from Pete Cabrinha to Flash Austin, Lou Wainman, Adam Koch, Nicolo Porcella, Mark Shinn, Ian Alldredge, Sam Light, Alex Pastor, and many, many others. We are certainly proud of our heritage and place in the history of the sport, but are honored and stoked to still be part of the sport today as well, with an incredibly talented and dedicated R&D team led by Damien Girardin and Des Walsh and a world class team of kiteboarders, with Kevin and Jalou Langeree, Jesse Richman, Ewan Jaspan and others riding the sport into the future…
SUP has obviously seen massive growth over the last decade. Is SUP now your biggest division and roughly how do things break down?
RN: SUP clearly saw huge growth over the past decade on a global level. We were one of the first brands that really got behind it early on and began promoting stand up paddling around the world. It pretty quickly became our biggest division. But of course just as with kiting, when you are first in the industry with huge market share you will eventually end up with more and more competition. SUP was no exception and the sport has been inundated with a multitude of brands big and small. It is still our largest division in terms of turnover, but I do not expect that to necessarily be that way forever. Kitesurfing is not far behind and is still very, very important to the brand.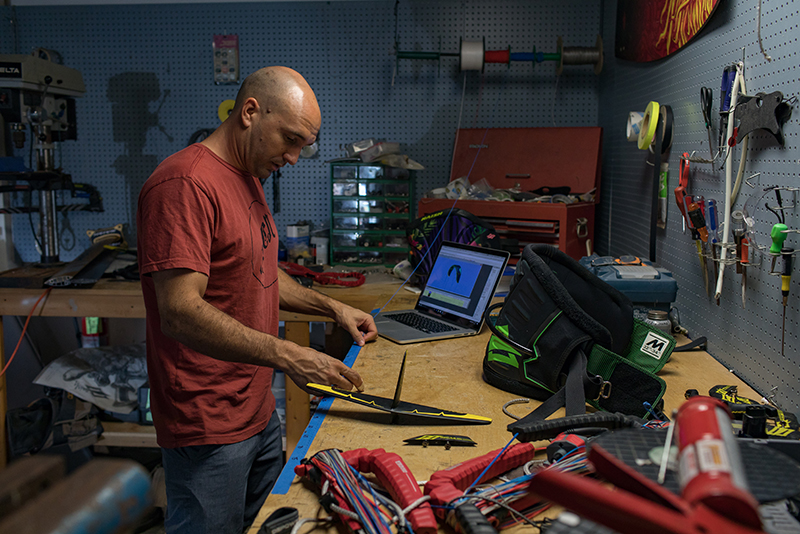 How important is Maui to Naish's development and its ethos?
Damien Girardin: Maui and Naish are deeply interlinked. This island, apart from its paradise-like weather and feel, has also something magical when it comes to watersports, it seems like every watersport has benefited from the highlights of Maui thanks to its incredibly diverse conditions.
For us being on Maui is vital and makes our job so much easier, the wind blows pretty much every day all year long. We don't even look at the forecast, we just know that any day of the year if we need to test something we can just drive down to the beach and test. It allows us to test so much that we can both innovate and bring out products that have passed the test of time.
As a brand you introduce a lot of entirely new equipment and new ideas each season – probably more so than most other brands – why is this?
DG: I guess it comes from a few different reasons, first of all, like I mentioned above, being on Maui allows us to test so much that we can be on the next project very quickly. On a more personal reason, I've always been drawn by innovations, and looking for the next thing. Being in the kitesurfing industry since the beginning has given me that habit of knowing that we can do better so I keep on looking. I tend to never be satisfied with what I've got so I keep on pushing for better! And luckily Robby trusts us, so even if he's not on board with some of our ideas he still lets us explore intimately, hoping that it will work!
Last year saw the arrival of Quad-Tex to your range of kites – has this been your biggest innovation of recent times, and how has feedback been from customers?
DG: Quad Tex was three years in the making. That was for sure our longest development period of any innovation that we've ever made. The reward for the long work has been great, first our team was super stoked on their new kites and after that the feedback from customers has been outstanding, they can feel the difference and appreciate better kites while knowing they are also going to last longer.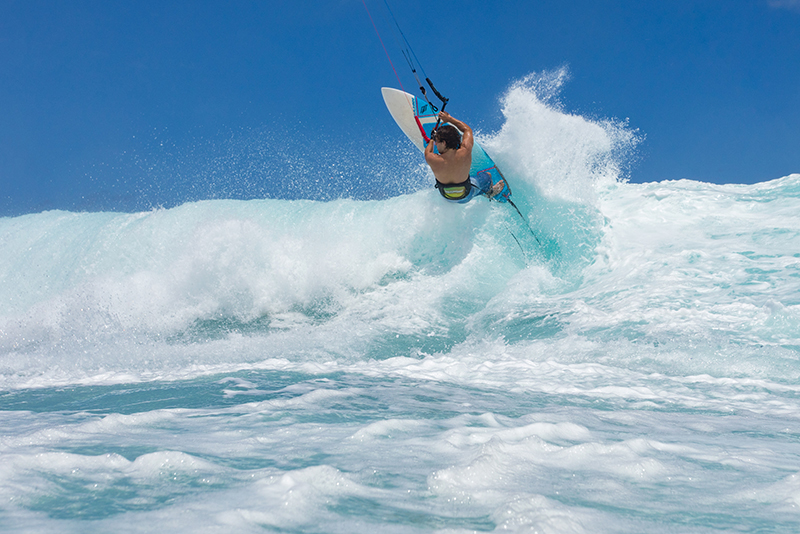 2017 saw you enter the foil market, and for 2018 you have introduced a much broader line up – can you talk us through the new foils, and how much crossover is there between the foil development for SUP, windsurf and kite?
Nils Rosenblad (Foil Designer): After launching our first foil product in 2017, Naish committed to going all in on a three sport foiling system, starting with the SUP and surf foils we developed with Kai Lenny, and then using that as a basis to develop dedicated kite and windsurf foils. Although there is a lot of crossover in the basic technology – our system is completely modular, you can change wings, stabilizers (the small wing in the back) mast lengths and even board mount systems – the wings themselves are developed and fine-tuned for the specific sports. Of course we learned from each design, and tried to integrate the best qualities of each wing into the others as best we could without compromising other critical performance areas. Our kite wing is designed to be a perfect balance between early take-off, control and speed – riders describe it as the 'Cadillac' of kite foils due to its smooth ride, but it is also quick and maneuverable. We feel like we've really hit the target of making the ideal wing for 80% of the kite foilers out there, from beginner to expert.
DG: For 2018, after Kai Lenny's huge move on hydrofoiling – downwinding on SUP, then surfboards, then tiny kiteboards, surfing waves and foiling back out to the lineup etc ¬– we've approached foiling as one whole new entity that is not necessarily connected to whether you use a kite, a paddle, a sail, a wave or a boat. We then developed a common base that is the board/mast connection/fuselage and you can switch your wings depending on what is going to be your riding style for that day: slower speed, like surf, SUP or beginner kiting, you can use our surf wing; More advanced, high speed riding, use our kite wing; Heavier rider or windsurfing, use our windsurf wing. In terms of development, this translated into the first real cooperation between the kite and windsurf/SUP departments at Naish.
And every day we're learning more, seeing Kai Lenny take our smallest kitefoilboard, the new Hover 112, and paddling it out in waves is a perfect illustration of what foiling is becoming. So whatever you're foiling on, we now have the toy for you!
Who are the main team riders for you in terms of developing equipment and providing feedback?
DG: We use as wide of a variety of riders as possible, from top pros like Kevin and Jalou Langeree, Jesse Richman, Ewan Jaspan, Kai Lenny and Ariel Corniel, to instructors, our distributors and dealers, every day riders, and weekend warriors.
We of course need to filter through the pro rider's feedback, since their high level expectations on the gear is not necessarily what the average kiteboard needs, but there is usually always something to take from their feedback to make a better product for everyone out there.
At the end it comes to ourselves (Des, Ethan and myself) testing and riding the gear to provide most of the feedback, it is not easy for someone to communicate feeling on a kite or board, so over the years we have developed our own "language" and understanding that makes us efficient at testing!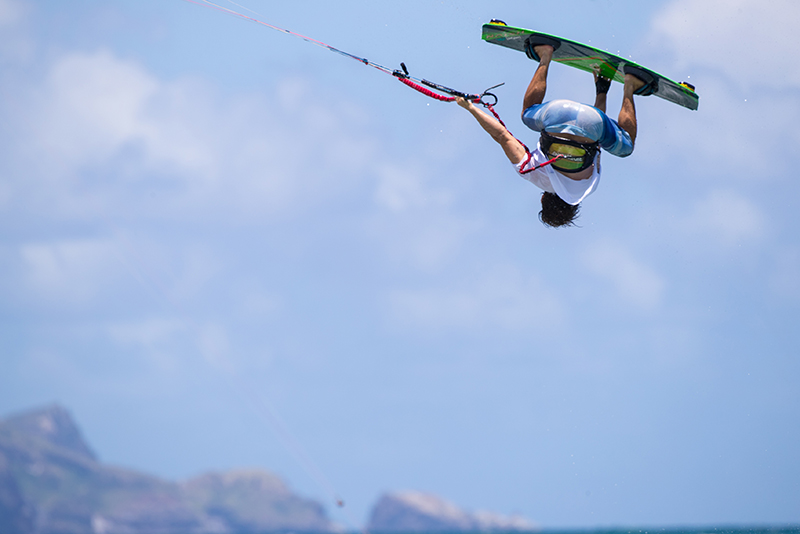 Ewan Jaspan has been on the team for a while and has had his fair share of injury problems – it must have been great to see him win the Triple S… And what was he riding for the event?
DW: Yes, Ewan has worked incredibly hard and has been extremely dedicated to improving his kiting and the gear. His focus on style is quite unique and makes him one of the very best kiteboarders in the world today. He has persevered through a number of injuries and has come back stronger than ever, with more appreciation for what he's got than most people. It was great to see his hard work and dedication pay off. He was riding Torch and Dash kites and the Stomp board.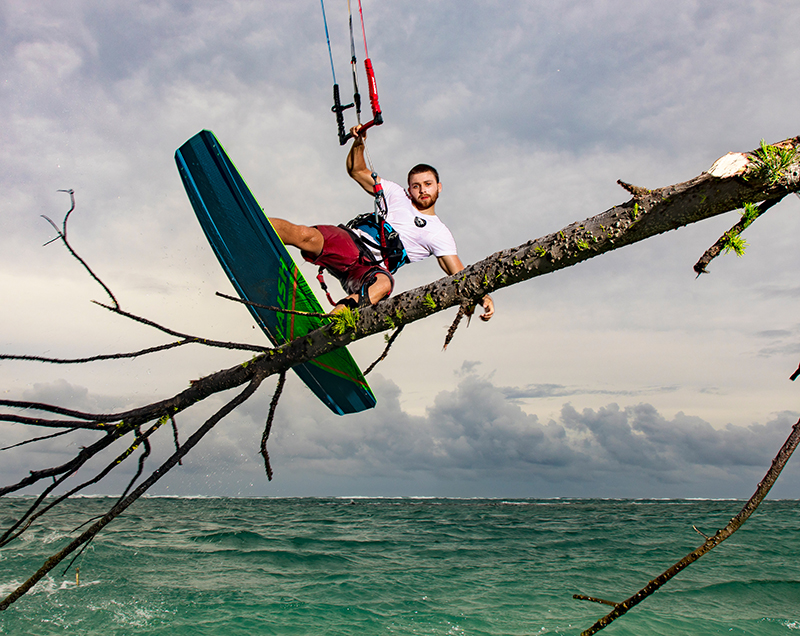 You've recently introduced a couple of new kites to the range with the Boxer and the Dash, are you happy with how these have slotted in to the range?
DG: The Boxer and Dash have both fit in our line perfectly because they clearly answered a need in the market. On one side, the rise of foilboarding in super light wind is screaming for the light-weight and power combined with super easy water relaunch of the Boxer, and it also has an appeal for freeriders and not necessarily foiling, making it a super versatile kite that will be your best foiling kite.
The Dash on the other hand is perfect for advanced kiters that are looking for an engaged riding experience, more like veteran kiters that want to go fast, jump high and get some adrenaline rush when kiting. With the sport becoming mature, there is a lot of these kiteboarders out there now! We have had a number of long-time Torch riders make the switch to the Dash and are receiving great praise for its performance.
This article originally appeared in TheKiteMag #21. To subscribe, go here.