Ocean Rodeo have just pumped out new generation releases of all of their kites… They have a reputation as a brand that really thinks their products through and this is evident in the current lineup which really does have something for everyone. You might not see the appeal of kiting in the icy pacific northwest waters that they call home, but jump on one and the chances are you'll see the appeal of an Ocean Rodeo kite.
Where do you undertake most of the testing of your kites and who are the key players in the R&D team?
For the kites Ross Harrington is the master behind our kite designs. The first round of R&D on-water testing is always done by Reece and Richard Myerscough. Through this round an open mind is key. All first prototypes are generally rough so it really pays to be analytical with first tests and flights. Once the designs are "roughed out" to ensure the basics are functioning, we will pass around early production samples to our pro riders and dedicated local test riders. Reece will have final sign off on performance wave kites (the Roam for example). Freestyle kites (Like the Ocean Rodeo Razor) we'll pass around to dedicated riders in that discipline around the globe and gain valuable feedback. For the Prodigy we test this kite with a full range of riders. Various riding levels and styles have to be accounted for as this is the "all-around do it all" kite. It needs to be easy for all to use, while not compromising performance for our most competent and skilled riders. For the Flite we follow suit with the Prodigy, while weighing more attention to our foilers and lightwind specialists.
Our bars are truly a full team effort. Ben Costing, Liam Mclean, Ross Harrington, Rudo Enserink, Reece and Richard Myerscough are all our key players in the development and refinement of control systems. Then for boards, these are a team work between Ross, Reece and Richard, in combination with our team riders of the given disciplines we are aiming to design the board for. Behind the scenes and when we are looking at new material and fabrics, we have a chemical engineer and innovative genius working with us on some top secret fabrics that we hope will differentiate us down the line.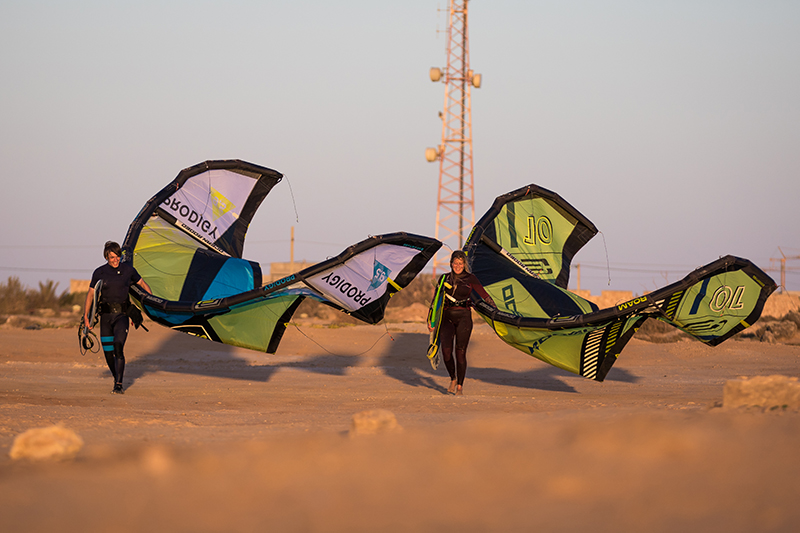 How does testing in the more 'brutal' conditions of home effect the design process and do you think the end product is more forgiving as a consequence?
The Pacific Northwest is the perfect storm for kite testing. We have a great combination of rugged rocky coastline, with a few sandy beach breaks. We need to test our gear in all types of conditions, from powerful hollow surf, to bump and jump chop, to flatwater conditions. We also have regular high wind situations (over 40-50 knots is common) so pretty much all conditions can be found here. We innovate to push the boundaries of the rider, sure, but we also ensure that we are doing everything we can to make sure we minimize the dangers of the sport. Because of this, durability no longer becomes a luxury or a 'feature' but a necessity. Certain innovations we can almost say are because of where we are include our rapid water relaunch on the Roam, where in heavy cold water surf it's essential to get your kite back up as soon as possible. With our R&D right now we continue to develop product without the compromise of durability and performance to ensure all our riders aren't worried about our kites in the most wicked of conditions. The conditions we can't find at home, we find elsewhere, for example on each stop of the GKA tour. This includes different types of wave conditions, and beach sand/coral reef conditions. The GKA tour is also where we get the chance to directly compare our products to the other leading brands.
How do you feel about your general line up now – do you have all bases covered?
Our philosophy has been to make an excellent product for each need of our riders. The Ocean Rodeo lineup may not be as vast or expansive as some of the brands, but it's one that masters exactly what a rider wants out of specific kites, boards, bars, drywear or harnesses, and refines them to the pinnacle of their potential. We don't think in terms of having 10 different twintip models in the line each year and always changing them. We'd rather have one kick ass product that has that 'wow' factor. Our four kites are amongst the lightest, strongest and most versatile on the market. We keep what works from past years and adapt what kiters look for in certain riding styles to make the following generations the perfect kite for their needs, while still giving them what they loved from past generations. The Mako is a mastercraft board that is enjoying an industry leading 15th year on the market and still going strong for those looking for a smooth ride. The Soul Drysuit has been a global hit to keep kiters on the water all year round for the past eight years, and continues to be the standard when looking for dry wear with uncompromising mobility.
The Flite was one of the earliest lightwind specific kites – what are the key characteristics of a good lightwind kite and how are these reflected in the Flite?
With being at the forefront of lightwind innovation of the sport, we knew we would never be satisfied with a kite that could just fly in light wind conditions. The Flite from the start had to be a performance kite. Still boost air, get lofty jumps, and continue kiting without worrying about the conditions. It's one thing to be one of the only ones left kiting on the beach, but it's another to be truly the only one still riding at your limits in light wind. The key characteristics lay in the pure science of this kite. From top aerodynamic construction down to Ocean Rodeo's combination of materials, the wide arc, refined bridle and the high aspect ratio all create a complex equation that pushes as much power per square meter of the kite as we possibly can. With each new year, new materials, designs and refinements are continuously tested to keep pushing our own limits. The Flite, as with the other three kites in our lineup, started with an incredible base that we knew only needed minor refinements moving forward. With this in mind we worked every generation to make the Flite lighter, with the constant challenge of making sure we never sacrifice durability.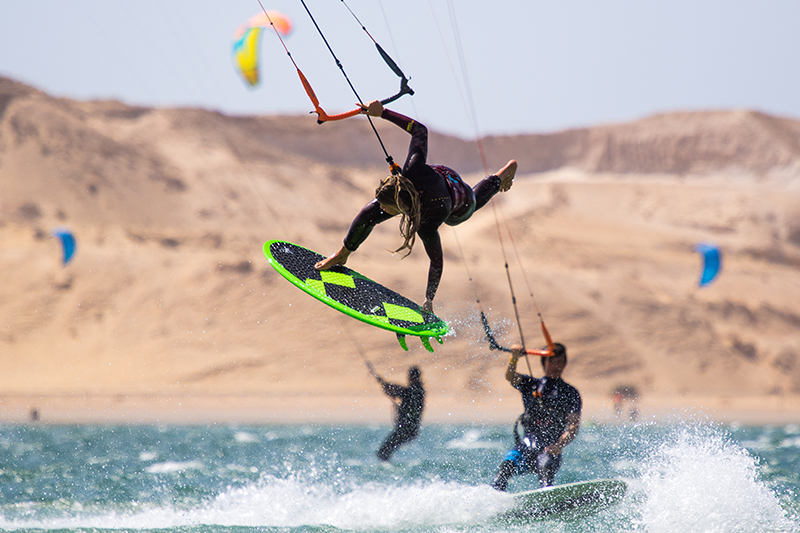 You have an 8 and a 10m with the Flite – are these aimed at the foiling market and how has this fed in to the design of the Flite?
The foiling aspect of the Flite was one of the considerations from the product's inception. We wanted to prove that you could have a performance lightwind kite that could prove to rip as hard as dedicated foil kites might. With these sizes it's amazing to see that they are living up to that high benchmark that we set. Recently, at the Defi Kite De Gruissan, we had one of our team riders place 6th in a pool of 325 riders, and he was the only rider in the top 10 to finish using a tube kite.
We have tested several versions of the Prodigy and have liked the fact that it is a really mellow kite to fly but you can fly it pretty stacked to get some decent air, and also that it turns nicely in the surf. What's your approach when you are looking at developing the Prodigy and is its primary focus on the beginner/intermediates market?
As our lead designer Ross puts it, the Prodigy is the jackknife of kites. This kite works well in waves, in light wind, can boost jumps with a pretty forgiving re-entry, and is a great go-to. You'll see all skill levels on the Prodigy for this exact reason. From beginner kiters through to both our riders on the GKA World Tour use this kite and love its multi-use design. It gives them the comfort to try new things at any level and for our pro riders is the perfect kite for the GKA when waves aren't predictable. Each size of the Prodigy is its own unique design. The arc, bridle, aspect ratio and aerodynamic profile are tuned to deliver a constant turn rate and feel throughout the size range.
How has the Razor developed for its seventh​​ incarnation?
Our megalooping beast has been refined from its past generation to really pack more of a punch and give the riders what they longed for from us. They loved the overall performance, but needed that extra response. We listened by dropping down to two pulleys on the kite making the Razor incredibly responsive with a few extra nips and tucks here and there to improve the boost. Then the Razor has our FST technology which is a real game changer and an Ocean Rodeo signature piece of design. By creating an FST or Forward Swept Tip we have increased the speed of turning. FST lets the rider snap the kite around, generating more power on lift off and tighter kite loops to fully unlock our potential.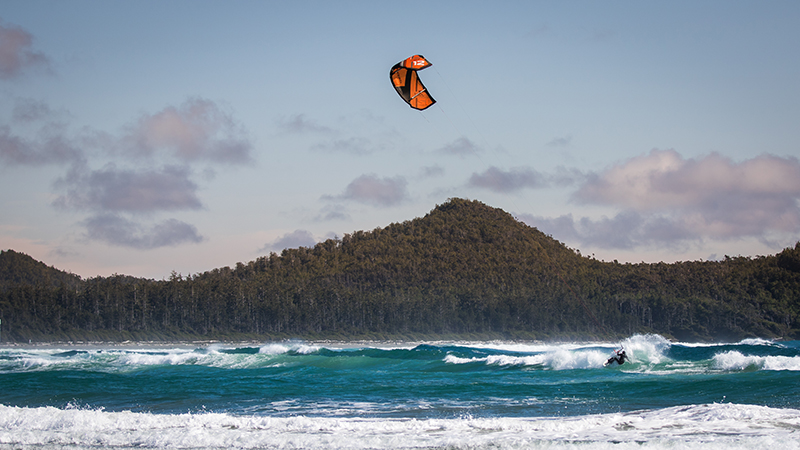 Do you think that with the Razor you have a kite that can hold its own in the wakestyle and the Big Air arenas?
We can already say that we are leading many WOO boards where the Razor is present! And with the new GKA Big Air events coming along you should expect to see many more Razors showing up at competitions. The Razor is a kite that has a cult classic-like following here at Ocean Rodeo. It might not be the one you see with our pro team, but it's the one with an avid and passionate fan base. Every year it gets more and more attention. In many ways this kite does already hold its own and now it's our job to show what it can do by offering wakestyle and Big Air products to support those riders beyond just the Razor. With this, we're looking at our next board down the line, the Smoothy, which will be the board of choice with the twintip and wakestyle riders who are already looping it on the Razor.
The second version of the Roam has also been released – what was the feedback you got on the first version and how has this feed into your development of V2?
We loved the first generation of Roam kites and what it was able to offer us. With such a great baseline we knew that we could make refinements that would truly turn it into a masterpiece. The most prevalent of this would be the water relaunch. The fastest relaunch ever, this kite almost bounces itself back up off the water, saving sessions, extending smiles, and keeping riders on the water ready to ride the next wave.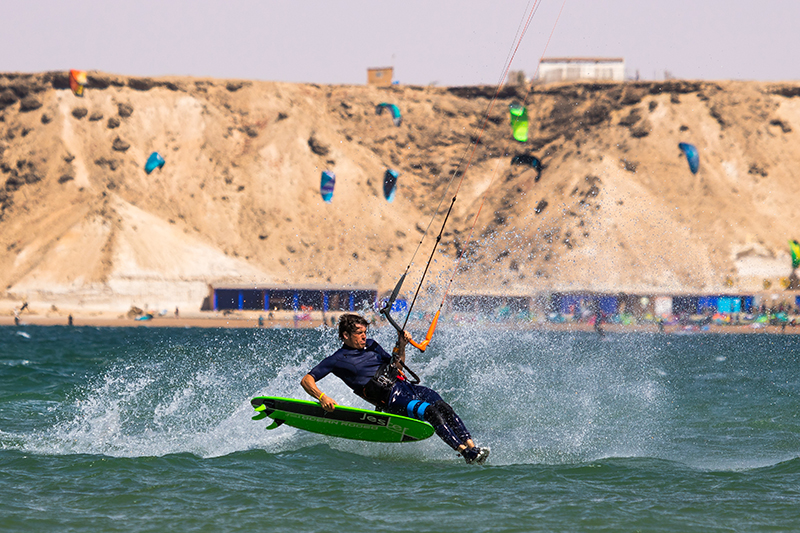 You're now developing your wave riding team, with Carla now signed up, are your wave-riders happy with the Roam and has their feedback been helpful in developing the kite?
The signing of Carla can almost all be attributed to the Roam. We offered Carla to try the same kites as Reece when they landed in Morocco ahead of the GKA tour stop. It was awesome to get live updates from both Reece and our media team as to how the smile on her face never left and how she truly looked like she was having fun with the Roam. I got the email soon after that she was on board with Ocean Rodeo and the rest is the rest! Having professional riders testing the kites allows us to see our kites truly used and tested by a wide range of skill levels and intent. It's great to see that our line up felt as comfortable to our pro team as it does for someone who is just getting used to kiting in the waves. The goal of our kites has always been inclusion by offering no excuses to not get out and challenge yourself.
So your big release is done. Do you guys get to kick back for a while now?! What's next on the agenda?
There's never such a thing as kicking back at Ocean Rodeo! When we're ready to release this generation of Ocean Rodeo gear, we're already looking at the next generation and even beyond and getting more kites up and tested by our brand ambassadors. We're always trying out new materials, adding more innovation to our kites, and trying out designs that keep pushing our products to the limits of whoever is using them.
This article originally appeared in TheKiteMag #26. To subscribe, go here.