Many of us look back at school careers with mixed emotions at best – those formative times spent in the classroom watching the clock, the lengthy day perhaps punctuated by an adrenaline pulse from experimenting with Bunsen burners, maybe even bunking off during cross country running. For the kids of the World Class Kiteboarding Academy however, things are different. Eye-opening travel to remote and windy regions is woven into the day-to-day routine of this mobile pro kiter incubator. There's not a blackboard eraser, crested blazer or PE kit anywhere in sight.
Headmistress of Shred, Polly Crathorne, explains all.
PHOTOS Andre Magarao and Jenna de Vries
---
I'm on the daily check for wind when I see it, motionless on the reef.
We're on the remote island of Cuyo in the Philippines for two weeks. It's a ten-minute walk to Capusan beach from the temporary school campus we have set up in a house belonging to the Mayor of Cuyo's son, Rens. Past the informal housing, animal feed stalls, print your own t-shirt shop, balut stand and wet market that makes up Cuyo town's high street – this is the students' daily commute to the beach for the kite session.
I head out onto the sand spit that stretches out into the lagoon for the daily wind check. And that's when I see it. Downwind, motionless in the water sits the Milagrosa: the ferry that was meant to leave for Puerto Princesa the night before and return in three days' time to take our 25 students and teachers off the island. Local kite legend, Jing, tells me that the ferry crashed into the reef after it left the island's port last night. He kited over to the reef that morning and chatted to the passengers stuck on board. The hull had taken a hit. Miles from the equipment that could extract and repair it, the Milagrosa was going nowhere fast. I return back to the team with the good news – that it was windy. And the bad news – that we weren't taking the Milagrosa on Wednesday.
The previous day, the Asean Journey, bound for Coron, had experienced an engine failure and was forced to abort its journey. It was sitting in the dock, awaiting repair. The commercial planes had stopped chartering flights from Cuyo a month prior to the school's visit. We entertained the idea of taking 'The Fish Plane' – it is an island myth that you can leave the island via the small airstrip in the belly of a cargo plane carrying fish.
"Local kite legend, Jing, tells me that the ferry crashed into the reef after it left the island's port last night."
But in the end, we settled on taking a 12-hour ferry to Iloilo city, followed by a 9-hour bus ride, another 12-hour ferry to Batangas, and a final overnight bus to Naga city and our next location, CWC wake park. No mean feat with a team of 19 teen kiteboarders and all of their sports equipment. In true World Class style, students embraced our island-hopping adventure, and our accidental 48-hour marathon detour turned out to be a journey of discovery. Students embraced the novel bunk bed set up on the ferries, crawling between the hundreds of bunk beds crammed side by side. They played "bananagrams" on the sloping top deck of the boat. They relished the opportunity to indulge in instant noodles and Nutella, a departure from the school's 'healthy snack' policy. And they got to witness more of daily life in the Philippines as we took in the salty air, sped through countryside, waited at ports, found food in markets and spoke to fellow passengers.
Although this was an unusual situation for the World Class Kiteboarding Academy, it is a taster of the unique opportunities that have arisen working for the traveling high school for young kiteboarders.
//

The schedule
Our normal school day starts with a team workout at 7am (or 6am in Brazil) – cardio, resistance training, core workout or the team favorite: stretching. Then it's breakfast, chatting about the wind forecast or Erick Anderson's latest trick on Instagram. We eat a lot. At some locations we are in 'cook crews' and take it in turns to make breakfast. In Italy last year, the team was eating 100 eggs (scrambled) every day – we did a crazy shop in Sardinia where we bought 1400 eggs in one go!
Next is a supervised Study Hall where students do homework and prep for lessons, and us teachers are on hand to help with any questions. Then we dive into classes; I teach two to three hours a day. When I am not teaching classes, I am planning my classes, grading homework, planning workouts, sorting kiting footage for video review or running errands like hospital visits or kite repairs. This year, we have seven full-time faculty teaching three subjects each, as well as coaching kiteboarding and running logistics. Lessons typically run until 3pm, when the magic words 'KITE MEETING' are shouted all over campus. We meet together and discuss the kiting plan for the day, before heading to the beach for a team shred. Then it's dinner, more kite chat, homework and sleep. Repeat.
Kite sessions at the WCKA are something else. Students are motivated after a long day at school and it is often a race to rig up. Having the team around them pushes students to try the next trick; it means they get filming done and they have mates with whom they can celebrate their successes on the water. We hold school competitions every quarter, inspired by the GKA format. Students get fired up to compete against each other for the title – literally, as the school competition the following quarter is titled after the winner.
Being based in some of the kite world's favorite spots means students got to shred with Coccolutto in Sicily, Therese Taabbel in Cauipe, Oswald Smith in Cape Town and Valentin Rodriguez in Taiba. In Brazil, we had the opportunity to work with renowned photographer Andre Magarao. The school has also worked closely with guest coaches. Sam Light came to Greece with us to share his expertize in the industry and technical tips on the beach and in video review sessions. In South Africa, Ewan Jaspan and Luke McGillewie joined us as guest judges at our school competition. In Brazil this year, we had guest coaching from Blaine Baker and Lindsay McClure – the WCKA super couple that set up the programme and made it what it is today.
I sat down with some of this year's graduating class to get the inside scoop on daily life at the Academy…
//
Tom Seager, 17, UK
Tom, as a World Class veteran you've experienced it all during your five years at the school. What it the most important lesson you've learnt?
Yeah being at the WCKA for over four years is a crazy thought, it's been the best opportunity I could have ever imagined and I'll be forever grateful to everyone and especially my parents for making it possible. The most important thing I've learnt is that, no matter what's happening, happiness is the most important thing in life, and to just have fun and make the most out of every single opportunity that gets thrown your way, because it may not come around again. One memory I'll never forget is waking up on the ferry in the Philippines not having any idea where we were going and not entirely trusting this rusty, tipping boat but watching the most beautiful sunrise while eating breakfast with friends. That was a special moment.
//
Luca Payne, 18, UK
Luca, you thrived off riding with your teammates. You experienced quarters in Brazil, Peru, Italy, Greece and South Africa; which session sticks in your mind most?
One session in particular which springs to mind was the time I landed my first BS317 and then broke my foot next trick on a Heart Attack! WCKA was in Cumbuco and everyone was at the lagoon sending it. It was one of those sessions when everyone is psyching each other up to land new tricks. I was trying to get some clips for a wild card entry video to the GKA, so after landing my first BS317, I was even more motivated. I came down the lagoon full speed, but I missed my pop and under-rotated, landing badly and crushing my foot. Unfortunately, I was off the water for the next month, and spent the night waiting in a hospital near Fortaleza for an X-ray.
//
Elias Ochner, 18, Italy
Elias, you were training part-time to be an electrician when you started attending the school. What makes WCKA different from other schools?
WCKA is not like school. It's like a family. Teachers become your friends – I never thought this was possible. You will also meet some of your best friends. The biggest difference from other schools is that the WCKA is a high school where you kite in the afternoons, for me this was like a dream because before I could only kite on the weekends.
//
Kimo Khaled, 17, Portugal
Kimo, as our most technical rider, crushing it at the school competitions and on the GKA tour, what has helped your progression at the school?
Kiting with my schoolmates was mainly what motivated me, pushed me and always has given me a confidence boost to land that new trick.
//
Jenna de Vries, 17, Netherlands
Jenna, your photographs feature in this article and they are littered across the school Instagram. Why did you turn to photography as a way of capturing school life?
I turned to photography to capture school life when I hurt my ACL again in Brazil during my senior year. I had to take about two weeks off the water, and those two weeks were in Brazil! Seeing everyone being able to shred daily when you have to watch from the side lines can be quite hard, so I decided to pick up my camera. I had already been taking photos and video for a long time, but that's when it really clicked as I was able to spend hours on the beach experimenting with different angles, finding out what worked with different riders and how to get as many unique shots as possible. During our third quarter in South Africa I injured my ankle looping and was forced to watch from the side lines once more. Photography allowed me to turn a negative situation into a positive one, while creating content for the school and my friends. I've recovered from my injuries so will be spending more time on the water now, but I will also pick up my camera more often.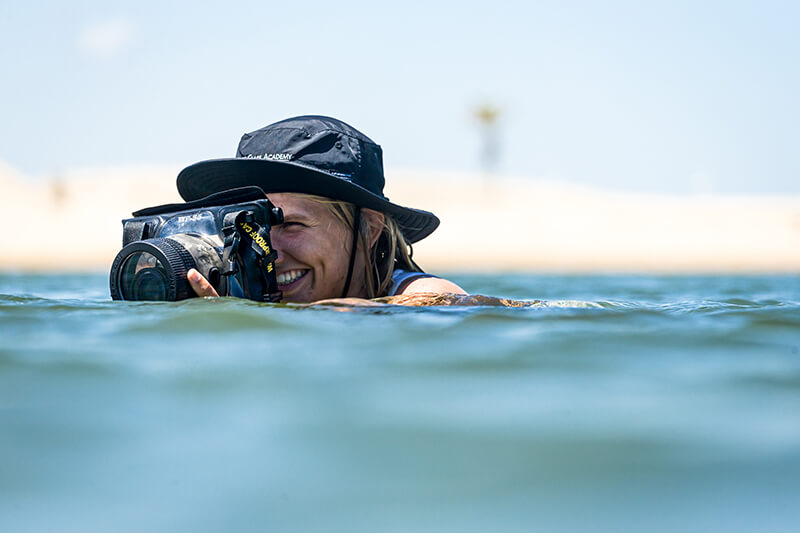 //
Gabe Payne, 18, UK
Gabe, you hold many accolades at the school: from being surrogate father to the school chick 'Greg the Egg', to being known for your amazing injury comebacks. What are the best things for you at WCKA?
It's really tough to choose my favorite memory from my time at WCKA as there are too many. But if I had to pick one, I would probably say last year's graduation in Sicily. It was so great to look back at all the memories we made and to remember all the amazing kite spots that we had visited. The sessions with the whole crew will always be unforgettable. When everybody is in a nice rotation, watching and pushing each other to send new tricks, the vibe is unbeatable.
//
Gray Foster, 18, USA
Gray, you made the most of every opportunity to ride, whether it was waves, strapless freestyle or twintip. What was your favorite WCKA location?
Brazil was definitely my favorite because we had a range of wind and great waves for both kiting and surfing. Having flat water lagoons was also a plus for getting some strapless freestyle tricks down.
//
Anna Hashem, 17, Egypt
Anna, you embraced the opportunity to experience the fullness of culture of the destinations the school visited. What is your best memory of traveling with the school?
Although it is difficult to pick one memory from the many beautiful ones, my best memory with the school took place in South Africa with the 9 Miles Project, which uses surfing to engage vulnerable children. Volunteering and surfing with children so little, with such strength and dignity, was amazing. I enjoyed spending time with the group of people at 9 Miles, faces I will never forget. ■
This feature originally appeared in TheKiteMag #38. To subscribe, head here.