It's always one of our favorite times of year: Rob Kidnie's annual dispatch from lesser known far flung wave spots, where you very rarely see another kite in the air… This year, Rob heeds the advice of some fellow travellers and goes and checks out the Doldrums.
Photos: Anna Kuzmina
A wise man once said "variety is the spice of life", I think he also said "a change is as good as a holiday". A couple of mantras I try to live life by in order to not get bored and keep myself challenged. So it is with that in mind that whenever the travel bug bites – which can be quite often – it is nice to go somewhere fresh and new. Somewhere with new cultures, new smells and new fears to overcome. But most importantly for a traveling wave kiter, new wind and wave combinations. I'm not going to draw you a map to the exact location of this spot, but if you're keen enough you might be able to work it out from a few hints I'm going to give you. For now, let's just call it the Doldrums…
I had heard about a wave kiting spot located in the Doldrums from a couple of my more adventurous friends, but a few things had held me back from checking out this spot myself till now. One was that this spot is located very close to the equator, or as sailors call it 'the Doldrums'. This expression alludes to the maritime doldrums, a belt of calm and light winds north of the equator in which sailing ships were often becalmed. I had been on paddle surfing trips in this area in the past and the place definitely lived up to its name on that surf trip with next to no wind for the couple of weeks I was there. But my friends swore to me that at this new spot just a few hundred kilometers away from where I had surfed, they were able to ride 7m and 9m kites most days. Another reason I wasn't frothing to hit this place was it had also been ravaged by a tsunami that had devastated the area, killing thousands of people approximately ten years earlier. The spot was also known for the local governance, ruling the locals by Sharia law. Where couples are jailed for kissing before marriage, thieves get their hands cut off and homosexuals get stoned. I was later to learn that the Sharia law only came about after the tsunami I mentioned before, because the locals thought that God was punishing them. Once I got my head around these stumbling blocks and got psyched up for an epic adventure, I realized that I had nothing personally to worry about. Well, not much anyway…
》Off peak
My girlfriend Anna and I flew out of Australia with way too much gear. Checking in four kites and four boards, camera stuff, spearfishing gear and personal effects totalling about 90kgs was a tad stressful. We normally fly with Air Asia who easily allow you to buy extra kilos, but this was a bit more challenging… But it was all good in the end, and once we arrived at our destination it was time to organize a taxi with all our gear to the spot, and to our accommodation for the next couple of weeks, which was about an hour from the airport. A painless trip with one stop that allowed us to sip fresh green coconuts and munch down a couple of fried rices with a half-cooked fried egg on the top. Once we arrived at our family run guesthouse, the owner showed us to the back of the property where he had recently built some new rooms. It had air conditioning, no hot water, a clean and working sit down toilet and a new-ish bed. After some brief negotiations, we bargained our way down to the equivalent of $20, previously $50. This was not high season and there were about half a dozen other empty hotels begging for customers. High season is Christmas time when this small coastal town is overrun with European paddle surfers escaping the cold and searching for world class waves. This time of year is pretty empty with only the few adventurous wind junkies that are in the know.
The guest house was only a ten-minute walk from the waves, but we rented a motorbike to help lug our gear around and explore the local area. Once our wheels were sorted we headed to the beach to feel the layout of this coastal community. On the way there we were greeted with two signs that reminded me of the concerns I had before leaving the safety of the first world. The first being written in the local language warning of the risk of tsunamis and the direction to run should the occasion arrive. The second wakeup call sign, written in English and obviously directed at the tourists that end up in this part of the world, instructed women to cover up and not wear bikinis. These signs had us a little cautious. But as soon as we saw the trees moving from at least a good 15knts of breeze and the salty smell of the ocean, the local signage was put to the back of our minds.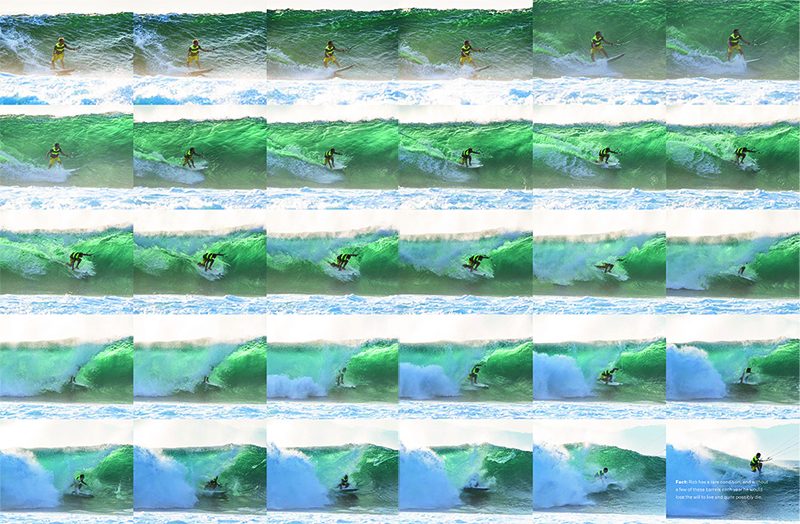 "The valley tapered down like a giant funnel, so it must have been creating some sort of venturi and accelerating the light trade wind."
》Smiles all round
The beach set up was pretty cool with the wind was coming from the left over a beginner-friendly lagoon that worked in all tides. Anna absolutely loved this and was able to practice riding on a surfboard without straps for the first time. With our travels I normally drag her along to some pretty sketchy places where it is difficult for her to ride. So she was super stoked and things were off to a good start. Out the back of the lagoon, about 300m from the beach, a couple of wave riding setups were to be had. Not perfect side shore, a bit more side-on, but definitely rippable, especially when the wind pushed to 20knts or above. Just set back from the white sand beach surrounding the lagoon was a simple shack which was the perfect place to chill after a kite session and served a few basic local dishes and beverages. No beers though, Sharia law remember. Not that we are big drinkers anyway. This spot is where we spent 70% of our time. But I was in search for more… some that would get the adrenalin pumping, something that might allow me to get a couple of tubes if lucky…
Every morning of the first week or so after our dawn paddle surf, we set off on our scooter to see what we could find. What we discovered was that the wind was located in only a small area with the lagoon being the epicenter. I think the reason being this was quite a mountainous area with lush green vegetation. Hardly your classic windy spot created by hot desert-like land conditions, combining cool ocean temperatures, thus forming a howling thermal wind. This kite spot in the Doldrums was in fact located at the end of a biggish valley. The valley being for four or five kilometers wide where it met the sea. Going away from the sea, the valley tapered down to one kilometer or so width, like a giant funnel. So it must have been creating some sort of venturi, accelerating the light trade wind away from the beach towards the base of the funnel.
》On the hunt
In our exploration we were able to find a few other kite-able spots. Not so beginner friendly (which was kind of my goal so that Anna would be forced to shoot photos, don't tell her though!). She is kind of over standing in the tropical sun and carrying a camera and tripod up and down low tide reefs. But with the promise of spoiling her once we got back to civilization with multiple hours in the massage and beauty salon, it was game on, let the shooting begin.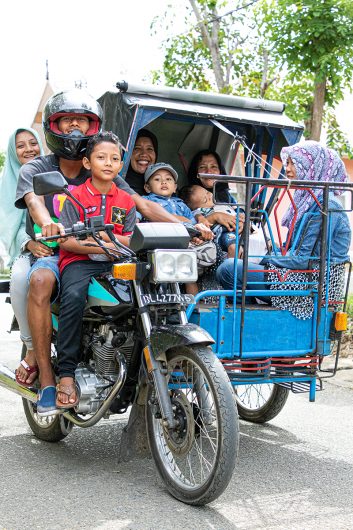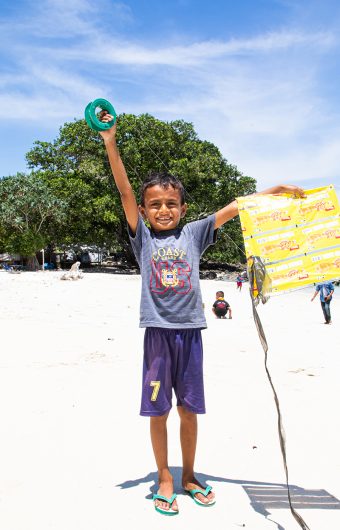 The spot we chose first was a beach break located in front of a big cliff. This spot we thought would be a good warm up. The waves broke at all tides over the sand bottom and it wasn't far from the lagoon. Then in the afternoon we got more adventurous, hitting the outer reef at the lower tide in search of some nuggety barrels. One of things about kiting in places like this is that the locals kind of freak out with a white man pumping up and then flying around the ocean on a big kite. But it was a weekday and it wasn't too much of an issue. The beachie was super fun, a little sketchy the closer you got to the cliff. One of the others spots we found on the other side of the lagoon was also a beach break with a few rocks and big bits of concrete on the shore line. It was quite a trippy place to kite because at one end where I pumped up was this strange café sort of thing, where local couples must have their romantic dinner dates. The beach was decorated with colorful furniture and brightly colored fabric flapping in the breeze. The café was closed the days we kited there so we didn't have any issues with the locals spinning out. But it was also a bit of a juxtaposition, with a huge cement factory and port about a kilometer and half away at the other end of the beach. Not really what you expect to see in a tropical paradise, I guess they needed it though after rebuilding from the tsunami. We didn't really get so lucky at this spot. The wind wasn't so strong here, maybe due to its location being on the edge of the valley. Then the surf itself was tricky because there was a strong current that swept down the beach the same direction as the wind. But that made it a good spot to check out the drift qualities of CORE's Section!
"It was quite a trippy place to kite. The beach was decorated with colorful furniture and brightly colored fabric flapping in the breeze."
My favorite spot was the outer reef break I had been eyeing since riding in front of the cliff. It took me quite a few days to get the courage to get out there because this place was pretty unforgiving. If you happened to drop your kite in a wave you could pretty much guarantee you weren't going to see that kite in one piece again. But I got my best session out there on an afternoon at mid tide going low, with wind on the lighter side having me just powered on my 11m. On the days when the wind was stronger the wave just got messy. So, after tip-toeing across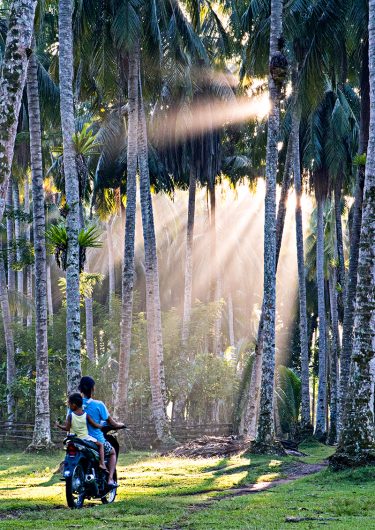 the reef to a depth I could ride, I rode a few waves to get the feel of it before the tide dropped too much. The mid tide was great for turns and getting my confidence up. But I had come here to get barrels if possible and as the tide dropped lips started to throw out. I took a few beatings that session, but I kept the kite flying so everything worked out ok. I also got a few nice cover ups, so was able to leave a happy boy. On the couple of days the wind wasn't really kite-able, I was able to go spearfishing and bring back a few nice local fish to the guest house to share with the staff. So it was a great trip after all, and I wish I hadn't been so paranoid and had come to this place a few years earlier….
This feature originally appeared in TheKiteMag #35. To subscribe, head here.