If you ever time yourself riding a wave then you might be surprised – and perhaps a little disappointed. What you thought was a good minute plus of lip smacking mayhem was probably more like ten, maybe fifteen seconds… Which makes the fact that Patri McLaughlin clocked one of his rides at Pacasmayo at two-and-a-half-minutes just INSANE.
Stepping off the plane in Peru is like stepping onto another planet. It may not be the most heavenly planet with warm beautiful beaches and crystal clear water, but it is a planet with the longest waves in the world. Then the fact is that – unless you live in South America – it takes a long time to travel to the desert lands of northern Peru.
But if you're there on a good swell forecast: it's worth every minute sitting in airports.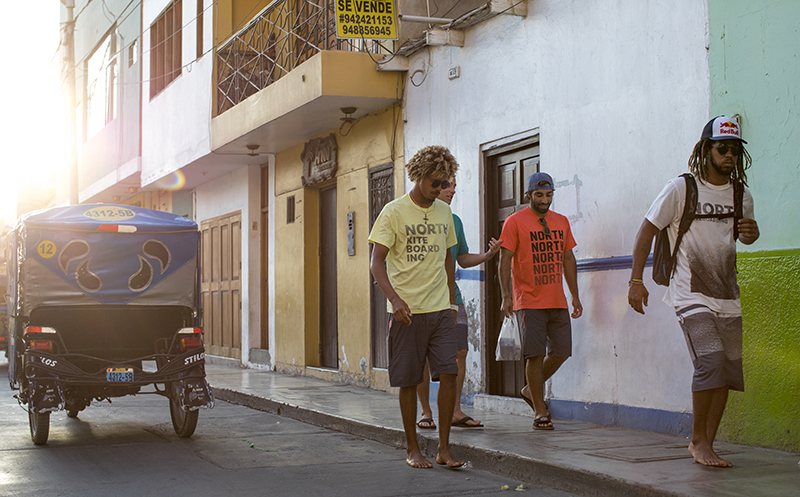 I left from Hood River, Oregon to meet up with the North Kiteboarding wave team. I first met up with Toby Bromwich in Lima where we had to wait overnight to catch a flight to Trujillo in the northern region of Peru. When we arrived at hotel El Faro in Pacasmayo the next day, it was an expected disappointment, but a disappointment nonetheless, that the waves were flat. Thanks to the joys of the internet though, we knew that flatness wouldn't last long. There was a solid swell forecast to arrive the very next day.
That evening Toby and I were joined by riders Airton Cozzolino, Matchu Lopes, and Sebastian Ribeiro, film maker Carlos Guzman, drone pilot Marian Hund, and team manager Philipp Becker. We've all worked together for quite some time so it felt like a family reunion, and we were all excited to see what this next swell would bring.
The second day we woke up to some great waves peeling down the point and by midday we could feel a breeze filling in. We went to the top of the point and tried to get some clips in the bag. The wind didn't cooperate with us and it ended up turning into a surf session. We weren't complaining.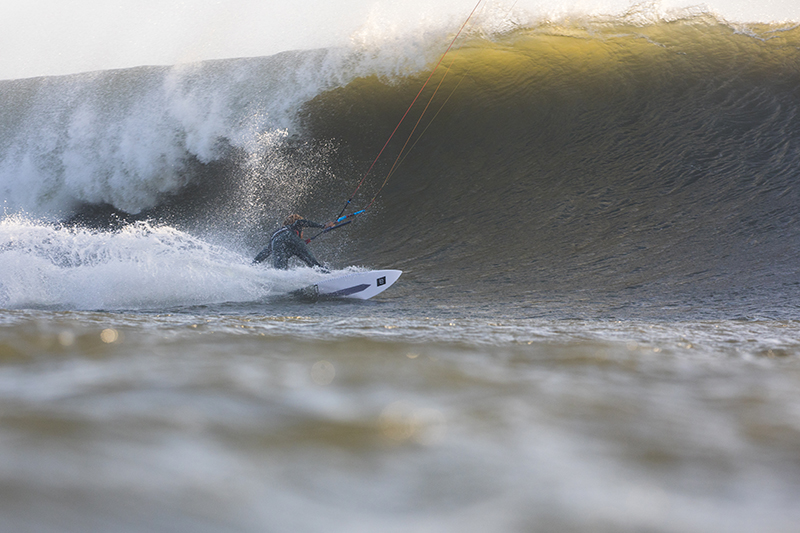 PATIENCE REWARDED…
After this we weren't entirely sure whether the wind would show its face – although its surf is as dependable as it gets, Peru is notoriously fickle for wind. But on the third day of the trip was one of the best days of kiting I have ever experienced. We woke up to triple overhead, two kilometer waves peeling down the point. And by noon it was blowing twenty knots. We were frantically setting up our kites to try to catch the longest waves in the world and that day we all scored some insane rides. I had my GoPro attached to a mouth mount, and I caught one wave that lasted two and half minutes. I must've done 25 turns from the top of the point to the pier in town. It was amazing.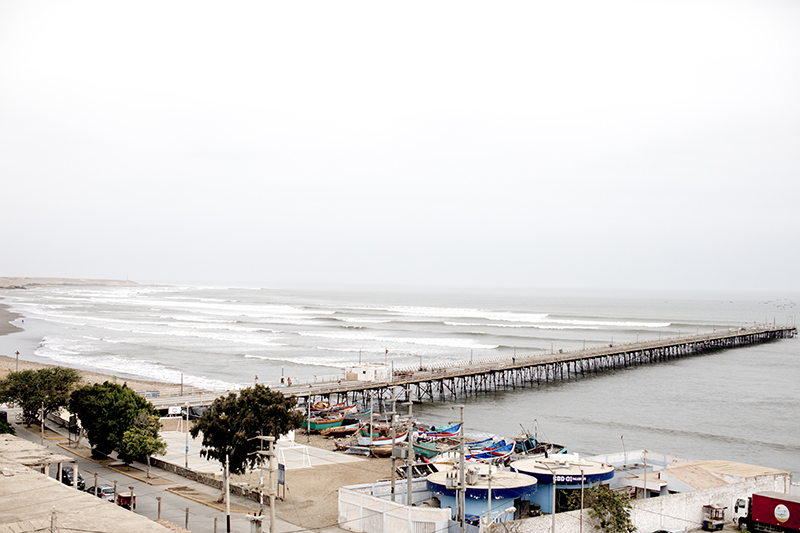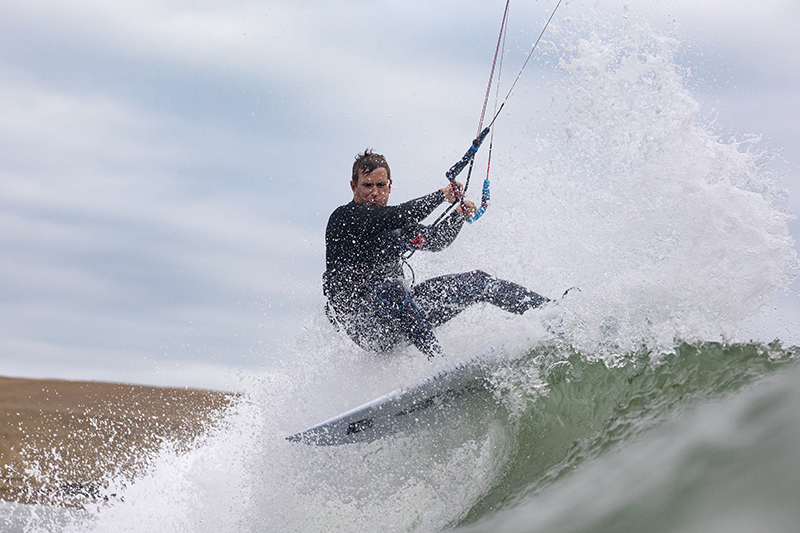 THE DON
We were all incredibly stoked, and the Proprietor of El Faro Jaime showed up that evening. Jaime is a living legend, and one of the happiest humans I've ever met. He has an attitude like he's the Don of an Italian mafia. I think he's Pablo Escobar's cousin… The guy lives to have fun, and he loves to share his place with like-minded kiters. The town of Pacasmayo is bigger than you'd expect. It's nice to head down to the pier at sunset and do some people watching. There are some good restaurants, and it's super cheap. Apparently, there's even a night club. Not quite a New York venue, but something to do if you get bored at night. Then I would recommend you drive out of town a bit where there are some cool ruins to see. Or if there's a windy day and the waves are small, it can be fun to do a down winder from El Faro to this old pyramid as there are fun waves that break along the coast. There is also another wave nearby called Chicama – it doesn't get windy but it's known as the longest surfing wave in the world. You can hire a boat to shuttle you back to the top of the point too: it's worth every penny. After you catch a mile long wave the last thing you want to do is paddle back up…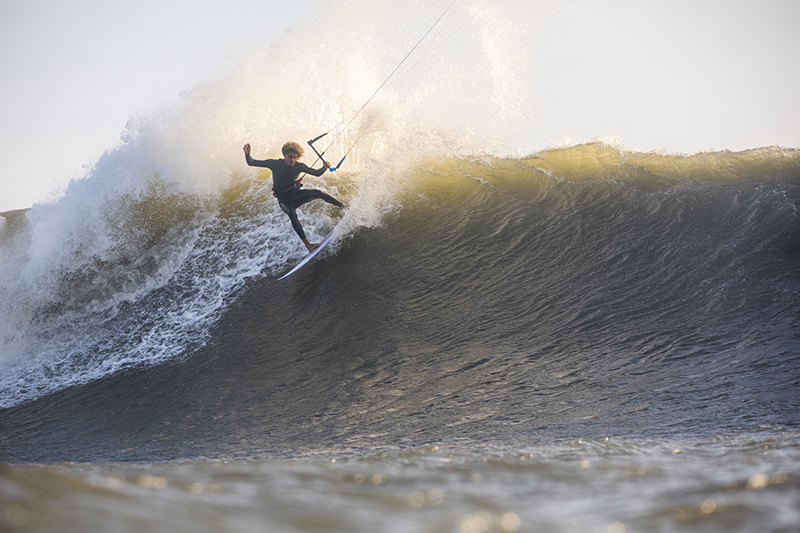 GETTING THE GRAVY
The one downside of the trip for us was that Pacasmayo is a very difficult wave to shoot. When the wind comes up in the afternoon the sun is setting in the background, making it very backlit from a straight-on angle. It's also very long so it's difficult to film a single section of the wave. There is also a strong current that runs down the point making it nearly impossible to get proper water shots. Toby actually jumped in the water on the big day and got sucked a mile down the point into the pier within minutes. He did manage to snag an insane shot of Matchu on a beautiful wave before he was nearly smashed into the pylons. Luckily we met this gentleman that drove up from the big wave spot, Pico Alto, and he happened to have a jet ski. Jaime introduced us, and we have some mutual friends from Maui. Since I have some experience driving a ski in big surf he let us borrow the ski to shoot from. That may have honestly saved the shoot. It allowed Carlos to sit in the perfect spot and Toby could jump on the ski when he got sucked down the point.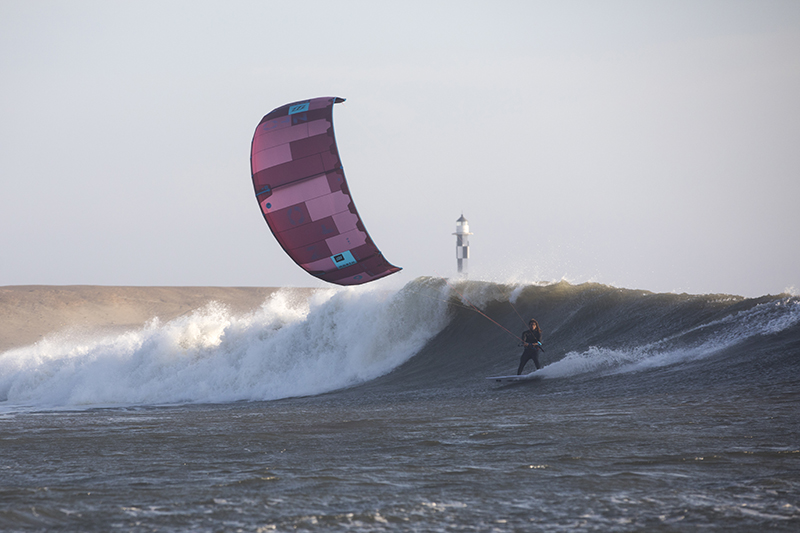 After we had a few decent days kiting waves, the wind backed off. We needed more footage and we were getting a bit worried about the wind forecast. Jaime told us about this lake two hours away that is always windy. We packed up a van the next day and trekked up into the hills.
It's amazing how the climate changed as we drove east and ascended into the Andes mountains. Sure enough, we reached a dam and there was a beautiful flat water spot where it was blowing a solid 25 knots. We had an awesome flat water session. I pretty much just tried to stay out of Airton and Matchu's way. It's amazing to watch those guys throw down strapless freestyle tricks. They're doing tricks that most people can't even begin to fathom.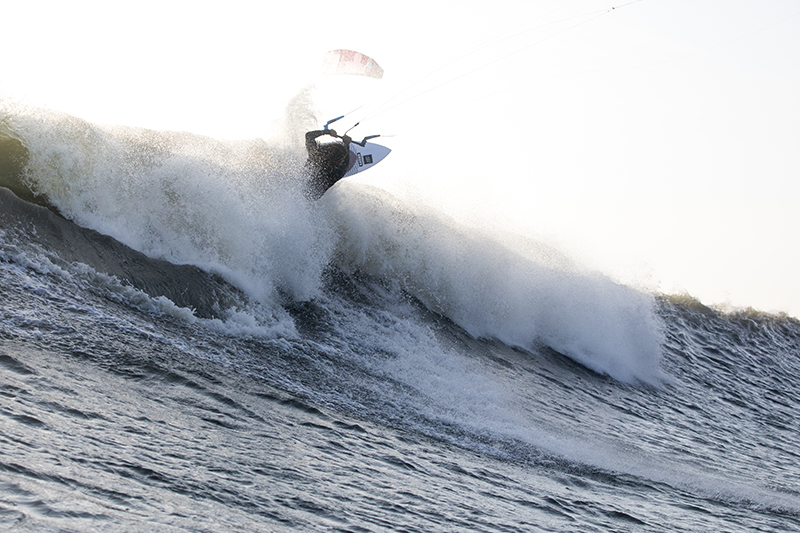 BONUS SESSION…
I accidentally booked my ticket to leave two days after everybody. I tried to change it, but it would've cost a fortune so I hung out in Pacasmayo an extra couple of days. It payed off too. There was another swell the day I left, and it was nice to kite the wave without the stress that comes along with a photoshoot. I kited for four hours solid and then hopped on a plane home.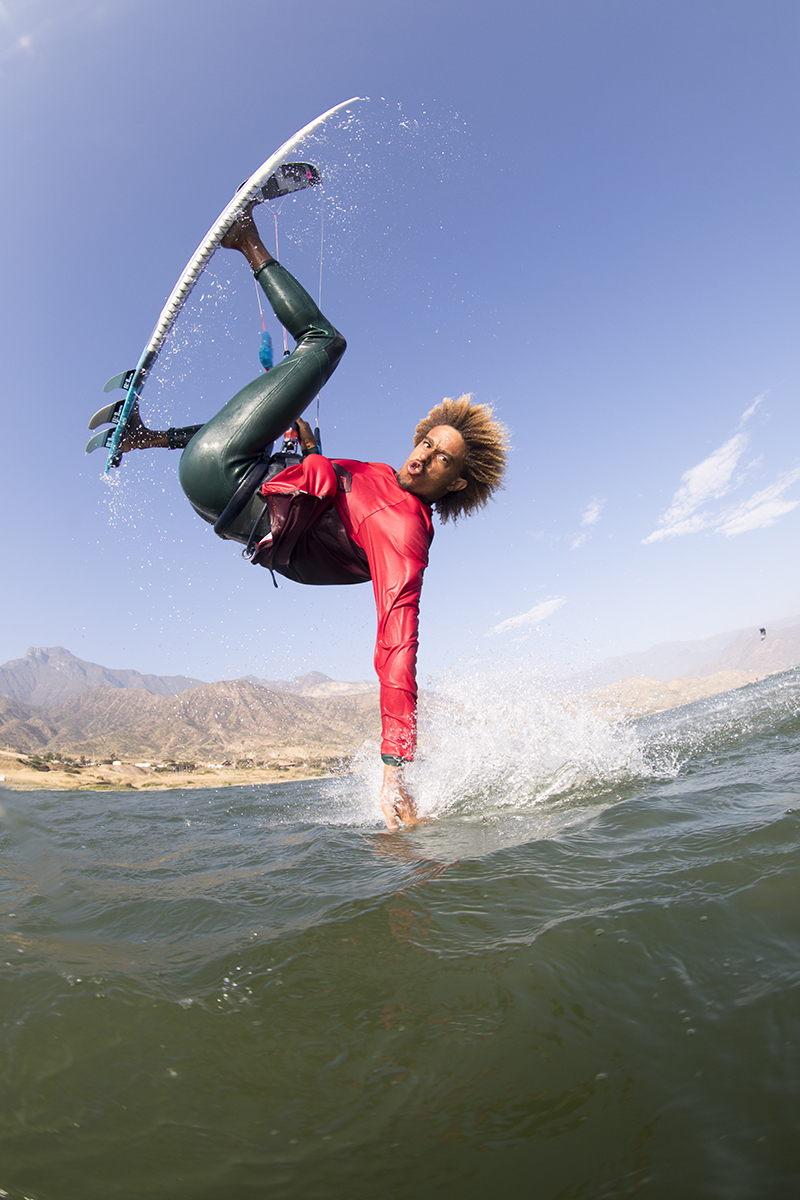 I would recommend Peru to anybody. The laid back lifestyle and long waves make it an amazing place to go. It's a really user friendly wave. It's not a huge barrel and it's not super-fast. That makes it a perfect wave for somebody to practice doing turns for a mile. And if you haven't mastered waveriding after spending some time here, then maybe it's time to take up golf…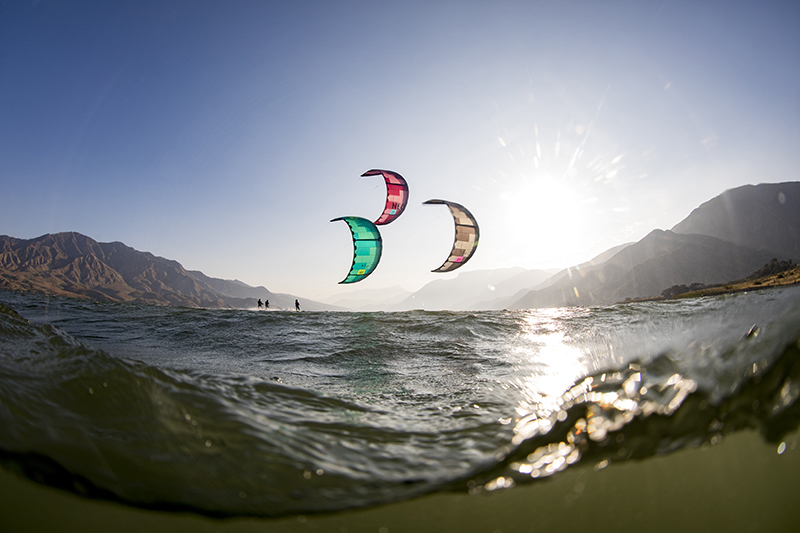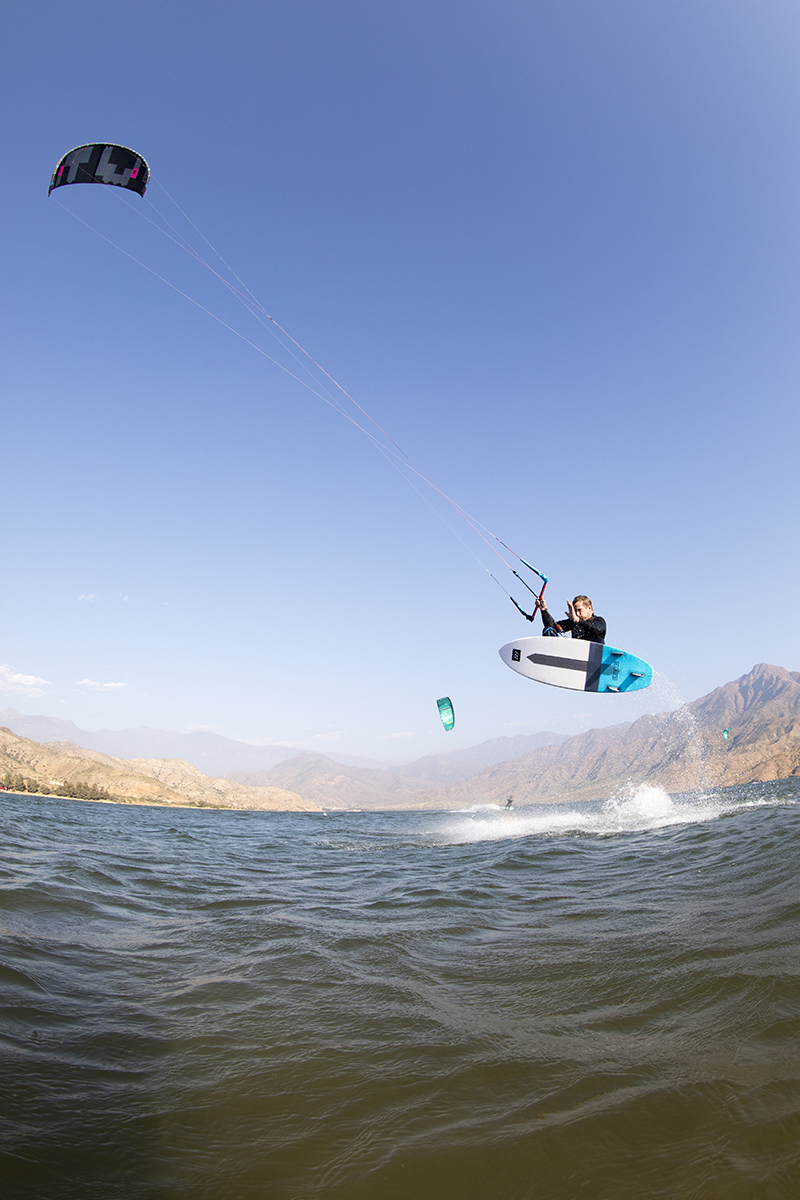 BEHIND THE LENS By Toby Bromwich
This was my first time visiting Peru. We arrived as a team on to what looked like an amazing forecast, right off the go, and I woke the first morning in the wave camp to the sound of peeling lefts, I took a walk outside and saw the incredible site of lines of waves breaking for more than a kilometer. The weather was warm and hazy with a crisp, desert style feel to the air. I went to grab a coffee and continued to watch mesmerized as set-after-set of perfect glassy waves kept rolling through. Patri and Sebastian woke up and saw the set up. Within a few minutes they had grabbed their surfboards and took a moto taxi ride to the point for the first rides of the day…
After a morning filled with amazing surfing the boys came back in to catch up with the team and work out the plan for the day. The forecast looked like this was the main pulse, so we were straight into analyzing the angles and the planning for when the wind arrived. Pristine new gear was unwrapped and assembled as everyone rushed to get their set ups and stickers on point. After a short session shooting some shots with the long lens, I decided to jump in the water as the light was getting a bit too harsh from the land angle.
We had access to a small underpowered rib boat which could barely outrun the speed of the waves, the plan with the light was to shoot water as I felt this would yield the best shots for the remainder of the day. This was quite a challenge as it is an extremely long point break and with faces of three-to-four meters at times, the movement of water was some of the heaviest I've experienced. You could forget staying in one spot as the current ran like a raging river. I got to the point and jumped in, managed to line up with the guys a few times before being swept down the entire length of the bay. Then we got back in for another run lining up with the guys and ducking a few of the big sets along the way.
The next day a heavy looking local surfer arrived at the break with his own 4×4 and high end ski. Patri befriended him and they took turns tow surfing the next morning. We then struck up a deal for him to hire us the ski in return for some photos and video. So in the afternoon Patri drove Carlos the videographer on the back for some tracking footage, and they also kept an eye on me. This was when we scored most of the best footage.
That would end up being the best pulse of waves for our trip and the surrounding areas weren't getting any directions to allow for the swell to wrap in, so we then set our sights on exploring the local area and experiencing the local cuisine and culture with our host. We took a drive into the mountains where the barren dust bowl turned lush and green and went up and up until we hit a lake which had thermal winds not too dissimilar to the gorge in the USA, but much smoother. For me it was a pretty amazing contrast to the waves and the feel of the coast just an hour away, and meant that we could get some nice freestyle shots to go with the wave action – so the perfect trip really!
This article originally appeared in TheKiteMag #24. To subscribe, go here.