If the Greek island of Lefkada is a gem in the kitesurfing collection, how could we have possibly missed it? It is a big island, after all. Also, it is the only island in the Ionian Sea that is connected to the mainland by road. You do not even need a ferry to reach this dream destination.
The first time I went there, I could not do anything but kitesurf. The warm wind, with predominant west and north-west directions, was blowing every day and it was as accurate as a Swiss watch: it started every day just around 2.30pm. Despite its perfect wind conditions, Lefkada is not crowded. You can find beaches where you will be only one of two or three kiters. And the sea is turquoise. So I couldn't help thinking, if Lefkada is close by why not travel there to kitesurf again?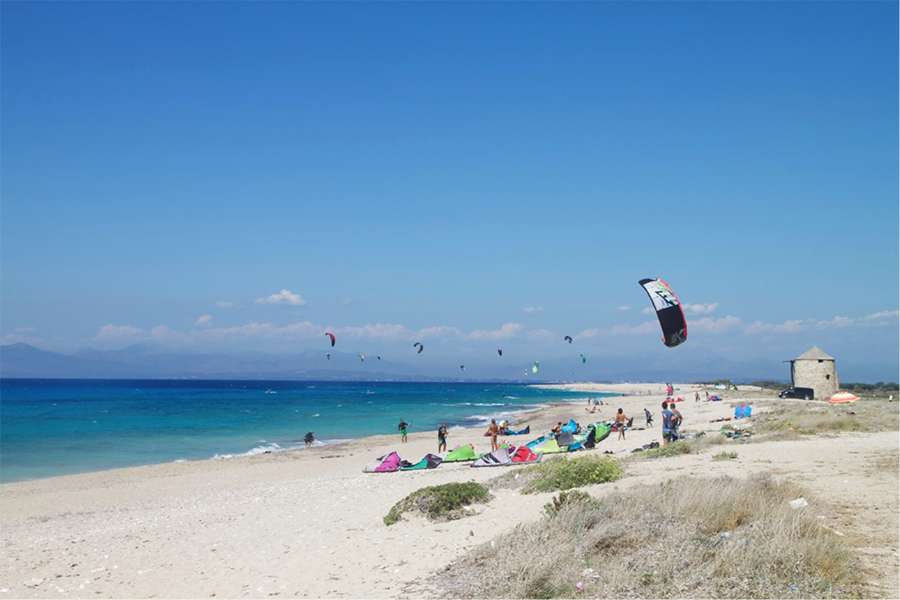 Milos beach in the main town of Lefkas. There are usually no more than 40 kites here, even at the peak of season.
The second time I went to Lefkada (everyone who has been there once goes back), besides kitesurfing, I took time to explore the spot and talk to people about it.
While the surfer community here is small, it is an active one. There is a Kite Club whose members are happy to help tourists willing to try the sport even during high season. They also generally keep the beaches safe and make sure there is plenty of space for the surfers. There are also a couple of kite schools that offer instruction and equipment. Kite club Idas plans on introducing tandem lessons next season. Now, this will be interesting…
Vassiliki, in the south of Lefkada, is a world-known destination for windsurfers and attracts champions every year. The main town of Lefkas situated in the North and a bridge away from mainland is home to one of the biggest marinas in Greece, a place to rent a boat and travel around the island or to famous nearby islands such as Kefalonia, Corfu and Ithaca, as well as Scorpios and Meganisi.
In the North, where kitesurfers typically hang out, one can enjoy the two main kitesurfing spots Milos beach and Agios Nikolaos, cuddled just outside the main island. But the truly exciting spot is on the downwind trip from Milos to Agios Nikolaos. Between the two, three is a place locals call 'The Church' because there is a church standing all on its own on a piece of dune surrounded by flat, crystal-clear waters. In good conditions, one can practice freestyle there and be rarely disturbed by more than just one other kite.
On Milos beach I met PKRA rider Tom Charlton who lives and practices there. In his words, Lefkada is "the perfect place to train for competitions because of the steady, thermal winds during the summer, with both flat and choppy waters to choose from."
While most Lefkada visitors are from neighbouring countries, the island has attracted 'in-the-know' kitesurfing enthusiasts from around Europe for years now. I met people who visit the island every summer only to spend their vacation kitesurfing here. This is not surprising, having in mind that there are good wind conditions for just about anyone and the spot is really safe. There are no hazards on Agios Nikolaos — neither for kiters nor for 'beachers'. Agios Nikolaos is the perfect beach for a beginner because the mild wind is combined with flat waters and a sandy environment. Advanced riders prefer the lagoon on the other side of the beach, which is flat and perfect for practicing freestyle. Milos beach attracts experienced kitesurfers, mostly because there are some rocks in the sea (but the waters are turquoise so you can actually see where they are!) The winds at Milos also tend to be stronger. There is a breaking wave on this beach and one needs to be extra careful or extra experienced to truly enjoy it.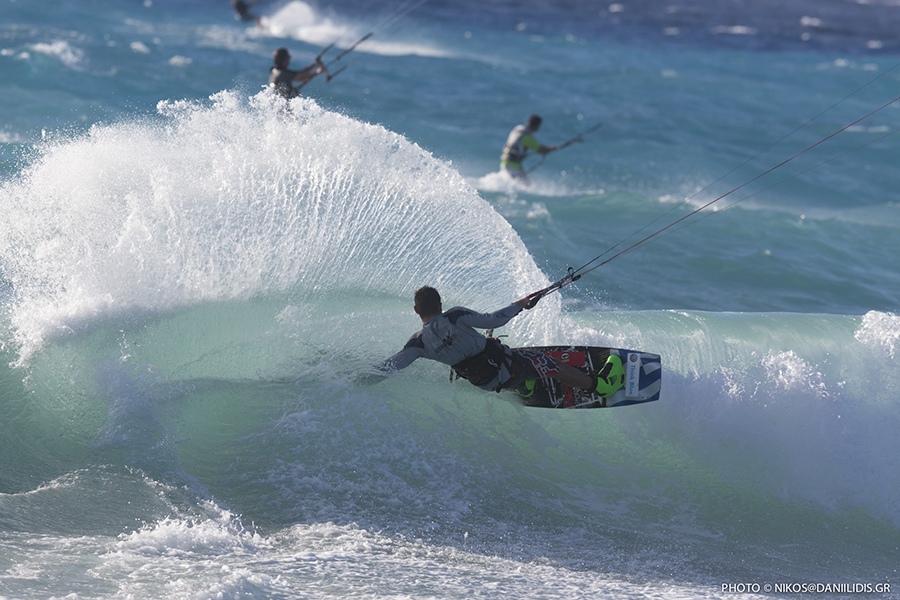 Local kitesurfer Tom Charlton, who loves to practice in Lefkada for the PKRA competitions. Photo courtesy of Nikos Danilidis.
Despite its great conditions and dedicated European visitors, Lefkada has somehow remained under the radar. And it is so easily accessible. The local airport in Preveza is just 11 miles from Lefkas and there are direct flights from the UK in the summer. The island also offers a myriad of lodging possibilities that range from camping (for free!) on the Agios Nikolaos beach, staying at B & B Villa Pefkakia, which is walking distance away from this beach, or you can rent a private house.
Of course, there are also plenty of hotels — from budget hotels to 5-star luxury places with amazing sea views. And let's not forget the food. It is quite good, as anywhere else in Greece, and definitely very cheap. For a gyros pita, you need no more than 1.50 euro, and grilled meat always comes with home-made chips, even if you don't ask for them. The summer caffeine drink, frappé, costs a euro and is sure to keep your energy levels up because it is usually made very sweet. Many taverns also offer a variety of fresh fish, and you can tell your waiter just how you like them cooked.
The beach at Agios Nikolaos does not offer crystal blue waters, but has a massive lagoon that will let you practice your free style.
Lefkada also offers a great combination of daytime and night-time activities. For nightlife lovers, whom the afternoon wind pattern favours particularly, there is a vast choice of venues to go to after dark. The island is full of bars and clubs that tend to stay open until sunrise.
The must-try places are Excess and Karma in Lefkas, but if you are not a fan of Greek pop, you can visit the beach bars at Kathysma and Nydri. Capital, an extravagant-looking night club, also plays foreign music and the party there goes on until way after sunrise. For lazy days (although there aren't many windless days), there are all sorts of other activities like horse-riding, paragliding, sailing, and what not.
In a nutshell, Lefkada seems to be cut out of sand and water to illustrate the saying "exploring the galaxy, I lost my way home". One can easily come here and forget about going back.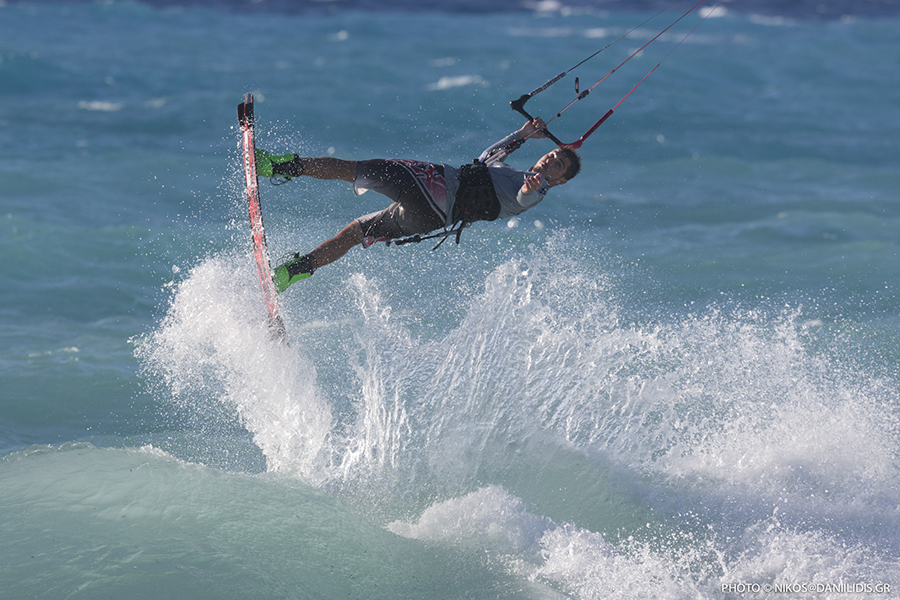 Article by Elena Andonova
[email protected]
To ride spots like these and more, visit www.kitesurfholidays.com