Lieuwe are celebrating their tenth anniversary – their 'customizable' philosophy has earned them a dedicated following and the fact is: their boards are really very good (as we found in The Ultimate Test).
As part of their anniversary celebrations, Lieuwe are currently offering 100 Limited Edition boards, on which you can get your own personal customisations (worth €400). It's an amazing offer, which you can find out more about here: https://lieuweboards.com/10years/
For issue 33, we caught up with Director of Lieuwe, Roel de Weers, to find out some more about the Dutch custom board specialists.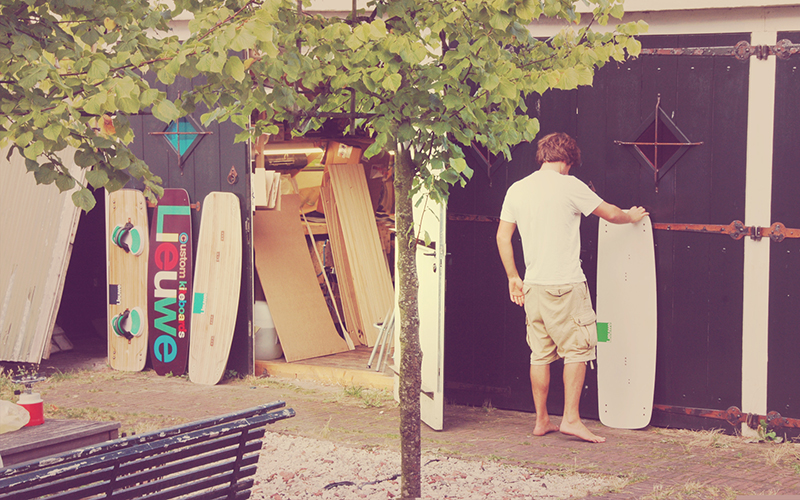 What can you tell us about Lieuwe – where are you based, who are the key players behind the brand and how did it all begin?

Lieuwe is the first name of the founder, Lieuwe Florian van Rije, but he was called Florian since he was six-years-old and told his parents that he liked the name Florian more than the name Lieuwe, so he has been called Florian ever since then! Florian always had a great passion for two things in his life: building machines and kitesurfing. When he couldn't find the right board he decided to start building his own. In 2009 he started to make his first board in a small shed in his mother's garden. One year later he built his first CNC machine which gave him the opportunity to make more complex 3D shaped channels and contours. After that, the developments rapidly grew, people started to hear about this brand building custom kiteboards in a little shed and the first orders were made. By that time Florian did not have a name for his brand and had to come up with something. It didn't take him long to decide to use the name he never liked before, and so Lieuwe was officially born! In 2013 the company was officially established and the first big steps were made, I joined the company and together we set new goals. In the beginning we still had side jobs, Florian as a sound engineer and I was working in a bar in Amsterdam. In 2016 we decided that we had to give it our all and quit our jobs. And so we did!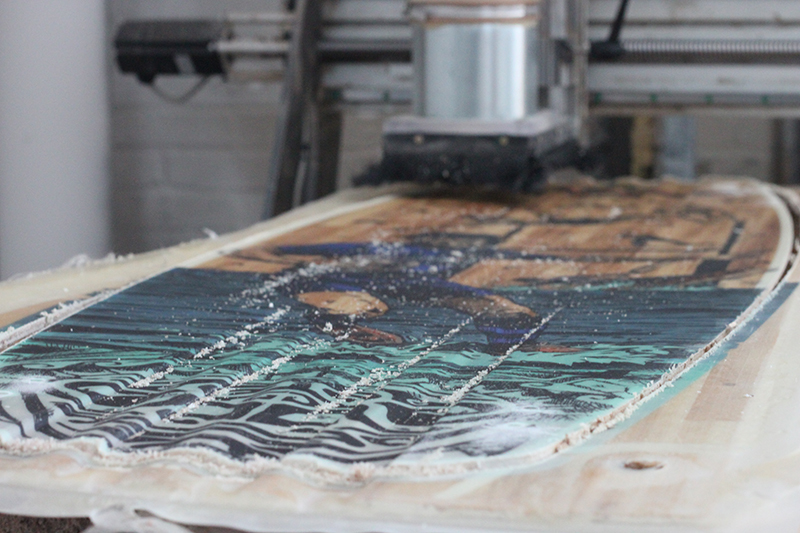 Which sector of the market were you aiming for with the brand and why did you see an opening here?

When Lieuwe started building his own boards he was already a different player in the market, building all the boards himself with the help of machines that were built by the same hands. The boards had a distinctive basic wooden Lieuwe look, and were fully customizable. They were something different, with an obsessive attention to detail. Over the years we have listened to our riders, we tried everything and improved the boards where needed. After five years the market asked us not to change anything in the boards as they liked it the way they were, so we listened and didn't change anything… why change something which is already good? This, in combination with the customization and the wooden look, has been one of the most important openings for us.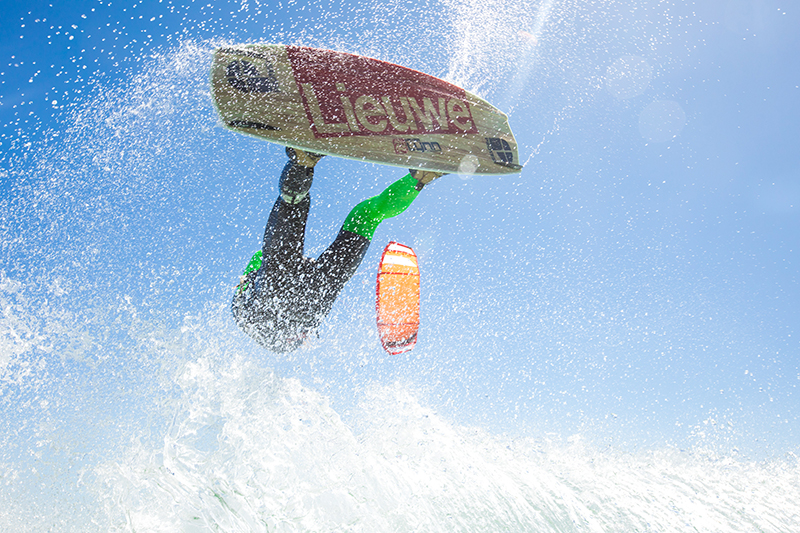 Lieuwe is a brand for people who want something different, do things their own way. Over the years we have learned a lot from the riders who are looking for something different. They might want their own color combination, maybe add their name, a quote, or even tell a story. Lieuwe makes this possible. I can say that almost every board has its own story. I think the story of Mark Rustemeijer is a great example – Mark contacted us with a remarkable story and a great way to tell it. So as you might know we partnered up multiple times with the awesome artist, Willem Cattersel from WAXED Designs. Mark saw what Willem had made for us in the past and wanted him to tell his story through his art. So Willem did what he does best, and made Mark a design worthy of his story which went like this…
From when I was only six years old, I was always on the water sailing and windsurfing, alongside all my other sports such as swimming, water-scouting and athletics. When I turned 12 I found a new passion for which my other sports had to make room. Rugby was my new way of life. Crawling through the mud three times a week was not unusual for me.
Years later, now 24 years of age, I was in my best shape ever. Weighing 94kg and having amazing stamina, I felt like I really started to make steps as a rugby player. However in that same year I did not land well after a line out, and fractured my ankle. From that day on I could never run again.
A few years later I moved to Qatar, working in aviation as an aircraft engineer. In Qatar I had my first kite lesson and the rest is history. As many beginner kiters experience, I got washed by the salt water and managed to get a couple of meters of kiting. And I loved it. From that moment on, I knew I had found my new sport and passion.
I thought about getting a tattoo that would tell this story. However I am not a tattoo type of guy. But then I came across Lieuwe. A board brand showing their own passion for building boards and the designs made by Willem Cattersel. I was impressed and I knew this was the right way to tell my story!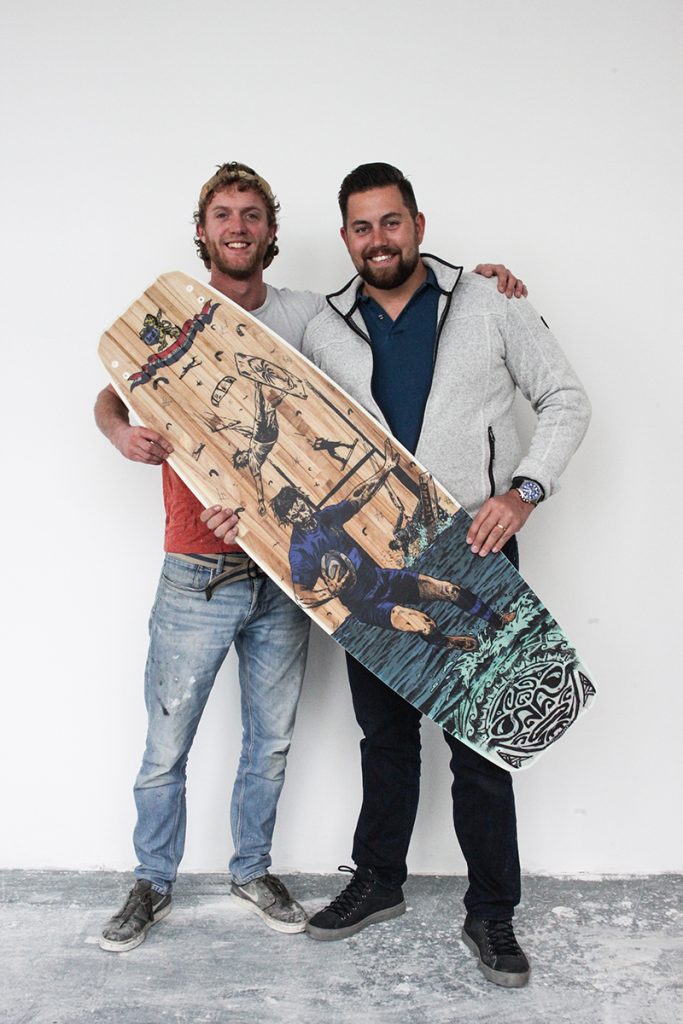 How easy is it to make your boards customizable and what percentage of the boards you sell are customized with their graphics?

Building custom boards starts with giving the right advice to the riders. You would be surprised by the amount of people who would pick the wrong board and size for the conditions they are riding in. So we first listen to their story and give them the right advice. Once we have made the right decision together we will look at their custom preferences, do they want to pick their own color rail or deck, add a name or a company logo, or do we go full custom like we did with Mark? This whole process will take between 1-3 weeks until we have the final design. It's always a very time-consuming process, as it should be when you make something unique. Currently about 20% of the boards we make are full custom.
What materials and processes do you use that make Lieuwe boards special?
Most brands are using the same materials as snowboards, wakeboards, skis etc. So it is more the attention and dedication we put into our boards. Ours usually isn't the easiest way, or the fastest way. But it's always the right way, and that's what it takes to build products that might be the best products out there. We use only the best materials and the most innovative ways to create and assemble them. And we never cut corners – especially when we can go around them!
You have recently moved into bigger premises, how much bigger is your capacity to previously?
At the beginning of the year we expanded our production facility to 700m2, giving us more room to work in making our production more efficient and ready to grow.
When it comes to testing do you have some good spots on your doorstep, and where else do you head to test?
All our boards are tested in the North Sea. As many know, we have pretty rough and choppy conditions out here, making it the perfect grounds for testing. For the rest, we have our dealers and shops that provide us with feedback from their customers in what they like or don't like in the boards, but it does not look like we are going to change a lot soon!
What are the advantages and disadvantages to being a 'specialized' brand when it comes to competing with the big players in the market?
Competing with the big brands is always difficult, that's why you should not start a fight you can't win. We are very proud of the fact that we have had so many talented riders within our company when they were not under contract with some of the big players, they had the time to develop their skills, make adjustments to their boards and improve their riding. Just like we did in the year and a half that we worked together with Ruben Lenten, building his own board, the Oceana. We had them riding in the GKA, WKL, Megaloop Challenge and the KOTA, all of them with their own customized boards. Once they gain attention from the big players, they go under contract and we lose them as a rider, which is great for them because these steps make it possible for them to grow within the sport.

So, will you stick to twin ups or any plans to move in to the world of kites or foils?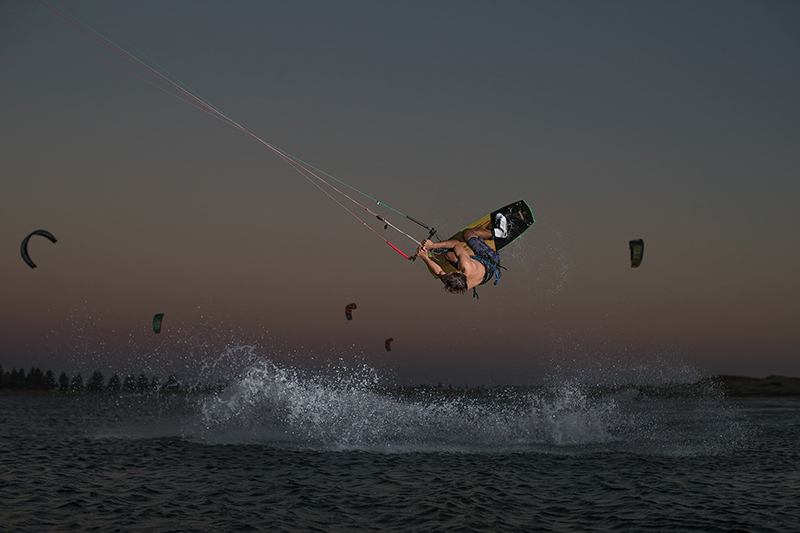 Focus is the most important thing and we will keep focusing on building boards! Kites will not be something we are going to do, we had some kites made with our logo but that's about it. Foils on the other hand… Yes, stay tuned!
Can you sum up the Lieuwe philosophy in one sentence?
Everybody deserves a unique kiteboard, and we make that possible.
You mentioned that you have something to celebrate, could you tell me something about that?
To celebrate our 10 years in business, we have designed 10 unique limited edition designs which will be available through our dealers and online. Make sure you get them quickly, because these ones will be a true collector's items!
This article originally appeared in issue 33 of TheKiteMag. To subscribe, head here.