Life as a professional kiteboarder may be the dream of many a rider as they make their first pass, nail their first clean slider hit or jam their first perfect top turn. But it's not all first class travel and front covers. Oh no. Here Brandon Scheid tells it how it is. And you'd better sit down as it's a pretty exhausting read…
Everyone assumes that the life of a professional athlete would be a dream job. Life at the beach, perfect wind, globetrotting, the endless quest for summer, and all the benefits of that idyllic lifestyle. The big money and the podiums; video parts, and sessions on sessions on sessions. Really, what could be better? It's truly living the dream. However, as you will find across all sporting platforms, from football and motorsports, all the way through action sports, and probably even in pro badminton players, there is a trend. The life of the truly elite professional athletes always brightly outshines the majority of the other hardworking professional athletes. For every Kelly Slater, there are a thousand others fighting for the leftover scraps. Now, that's not to take away from the Tony Hawks, Shaun Whites, or dare I say it, the Aaron Hadlows of their respective sports. They obviously got something right and were justifiably rewarded for it. Thankfully, through their efforts, they also helped pave the way for many more to come after. However, this "crème-de-la-crème" structure often leaves all of the others who want to build a life from the sport they love struggling to find their niche. It also often means that they diversify into other fields, for example photography or videography seems to be a common second skillset in this digitally saturated era. Maybe, if they're lucky, they work in the R&D department. Or they could manage the team or help answer customer service emails. Maybe they do all of that and more. The life of a professional athlete really is all about what you can offer your sponsors, and not just showing up for endless perfect windy days at the beach. Athletes also have to deal with the ever-looming threat of injury. I'm not talking about a broken finger, or a few stitches. We're talking about knee reconstructions, shoulder surgeries, multiple concussions, and a whole plethora of potentially career ending injuries. To be on the top you need to really push yourself and your body hard, and often that can result in injury. Not only will the injury prevent you from doing what you love, but your sponsors and all that you've worked for can go out the window pretty quickly. There are countless examples in the action sports world of people being dropped from teams following an injury. It only takes one season to be forgotten in today's sporting climate. But don't get me wrong, I am not trying to elicit a 'woe is me' reaction, I'm simply trying to paint a more realistic view of this short-lived career path.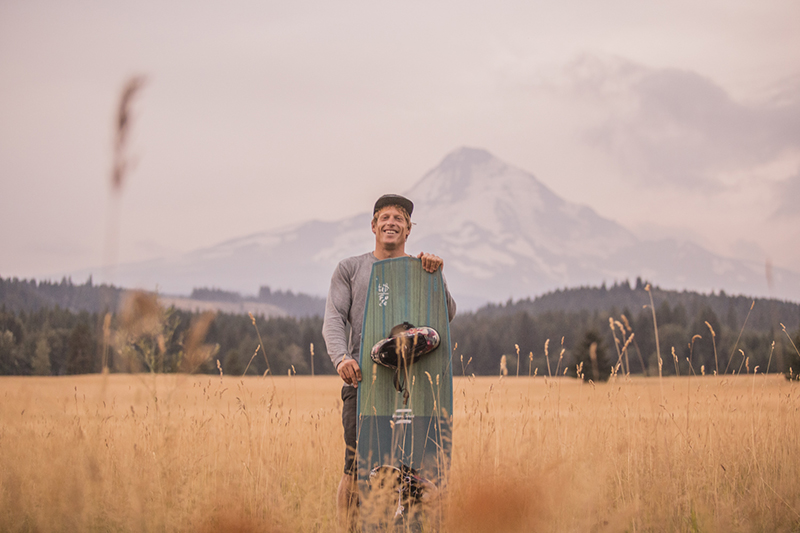 With all this being said, there still must be some merit in pursuing this sport-based lifestyle, or so many wouldn't try to ascend the ranks. Maybe the paychecks aren't what it's all about then? Could it be that these people have figured out something that most of society has missed? That a life doing something you love, something you are truly passionate about, is worth the risk and the trade-off in material possessions. Simply stated: quality over quantity. That is why thousands of wannabe Mr. Slaters still continue to try and make a living off of their sports, because it IS worth it.
I am one of those wannabes. I always have been, even as a little kid. I used to dream of becoming a professional. I had all the stickers, followed all of the contests and bought every video I could get my hands on. Yet I didn't really understand the full implications of my 'dream' job. Almost by accident I ended up finding the wind and the wonderful sport of kiting and, luckily, I eventually achieved my goal. And I would say I achieved it not because I was ever the best kiteboarder, but because I knew at the end of the day this was still a job, and jobs take work. This life is a grind, on and off the water. It's one I'm happily pursuing, regardless of the drawbacks. This year has been nothing short of amazing, but it's also been a hell of a lot of hard work. I'd like to paint a picture of my year to you, and share some insight into my life.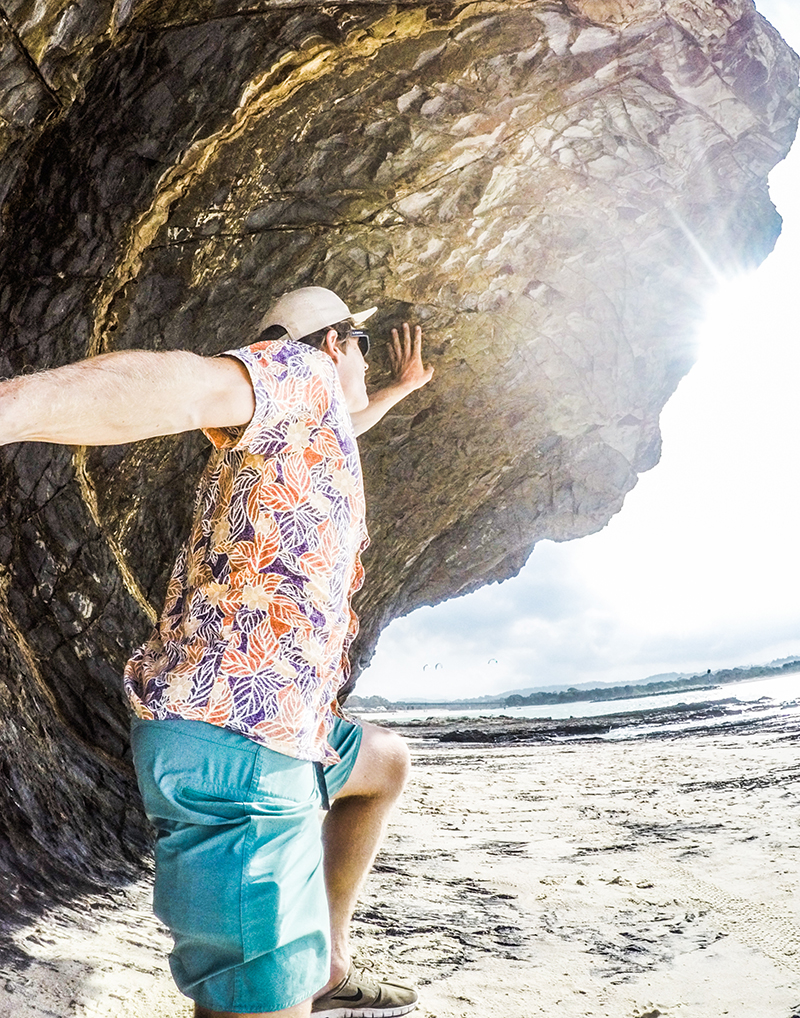 Coming off of a big Oz Trip
Road trip tips and Oz must do's
The year started as most of mine do, with a large chunk of travel. This time it was to the land down under. I was set to do a massive road trip across the east coast of Australia in support of our regional dealer/importer. Sounds good, right? Travel across Oz, kite and surf and enjoy the good life. I won't lie, it was pretty fu*king awesome. It was my first time to the country and every day was an amazing new beach, a new potential kite spot, or something fresh and exciting. We saw some amazing sights on our long drive, and apart from a few windless days it really was the perfect trip. I think a lot of the reason we had such success was our open-mindedness and willingness to opt for the unknown. I constantly asked my fellow travelers – Marlee Currie and Beau Blake – questions about the surrounding areas, gaining as much insight as I could. I spent a lot of time on Google Maps, and I forced the truck to stop at every little amazing nook and cranny, regardless of our schedule. Although Marlee and Beau had driven a lot of the coastline before, it seemed that having a fresh perspective and a new set of eyes on the area gave them a fresh appreciation of their country. Why travel abroad when you have such amazing things just around the next bend? You just need the right attitude and a creative mindset, and you can find so much where others saw nothing. During this idyllic trip we also put on a bunch of demos, visited retailers, and helped lay the groundwork for future growth of the brand. It's important on these trips to have a great attitude, say hello to as many people as you can and generally spread joy and happiness. You don't want to be remembered as the "too cool for school" pro guy that came to the local beach. Be approachable and humble and it will go a long way.
OZ INSIGHTS
– Tim Tams are God's gift to man.
– Kangaroos are deadly and account for 5.5% of all traffic fatalities, thus 'roo watching duty is a very serious task.
– Oz is expensive.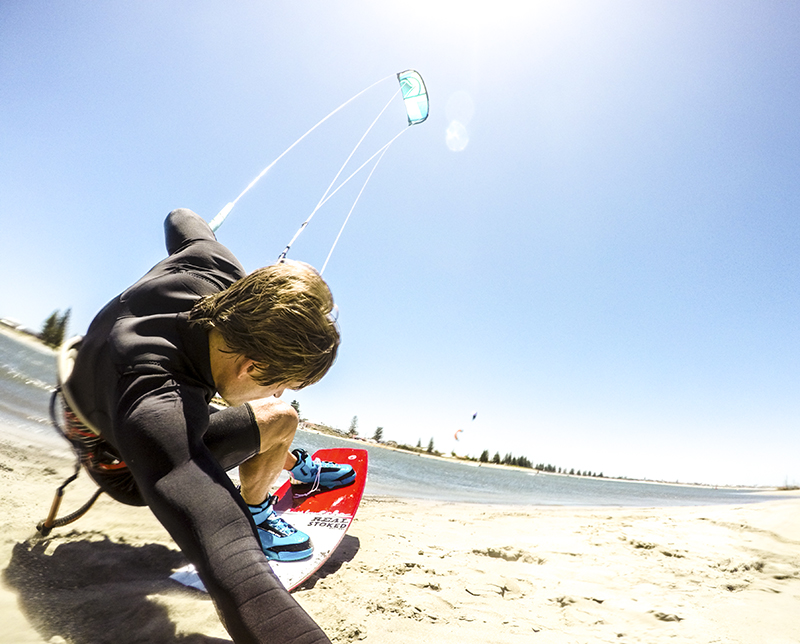 Snowkiting and winter R&D
The most epic snow winter ever, downtime is important
Following up such an amazing trip is not easy, however I was pretty excited to head home to Hood River. Although it was off-kiting season, there is always something fun to do in our wonderful home town and when I arrived home it was snowboarding season. It also just so happened to be one of the best winters in recent memory. The resorts were all time, and with all of the extra snow there were even several new snowkiting spots on offer. It was like an adult winter playground, and everyone seemed to really be getting after it.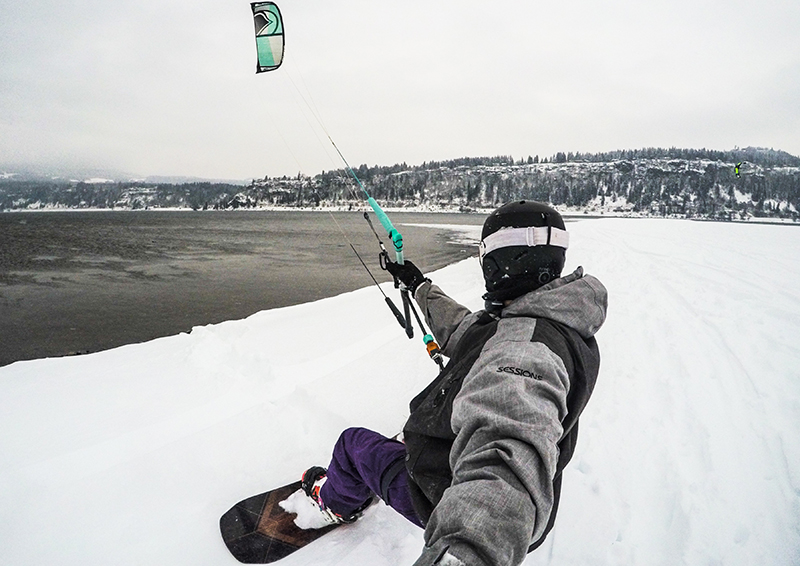 In addition to getting some great snow conditions, being home means I get to drop back into the LFK office schedule. Our kiteboarding head office is located in Hood River, which allows us to be in the heart of one of North America's kite epicenters. During the summer, the river is filled with eager wind enthusiasts. However, we were in the dead of winter and conditions couldn't be worse for water kiteboarding. With the ever-present demand for better gear, the R&D department can never really rest. For Jason Slezak and I that means donning our drysuits and positive thinking as we head off into the frigid water. Jason even had a few foil sessions this year where he had to dodge ice chunks in the river. Sometimes it really isn't cost effective to fly off to somewhere warm to test a footstrap, or bar re-work. So we put our heads down, and try to laugh about it all. For safety's sake we usually work in teams, in case something goes wrong. Hypothermia is something we take very seriously, and I would never go out alone. I will say there is something magical about being on the river, just the two of us, in the dead of winter. However, there is nothing magical about frozen fingers, and luckily we were able to do a lot of the winter testing this year on snow via snowkiting. We even had a magical week of kiting on the Hood River sandbar, right where we normally kite in the summer. I think the most important part of going home though is having downtime. It's not good to be go, go, go all of the time and often the body needs time to rest. When I'm home I have full control of my diet, unlike when traveling. It really gives me time to focus on health and healing of both the body and the mind. It's never long until the next trip, and it just so happened that the next one was to kick off the KPL in Palawan, Philippines. It really helps to start the season off well, so making sure I was 100%, physically and mentally, was the goal leaving home.
TIPS FOR HOME
– Eat well, stretch more, visualize.
– Take the time home to re-focus on your goals and invigorate friendships and relationships.
– Cold kiting is all in your mind, have a good attitude and you'll stave off Mr. Frosty.
Philippines
Contest let downs and travel woes
Part of being a professional athlete is the test of the contest. Whether you play a game a week as a team sports star, are chasing a world championship, or only do one contest a year, you inevitably have to compete. It's how you showcase your talent under pressure, prove you're the crème-de-la-crème and, in some cases, justify your sponsorships. There is a lot more than just bragging rights on the line, and many athletes earn a large portion of their living from contest winnings. They are a pretty big deal in my current life, and I gotta tell you, I hate losing. So going into the Philippines I was eager to do well, but we had to get to the other side of the world first.
'Traveling is great' people say – jet-setting off to far flung destinations. And it is true: we have it far better than anyone in history and you can get to pretty much anywhere in the world in a matter of hours. However, the actual traveling is really never that fun. Airports, baggage issues, shitty food, jet lag, tourist traps… the list goes on and on. Seeing new places has a cost, and living out of a suitcase for months at a time can get pretty old.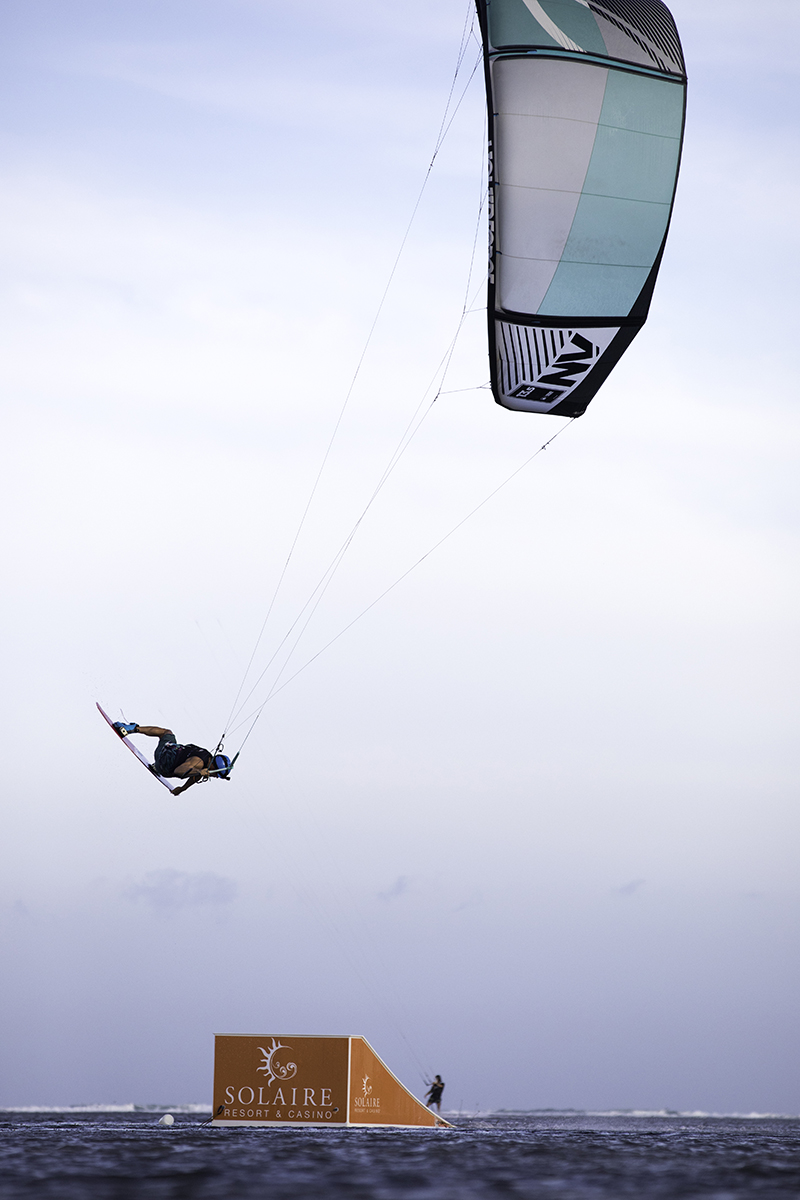 But after what seemed like days of travel, we finally made it to the Philippines, and to Palawan for the contest. All the big shots of park riding were there, and it was a chance for everyone to knock the rust off and showcase all of their off-season training. We had great conditions for the contest, but for whatever reason I just couldn't get my head in the game. I had a few slip ups in the finals and lost clear sight of what I needed to do strategically. In the end, I took home 8th place, certainly not what I had traveled so far for. I left the contest with a new perspective on my contest riding though, one that served me well through the rest of the year. I couldn't focus on everyone else, I just needed to be confident in my riding and do the tricks I knew would score well. I had to not get caught up in the emotions of the competition. It can be really frustrating to travel so far and come away with nothing, and in every contest there are losers. And for some riders it can be make or break, as the trips cost a ton of money. If you don't come away on the podium, you end up spending more on the travel than you can make back from the contest. Lessons learned, it was time to head home, lick my wounds, and prepare for the next journey.
TRAVEL TIPS
– Smile, it can go a long way at the check-in counter.Bring ear plugs.
– Audio books are a great way to pass hours and feel productive and smart.
– Always bring or get an emergency snack, no one likes being hangry.
– Go with the flow, sometimes there is nothing you can do…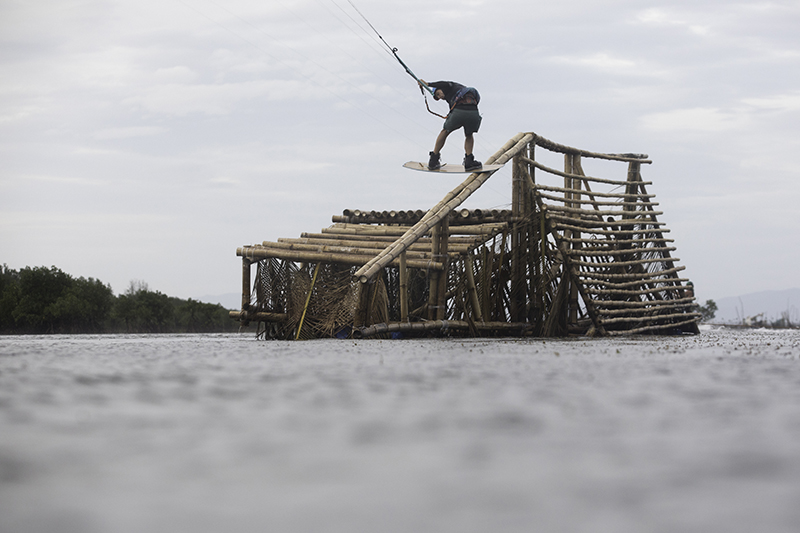 Early Hatteras R&D
Not every trip is about the perfect destination
Arriving back in Hood River, it was quite a stark contrast between the tropical climate of Palawan, and the wintery Pacific Northwest. However, I wouldn't stay home for long as there is always something on the docket. Once again the call of R&D beckoned, and there were several products that needed to get the final sign off. This time it was the WOW V3, and it was essential to get it done for an on-time delivery to retailers. Every missed session and week gone by without sign-offs delays our schedule and eats into the company's profit margins. We needed somewhere cost effective, with a variety of wind strengths, and, most importantly, consistent surf. After looking at a few options, we opted for the king of east coast kiteboarding locations, Cape Hatteras. It's an easy one for us at LFK; we have the support of REAL Watersports, and Jason owns a house there which makes lodging easy to line up. In order to make sure we have a great, well-rounded product we wanted to involve a few key people in the testing. Designer Julien Fillion is a no brainer, additionally we also flew in our wave charger Luke McGillewie from Cape Town. Together with Jason and I we had an experienced testing crew that could easily tackle the sign off. The only hitch was that we were about two months early for Hatteras season. While this allowed us empty beaches and plenty of wind, the temperatures were pretty low and the testing was brutal on the body. We kited a few days where temps were only just above freezing.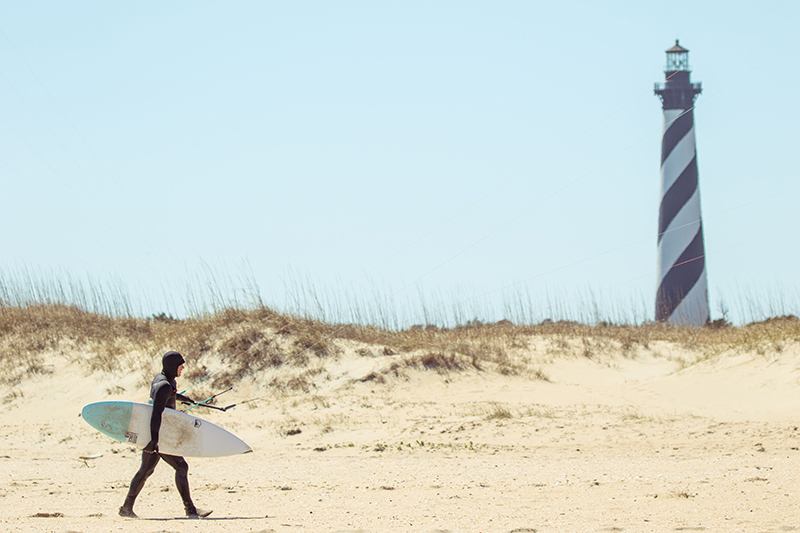 While R&D may sound like an ideal job, when paired with cold water and a demanding work list, the trip was pretty full on and filled with long, cold days. And even though you are kiting a lot, it's not like they are the sessions you necessarily want to be taking. After all it was a work trip, and it sure felt like it. In the end, we finished all of our work–related obligations, and we were even able to fit in a few sessions in the REAL slider park, a first for Luke. I think it's important to be a part of these testing trips, and I try to make it on most of them. It solidifies the team, gives us faith in our new products, and allows us to take input from the consumer and hopefully design better equipment for us all to use.
R&D TIDBITS
– Be open minded and remember you are designing gear for the average kiteboarder, not you at the professional level.
– You need to be able to express your ideas and input in a helpful, coherent, and positive way.
– Luke McGillewie is a beast in the ocean and throws buckets.
– There is nothing quite like a thumping NE kitesurfing session at the Cape Hatteras Lighthouse.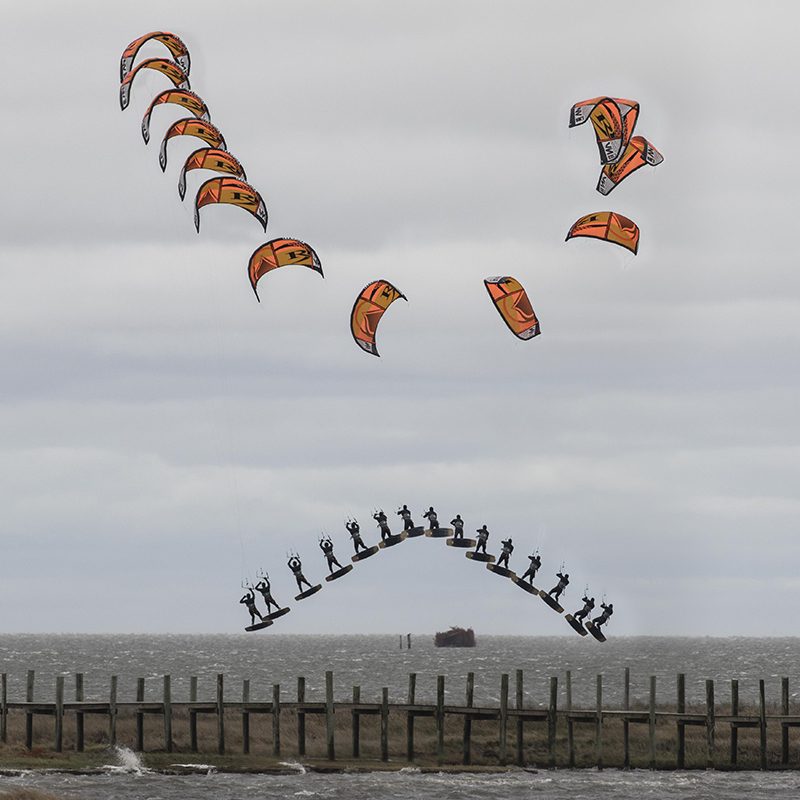 France, Team LFK, and photo guru
Work ethic, the search, and photo tips
After a successful testing trip, it was time to start gathering marketing collaterals for the upcoming LF product cycle and I was tasked with organizing and executing the shoot this year. As a company we decided that we wanted to do our shooting somewhere in Europe, making it easy for all of our LFK Euro crew to make it to the shoot. After a lot of talking, weighing options, and Google-Earthing we finally decided on the French wind capital of Leucate for our shoot. Not only was our French distributor in the area for the WKL France stop, the location looked amazing, given the time of year. Photo shoots are always a gamble, you could be in the most beautiful spot in the world, and if the wind doesn't cooperate you have no photos. I was a bit nervous about the location, as I have heard it can be really windy, gusty, cold and gray. However, Aymeric Martin, our French team rider, assured me that we made the right decision and that we were going to score. So I loaded up four board bags with all the gear and headed off into the South of France. Julien, Vincent Bergeron and I all met in Paris and we started the drive down to Leucate. Once there we linked up with fellow LFK team riders Christophe Tack, Helena Brochocka, Jan Schignitz, and George Duffty. The trip started with a lot of driving around and scouting possible shooting locations. France has a long history of windsports and it is very regulated where you can and can't kite. We learned pretty quickly that what we imagined from satellite images was going to be very different on the ground. That being said, we did find a ton of amazing spots, honestly some of the best places for kiteboarding I've ever seen. One in particular was a perfect mirror flat slick for over 14 km. The logistics of these shoots can oftentimes be staggering. You need to get everyone to that day's location, get all the right gear in the right hands, get on the water, shoot, find food, and then shoot some more. This cycle is then repeated day-after-day, and ideally in a new location each day. It's like trying to herd cats. But we came away from the photo shoot with tons of amazing images and we couldn't believe how great this area was.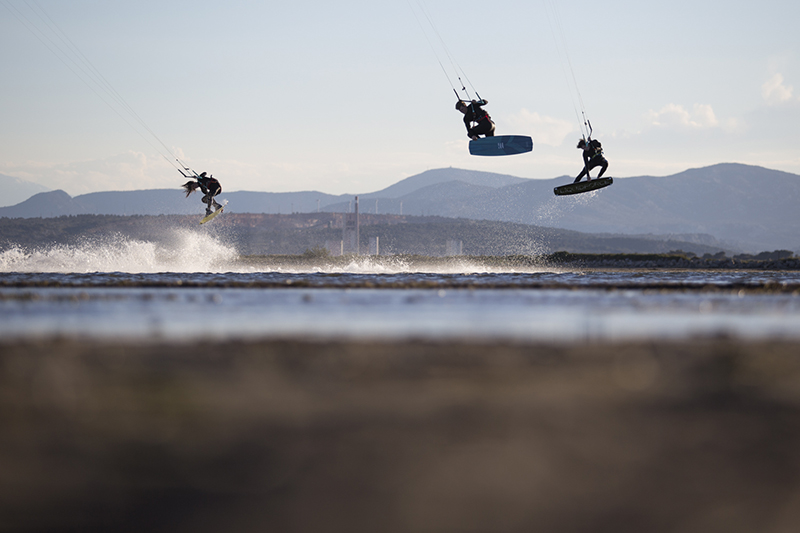 It really felt good to successfully plan and execute such a large task. I think by the end everyone was pretty exhausted and ready for the comforts of home. Shooting is taxing, especially if you want to get stellar shots and it was something that our whole team learned while on the trip. For some it was their first time working that intensively with Vincent Bergeron, and his standards are pretty high. When Vince is excited about a shot and tells you "you nailed it" it really is rewarding. I think everyone came away a better rider, but not in the traditional "I learned so many new tricks" sense. More in the ability to properly shoot and positively showcase a product, helping the brand build a solid marketing campaign and ultimately sell some of that gear. At the end of the day, that's a big part of team riders' responsibilities, as the gear sales create the team rider budgets…
PHOTO SHOOTING TIPS
– Ride, ride, and ride some more. Photos don't take themselves and it's a lot of hard work getting amazing shots.
– Try to communicate with your photographer as much as possible, shooting is a two-person dynamic.
– Think outside of the box, and have an open mind to locations as well as backdrops.
– Be organized, and make a shot list. It helps you stay on top of all the photo needs.
Triple S, the most important contest of the year
Managing the party and the play
Following the France shoot was a frantic month for me in Hood River. The pressure of the biggest contest of the year, the Triple S, was looming and I felt like I needed to get some practice in. Luckily, Hood River hosts the only free, open-to-the-public slider park in the world. Only problem was, it was still on the sandbar in winter storage. Running the slider park is a passion project of Rich Sabo and I, it's something we are super excited about and lucky to have access to. So with a little hard work and community support we were able to get a few things in the water, so that we could start practicing for the big week. After a few weeks of riding, Sensi (my girlfriend and fellow competitor) and I headed off to the east coast. We arrived in Hatteras a week early, to try and log a few sessions in the park. Even though it was good planning on our part, we missed the wind by a few days and were greeted with the typical 'you should have gotten here three days ago'. Sometimes things just don't go to plan, and we were left with just our nerves heading into the week-long contest. It takes a lot of mental discipline not to fret about the upcoming days of competition. All of the world's best are there, and everyone can feel the pressure. The hardest part is that over the years all the slider riders have become great friends. One minute you're having drinks and talking about the good old times, the next you're fiercely competing with each other. Sometimes it can be hard to separate the two worlds, and with a week of parties and potential heats the line gets even blurrier.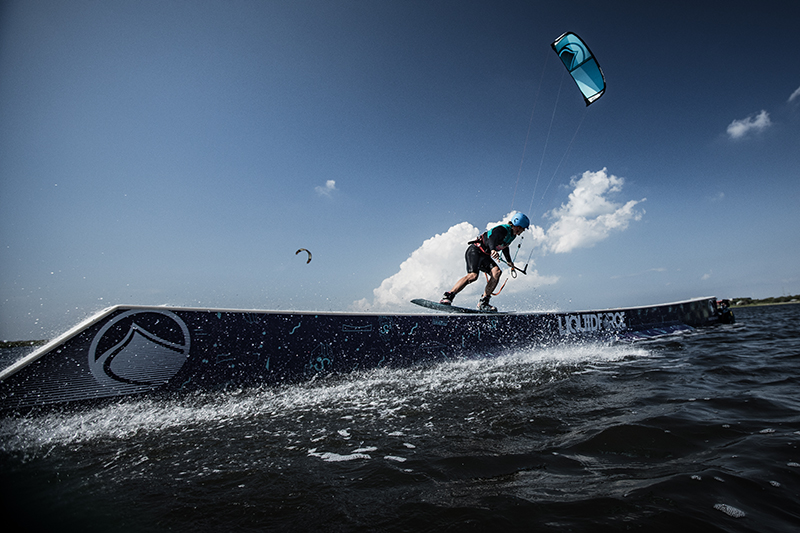 This year's Triple S was certainly one for the books. The music line up was amazing, conditions were pretty much all time, and the vibe was just perfect. We actually finished the competition portion of the week in the first two days, which left us the rest of the week to celebrate and gather media collaterals. It was a great week although everyone was eagerly awaiting awards night. You could still feel the anxiety for the results under everyone's casual surface demeanor. In the end, Ewan Jaspan took home top honors, and joined the elite club of Triple S winners. Since its inception only three others have won the coveted overall title: Sam Light (4x), Andre Phillip (3x), and myself (3x). It was great to see someone so deserving win. Sam or I certainly didn't need another win, no matter how much we wanted it. Everyone left the contest fired up for the upcoming summer in Hood River, ready to push the level of park riding even higher.
COMP TIPS
– Just focus on you, if you perform your best you will still feel happy even if you lose.
– Alternate water with alcohol, it's a marathon not a sprint.
– Triple S has the best vibe out of any contest. This year's music line-up was amazing!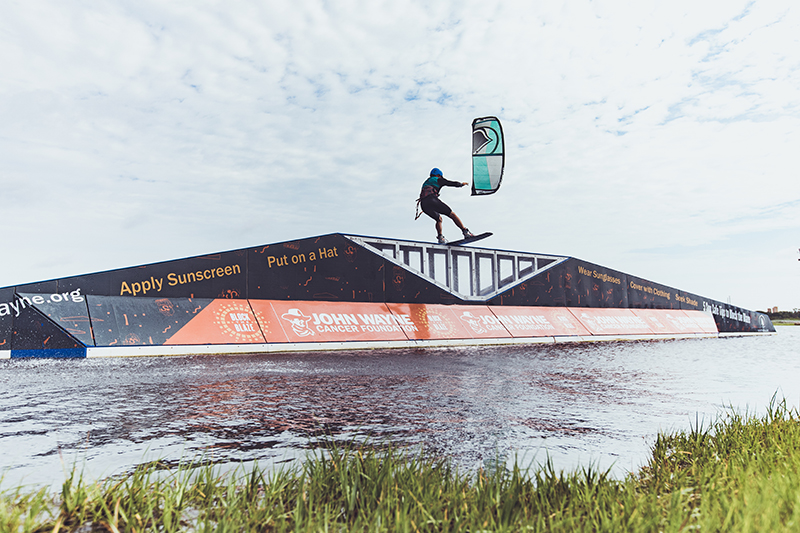 Summer in Hood, shooting pressure and winning the Gorge Triple Crown. Feels good to win!
Find a home base and make it yours
What follows next is my favorite part of my year, summer at home in Hood River. Not only is the park out and the wind up every day, but everyone who is focused on park riding is there, and the scene is just amazing. On any given day at the marina, you can mingle with kiteboarding's greats. It really is just the best place to be during the summer months. While it's nice to be home, summer is a really busy time in the Gorge. There is an event almost every weekend, and we participate in most of them. This summer's event schedule kicked off with the Kiteboard 4 Cancer relay endurance derby. KB4C is a six hour marathon race that raises money to help cancer survivors reintegrate back into normal life following their devastating illness. I have competed every year, and this year would be no different. I linked up with the local dispensary Gorge Greenery and represented for Hood River with fellow team mates Jake Cook, Joby Cook, and Rich Sabo. The conditions were great this year and our team ended up taking the win in the team division. It's important to give back to your community, and this event is a great way to do just that.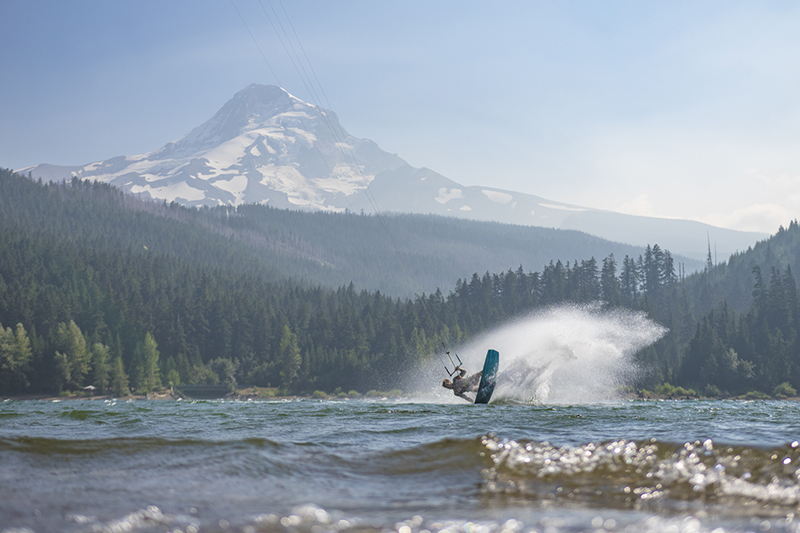 Following the KB4C is the Bridge of the Gods Kite Contest. It is one of the longest running kite contests and winning it historically helped launch a few pro kiters' careers. The contest is really all about fostering amateurs, so it's always fun to help the youngsters learn how to ride in a competitive format and give back to the youth in our kite community. Although I was able to best Ewan's team the weekend before, his freestyle prowess ended up earning him the win. Next up is the third stop in the KPL Tour, The Hood Jam. It's a grassroots, community-funded event in the slider project park. With two events already complete, the stoke was high and the stakes were even higher. With all of the extra practice, and the riders pushing themselves and each other, the level of riding going into this event was at an all-time high. When the dust had settled, I ended up coming out on top and I could not have been happier. It meant a lot to win on my home turf, and it tied the standings going into the last stop of the KPL Tour. Immediately following the Hood Jam (as in less than twelve hours after awards!) my favorite event in The Gorge kicked off, The Blowout. The Blowout is a nineteen mile downwind drag race down the Columbia River Gorge. The start is in Stevenson, and the finish in Hood River. If you know any kiteboarding history you'll know who Cory Roelser is and you may know he first proved kiteboarding merit when he smoked all of the windsurfers in the blowout in the late 80's. This is a legendary race, and it's one I've always wanted to win. Luckily, armed with a 15m NV and my wakeboard, I was able to put down a record setting pace and come away with the individual and team win in the race. It was the last win I needed to win the fabled, and self-invented Gorge Triple Crown. Basically, I ended the summer on a big high, and things couldn't have gone any better. However I couldn't relax just yet. What followed was another intensive month of shooting with Vincent Bergeron, only this time instead of photos, we were charged with shooting all of the video marketing collaterals. Something like 16 full product features, as well as how-to videos, product overviews, and many other things. Needless to say, it was a busy summer!
HOOD RIVER TIDBITS
– Two Double Mountain beers will give you a hangover.
– If the wind is good, go kiteboarding, it certainly won't stay that way for long.
– A-Train is the fu*king man and gives the best launch in The Gorge.
– Don't complain about gusty wind until you've ridden in The Gorge, 18-35 is a normal day.
– Stoked has the best coffee in town, period.
– If you only do one sport in Hood, you're boring.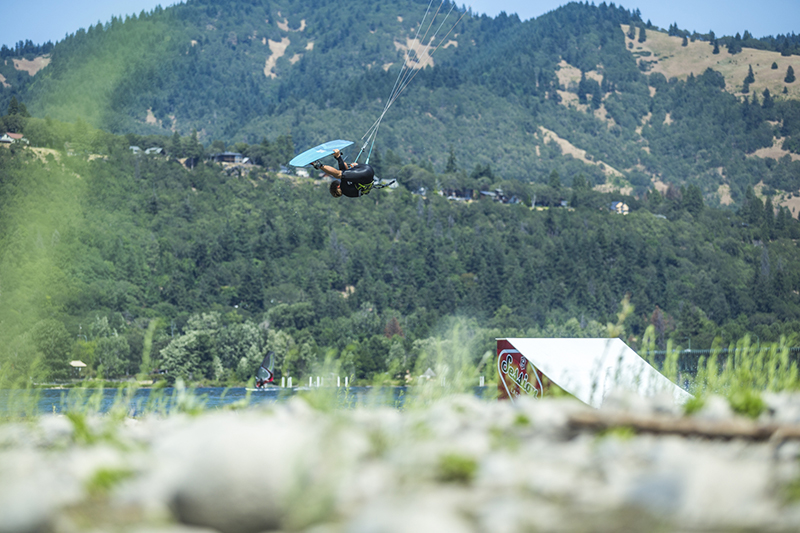 KOGL and Rhossy, demos, pressing the flesh and the KPL wrap up
Do what you can for your sponsors, interact with the public
After one of the busiest summers I can remember, there was one last big thing on my mind, finishing off the KPL Tour. With each of us having an event win, it would come down to this last event to decide the champion. It all came down to the stoney pools in Rhosneigr. But before I could go for glory, I needed to do a few demo events for LFK and one of our big US retailers. I think it's important for team riders to do these kind of events. It puts them in contact with the consumer, and in most cases a retailer as well. This allows you to help view your brand from a few different vantages and fully understand all sides of the kiteboarding industry. It also allows you to help promote and hopefully sell some of the amazing kite gear your brand has to offer. With all the work I did over the year with the R&D team, it is important for me to see the gear in people's hands. To hear and see first hand what people think of the gear we worked so hard on. It may not always be what you want to hear, but the feeling of helping someone get that on-the-water stoke is like nothing else. It brings me back to all the years of teaching I did when I was trying to become a professional kiteboarder. It's that sense of satisfaction knowing you had a hand in bringing someone so much happiness: it's really rewarding. After a weekend of successful demos and insightful feedback, it was finally time to head off to the UK for the last hurrah of the KPL. I was feeling good, and was focused on my goal of winning the tour. To do so I needed to come out in first place, no easy feat considering the talent pool… It was my first time to the area, and I was excited to get into the water and get warmed up. However, Rhosneigr is extremely tidal and we could only ride the rails for about two to three hours each day. Managing frustration in this situation is essential. You need to stay calm and take the time as you can get it. Additionally, it is a cold water venue which is something that takes a positive attitude to keep on top of. Luckily for me, I spend plenty of time in cold water back home in Hood, so I was full of laughs and ready for the event. The contest kicked off as soon as possible and I was able to secure myself a spot in the finals. However, on finals day I couldn't put it all together and ended up getting 3rd place behind Ewan and Sam. This meant the overall rankings would reflect those placings. Third overall is not a bad result for the year and I was pleased to still be placing so well considering I am one of the older competitors on the tour. It's important to come away from contests with a positive attitude, and not dwell on your shortcomings. There will be another chance for you to prove yourself, and you can always continue to improve your riding…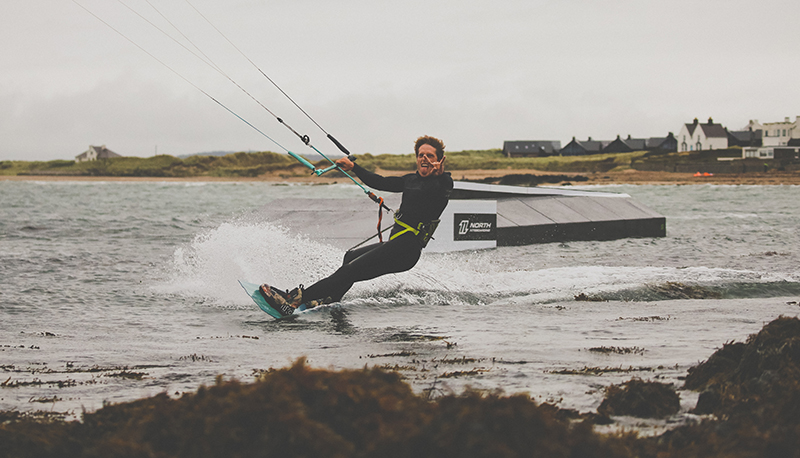 Well, that was it for this year's trips. Time to head back home to Hood River and prepare for the cycle to spin up again. Another year's plans in the works, another trip around the sun. Looking back on the past few years, it has been an amazing journey down the path of a professional kiteboarder. I cherish all of the good memories, friendships, and amazing places I've been lucky enough to visit. Even though this professional athlete lifestyle may have a few big drawbacks, I wouldn't change it for the world. Getting that job at REAL all those years ago was the best thing that has ever happened to me, as kiteboarding has given me so much. I can't wait to see what the next year holds for me, you never know what is around the next corner, so go into it with a positive attitude and truly embrace your passion.
TIPS FOR A BETTER LIFE
– Eat healthy – fuel your body with the best possible ingredients… you are what you eat.
– Stretch more – Yoga is proven to be good for the body, and it does wonders for the mind. Look at Gerry Lopez, he's still ripping well into his 60's.
– Laugh more – not only does it make you feel better to let go of negative energy, happiness is contagious. Sometimes there is just nothing else you can do, so just laugh.
This article originally appeared in TheKiteMag #23. To subscribe, go here.