Canadian freestyler, Jack Rieder, headed to La Ventana, Mexico, with all the toys in his bag to make the most of the variety of conditions there and explore new spots. Together with girlfriend Nadja, they got the hang of winging, camped out beneath the stars, enjoyed the local cuisine and even happened upon a whale. Ticking a lot of boxes…
Photos: Chris Rollett
---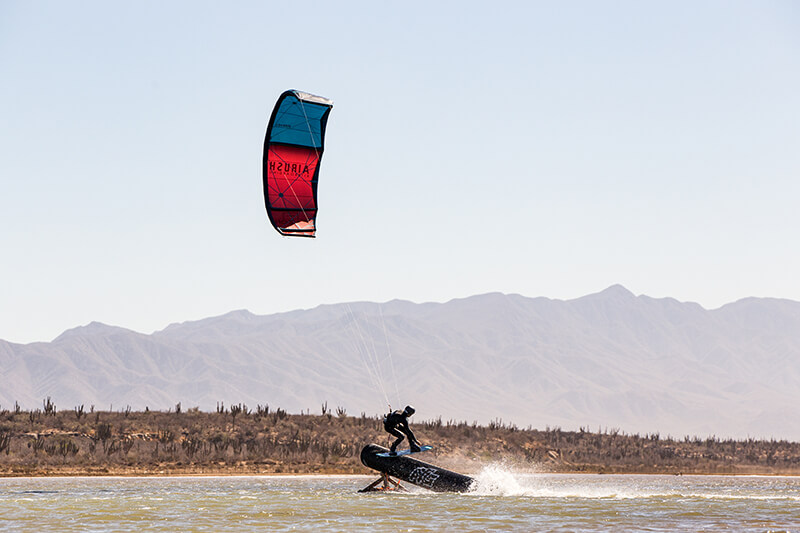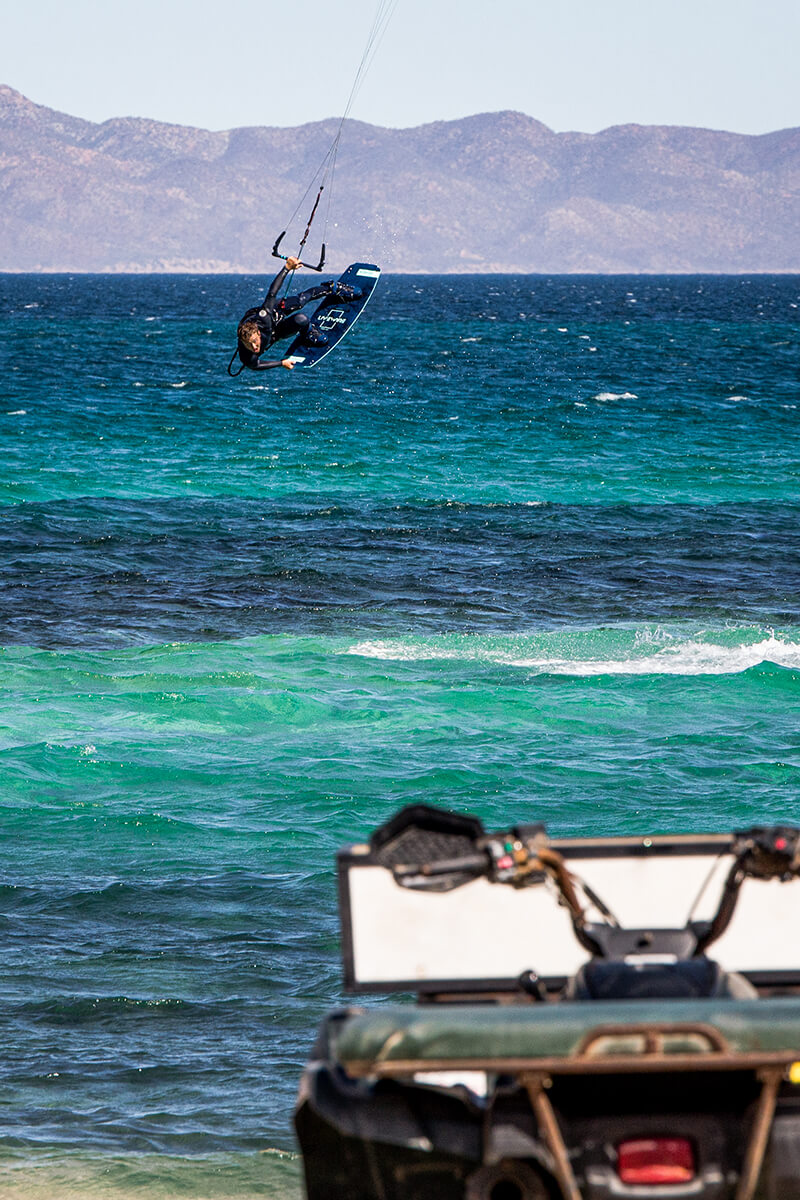 La Ventana has always had a special place in my heart. It was the destination of my very first kite trip and many more for years to follow during school breaks. When I became more flexible after finishing University, Wi-Fi was less essential and I could be away for longer stretches. As a result, I began to explore more remote locations across the world, leaving La Ventana behind. However, with the world's current state, I found myself in a situation where La Ventana was one of the only viable options for travel this winter. This time I was traveling to La Ventana far more prepared than past trips. I brought a quiver for Big Air, foiling, winging, and of course my go-to freestyle and park setup. With all these toys I was guaranteed to have fun, and that most definitely was the case. A few of my close kite buddies from around the world found their way into town as well, resulting in awesome sessions with a great group of friends.
What was different about this trip was the variety of riding I got to experience. In previous years, believe it or not, I had spent the entire trip never touching the beautiful ocean water. Yes, in the past I really spent weeks riding nothing but the muddy Choco Lake park! Of course, this season we had some amazing park sessions here and there throughout the trip, but for the majority of the winter, Choco Lake's water level was low, and the wind was absolutely honking. It was the windiest season I have ever experienced in La Ventana. Instead of forcing freestyle and park in overpowered 9m conditions, I learned to wing with my girlfriend Nadja, and did loads of Big Air downwinders with the awesome crew in town.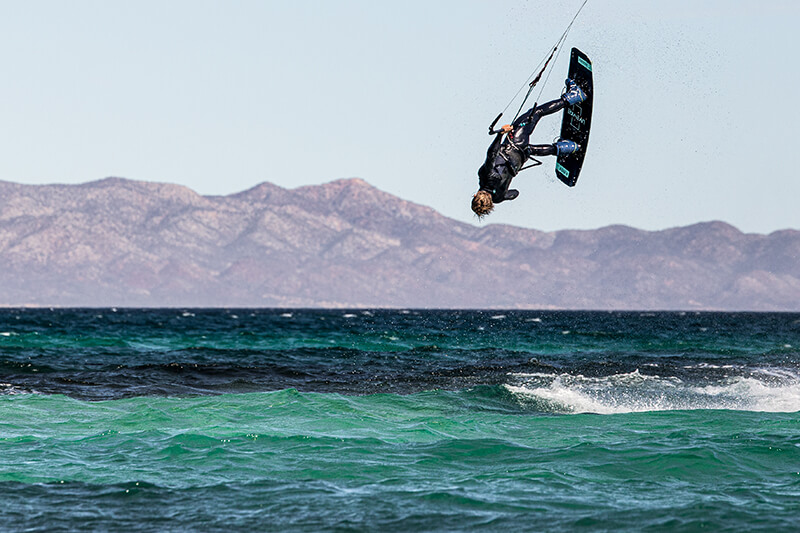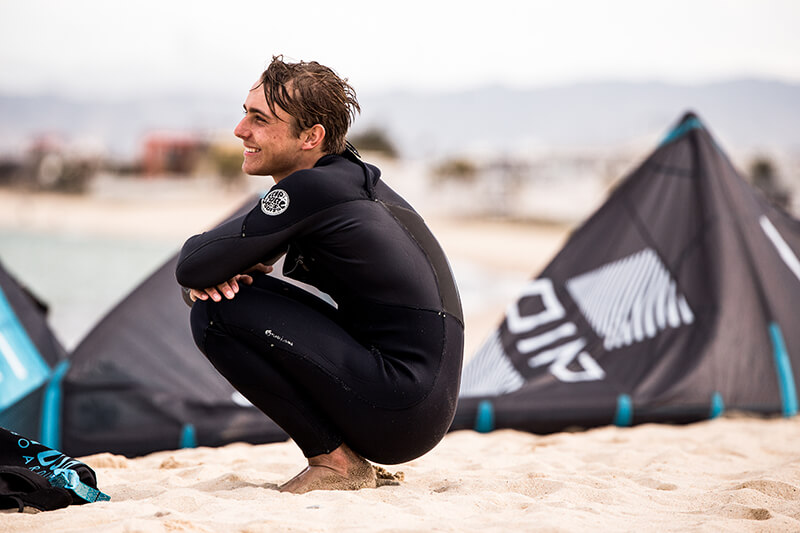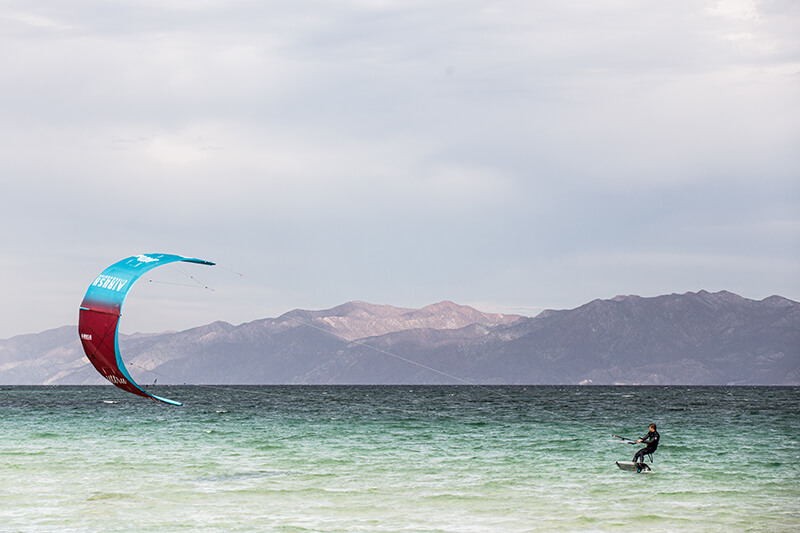 As with any spot, if you stay long enough there will be a stint of no wind, but we had been riding tirelessly, so some rest days were in order. We laid back and enjoyed some tacos. I don't enjoy alcohol so my beverage of choice became a coke from the glass bottle – it's quite the novelty because they are very hard to find back home. This down time also allowed us to explore the rest of the Baja peninsula more than in previous trips. Nadja and I set off to the Baja Coast to explore some new spots to camp and surf. We got lost on the way as the sun was setting and ended up at an empty remote beach. Just as we were about to turn around, a whale breached right next to shore in front of the setting sun, and it made the accidental detour feel like the best mistake ever. We then continued on to set up camp at a beach a few miles south, where we enjoyed some marshmallows by the fire and a good night's sleep under the stars. As if it wasn't already good enough, we woke up the next morning to perfect surf, then met up with some friends for brunch at Baja Beans and made our way back to La Ventana.
Unfortunately, my time in La Ventana was coming to an end, but I left knowing I had made the most of my trip. We explored aspects of Baja I had never seen before and I tried many new disciplines. All of these great experiences combined made me appreciate La Ventana even more than I had before. I now plan to head back to Baja next year and explore even more of what the amazing location has to offer! ■
This feature originally appeared in TheKiteMag #42. To read the full issue, subscribe here.