It has felt for a few years that kiteboarding is on the cusp of getting some serious mainstream recognition. As a sport it's easier than ever to learn, the kit is safer and lasts for longer than ever before, and – if you're reading this then you probably know – IT'S INSANELY GOOD FUN!
The problem can be getting the sport in front of the general public – maybe they spot a few kiters out while they are away on holiday or watch a clip of someone jumping over a pier on YouTube, but it's unlikely they know much about how things actually work…
So it is great to hear that – in Brazil at least – the sport is getting some serious mainstream recognition and has been picked up by the country's largest commercial network, Rede Global. Fronted by Reno Romeu, 'Kite Extremo' sees Reno travel around Brazil and further afield, and document his adventures for the show's estimated 40 MILLION viewers… It's a quality production with a great vibe and is exactly the kind of image you would want to see presented about the sport. Time to catch up with Reno…
Photos: Andre Magarao
So, Reno – you're a television superstar! What can you tell us about your show and your involvement in it?
Well, my TV show is pretty much everything I ever wanted to do… It allows me to perform all the crazy action I want and I get to choose locations globally to shoot. For me that's why the show is so successful, because it is a mix of exciting action with great videography. Since the beginning, I have always wanted to go and explore different parts of the world to experience new conditions and elements. It has been a lot of work because I have been involved in the entire production, from working as director and producer to also being heavily involved as part of the editing team, but it's been totally worth it and an incredible ride.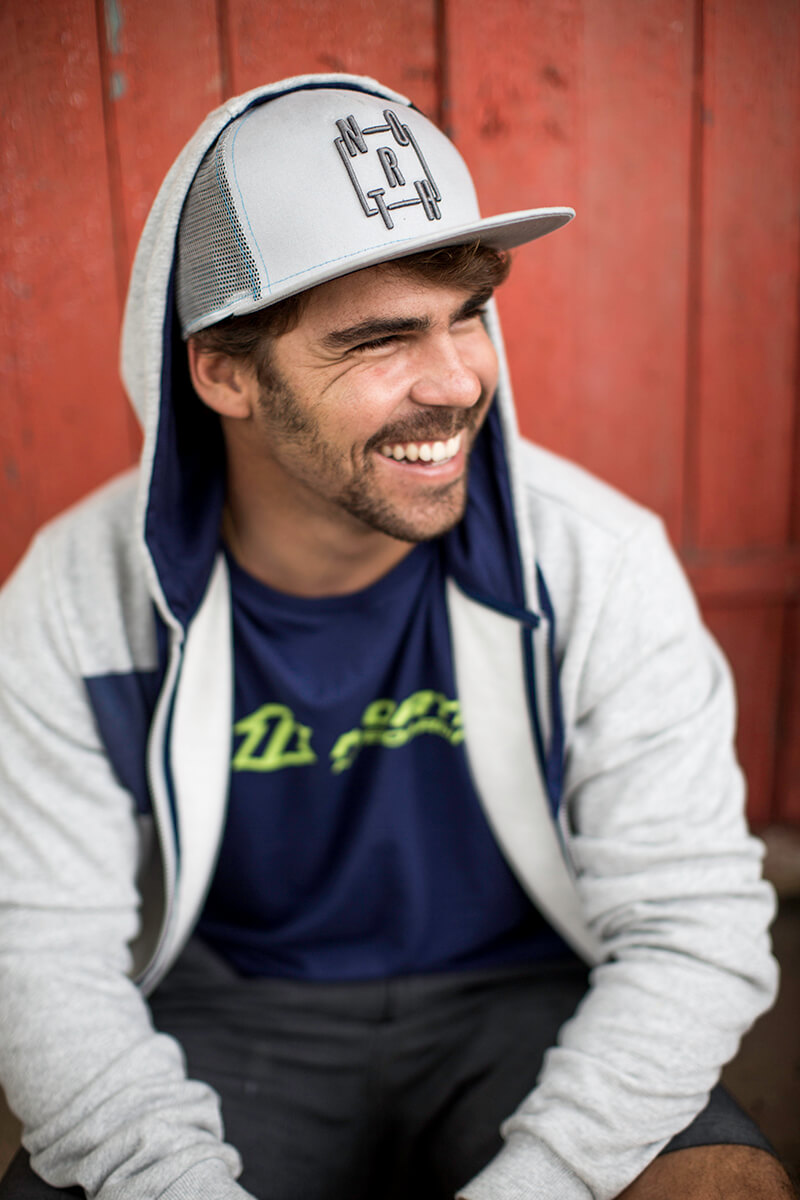 Which channel is it aired on – is it one of the bigger ones in Brazil?
The show is aired on Canal Off, a pre-paid TV channel from Rede Globo. Globo is the largest commercial TV network in South America and the second-largest commercial TV network in annual revenue worldwide just behind American ABC Television Network and currently reaches in Brazil alone around 200 million viewers.
Do you know how many people have been watching it?
Canal Off doesn't reveal the exact number but they report that they are reaching over 40 million viewers.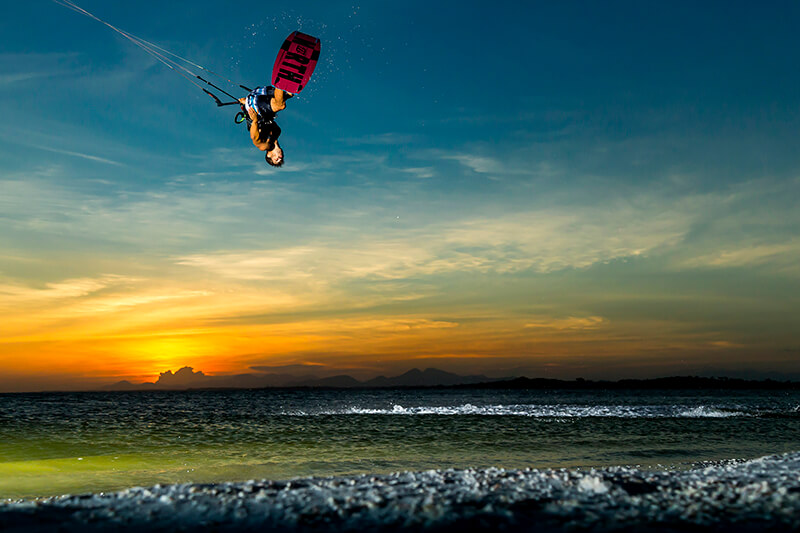 Wow, so who is the show aimed at? Mainly at kiters or at the general public as well?
As I wanted the show to be very successful, I mostly thought about being more commercial and things I could do to reach a broader audience. That means we needed to have a dynamic storyline to make the viewers watch until the end of every episode. We aimed mostly for kiting at the most beautiful locations and doing so in ways that your average viewer can relate to as well as doing some crazy stunts to keep people's attention. You won't see the best wakestyle performance from me as we didn't have the most perfect flat water and wind for it, nor was that the goal. You will however see a lot of great overall action in different spots with a lot of creativity, something very different that I'm sure all the kiteboarding fans will be stoked to watch and the commercial public will as well. I'm a professional kiteboarder and I used to compete on the world tour for a long time, so I made sure that all the action is legit! After the show went live, I received a lot of messages from the general public saying they were inspired to start kiting because of the show, this is what makes me the happiest.
How many episodes have there been so far?
We work with seasons, so every season is made of 13 episodes at 25 minutes each. I will start to film the second season this year.
It would be great to have a version with English subtitles for anyone who doesn't speak the lingo! Can you put in a request?!
Yes, I have put that in request but since it's a huge company everything is difficult and takes time. Since the TV channel is pre-paid, the full episodes won't go online but we are editing a shortened version from every episode with English subtitles and by the end of the year they will be on YouTube.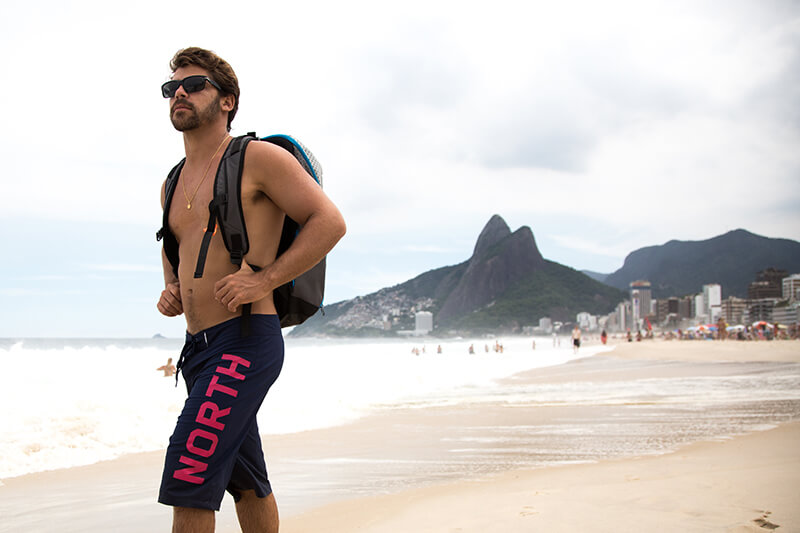 You have also managed to work with some other riders on the show…
Yes. I always want to show the best action possible, bringing in other riders makes it easier to produce fresh content and makes the show more fun and interesting for the public. I had the opportunity to film with a lot of riders and mainly with my buddies Alex Neto from Brazil and Marc Jacobs from New Zealand. And yes, we get along really well. I have been competing with them for many years and I don't see them very often so it's really cool to get to catch up with them when I have the opportunity.
How popular is kiting in Brazil outside of the really well known spots in the north?
A lot of spots in the south of Brazil and particularly at my home spot in Rio are really popular kite destinations for the Brazilian public. There can often be just as many kiters at some of our spots down south as in the state of Ceará, however more so for people from within the country instead of from elsewhere.
You had a few of the North guys out last year and you got to show them around – was it nice to show them what Brazil has on offer?
Yeah, it was amazing. I always wanted to bring the North crew to my hometown and show them everything that Rio has to offer. To me, Rio is a very special and unique place and I did my best to show the crew all my favorites. From parties, to the most famous beaches, to the sickest spots that I call home. We had a great trip and I think they all really enjoyed it.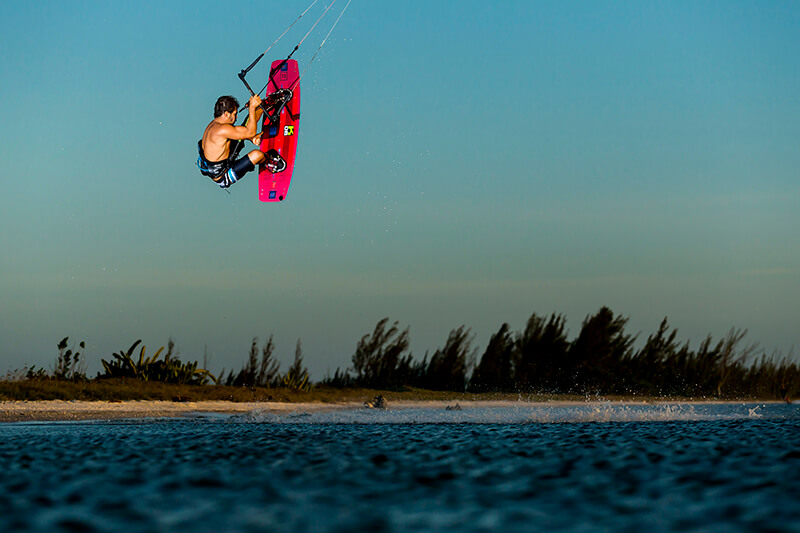 Can we expect to get 'Reno: The Movie…' any time soon?
I don't think that's on the cards at the moment! For all the things that I do, I prefer to do them in the best possible way and I don't feel like we would have the storyline to make the kind of movie that I would want to. However, the CEO from the TV channel does want to do a 50-minute special with highlights from the first season that he wants to show at film festivals and will be up for various awards, so actually I guess in that way, we are making a movie.
And can you walk down the street without being hounded by fans?!
Haha, of course, yes! Despite the large viewership, it's a particular kind of public that gets super fanatical about the show and sees me as an idol. I appreciate it when people approach me to say they enjoy the show. It's one of the big things that pushes me to keep doing it.
This article originally appeared in TheKiteMag #19. To subscribe, go here.