Sometimes in life you want to push boundaries or take a punt, and sometimes you know that when A+++ results are pretty much guaranteed you should just roll with it… And so when Sam Light needed a trip which would maximize water time and guarantee quality media content, he opted for 'the classic': Brazil.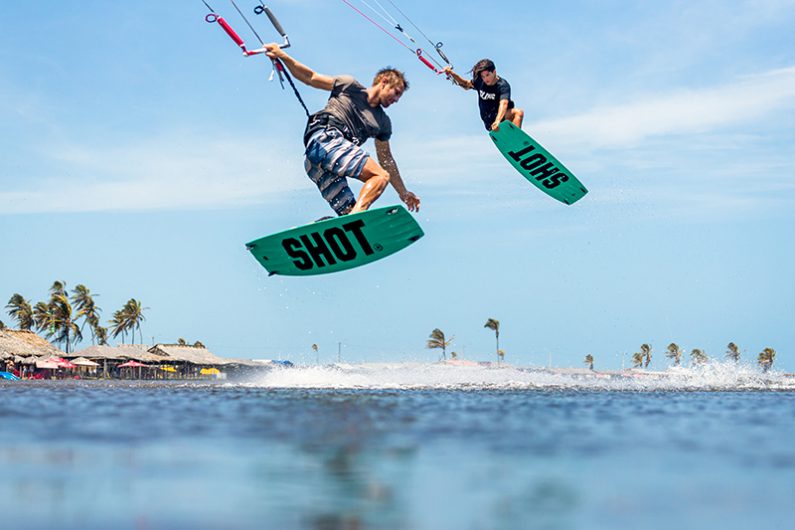 When planning our photoshoots I research and budget many different kiteboarding destinations all over the world, I weigh up the risk vs reward in each destination, much like a normal kite trip, but with more factors to consider such as rider visas, shooting logistics, personalities plus key things like the wind stats and the total cost. There's a huge amount of planning that goes into a successful shoot: organizing the equipment, riders, media personnel and arranging their travel to remote locations so we all arrive at the same time. Then the mantra that "anything that can go wrong, will go wrong" is never truer than when you are on a kite trip. And obviously we can't control the wind (like when we got skunked in Mauritius) but we can do everything to make sure we are there on the beach if and when it's firing. Whilst planning any trip it's important to always refer back to the end goal of what we want to accomplish. Alex Fox, Slingshot's Brand Manager, gave me one of the most ambitious shot lists to date, as there are so many new products coming out including our new kite, the 'Ghost'…
》The Lure…
I looked into going to Cape Town and Maui but there is no getting away from the promised land of coconuts, lagoons, beach buggies and the only kite trip I ever go on when I truly don't worry about the wind or check the forecast. Brazil is the best, most consistent place in the world to go freestyle kiteboarding from September through to December, so why fight it, why take the risk of going somewhere else when there is so much potential in Brazil, plus it's a cheap option for a large group once you are there.
Since becoming Team Manager, I really want to encourage the next generation, so my plan was to include as many young shredders as possible whilst not breaking the budget, and being mobile enough to blast down the beach in one truck. There were already many of our team riders in Brazil training for the GKA competition, including Youri Zoon, Rita Arnaus, Matteo Dorotini, and of course our boy Carlos Mario who lives at the 'Pipeline' of kite spots, Cauipe Lagoon.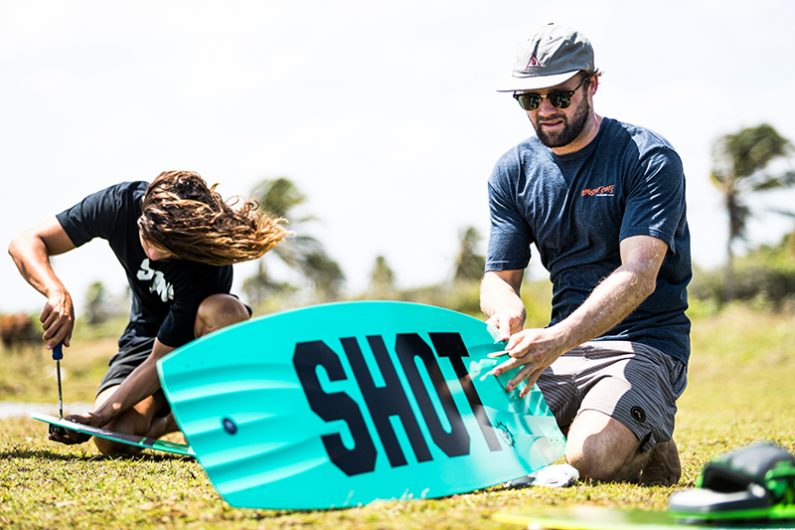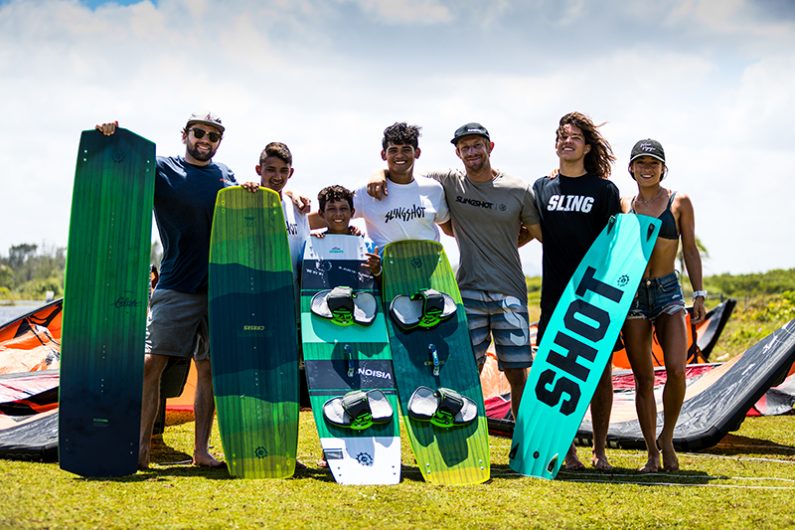 Photoshoots are hard work, everybody thinks we are just chilling on the beach all day living the dream. We are living the dream in many ways, following our passion doing something we love, but let me tell you, photoshoots are physically tough on your body. We have broken many groms in the past, just ask Fred Hope, who got burnt out with sun stroke real quick on a previous shoot. Being in the sun all day in Brazil completely wrecks you, let alone kiting for five hours trying your hardest tricks. So managing the groms' energy is important, and I have made it a bit of a speciality of mine to be able to extract the best media and riding from whatever the conditions present, riding my arse off and doing everything in my power for the shot, risking life and limb (I actually kitelooped into a rock during this shoot which could have been really bad!). I wanted to instill that work effort into the new team riders whilst teaching them it's important to pick their moments, don't blow your load too early! Wait for the dream session to put down your best tricks.
》So, what went down Sam?!
I could do the usual travel blurb about where we went in Brazil but I'm sure you have all heard it before, there are many Brazil travel articles, so I decided you would probably rather get a few different takes on the trip from three important members of our photoshoot: photographer Andre Magarao, and then new team riders Chris Bobryk and Lucas Muzio. So I fired off some questions to them…
"There is no getting away from the promised land of coconuts, lagoons, beach buggies … "



// Andre Magarao
》Hey Andre, how successful was the photoshoot from your perspective?
It was very successful! I won't lie, I love shooting in Brazil. There is wind every day, it's warm and the water is also warm. There are many spots and there is wind until dark, which is pretty key for the type of shots I like to get. Not to mention we had an epic crew!
》How is shooting in the lagoons different to shooting elsewhere? Like Cape Town for example?
The Brazilian lagoons are my favorite outdoor studios. I can really set up the shots just like if I was shooting in a studio. We talk about which trick works well with which angle… it's pretty much like shooting skateboarding. We were a bit unlucky this season though as the lagoons always form in a different shape and this year the shape of both Cauipe and Taiba didn't really favor flash photography so much. Shooting in Cape Town is more like shooting surfing or maybe even soccer. It's hard to communicate with the riders and most of the time you can't really set up a shot. You can aim for a certain shot but it's not like you can be super specific about it.
》How is shooting flash different to shooting without flash?
When you shoot without flash you have to pick an angle that works well for the shot you are looking for. But when you are shooting with flashes you have to work out a way that it favors the camera angle but also has a way to light up the rider in the way you want. So it's more constricting to shoot with flashes, you have more variables and sometimes you have to give up a certain angle because there wouldn't be a good place to put the flashes. Of course I don't want to make it sound like it's easier to shoot without flashes. It's just different.
》How is shooting video different to shooting photos? Can you shoot both at the same time?
Most of the time when I shoot videos I try to pick angles that show how gnarly the tricks are. I think about showing the height, the speed, how far the rider is traveling and how clean the landing is. Shooting photos is very different, I just think about how to best show this split-second moment of the trick. And just like most of the action sports, kiteboarding has evolved to have two very different sets of tricks. Tricks that look good in photos and the tricks that win contests. When I shoot video, the riders usually want to showcase the tricks that win contests. So maybe in that sense it's not really productive to shoot video and photos at the same time.
But to be honest I'm a big fan of the skateboarding filming/photos style. So I think it's really cool to watch a video where you can tell that they are shooting video and photos at the same time. I think it really shows the good vibes of action sports.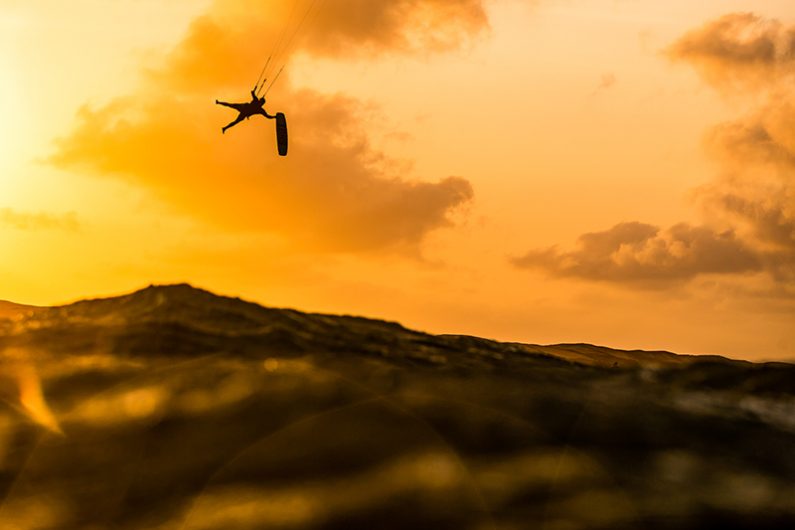 》How do you protect your equipment on a photoshoot with so much sand, salt and messy riders?
There isn't much I can do! I try to protect everything and clean it after each session but if you actually look at the user guides of the equipment I use, I'm definitely breaking every recommendation. Whenever I take my cameras to Canon to get them cleaned they always ask me if I went to the Sahara Desert or something! I've been doing this shooting with flashes a while, so it was a process not only for me to learn but also for the riders to learn how to ride for the type of shots I'm looking for. So every time I shoot with someone new, I have to kind of teach them how they need to ride, they need to be careful not to spray my flashes and stuff like that. I've been shooting with some riders for many years now, so I would say it's definitely easier to shoot with those riders.
》How were the groms? Did they work hard enough in your eyes?
The groms were epic during the shoot. Everyone rode super well. Lucas was super surprising. I had never really seen him ride before but he landed everything and learnt super quick how to ride for the flash shots.
》And Bebe just had an operation, you are a good friend of Bebe, can you tell us more about the operation and when he will be riding again?
Yeah, Bebe just had his surgery two days ago. Apparently everything went super well and he is already at home recovering. I don't really know when he will be able to ride again, everything depends on how the recovery goes. But he is a very dedicated guy and he is looking to get back in the water as soon as possible. So I'm sure he will do everything by the book and do everything he can to be back soon.
》Where should we go on our next photoshoot?!
That's always a tricky question. To be honest I don't really want to make any calls because I don't want the responsibility when there isn't any wind! But I would love to show the crew a good time around Rio someday. Or maybe get you to take us on the Wind Voyager…
// Chris Bobryk
》Hey Bobryk! How was your first Slingshot photoshoot? Was it different to other brands' photoshoots you have done in the past?
The shoot was a blast! We had great group of riders and personalities on this shoot. You've been one of the most progressive riders out there for the past 10 years, and Lukus combines power and style unlike many other riders out there. Everyone fits into their role on the team making everything operate smoothly. One thing that made this trip especially productive was having the R&D team there working with the riders to develop and tweak new products.
》Can you tell us more about this new unique TRAT position you have?
I have been a rider traveling and creating content for quite some time now and it has been amazing experiencing so many different things. My new position as the TRAT (Team Rider & Alpha Tester) allows me to ride and create content as well as take part in the research and development aspect of the gear. It's proven to be a great fit for me! Since I started kiting, I have spent an unfathomable amount of time on the water and in my experience time on the water is what is needed when developing and testing new kites and other new products. When testing the gear, I'm lucky enough to work closely with Slingshot's Head of R&D, Alex Bloechinger. Together we have been testing and developing our new gear and have a great time while we do it. When spending time as a team rider I typically work with you and Alex Fox, doing our epic projects together all over the world!
On this particular trip, working as the TRAT meant coming to Brazil four days before the rest of the team. My job was to test and tune the kites and have them ready for the rest of the team so they're better able to give crucial feedback to create the best products we can. Once the rest of the team had joined, I split my time between R&D testing the new kites, while collecting feedback from our other riders and shooting our new 2020 gear with you and Lukas, in perfect conditions. Splitting responsibilities between being a rider and R&D has been an amazing experience and I couldn't be happier with the position and this company!
》You were involved in developing the new Ghost kite, can you tell us more about the process and the new kite?
Developing the Ghost kite was a big project of mine this summer while in Hood River. A crucial aspect of its development was getting the kites to our team of foilers and freeriders, to get their feedback as well as determining our own. We tested every setting and variation we could try in Hood River's many conditions for both foiling and freeriders. This gave us extremely detailed feedback from many different angles that we were able to use to tune the kite perfectly for foiling and freeriding. I am extremely happy with how it's turned out and I'm stoked for everyone to get their hands on them!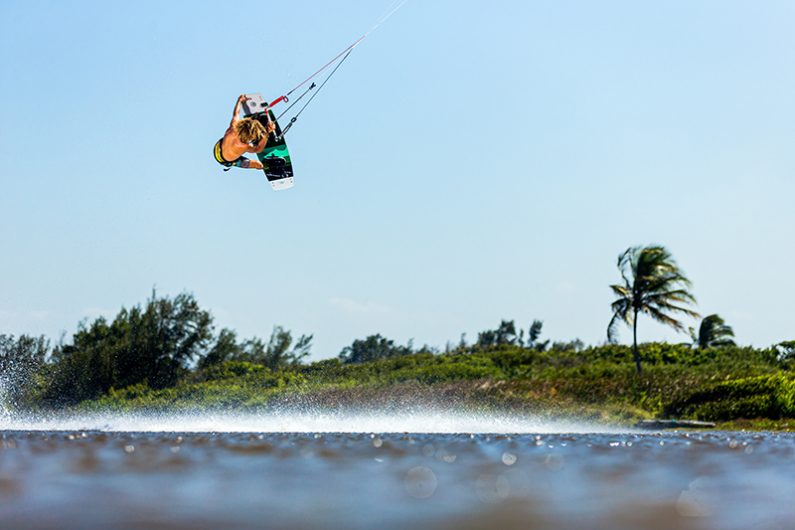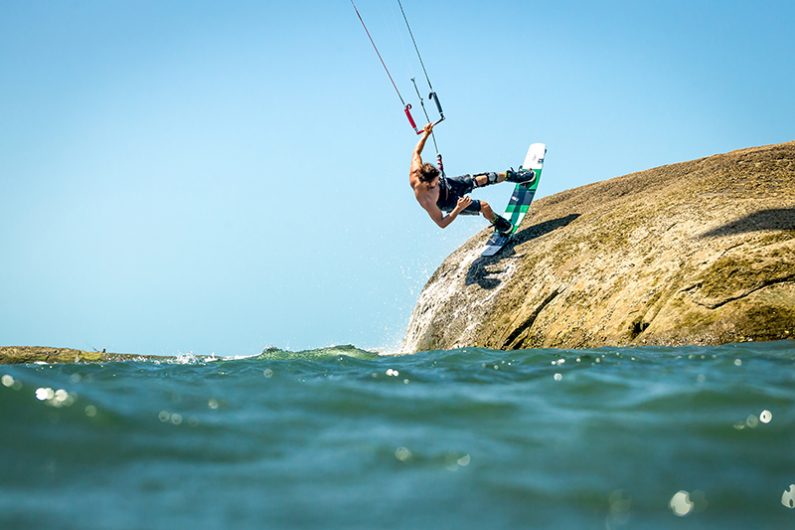 "Andre has strong motivation to get the shot and always keeps an open mind with our personal ideas."
》How was it working with Patrick Wieland and Andre Magarao?
Andre is hands down one of my favorite photographers to work with. He has strong motivation to get the shot and always keeps an open mind with our personal ideas. I always have a laugh while doing a flash shot with Andre, seeing him work so hard running around between riders to get the flash just right to get the perfect shot. Dude's on it like chronic!
Patrick is a famous YouTuber and talented videographer. He often makes videos shooting himself shooting us like some sort of dream inside of a dream Inception kind of thing. I've also never seen any one person eat as much açaí as this dude. Kind of an inspiration.
》How was hanging out at Bebe's home spot with his crew?
My Portuguese isn't the best but Bebe and his crew always roll up with the biggest smiles and always bring the vibe. Bebe has a handful of groms in his crew that are super eager to get out on the water to prove themselves every day and it's beautiful to see them grow up in kiteboarding!
》What do you love most about Brazil?
Stock answer: consistent wind every day. Oh and the açaí of course!
》I heard you are opening your own kite shop?
Yeah my new shop, Soflo Riders, is still in its beginning stages as we're adding more of our own products on the Soflo lifestyle side of the business, like clothing/accessories, and gaining partnerships with companies including Slingshot, Ride Engine, Brunotti and others to create a one-stop-shop for kite gear right on Miami Beach. We also plan on giving tours, kite lessons, workout classes and many other guided water-sports activities in addition to the shop.
》What was the funniest moment of the trip?
There's constant banter with our crew, especially between the R&D and marketing guys, and with keeping the groms on their toes. The funniest moment of the trip must have been when you were driving the truck on the beach to the city of Jericoacoara. You noticed all the locals avoiding this pond and even said to us "why is everyone going around that little pond?" as you proceeded to drive directly into what you thought of as more of a puddle, and immediately landed us in waist deep water almost totaling the truck. You broke the silence only to say: "Oh, that's why…".
// Lucas Muzio
》Hey Lucas, welcome to the team! Tell us more about yourself, where are you from? Age? How long have you been kiting? Where do you kite at home?
It's a great honor for me to join this team! I am from a small city which is right in the middle of Argentina. I'm 18 years old and I've been kiting for seven years now. There are many lakes where I can have a session not far from home, but as the wind is not very consistent so I find myself motivated to travel around different spots. A cool thing about being a kiteboarder in Argentina is meeting the different kite communities where you can always have a good time whether it is windy or not, they make you feel like family for just being another wind hunter.
》How was the photoshoot? Was it what you expected?
The Brazil photoshoot was awesome! It definitely reached all my expectations, it was a great way to meet the Slingshot group and to start getting myself into the brand. During the photoshoot I got to learn many things from you, you've always been an insane rider for me and someone who I used to watch on videos, and who now I finally got to hang out with in person. I met a big part of the Slingshot crew and they were all very cool and everyone seemed to be friendly and it was easy to feel comfortable around them. I couldn't be more happy and thankful for having the opportunity to ride with very professional people at the beginning of this new stage that I'm having with Slingshot.
》Why is kiting in Brazil so good?
The weather conditions that Brazil has to offer are some of the best you can find for practicing kiteboarding. The warm and steady wind makes the riding super smooth and there are many different spots all around the coast that are super enjoyable, and also proper spots for teaching and learning the sport. For the freestyle training it is very easy to progress, especially in the lagoons where the water is flat, and thanks to the constant average of wind you can kite every day. Basically any kind of style you want to practice can be done in a trip to Brazil during the wind season.
》How was the team vibe? How was being a 'grom' on the photoshoot?
The team vibe was good! Everyone was fun to be around but I learned quickly that being the youngest on the team was a thing for some of the guys in the group. Sometimes they would find a way to make fun of it, or simply just give me the worst place to sit while we were driving on a sand road with dunes and rivers, a truck full of gear, and all the good spaces taken by the old dudes. Cheers Patrick! Next time let the grommy take the wheel… But in the end it was a laugh for all of us, so it was just funny to be the grom.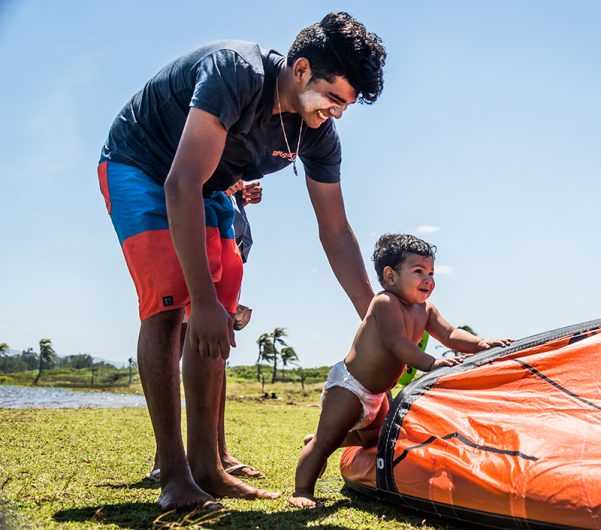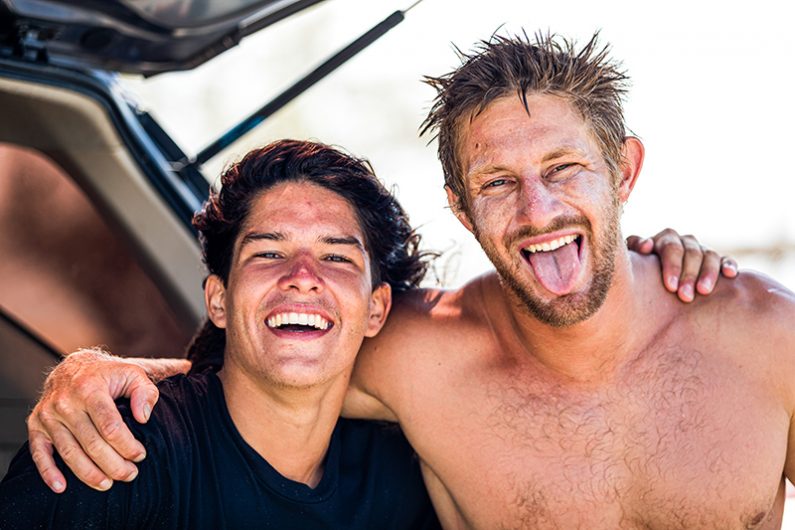 》How was the transition to Slingshot equipment?
Honestly, this change in equipment has surprised me a lot. Recently I started kiting with the new 2020 RPM, what is considered to be a Hybrid Open-C shape kite, and from the moment I tried this machine I got to land all my tricks. Ever since I started freeriding, I have always chosen to ride with 5 line C kites. However, now with the addition of cable riding into my training sessions, I feel a pretty similar tension in both different sports and the variables are much more enjoyable and better for me to follow the style I want to push, so I couldn't be happier with the RPM and I got to ride all of the boards which were all so good to ride.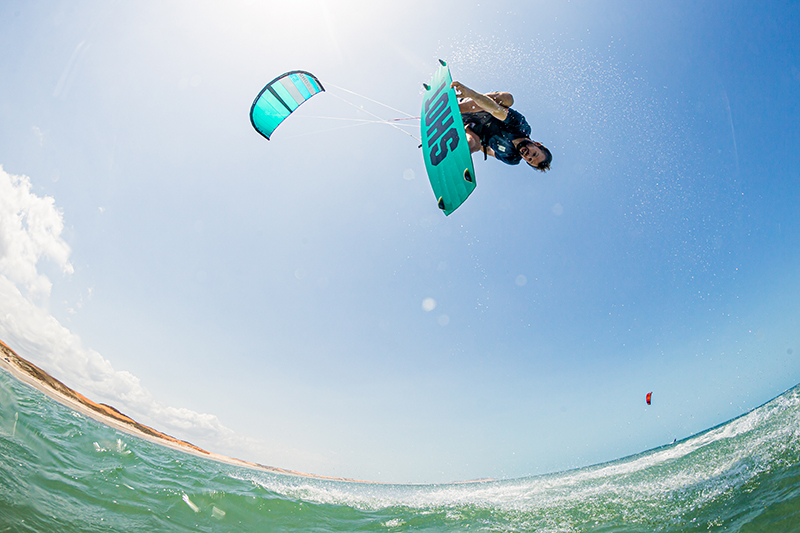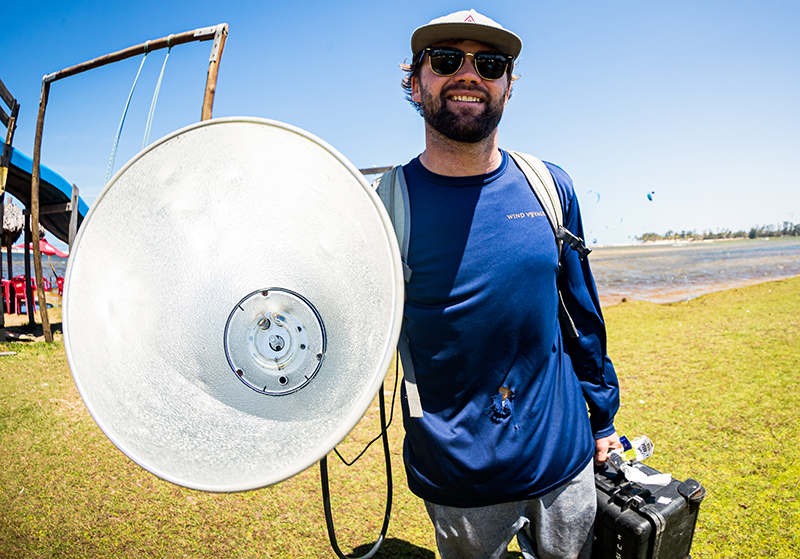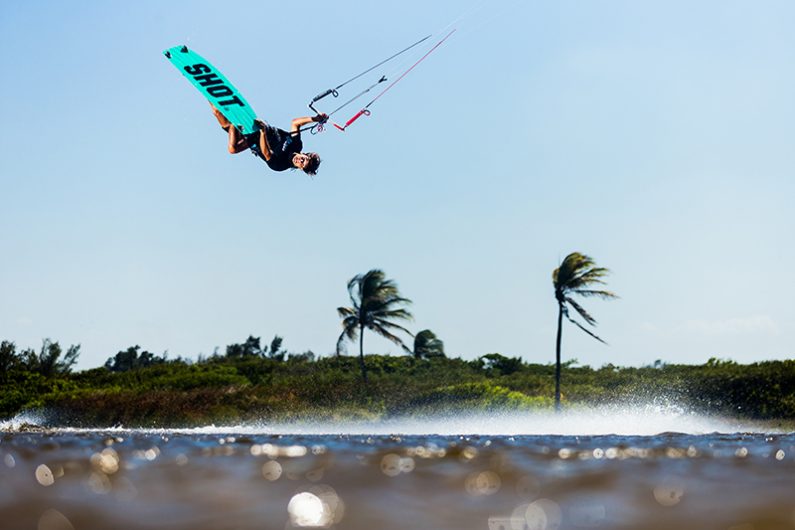 》How is it different riding for a photoshoot to freeriding?
I think riding for a photoshoot is a very different game compared to just freeriding. When you are having a regular session there are no rules about what tricks you should do, the main focus is usually about having fun and pushing your own style while you are creating your limits. During a photoshoot the camera is always a priority, there are specific limits of where and when to do the tricks and that's all decided by the cameraman. I think repeating the same type of tricks in a line works best to connect your riding with the camera, once you get synchronized I believe you can follow the photographer's ideas and get more work done in a faster way.
In Brazil we got to do it all, and the person I learned the most from watching was Chris, with his weird tag-knee board grabs and very creative riding when the wind was light.

》What are your plans for next year?
My plans for next year are to do many contests and projects with friends around the world, competing in all the Kite Park League events and joining in on as many well organized freestyle contests as I can…
This feature originally appeared in TheKiteMag #35. To subscribe, head here.