Does the team that plays together, stay together? Pippa van Iersel investigates…
---
Colombian, an Italian and a Dutchie traveling the world separately as a team and competing on the World Tour. Coming from three completely different cultures, chasing the same dream with different visions in life. Gianma, the oldest at only 26 years old and the most experienced rider of the three saw Val and I as groms coming into the tour. He took us under his wings during training and competitions and taught us some useful life lessons. I sat down with him to talk about how things have played out between the three of us…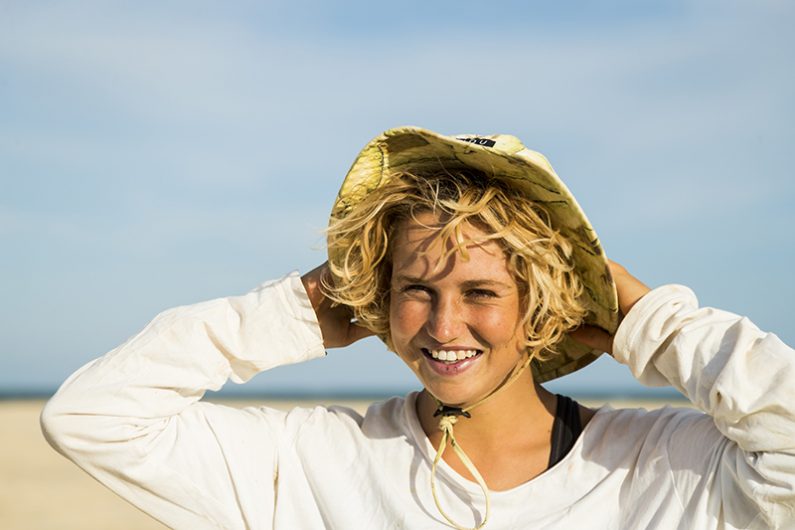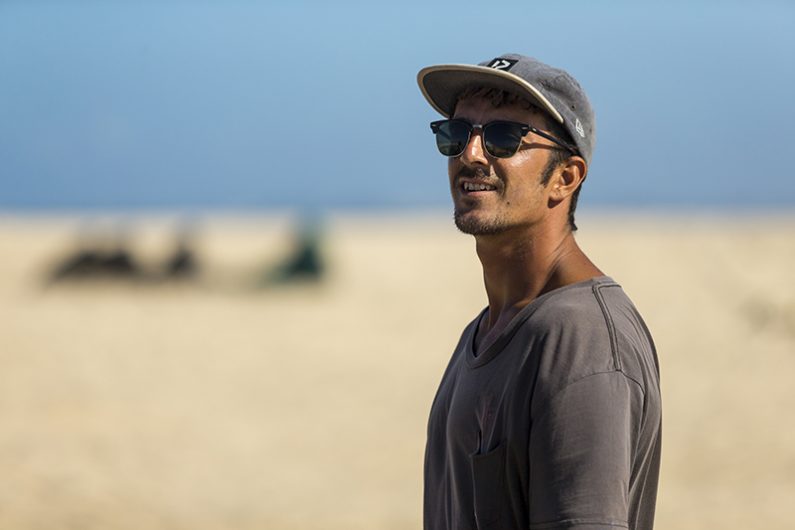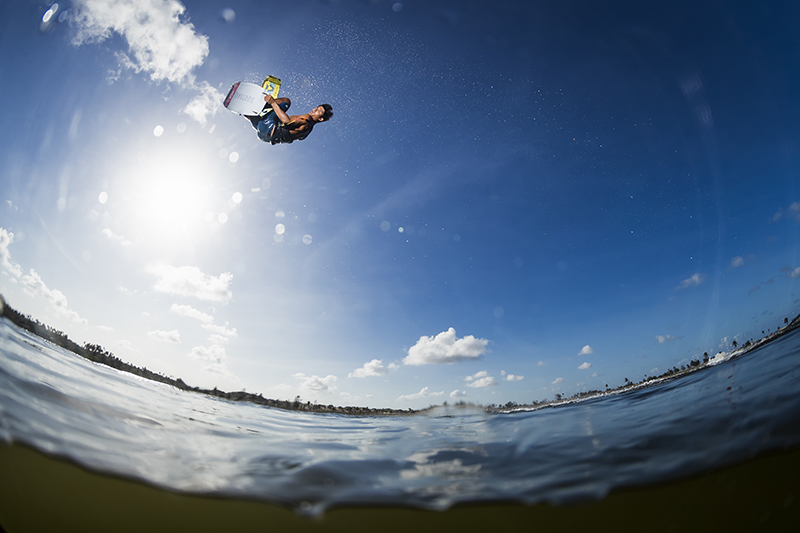 It all started in Greece when I saw Val on the side of the road. Val smiles and continues: "Yeah, when I was in Greece without a car. Walking next to the road by myself from the house all the way to the spot. Which is like three kilometers. My legs were getting sore and my body started sweating. At that moment I saw in the corner of my eye a car starting to slow down. I heard a familiar voice calling my name. I looked back and saw Pippa opening the window asking what I was up to. I asked her where the spot was and she answered straight away, 'Are you crazy? It's at least an hour to walk!' I jump in the car and we go together. From there she asked every day if I wanted a ride to the beach and we started to train together."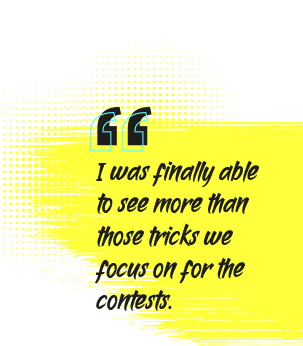 It was really cool to meet Val during that season in Greece, although I was with a group, I didn't really have a person who I could get inspired from. His determination and talent was something I really admired. We started filming each other's tricks, analyzing, and finalizing it on the water. Even though I've known Val for a long time since we competed in the youth events together, that was probably the beginning of our closer friendship. And it was super cool when we became teammates in 2018.
Gianma remembers, "It was really cool for me as well to have them as teammates. They bring that fresh grom energy and always have the stoke to be on the water. It reminds me of when I first started traveling around. I felt responsible for leading them in the right direction and trying to give them a bit of style in their riding, haha!", he says, with a big smile on his face.Yeah, he definitely does that, I watch Gianma a lot for his insane blind and wrapped technique.
He's always stoked to help me out with tricks I'm struggling with or helping me with eating my pasta in the right way! Gianma laughs, "I did?! Haha, of course. Man, they choose spaghetti and then they cut it! You have an option between penne and spaghetti. Why would you choose spaghetti if you cut it anyways? Oh, and also pineapple on the pizza… They don't understand anything about food. Don't ever choose that in front of me! I'm happy they listen to me with kiting tricks, but the food change will come more slowly!"
I have to agree with him. I'm more careful with my food choices in front of Gianma! The three of us became friends really quickly. Sharing fun moments together during comps and training keeps the vibe really good. What's cool about Gianma is that he also sees when you are in a bad mood and wants to cheer you up. I remember the competition in France, where I was about to start the semi-finals. He saw that I was super nervous and he came to me, gave me a hug and said: "Just do your thing, you know how to do it." That gave me a lot of confidence, especially because a rider like him said this to me.
Later in the year, I had the honor to get to shoot with Gianma and Val in Mauritius. It was then that we got to know each other super well. Even though we travel to all these different events together, it's always intense and we are in competition mode. In Mauritius we had our first time together being more relaxed. I was finally able to see more than those tricks we focus on for the contests. We got to shoot together, and I was so impressed about what Gianma had got in his bag of tricks. For me, he is one of the most stylish riders and with probably the best variation of tricks. It was really cool to see Val looking at Gianma's tricks and trying them out as well. It gave me a lot of motivation to kite with them.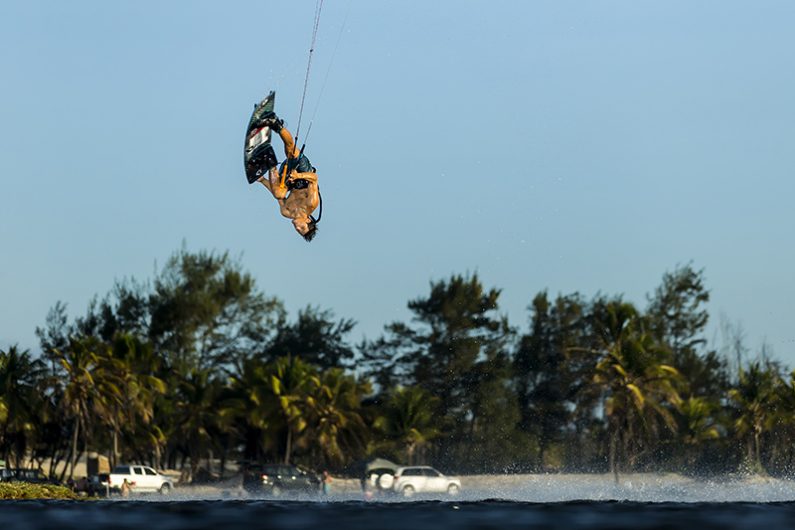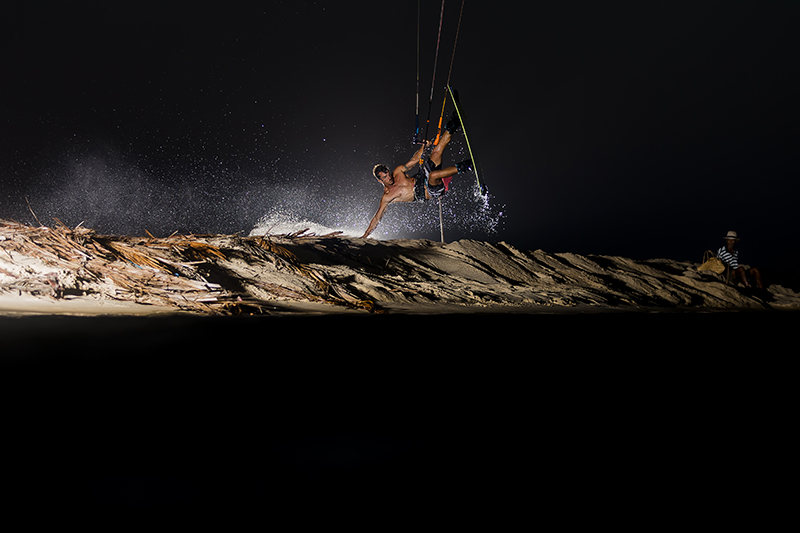 // Downtime in Brazil
This season in Brazil we had the opportunity to hang out for more than a month. It was super sick to be able to share a house and a lot of sessions. Brazil is that time of the year where we can ride every day in perfect wind. So there is always that good summer vibe. I had the opportunity to learn some of Gianma's stylish tricks and Valentine's effortless style. Starting the day having breakfast together, making fun of each other's old videos and getting inspired from the movie The Bubble. As we prepared the buggy, Gianma always comes a bit later so he doesn't have to help too much, ha! Once we are ready to go, Gianma and I are arguing who deserves to drive. He would always come up with something he did for me already, like a year ago, so he gets to drive! As soon as we are all set, ready to leave, you will always hear Val at the very last moment saying we need to turn around because he forgot something. Turn on the gangster music, let's hit the session.
Playing around until sunset. As soon as the sun goes down, it's time for a shoot with Andre Magarao, a super experienced and chilled photographer. Riding in shoots is different from riding and succeeding in comps, so we all had to adapt. I learned a new set of tricks which works for photos. Andre explains this by showing it in pictures and even stepping into my boots to show where to grab. The shoots are fun, professional and exciting.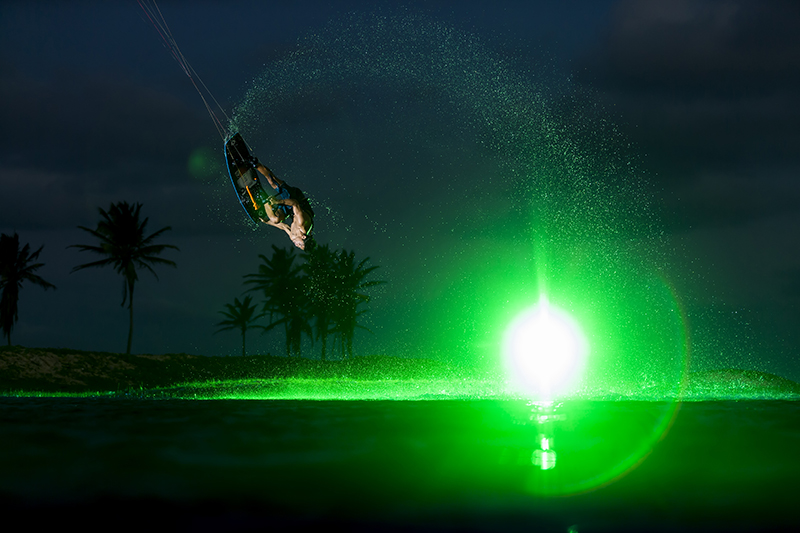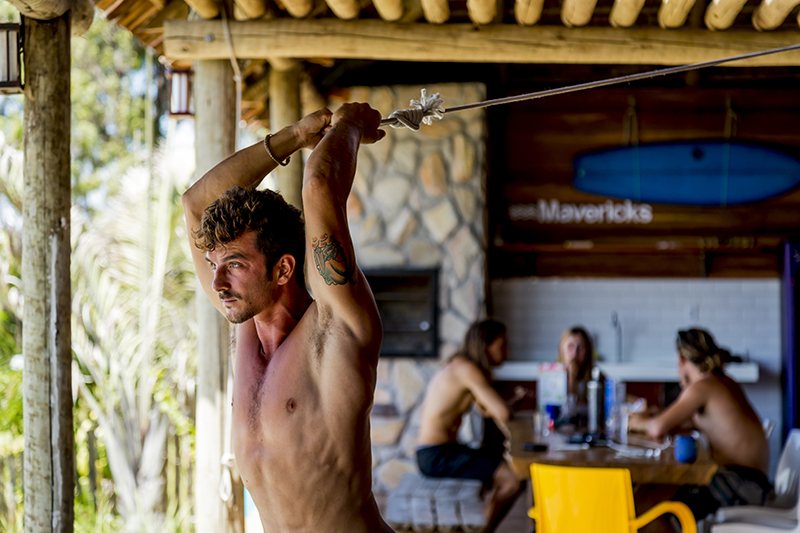 Coming back from the shoot we would all sit behind one laptop checking the footage straight away. Roasting on photos where we grab wrong and having a good laugh! I asked Andre how he enjoys his sessions in Brazil. "I really love shooting kiteboarding, but the main reason I do it is because the crew is amazing. And the new generation is no different. I'm a huge fan of them all. The last couple of years have been special for me, because I was able to see them in competition mode, but also we have had some nice, chilled, no-pressure photo sessions. I like to shoot in a very particular way. It's like a team sport. The riders need to work with me and understand what I'm looking for. Because of the flashes, the riders have a pretty narrow window where they can do the tricks. I had shot with Gianma before, so he was well aware of how it works. But I had to teach Pippa and Val how I like to work. They learned super fast, it was very productive and they didn't land on my flashes which is always a plus! I'm looking forward to seeing what this epic group achieves in the future and where they take their riding to next. They all have unique styles and unique characters. Pippa is always pushing to go bigger and faster. Val is so smooth and easy. He makes kiting look like it needs no body strength at all. Gianma has a huge bag of tricks that just keeps on growing. He is super stylish and always brings this happy Italian vibe wherever he goes."
So, it might sound cheesy, but I'm happy to say that my idols are my friends… While I am writing all this down, it makes me realize what an amazing life I am living. I'm very grateful that my parents gave me the opportunity to figure out the path I wanted to follow. I decided to liberate myself from the path that society may have chosen for me and I have created my own. The sport already brought me such a beautiful part of my life and I have learned so much about the reality of where we are living. Mostly, I don't spend longer than a month anywhere which is pretty insane to think about. I got to see many places, meet many people and learn about different cultures. It gives me a good understanding on people, the world and on how we are supposed to act, which is a pretty valuable life lesson. Along the way, I met these special personalities and I am proud to say that having them as my teammates is awesome. We all aim for our best individual result in competitions but even during the events we fully support each other. Having a reliable caddy on the beach is not easy to find! And that's where we teammates always have each other's back. I don't want to be too cliché about the "journey being as important as the destination and who you are with", but it really is…■
This feature originally appeared in TheKiteMag #37. To subscribe, head here.