Eleveight rider Chris Bobryk tells us about his stunning local kite spot, south of Miami, where he has a kite school. With six houses on stilts built in the prohibition era and marooned in the middle of the ocean, the spot delivers perhaps some of the most unusual backdrops that we've seen…
Photos: Carlos Mesa, Christian Diaz and Colin Porter
---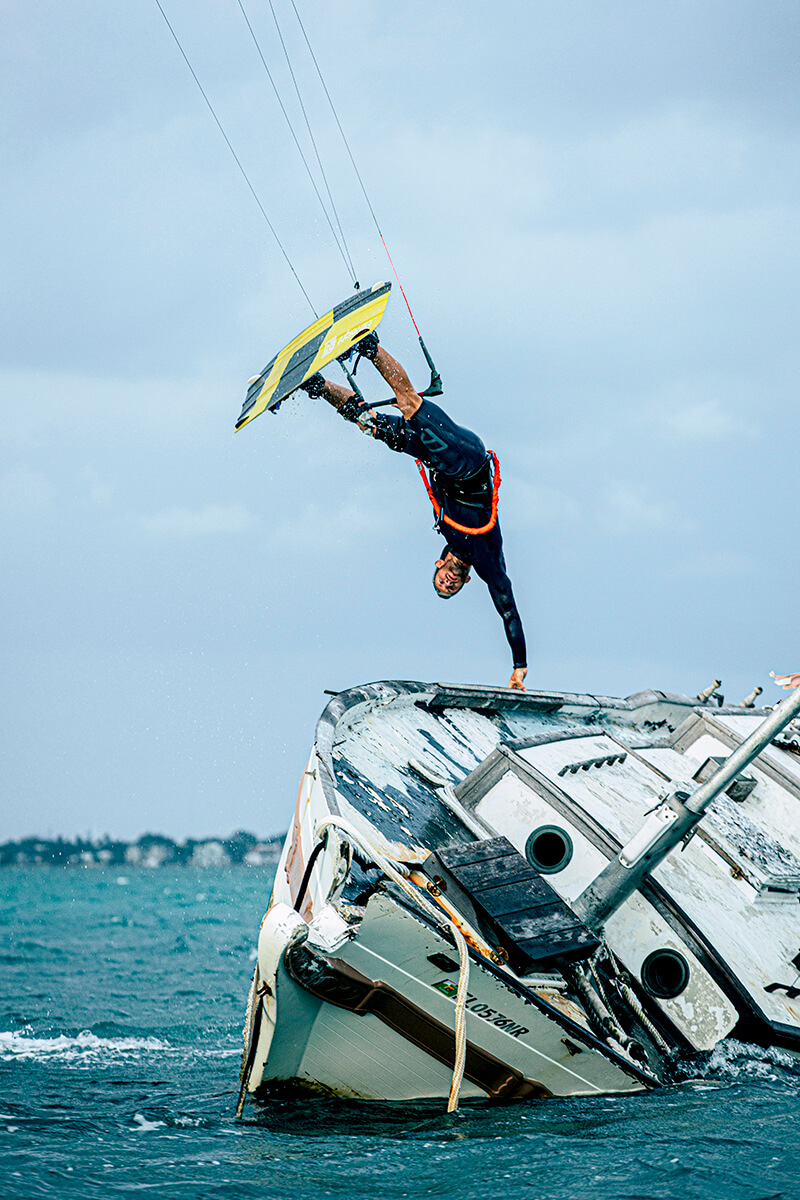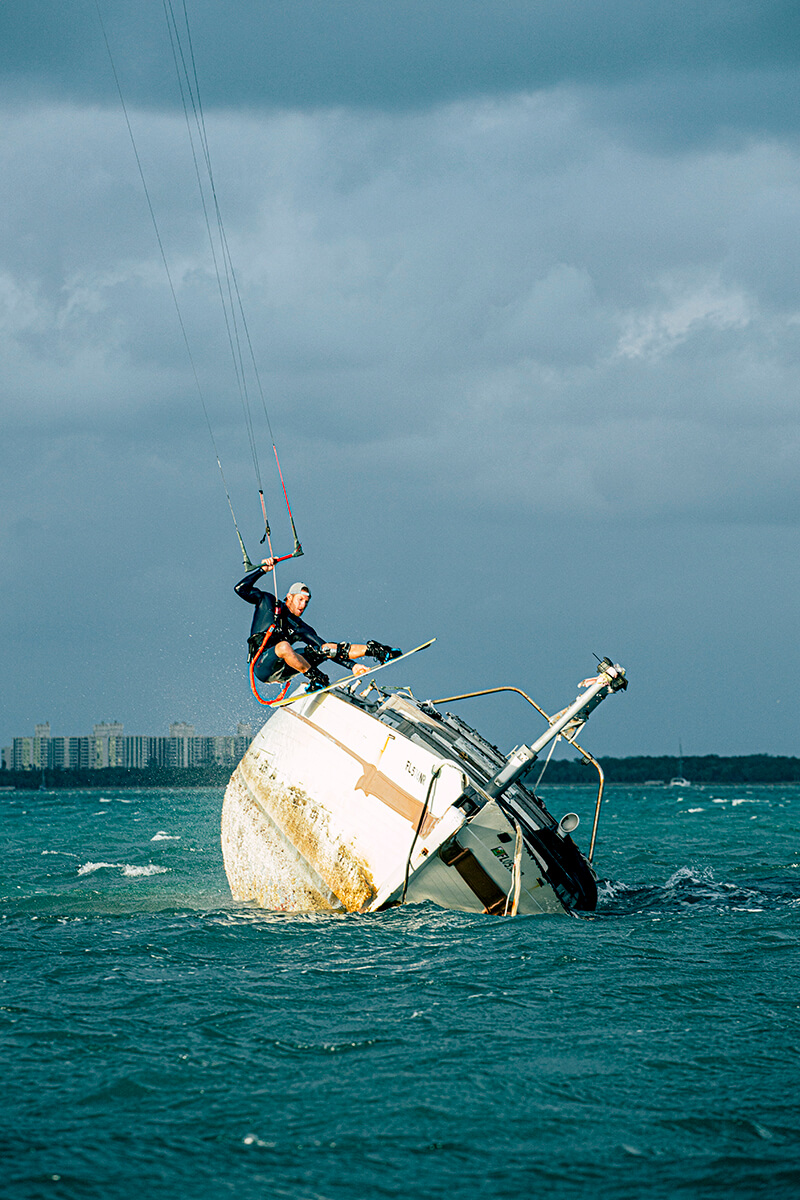 Stiltsville is an iconic kite spot in South Florida, known for the now six remaining houses on stilts and its wide-open sandbar, attracting numerous kiters and schools to shred this flat-water spot paradise on the tip of Key Biscayne. Stiltsville has become sentimental to the local kiting community; as quoted by a friend, it is a "one percent kite spot". Built in the prohibition era, the unique and beautiful Stiltsville houses have been 'grandfathered in' to the Key Biscayne state park to be protected and preserved for years, and have survived hurricane after hurricane, although unfortunately one has recently burnt down, which I believe was a bigger blow to the kiting community than the state park itself.
I first began kiting at Stiltsville when I moved to Miami six years ago and worked for South Florida Kiteboarding. At that time, the rules and regulations for kiting Stiltsville were very different from what they are today. As you can imagine, kiters, including myself, saw the docks, rails and pylons as the closest thing to a Miami kite park that we could get. You can find some pretty epic shots and videos of kiters using their creativity with these buildings as a playground. On the other hand you can also find some nasty crashes with lines tangling in the unique architecture of the houses, such as Dimitri Maramenides in the video 'Destroyed in Seconds' – it's worth a Google! Today the rules for kiters have been laid down hard everywhere in Miami, and these houses now serve as the best backdrop for kite photos in Florida, providing a beautiful scene that sets the tone of a session. Plus they are an amazing reference point for students when teaching.
For more reasons than one, Stiltsville has become my most frequently visited kite spot since starting my own kite and Efoil schools, Kiteboard Miami and Efoil Miami, together with my head instructor and girlfriend Sarah Dunick. Not only is Stiltsville absolutely stunning to explore, but its massive sandbar is perfect for beginners who want a calm, shallow location to practice their first hours on the kite, with deeper pools in the center of the sandbar for advanced lessons. There are also very few obstacles, except for the houses of course, but the sandbar is so large they are not a worry. However, the best thing about Stiltsville is that you can kite and teach in any wind direction, so we get to teach every windy day. Sarah and I can honestly say we spend most of our days either chasing down students or kiting along with them checking out the view and the eagle rays, turtles, starfish, conch and sharks that also call Stiltsville home.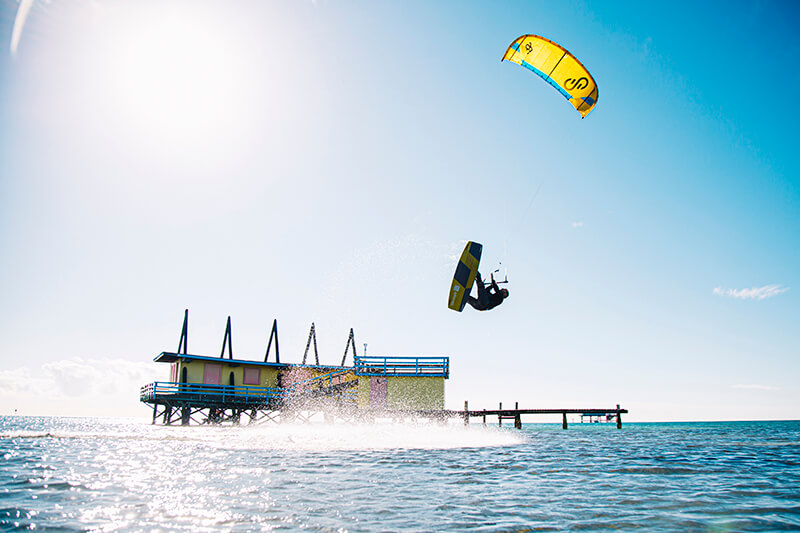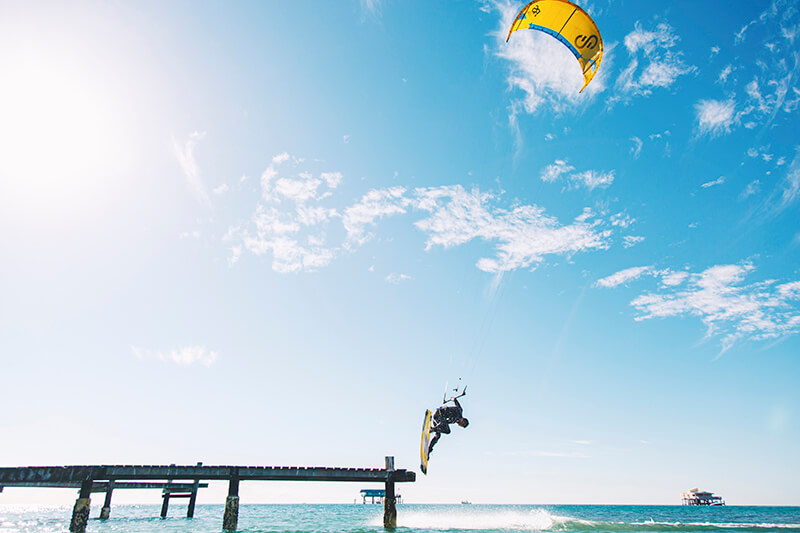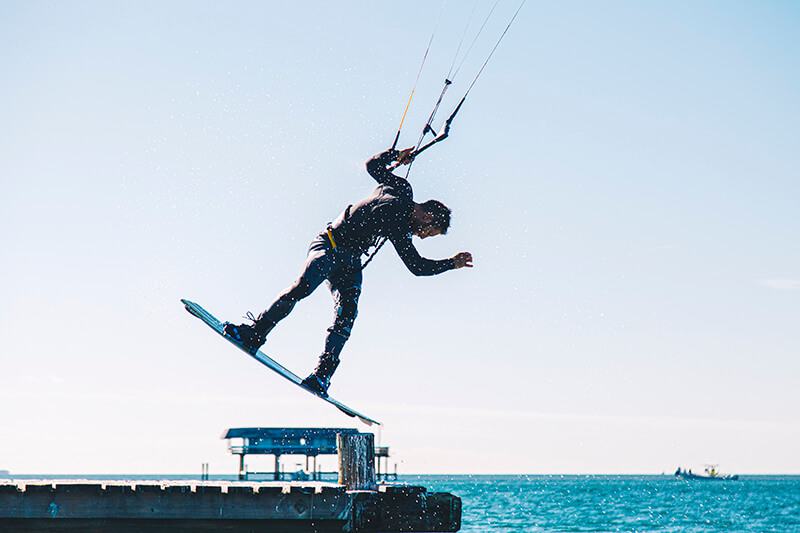 I recently did a long-awaited shoot with good friend and amazing photographer Carlos, with Sarah as our captain navigating our rescue dinghy in 20 knots, managing to keep the boat steady and line up the shots, and me on my absolute favorite 12m Eleveight RS. Thanks to some stronger Florida winds we got some of my favorite shots to date. These houses offer such a unique background, plus this past year a sailboat has sunk right next to one of the houses and I have been dying to grind it… Most Stiltsville days we are teaching and the days I've been there to shred myself the wind had never lined up quite right. Even on this particular day it wasn't looking good that we would get the shot, but as we made our way house to house the wind switched perfectly in line with the hull and the sails as a rail. We were even luckier to be there at low tide meaning most of the sailboat was exposed, which added an extra element to the shots.
Stiltsville really is a unique kite spot, perfect for any conditions and any skill level. If you're in South Florida looking for an incredible spot to learn, kite or shoot, this has to be top of the list. Do what you can to get out here, because no kiter should miss the chance to hit up this absolutely awesome spot whilst in town… ■
This feature originally appeared in TheKiteMag #43. To read the full issue, subscribe here.