Since the first days of kiteboarding, the world of boots, kickers and sliders has always had its place within the sport. But the last couple of years have seen it move from being an underground discipline into the mainstream. There are a few things this can be attributed to – the fact that riding in boots has become the norm, the fact that the media content from park events is generally very slick and well produced, and the fact that the KPL has bucked the trend and become a well disciplined and well organized tour within the world of kiteboarding would be the three main reasons for us… Within this new world, there have been the opportunities for riders to establish themselves, or to reinvent themselves… Here we take a look at two riders who are right at the top of the pile and are riding this park renaissance as hard as they can.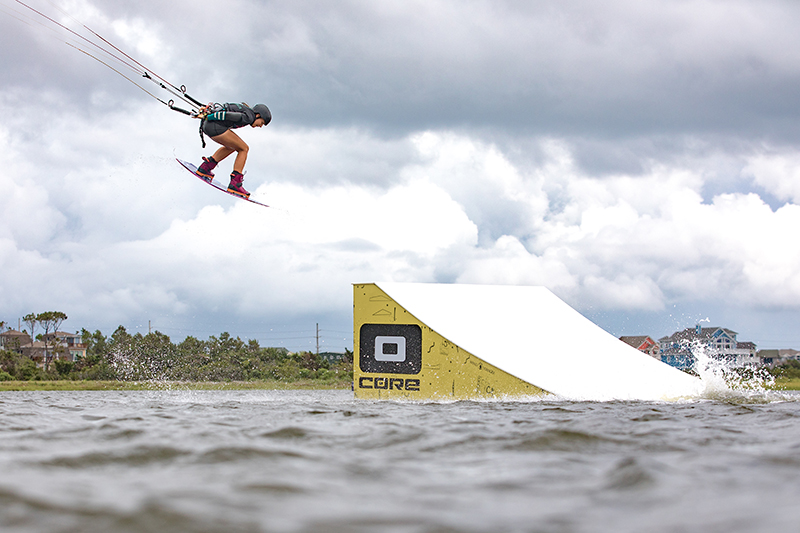 KAROLINA WINKOWSKA
Hey Karolina, thanks for taking the time to catch up with us. For anyone who's new to the sport, can you give us your bio a sentence?
Hi, I'm Karolina Winkowska, I'm from Poland – I started kitesurfing in 2004, and competing in 2006.
When did you realize that you had the skills to compete at the highest level in kiteboarding?
When I started kiteboarding, it was making the transition from Big Air into more wakestyle air tricks. It was pretty good for me because everyone was making that transition so the level wasn't that high, so I could fit in and go to the events and still get results. I was still in high school so I decided that once I'm done with the school I'll go to the world tour events. Once I had done a few world tour events I realized that I could probably win one time sometime in the future!
Over your career you must have seen a lot of changes in the style of kiteboarding as it moved more towards wakestyle tricks and more powered riding. Can you talk us through the freestyle moves that you used to do and how these have changed to what you do now?
Yeah, well when I first started it was still a big mix of Big Air and air tricks – there were still events where you had to perform both of those disciplines – then all the Big Air tricks stopped counting in the events, so we started doing only air tricks. Back then we were still using straps, so the style of riding wasn't that solid, and then around 2012 everyone started transitioning towards boots and that's when we started seeing people do more stylish wakestyle tricks, and then now we are moving toward park riding. What is interesting is that all these features existed back in the day, it's just I was more focused into one style than the other… There was park riding back in 2005 when I started kiteboarding as well, and there were people riding in boots, but it wasn't what I was doing back then.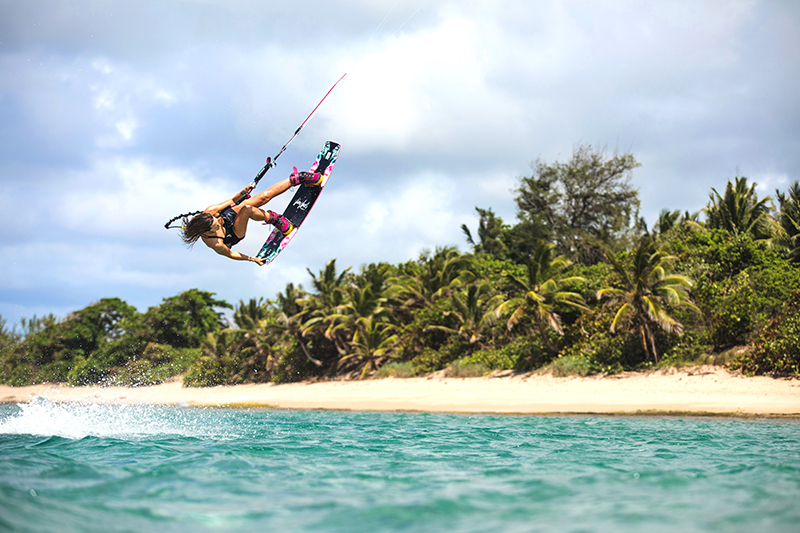 So when did you first ride in a park and start hitting features?
Well actually I first hit a feature with my kite in 2006 because we had an event in Poland with features. I didn't have bindings, and I did it completely randomly! But that was the first time I hit an obstacle. Again, back then, there were events in the world tour in Coche and in Italy that had features. But I think back then those obstacles were really sketchy, like home made, and I know that – from the organizer's perspective – it wasn't really safe to put into the format, and that's why they stopped doing it. And I didn't really practice back then, I just hit the obstacles a few times when they were in the water, and then I totally stopped it to concentrate on freestyle riding. Then a few years ago we got the first cable park in Warsaw and that's pretty much when I started wakeboarding. I was really excited to start hitting features from the beginning and I was really excited to go to the cable park just to hit features and not to do air tricks, and now we come to the point that we have proper features for kiteboarding in a lot of places around the world, and I'm lucky that I was practicing wakeboarding so I'm quite familiar with it!
Where do you do the park style stuff in Poland?
For many years we had an actual park with features that everyone could pretty much use, it's just not many people were doing it because those obstacles were huge and pretty unsafe! Now we're making the move towards safer features that everyone can hit. So we got a plastic kicker this year and everyone was scared, but once we got it it was so safe that everyone could hit it – which is exactly how it should be.
So are there a lot of riders who want to hit features?
Well what I remember is with these people I used to hang out with before. What I see now is that the young people tend not to want to hit the park for some reason. I think it's because their idols, the riders they follow, they don't really do it. That's why I organized an event in Poland this year to bring it back to our scene, and I literally had to invite all my friends that back in the day built the park just to show the kids how much fun it is when you build an obstacle, how much fun it is to hit, and that it's not that hard – and it's actually an extension of freestyle kiteboarding which is what they've been doing. It was a pretty successful event in terms of interest and the movement, because I think park riding should be a part of freestyle anyway. So that was how we ran the event, we had half park, half freestyle, so I think people could see and really show that park is not that difficult when you can do freestyle, and it should be included as it is in snowboarding or in other disciplines; they do air tricks but they also hit features.
There seem to be a disproportionate number of riders and brands who come from Poland – why are you guys so good at kiting?!
Well I think one thing is that for 12 years we had a successful freestyle kiteboarding tour happening in Poland, with four events each year. This really drove our riders to progress and train and get to a better level. Also, we have a lot of riders who are racing. So putting those events on here and showing kids how much fun they can have during those event, that they can meet friends, they can learn new tricks, it really progresses the scene and motivates those kids to think maybe they can compete in the future. I have been to a lot of other places in the world and I'm always surprised that the level is not actually as good as in Poland! Even though they have better places to kiteboard.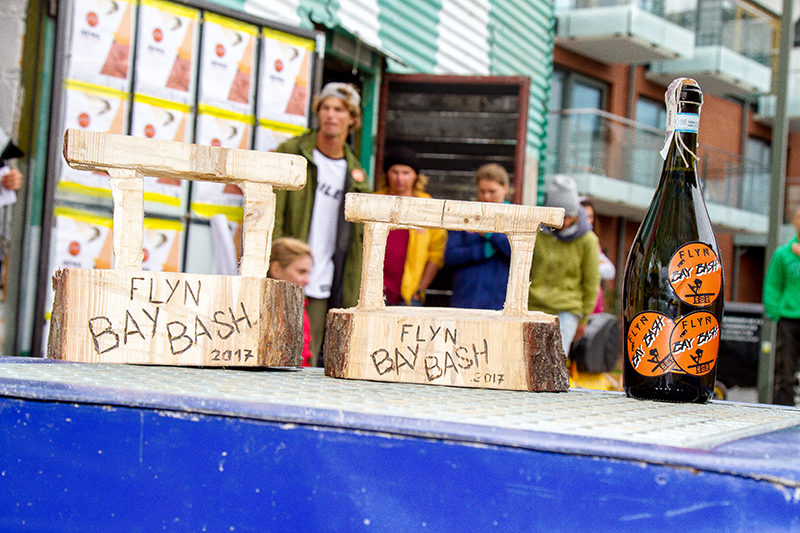 Can you talk us through the set up in Poland – when and where are the best times for kiting?
The season starts in May and finishes in September, and my favorite months are May and September! June, July and August are super crowded, we actually do have a lot of kiteboarding schools and we have a pretty big scene in Poland, but everything is located on the flat water side, it's like a bay – a really big bay, like a lake, and that's where all of the kiteboarding world in Poland is located. You can also ride on the Baltic sea but this is a bit difficult to learn, because there are waves and currents, it's unpredictable and it's difficult. The weather is pretty cold, you have to wear a wetsuit all the time, but to be honest since I grew up windsurfing and then kitesurfing in Poland, to me it's not a big issue.
You've been riding for Slingshot for seven years now – how are they as a brand, and what's the secret to having a long and healthy relationship with your sponsor?!
Seven years! Well, I was thinking about this, and I think the reason is that many things have changed in kiteboarding since I first started. When I first started there was no social media, no one could afford to have a proper videographer or photographer, but today everyone can put out a pretty good video, awesome photos and have loads of followers on the internet. So I think one of the reasons I've been with Slingshot so long is not just because I had good results but also because I could see those changes and use them to my advantage, like even before social media I would make a video and get good photos and I would send them to magazines. It's not that I had some unlimited budget, I would just do it on my own and deliver this content to the brand. I think a lot of riders who start riding for a brand, they don't realize that they actually have to deliver stuff all the time! For example, I organized this event for girls last year, and it was my idea. Slingshot didn't tell me you have to do an event for girls, it just happened that I had an opportunity with my friends and I think things like this really count positively for the brands. Social media and the internet doesn't sell gear very well – it shows numbers but I don't think those numbers relate to what the brand is selling, and actually the action that you do at the beach, that is real, that you can touch, this is more successful to the brand than the numbers they see online. That's what I think and that's what I've been doing, trying to deliver the things that I wasn't asked to deliver, and I think that's why I've been with Slingshot so long!
You competed on the Freestyle tours for many years – can you talk us through your best and your worst moments and what is it like as a lifestyle being on tour?
Definitely the highlight of my kiteboarding career was my first world championship, in New Caledonia, a pretty sweet spot! I wasn't expecting to win, and it happened, so it was very emotional and it was my life goal that I've been looking to for so long. It took me seven years to win, so for seven years I was trying to win, and it wasn't happening, and then it just happened! So that was definitely the highlight of my kiteboarding career. The downsides are probably all my injuries, but apart from that I don't really have many downsides, that's why I'm still here and I'm still willing to do it, because everything I do with kiteboarding is always exciting! Even when I'm injured I try to focus on something else and believe it happened for a reason and it's only going to be good for me.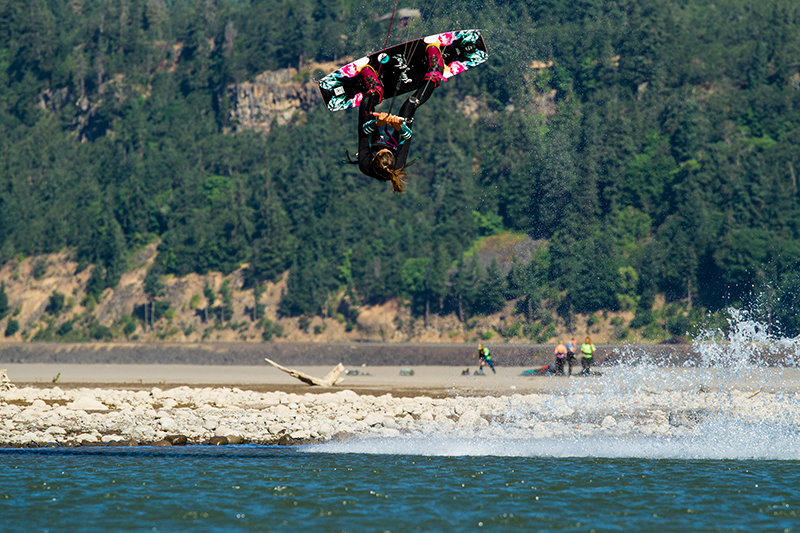 How is the level on the Park scene now and do you think the future is promising in terms of having riders coming through and having the Kite Park League organizing contests?
Yeah I think the scene has grown so much within the last two years, and this year watching the level was so impressive because everyone stepped up so much. I think there are still a lot of riders who are just discovering park and it takes a while to start feeling comfortable, to start progressing, so I think if the Kite Park League continues to develop, we're going to see many more riders. Right now we don't really have a kite park scene in Europe – this is why I wanted to organize the event in Poland and to push the discipline to introduce to my local riders. As we see more European events, I'm sure we're going to have many, many more riders, especially as the European riders wakeboard a lot. In Poland, if there is no wind we all go to the wake park, and then translating it to kiteboarding is way easier.
How much crossover is there for you in the different sports that you do?
Well, I do wakeboarding and I surf, and I do all the other fitness sports I guess; yoga and all those things. I think wakeboarding and surfing are my two favorite sports, and they help me so much with kiteboarding because the same muscles are working when I do them, and there is a lot of crossover with surfing into wave riding and wakeboarding into kiteboarding, and it goes the other way too. When I wave ride, it's way easier to catch a wave and learn how to do a turn properly, and then I can really easily translate it to my surfing, and with wakeboarding it's the same – it's much easier to learn tricks kiting because I feel much better, and then put it into wakeboarding…
We don't want to put a downer on things but you have been riding as a pro for a few years now – what do you see yourself doing when you move on from riding as a pro?
I don't know, it's a hard question. I see myself kiteboarding for as long as it's possible, and I really do like kiteboarding because there are so many other disciplines that I can do – there is foiling, there is wave riding, and these are disciplines I kind of like to do as well, so I know, and I'm already in this position where freestyle for me is a bit harsh; I get injured and it's harder than it used to be for me, so I know I'll need to transition to those other disciplines, but I hope I can kite as long as possible. My parents are kiteboarders so I know if they can do it I can do it as well. I don't know what I'll be doing when I stop being a pro rider but I don't really want to worry about it right now!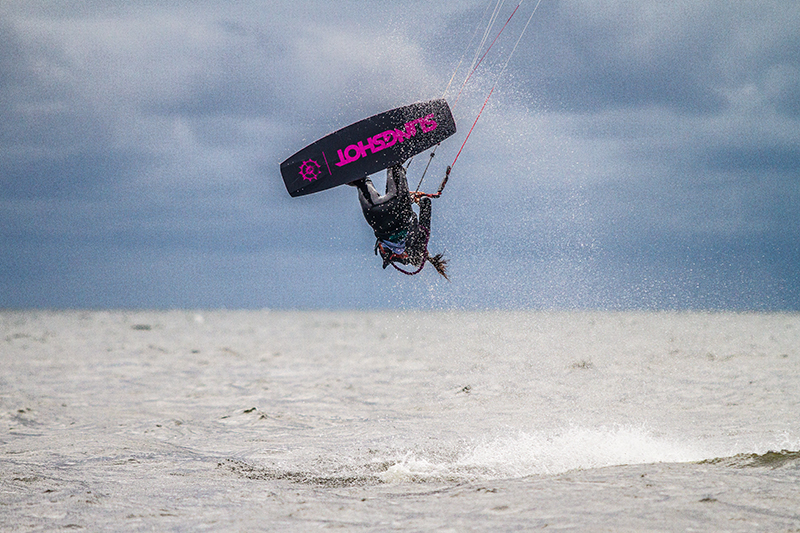 Do you think your relationship with Slingshot will change as your focus changes?
Well actually Slingshot have been really supportive to everything I've done, and they are really excited that I'm changing styles, as they also produce gear for foiling, for wave riding, for park, and for freestyle, so they're happy that I'm using the whole range of gear they design, and they're really supportive of all the events I've done and I think they're going to support my decisions as a rider and, yeah, I've had a really good relationship with them for all these years, and am thankful for what they've done for me, and I hope that our relationship is going to continue!
QUICK Qs
What's in the wheelie bag?
So many things! Everything. I try to organize equipment when I go somewhere. I spend a lot of time in Australia, so I have my surfboard there, and my surfboard in Poland. I just got my first foil. Then kites, bar, harness, boots, board, yoga mat, computer. But I can't travel with everything I have…
Most inspired by…
Other riders…
Proudest achievement?
Definitely my first World Championship in 2012.
I wish people wouldn't always ask me…
Why did I stop competing.
Why did you stop competing?
Well I pretty much didn't! But they do ask me that. I'm still there and I'm still competing, just in a different discipline.
Breakfast of a champion?
Eggs and coffee. With milk.
Binge dinner and drinks after a day on the water?
After an event, drinks, yes. After practicing… Sleep. I'm really a big enthusiast, I really kite as much as possible, so I really need that sleep.
Sketchiest session?
Quite a few. I travel to destinations where the wind is kind of gnarly. But the sketchiest was probably in Poland one day. It was 30 knots, huge waves, and my friend had an accident. But I've been riding in a lot of places where the wind is strong and I'm used to it now. I have small kites, and lots of experience.
I wish more kiters would…
Actually care about their style and think more about what the tricks they're doing look like. When you're a beginner you spend so much time mastering your turns and your jumps, and then as you progress you forget to think about what it looks like. This bothers me quite a bit, because people progress and think they're really good but they forget what they look like when they ride!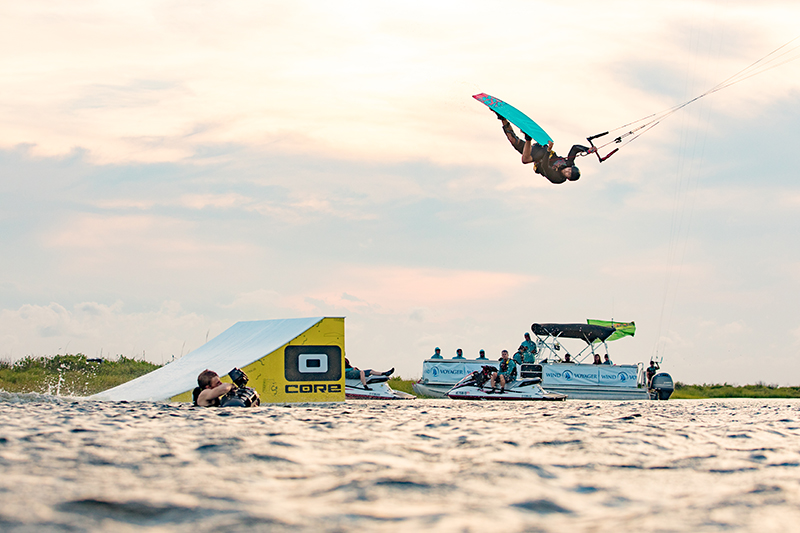 EWAN JASPAN
Hey Ewan, thanks for taking the time to catch up with us. For anyone who's new to the sport, can you just tell us a bit about yourself, where you are from, and when you began kiting?
Hey mate, thanks for having me! I'm actually in Scotland writing this at the moment, in Milngavie, where I grew up. I moved to Australia when I was almost 11 and wasn't really too happy about it at first. The move away from all my friends and family was hard, but when I was 13 I started to kite, made new friends, and never really looked back after then.
When did you realize that you had the skills to compete at the highest level in kiteboarding?
During my last year of school I really wanted to finish up and go to the last PKRA event of the year in New Caledonia. I ended up going alright, and Naish supported me to compete for the next season. I didn't really have any great results, and after two seasons on the PKRA I hurt my shoulder and had to get surgery. After the shoulder I had a few ankle surgeries and was seriously considering whether I continue on with my kite career. I came back to kiting and the world tour had become a bit of a mess, and I had always been interested in the park events, so I went back to the Triple S, spent some time in Hood River, then traveled to Brazil and made my best video part (at the time). I was still struggling to get by and afford to live the lifestyle, but after that Brazil trip, that was the first moment where I thought I could compete with some of the best riders out there.
How is the scene in Australia growing up as a kiting grom – is the vibe a bit less full on than in the surf scene?!
Surfing in Australia can have some bad vibes, but pretty much every kite beach is friendly and everyone is happy to share the water. As with most beaches around the world, I was one of the only groms on the beach in Melbourne. I had a few friends that I used to kite with a lot, but a lot of the time I was just riding by myself. There used to be some pretty good riders from Melbourne and around Australia, but around the time I started to get into competing there were many people pushing the sport. I relied a lot on the videos online to learn new tricks and come up with new ideas.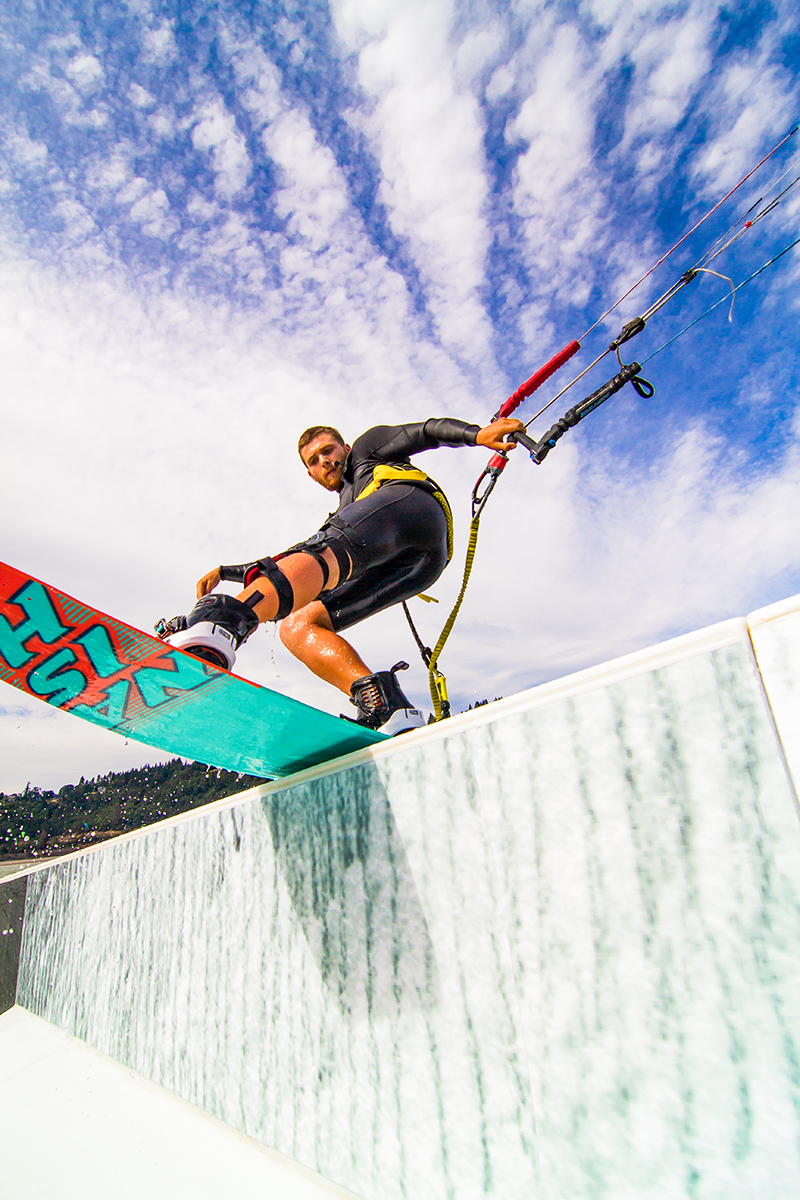 When you started out what kind of tricks were you doing?
I started the same way as most people, just learning some basic unhooked tricks, and went from there. I still watch a lot of the progression videos and the PKRA event recaps. I never really got into learning double handle passes at the beginning, I was always focused on learning my tricks properly with good execution before moving on to the next thing. I think this is really important and the way most people should learn when they get into the sport. Kiteboarding is very different from a lot of other board sports as it can be more focused on 'spin to win' rather than style and execution.
When did you first ride in a park and start hitting features?
My first time riding in a kite park was actually at the 2013 Triple S Invitational. I won the wild card that year for air tricks as that was still a part of the Triple S, but I was quite embarrassed with my performance on the features. But this really did ignite my passion for park riding and ever since then I've been very focused on this alongside air tricks, Big Air and many other facets of the sport.
You have had a few injuries that have held your career back a bit – can you tell us about those?
It started with my shoulder at the end of 2013 at the PKRA event in China. I ended up getting surgery in January 2014, and then in August only a couple of weeks after returning to the water I broke my ankle riding the cable park which took me out for another six months… After six months I still had a lot of pain as the surgery wasn't done properly and so ended up having to get a third operation. My first session back was actually at the 2015 Triple S, just before the event, after almost two years off the water! It was definitely hard to get back on track after such a long time off but at the same time I was so motivated to start riding again that I started to progress faster than ever. I had spent a lot of time in the gym and felt fitter than I had before which made learning new tricks easier. I highly recommend that if you want to increase your kiteboarding level you spend some time cross-training to make things easier for yourself…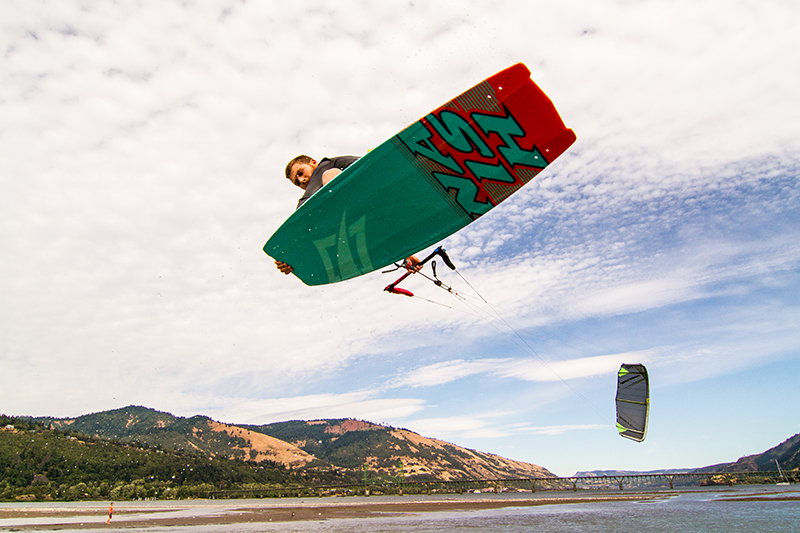 So can you talk us through a typical day when you can't kite after an op?
I spent a lot of time in bed watching TV shows and movies and then trying to learn new things. I tried to eat well as before I never really did! And I thought this is a great time to start thinking about my diet if I'm taking this stuff a bit more seriously. All I wanted to do was get back on the water and kite more and more, so I would spend a lot of time watching videos from many different board sports trying to get inspiration and imagining new tricks that I had never even done before. Actually, I felt that when I came back from injury I could do tricks that I hadn't previously been able to do just because I'd thought about them so much and imagined them in my head over and over again. I think this is key to learning new tricks – being able to understand them in your head and believe that you can do them. Eric Rienstra does this a lot. When we were in Turkey together he saw a new trick, and for about an hour was just imagining it in his head, then all of a sudden he said 'that's it, I've landed it', and just from figuring it out in his head he knew how to do it.
So, since you have come back you seem to have been super-charged and since the first event a lot of other riders have tipped you to be at the top of the podium for the Park events. Is that why?
Yeah I think I just built up a lot of motivation and understanding about kiting and other boardsports which just helped me progress quickly and properly.
How did it feel to win the Triple S this year – I guess it is the biggest event and Sam Light had had a stranglehold on it in recent times so you must have been extra stoked?
The awards ceremony at this year's Triple S was amazing. Definitely one of the highlights of my life, and a goal of mine since I started kiteboarding. I had an inkling that I may have done well and I was happy with my riding after the finals day, but really anyone could have taken the title. When I saw Sam struggling to land his Toeside Backside 7 I knew I had to grasp the opportunity and just go all out. I even ended up learning a new trick on my last hit on the last feature (the John Wayne) and without that last hit I wouldn't have won…
Did you give Sam some stick?
Not really! He's definitely won that event enough, but might have been relying on that 12k for some mortgage payments…
You were also voted AWSI Kiteboarder of the Year 2017. A shame there wasn't an award ceremony this year due to the hurricane. I guess you must be planning to win it next year too so you can pick it up for both years?!
Haha yeah! It would be great to win that award again next year and even better to attend the Surf Expo for the first time. It looks like a great event where many people from lots of industries meet up and have a good time and check out all the new gear. Winning that award really has capped off a great year for me. Kind of strange to have the title as well I guess, I never thought something like that could happen a year or two ago.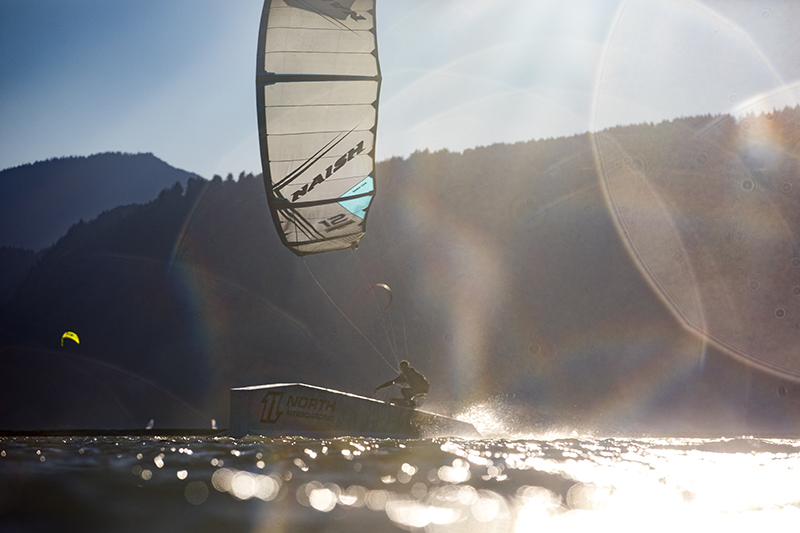 The vibe on the KPL tour seems pretty friendly – do you guys all get on and 'pitch in' as much as it seems from the media?
That is something that I really love about the Kite Park League. We all put in a lot of effort to make the events happen and try and contribute what we can, not to mention everyone loves everyone and we are all good mates. I run the social media for the league but we all do small things here and there to make it happen.
There have been a few new riders on the scene this year – who should we be watching out for over the next couple of years?
Noé Font is progressing all too fast. Just watch his section in his new movie and you'll see what I mean. Alex Maes, Ramiro Gallart and Mark Cafero are also on the rise and all have their own style that they are bringing to the sport. It's great to see so many new faces on the KPL and I hope we see more groms there in the future.
Do you think that the Park scene is moving in the right direction? Are you happy with how tricks are being scored and which tricks are getting the big scores?
For sure, we focus a lot more on execution, style and power than all the other expression tours, and I think we incorporate boardsport values into our judging. Alex Lewis-Hughes is the head judge and he is one of the most experienced and well-educated people in the whole industry.
Jump forward a couple of years and which tricks do you see becoming a staple of the tour?
I hope we actually have a lot more features in the future and focused a lot more on handrails and pipes rather than big wide boxes. Boxes are great as people of all levels can use them but to progress the sport we need to start moving towards specially designing rails like they do in snowboarding and wake boarding.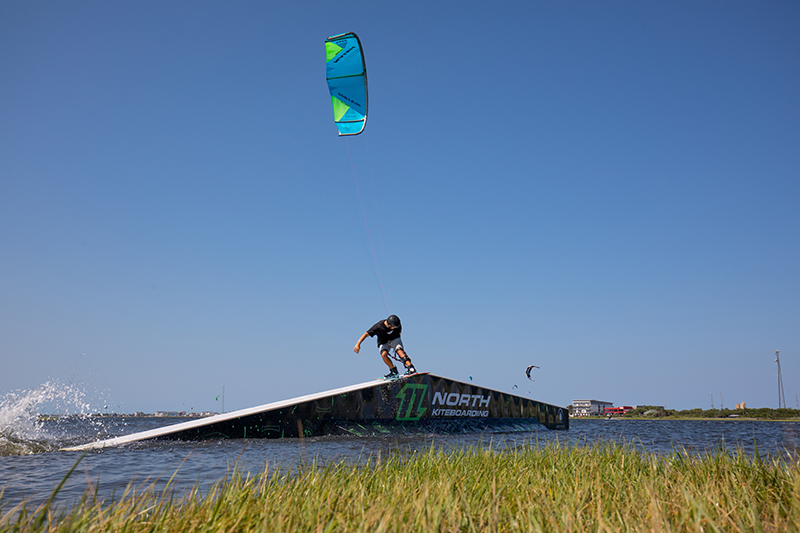 You've been riding for Naish for most of your kiteboarding life – how are they as a brand, and what's the secret to having a long and healthy relationship with your sponsor?!
I've been with Naish for almost 10 years now and I have a great relationship with them. You need to always try to prove your worth to a sponsor and this can be in many forms, not in just one. I feel to be valuable you need to have a strong media presence, have a great personality and be approachable on the beach, do things that they ask of you, not complain, and most of all, shred hard! Naish are always looking to progress and fine tune their gear.
But what I love most about Naish (to be completely honest) is the Torch. Damien got this kite right so many years ago, and now I am about to get on my 10th generation of the Torch and it almost feels like an extension of my body. A lot of other brands change their kite design significantly every year which I think stops people getting used to their equipment so they're always having to adjust. Luckily we only make minor adjustments and improvements every year to keep the same feel as always.
If you're not kiting then which other sports are you in to?
I used to play a lot of tennis and football, but not so much recently. I wakeboard a lot now, snowboard and go to the gym.
How's the competitive scene in Australia? Are you surprised that there aren't more riders breaking on to the international scene?
I am actually very surprised at the lack of riders coming out of Australia and competing worldwide. It's strange as I see so many kids who have talent just give it up or never really take their riding to the next level. We have a good group of kids now starting to push their level more and more, and this summer the National titles are in the Pond in Safety Bay, WA, so we should see the highest standard of riding in years go down. I'm really looking forwards to that one!
2017 has been a great year for you – what are your plans for 2018?
2018 should be more of the same, but I'm very keen to work on a full length video section showcasing my best riding. I want to take a trip to Cape Town for the first time and work on my Big Air and kiteloops and see where I can take that for a bit. Otherwise, no solid plans other than to win the KPL and help the rest of the crew take down Sam Light!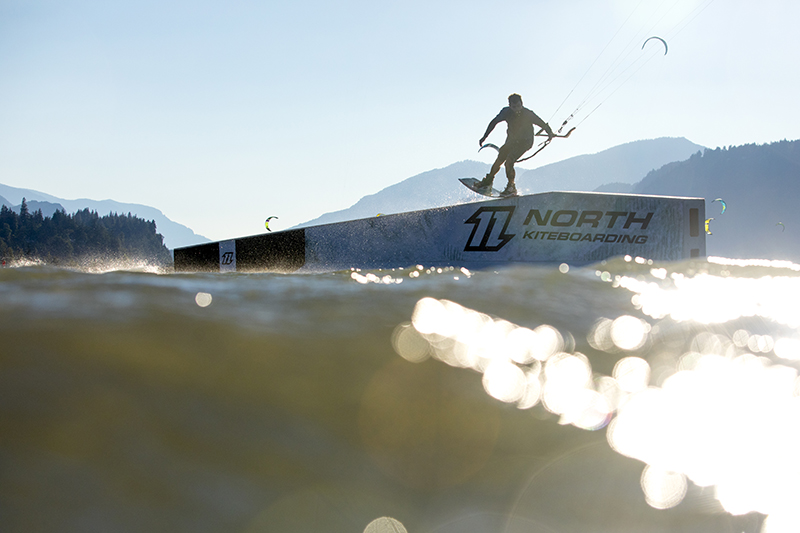 QUICK Qs
What's in the wheelie bag?
It's light as possible, but still too much. Four kites, two boards, boots/bindings, two bars, harness, wetsuits, towel hoodie and then all the other essentials. I don't travel with many comforts, sometimes too many electronic devices, but otherwise I'm usually throwing things out of the bag rather than adding them in.
Most inspired by…
Sam Light, Brandon Scheid, The Bubble by Noé Font and all the sections. In wakeboarding Wes Gumpel, Aaron Gunn and Daniel Grant, Trever Maur, Josh Twelker, Corey Teunissen, Harley Clifford and Mike Dowdy. Snowboarding – so many riders…
Proudest achievement?
2017 Triple S by a mile.
How do you say/spell your name?
Most people just straight up butcher it.
Breakfast of a champion?
Big Waves Wake and Bake burrito (Hatteras).
Binge dinner and drinks after an event?
Big Waves Nachos.
Sketchiest session?
Eric and Pierre's bamboo death trap in the Phillies.
I wish more kiters would…
Treat our sport like a boardsport and not like sailing or gymnastics.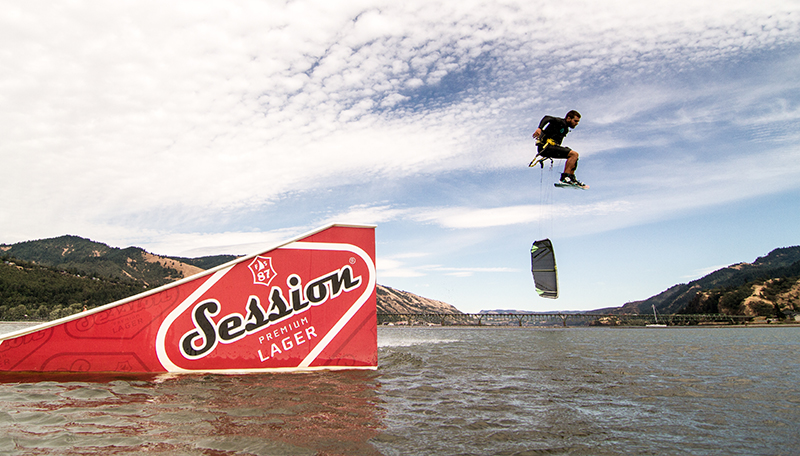 This article originally appeared in TheKiteMag #22. To subscribe, go here.