If an old kiting friend invited you to stay with him and his girlfriend in Tahiti, and hit up the various kite spots that French Polynesia has to offer, would you say no? Nope, neither did Victor Hays. He flew to the other side of the world to visit Paul Serin and enjoy a slice of paradise and Polynesian hospitality. It's fair to say, it was a good call…
Photos: C J Coetzee
---
Back in December 2020, I was in Cape Town working closely with Airush on R&D, when I got a phone call from my long-time friend Paul Serin, who for the past two years has spent a lot of time in Tahiti with his Tahitian girlfriend Hivanui. He told me he would be spending his whole summer there and we should organize a shoot together. I was very keen to meet him there… We've known each other for such a long time and been to so many different places throughout our career, and Tahiti had been on our wish list. French Polynesia is a dream trip for every watersports addict and in my mind every little detail was already planned!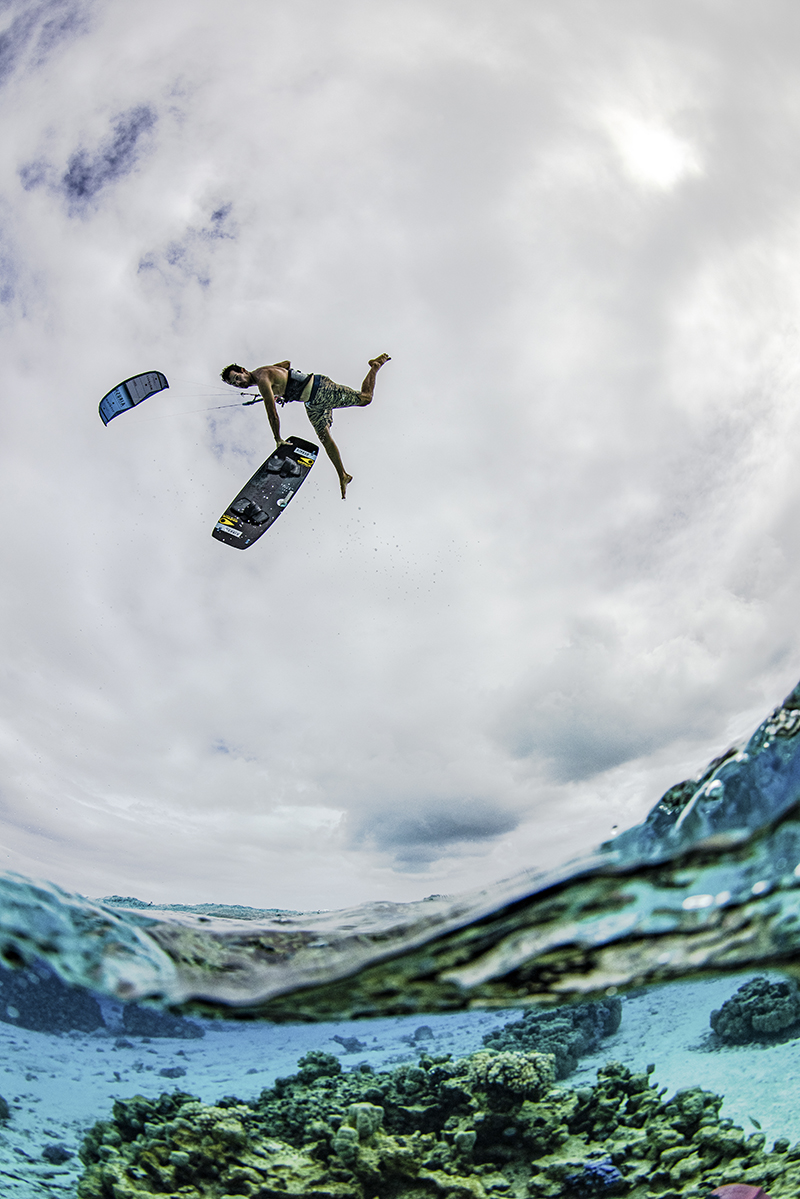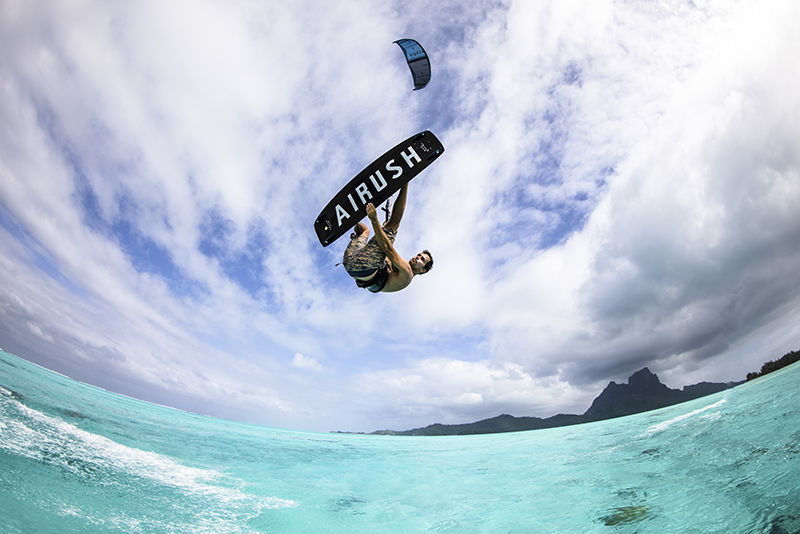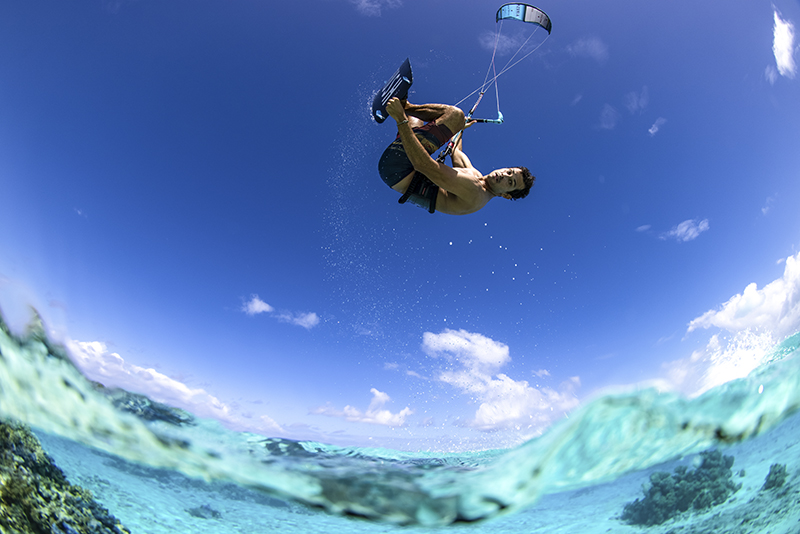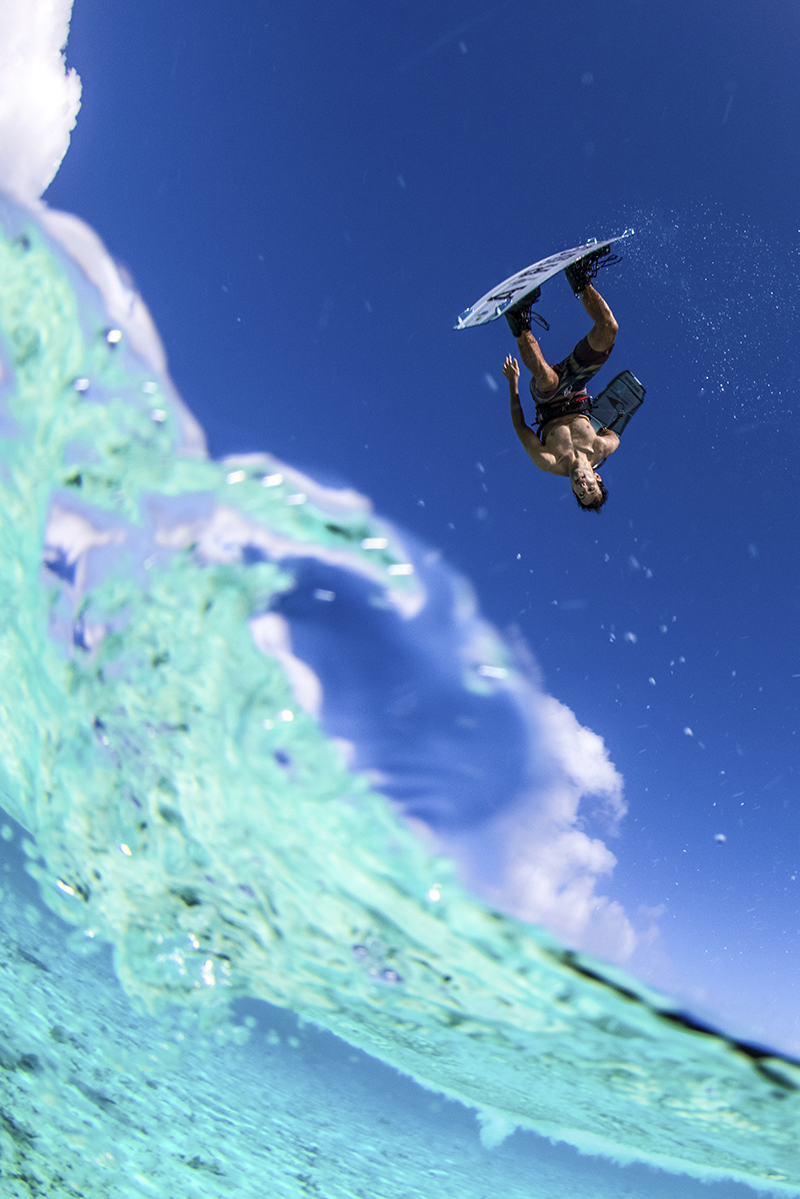 August 2021 arrived and it was time to fly to paradise. After a long journey, I arrived on the other side of the planet where Paul and Hiva welcomed me like never before. We dropped my bags at Hiva's house, which faces one of the most beautiful waves on the planet, Taapuna, and headed into the water. Only a few days later Tahiti was hit by the biggest swell in eight years, and we were lucky enough to spend our day at Teahupoo. Nothing can be more impressive than that! We soon settled into a routine… A classic day started with an early surf at Taapuna, and I was very happy to be staying right in front of this wave at Hiva's house. By midday the wind picked up and it was time to enjoy a SUP foil downwinder with Paul and Patrice Chanzy, a local legend who is just one of the best foil riders. Then there was time for lunch – in Tahiti eating Ahi Poke, fresh sashimi, is a religion, and we would head to Mama's Fish house at Venus Point. In the afternoon the wind kicked in even more and we were ready for a proper kite or wing session. The wind was pretty steady and powerful and you can easily get 25+ knots there in the high wind season. Then it was back home for the sunset, and a foil session behind the boat with the whole crew.
My riding has changed a lot, and I'm no longer completely focused on having perfect flat water for freestyle. For the past two years I've been looking for variety and being able to choose the right sport depending on the conditions. Tahiti is the perfect playground for that. There are many spots all around the islands of Polynesia, most of them technical to launch so require some skill. For a lot of them you need a boat, but the reward is insane. You will kite in the clearest water you've ever seen. Kiting in Moorea, Bora Bora or Teahupoo is something you'll never forget. On the east side of Tahiti, you can ride on the Motu Martin where the wind is steadier with an easy launch – it's the classic kite spot on the island. It is also possible to wing there and even get some decent wave sessions. It is for sure the most crowded spot on the island, but a far cry from spots like Tarifa or Cumbuco. Everyday is different in Tahiti and you need to spend time learning where the best place to go is depending on the conditions. Listening to the locals is key as they usually know which spot will work best.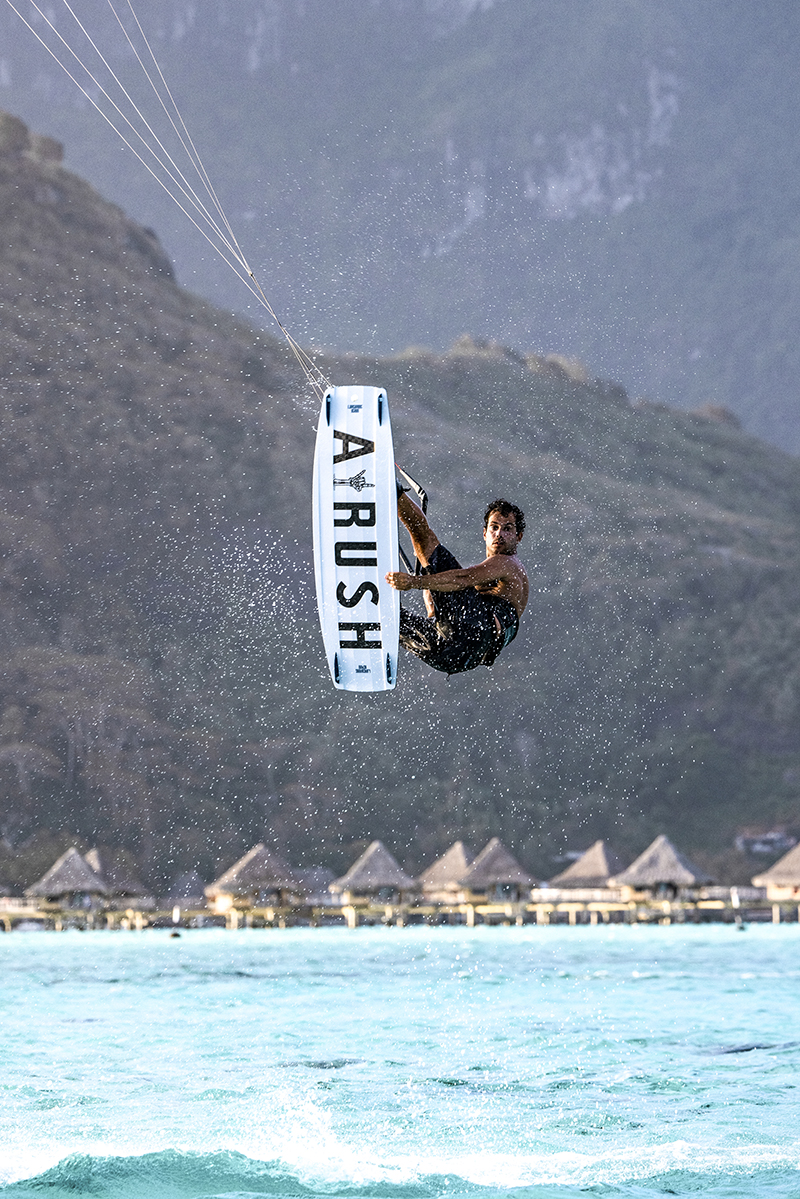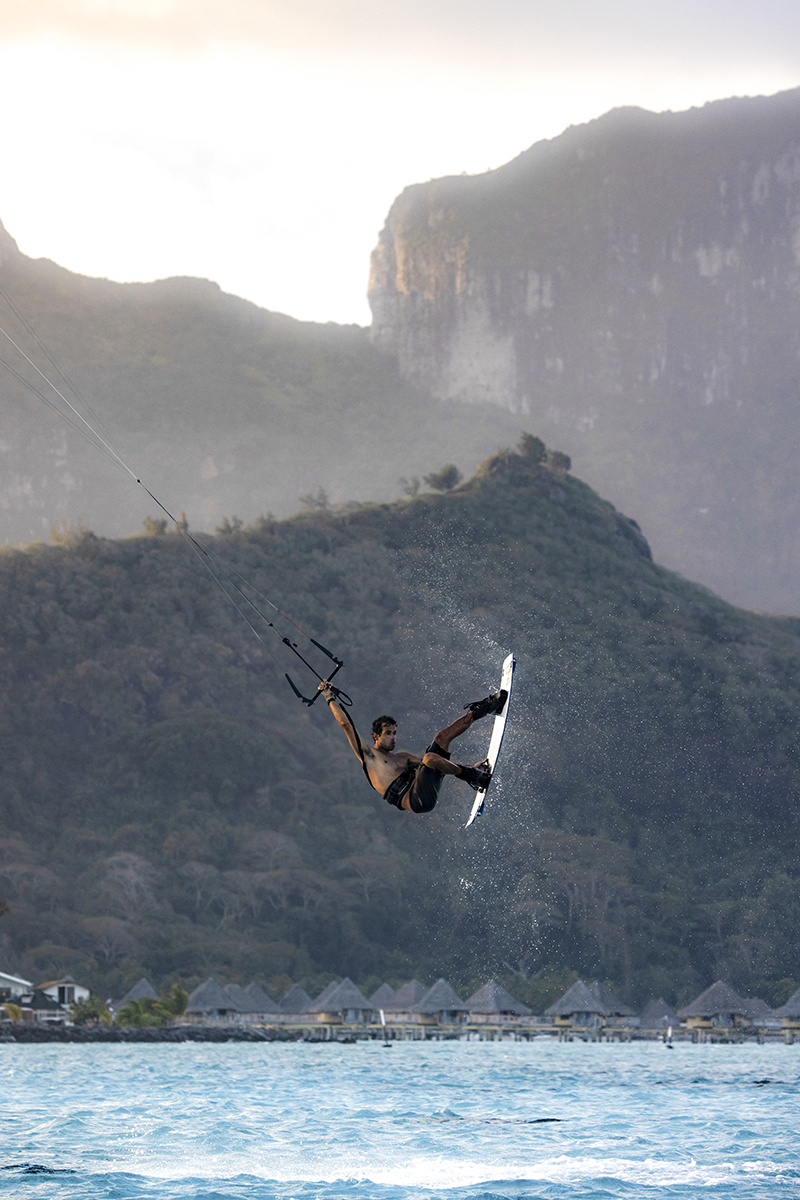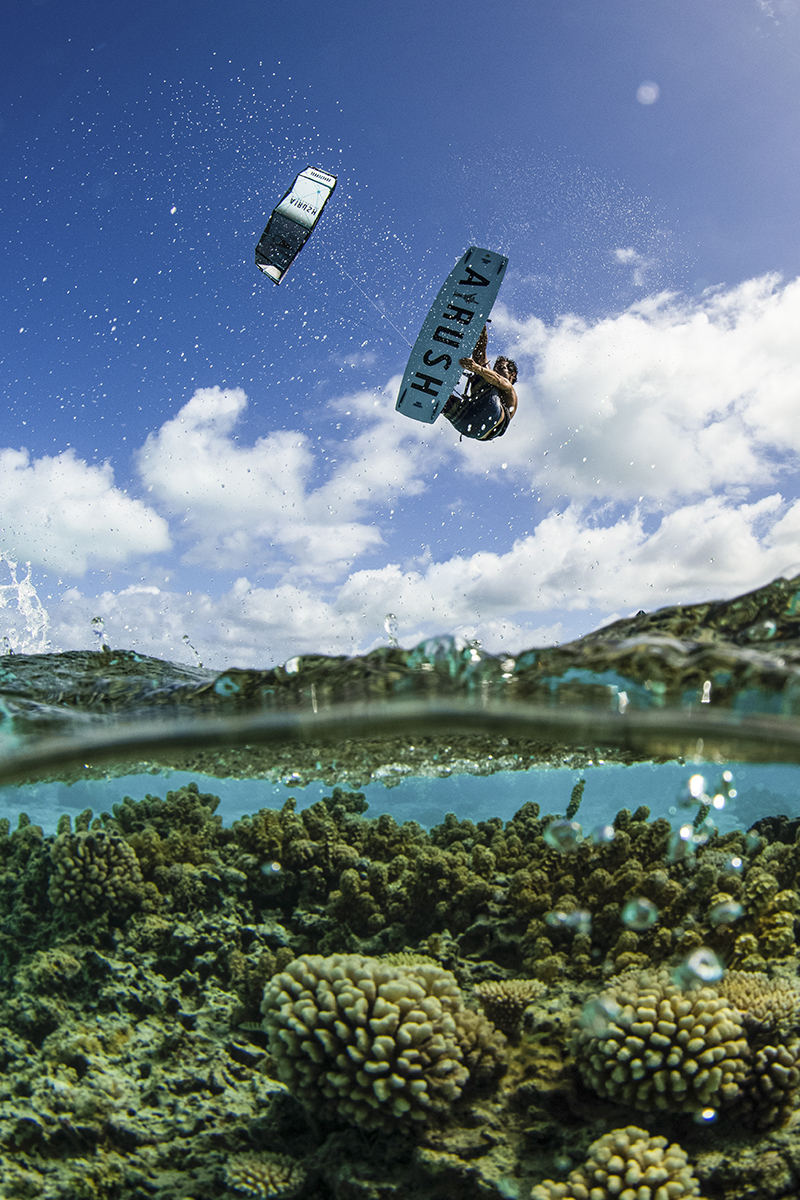 After some time living the dream life on the main island, we had the opportunity to jump on a tiny plane for a three-day trip to Bora Bora. We stayed in a house right in front of the main kite spot, where we were able to launch and get to the reef to enjoy some perfect freestyle conditions. We were lucky enough to employ the services of a South African photographer who lives out there. Having CJ with us was epic to be able to get the best out of those three days of perfect wind. We were the only three kiters out there and it's hard to describe how intense and pure that trip was. Hivanui met up with some of her family and showed us the real vibes there. From Turks and Caicos, to Hawaii, to New Caledonia and more, I've traveled to many islands in my life but nothing beat the Tahitian energy and vibes. I had quickly met all the local crew and was amazed by the kindness and authenticity from them.
Unfortunately Covid showed up in Tahiti, and the government decided to close the beaches for almost one month. I flew home way earlier than expected, with a deep feeling of not achieving everything I'd wanted to. I'll be back next year with my bags full of toys ready to explore more of this paradise with Paul and all the Tahitian crew. A huge Mauruuru to all the people that made this trip possible as well as Paul Serin, Hivanui and all her amazing family for an awesome welcome. ■
This feature originally appeared in TheKiteMag #45. To read the full issue, subscribe here.