Mike Raper, who is now Division Manager at NeilPryde One Design Kites, takes us through the whirlwind journey that has resulted in the recent launch of CR:X and then its adoption by World Sailing as a 'Class'. So. What does it all mean?!
Okay, let's start at the beginning. For the uninitiated, in a few sentences can you summarize: What is CR:X?
At NeilPryde we are expanding our one-design program into kite racing with the introduction of CR:X, the world's first one-design kite racing class. CR:X is an innovative, versatile kite racing platform that features a convertible board which can be switched between TT and foil modes. Multiple modes mean that the same set of hardware can be used for beginner or more advanced foil races or in changing weather conditions.
Our mission is to create a community of kite racing enthusiasts of all levels and abilities and enable them to race on a level and affordable playing field. CR:X delivers on this promise through a one-design pathway Class where riders can compete on affordable and matched equipment.
What makes up the 'complete' CR:X equipment package?
The full CR:X pack consists of three kites (7, 10 and 13m), 55cm bar, convertible board with fin and foil sets, and then the pump and a travel bag. The whole set up comes in at under 25kg so can be easily checked in for travel.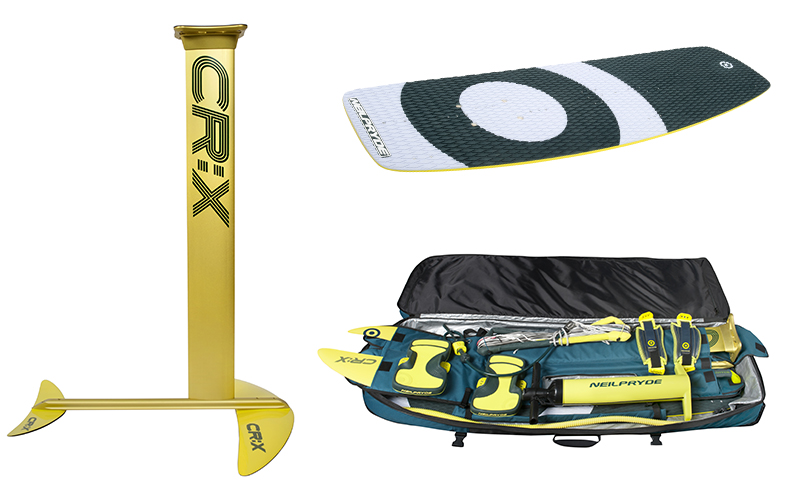 The set up encompasses options for different racing 'disciplines' within one set of equipment. Can you summarize what these are?
Yes, so the CR:X board has been designed to be ridden in two distinctly different modes for varying conditions and race formats. So there is Twin Tip Mode which allows the board to be used as a normal, bi-directional kiteboard. The board is designed to be used by kiteboarders of all skill levels and is best suited for stronger winds, course racing or compact boardercross race formats. Then there is Hydrofoil Mode where the board is fitted with a foil. Due to the efficiency of a hydrofoil, this mode is ideal for light winds, upwind/downwind course racing and long distance races. The hydrofoil brings a higher level of excitement but also technicality to the CR:X package.
Can you take us through the build and construction of the twin tip and the foil?
The board is unique and progressive within kiteboarding as the first twin tip board to be truly convertible between twin tip and hydrofoil racing. The board has a moderate rocker line with a modern straight outline, suitable for the first time rider through to a top end racer. The stance widths and binding positions can be adjusted to accommodate a range of athlete weights and sizes. The board's core is Paulownia wood, with ABS rails and a durable fiberglass laminate. The board has a stiff flex characteristic, ideal for both the twin tip or hydrofoil modes.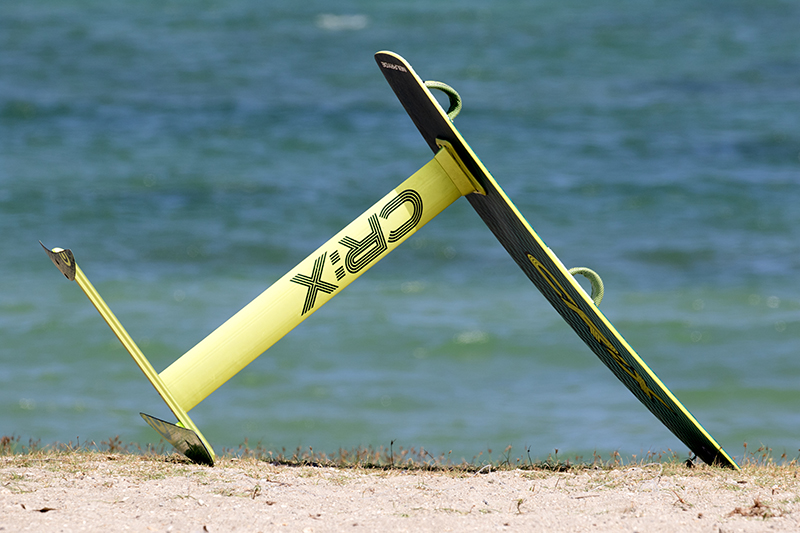 Then the foil has been designed to promote progressive racing. The moderate aspect ratio wing is fast yet forgiving. The wing profile allows the first time foiler to easily lift up at low speeds, yet the wings have low enough drag that the athlete can drive the foil at speed around the race course. In terms of build, the CR:X foil wings are molded from a super tough carbon composite, ensuring they are durable and hard-wearing. The consistency of the construction of each wing is critical, as the equipment must be the same for each athlete. To achieve this the wings are molded under very high pressure, providing a high quality and consistent finish. Both the mast and fuselage are made from aircraft grade 6061 aluminum that is stiff, lightweight, durable and affordable (in comparison to a full carbon piece!).
And then there are 'shims' – can you explain the effect of these?
Yes, a unique feature of the CR:X foil package is the ability to change the angle of attack of the rear wing. This is possible due to different shim sizes that can be adjusted. This allows a first time rider to increase the angle and provide more lift, making it easier to get foiling. As the rider's skills progress they may reduce this angle thus reducing drag and increasing top end speed and performance.
You have three kite sizes within the package, 7, 10 and 13m. Do you think this covers most conditions and most rider weights?
Yes, we think so – we have had youth form body weights in light winds planing on foils in 5-6 knots all the way through to heavyweight riders in TT mode in 40 knots. The great thing about the equipment is that it is so versatile, it can be used in so many different conditions and adjustable to so many different body weights and sizes. Great for the race officer or Chapter Ambassador running local races is that they can choose the set up based on the conditions and location of that day's racing. It really is versatile.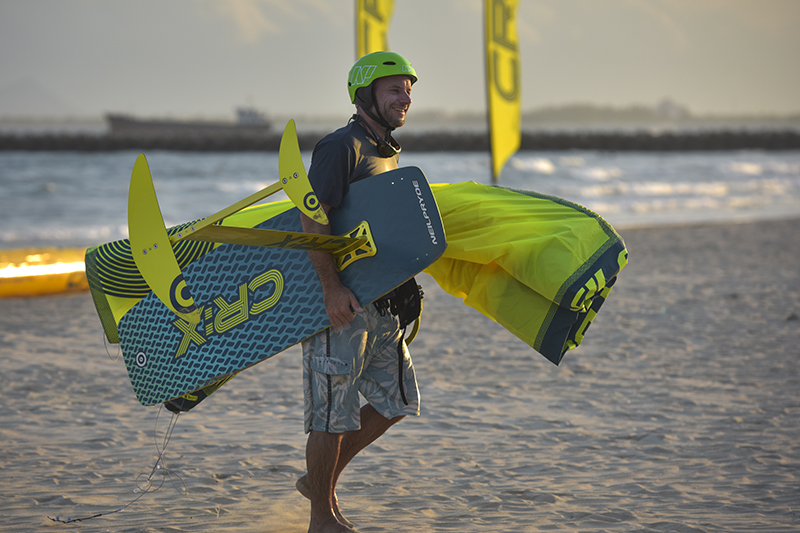 How long was the CR:X in development?
We had a year of development from November 2015, when the concept was born, to delivery in October 2016. We really leveraged what we had within the Pryde Group: 16 years of kite design, 40 years of manufacturing within our own facility, and our experienced international distribution, so we have delivered a quality offering and we expect great things from the Class and movement.
And you have run a few events – were these successful and can you take us through the format of these?
Yes, it's been an amazing start! Events so far include Mui Nei, Phan Rang, Sail Melbourne World Cup, World Sailing Youth Worlds in Auckland, all before the end of 2016. Then looking forward to 2017 we have some massive plans for an international tour.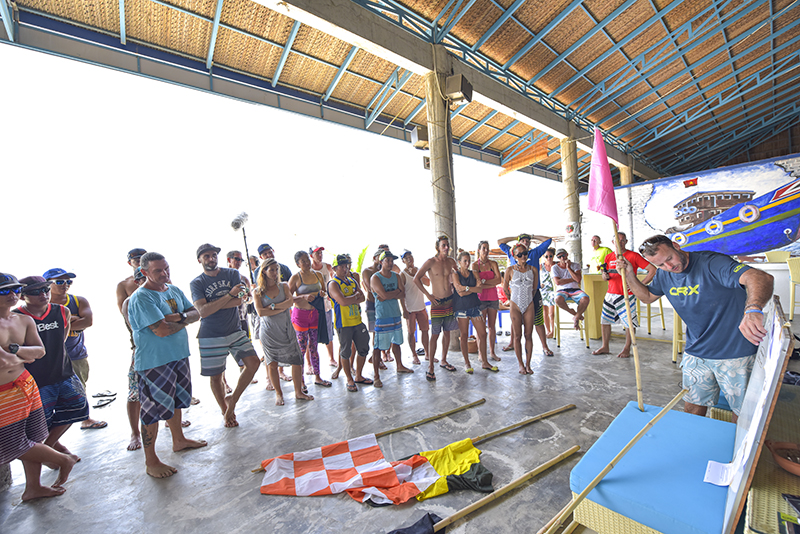 The CR:X was designed to be adopted in a club racing environment – do you see the potential for this to take off?
Our vision is to create a kite movement which will bring together people from all over the world with a common goal of kiting, having fun and setting challenges. To enable this vision to develop we will be setting up local chapters and ambassadors. The Chapters will be run by individual ambassadors, sailing associations or clubs, and will support training, races and freeriding at their local kite beaches and sailing spots. With the help of Chapters, the class will run local, regional, national and international events to include all levels and abilities.
At the heart of the Chapter is the Ambassador who is the torchbearer – the person that leads Chapter members for race training, weekly events, long distance races and fun introductory days. The aim is to give kiters an outlet to join together, share, look after each other on and off the water and help spread the word about our sport. CR:X is here to encourage inclusivity and accessibility, to grow the community and, most importantly, to put new feet on boards and get people enjoying kiteboarding.
CR:X was recently recognized by World Sailing as a Class. Can you explain what this means?
What a journey it's been! Late nights and long weekends developing and testing the CR:X while holding down my day job at Cabrinha as division manager. Exhausting is an understatement, it's been tougher than anything I've ever done before, but we freaking did it! World Sailing recognized the CR:X Class as a WS Class, subject to final approval by WS at the MYM in May. This probably means nothing to most people, but it meant a heck of a lot to us. There is still a long road ahead, but it's a massive hurdle overcome.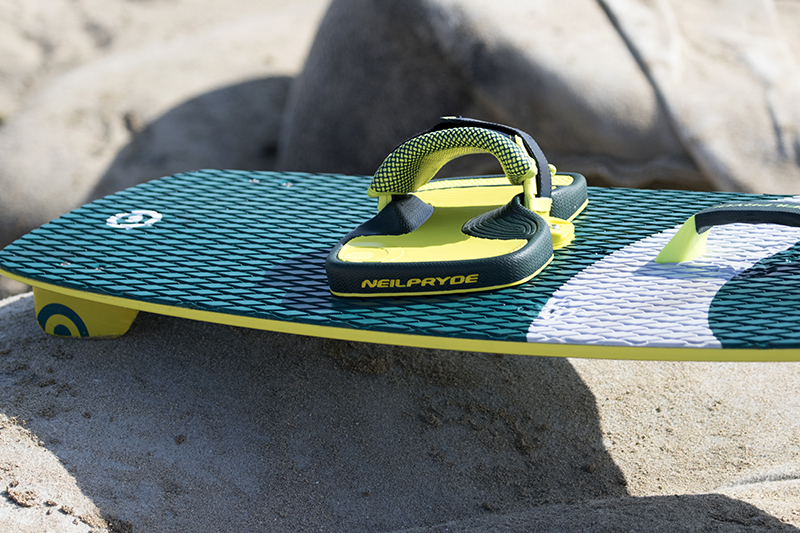 Is there scope to continue to tweak the package or are you locked in to it now it's been recognized by WS?
One Design means there are no changes allowed, that's it. So it will stay the same unless the members of the Class decide to change it. The great thing is that the Class is elected by their own members, they decide what to do with the Class and the modifications, so as a supplier we need to follow the guidelines of the members of the Class.
So is the eventual aim the Olympics?
CR:X is not designed to be an Olympic Class. It has been designed to be a Feeder and Pathway Class. We are not saying it can't be an Olympic Class, but CR:X's primary focus is to help people get into TT and Hydrofoil racing.
Competitive foiling has obviously really taken over on the race scene now with a pretty incredible increase in the technology and R&D driving the top guys ever faster – is your hope that this scene continues to evolve and the top pros then also begin engaging in the CR:X class and events?
The Foil Gold Cup and the Formula Class are awesome, it really is pushing the sport and equipment to the limit and we love this developmental aspect of the sport. The NeilPryde brand has been at the forefront of Formula windsurfing and kitesurfing for many years.
We do not expect the current generation of athletes in the IKA Formula Class to cross over to the CR:X – they are chasing their dreams of high tech development and evolution. The CR:X is attracting the grassroots community within the sport, and the local and national beaches will eventually have Chapters all over the world, where anyone can freely turn up and race in a fun environment with other like minded people.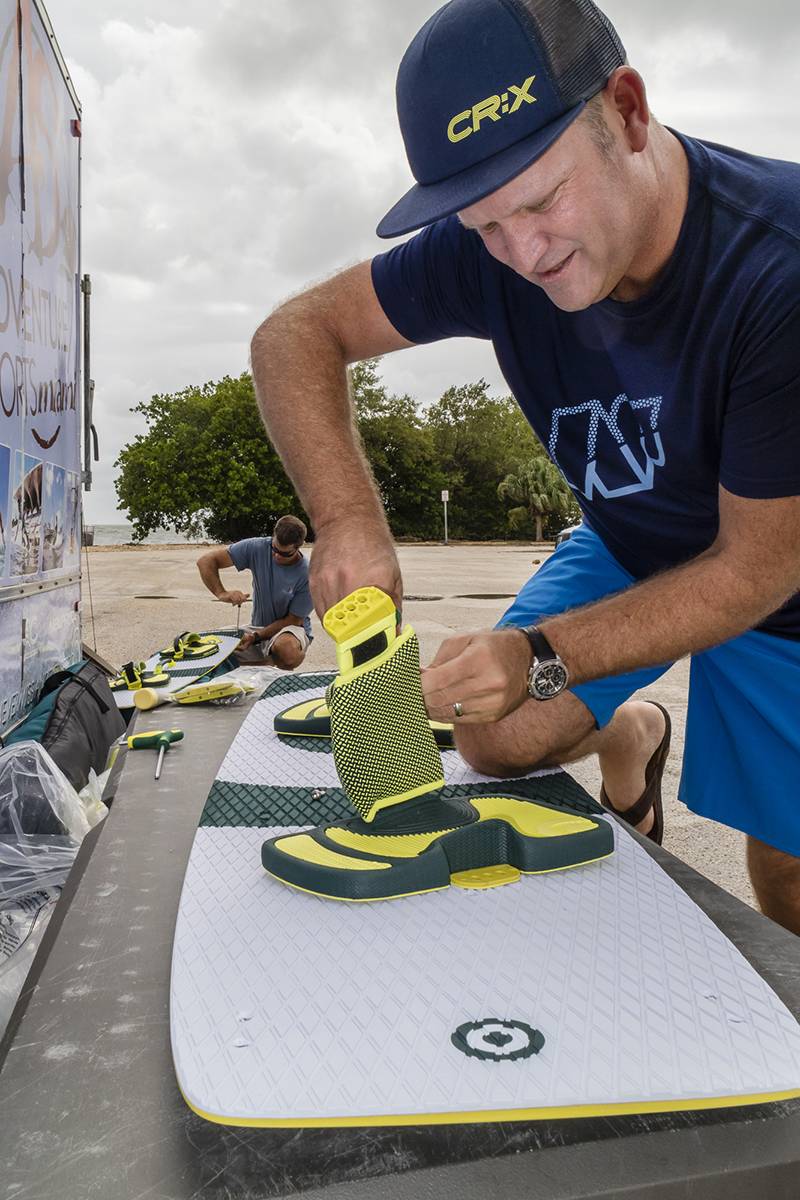 Can you take us through the next steps for the CR:X?
The goal is to develop racing at all four levels, with a strong international spread into developing nations. Our strategy is to focus on strong support for the first three levels of local, regional and national events. We need to make sure these are solid with a high level of participation.
And then there is also hope of bigger events?
Yes, on the international side it's an incredibly exciting time. We are in negotiations with a major sponsor to support an international championship with incredible prize money. The benefits of a major sponsor are that they can dedicate a strong media budget. This budget allows us to use digital technology to educate the viewer by making it easy for them to understand. The challenge with kiteracing in foil and TT mode is that it can be hard to understand, so our goal is to partner with a media team and sponsor who can make it easy for the viewer to follow and enjoy.
The future is wide open, it's so exciting to see the potential and be involved in the birth of this new Class and movement. The feedback so far has been amazingly positive, and we can't want to share it with everyone!
This article first appeared in issue #16 of TheKiteMag. To subscribe, head here.
Photo: Claudio Beier