Since his first trip to French Polynesia, Reo Stevens has had a special connection with the region. He has returned several times and his latest trip took him to the Tuamotu Archipelago. Home of the kind of flatwater perfection you probably dream about as well as a slightly un-nerving number of sharks…
Words and photos: Reo Stevens
I first got to experience the French Polynesia back in 2014 aboard The Cabrinha Quest's catamaran Discovery. I was working aboard the boat as the resident coach (how I began kite coaching) and had the opportunity to explore this region for surf and kite potential over a two-month period. I had heard rumors of the outlaying islands off of Tahiti and the other Society Islands holding some of the best surf in the world but that they were too unreliable and inconsistent to ever go there specifically for surfing. Turns out this rumor was true – there was a surf charter there years ago but it failed due to the inconsistent surf. But what I did find was consistent in the northern atolls were trade winds. These steady trade winds bring a number of cruising vessels into the area to experience what the stunning location has to offer.
The northern area of French Polynesia is made up of the Tuamotu Archipelago. It is a group of almost 80 islands and atolls about 500 miles north east of Tahiti. It is a part of the governing body of French Polynesia and is the largest chain of atolls in the world. It also holds the two largest lagoons in the world. Their economy is based on small amounts of agriculture of copra (dried coconut kernels used to make oil) and vanilla bean. There is also a strong presence of pearl production located on a handful of atolls. A few atolls are dream destinations for recreational SCUBA diving and snorkeling.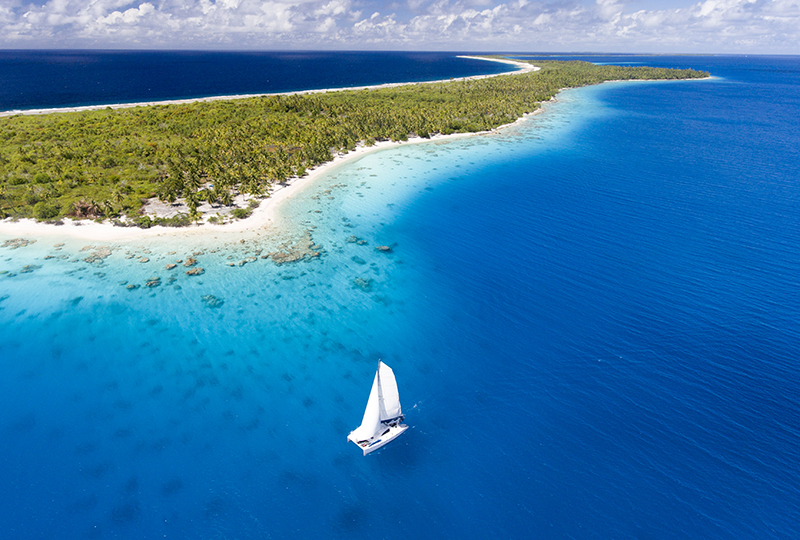 Because of the lack of tourism in the area there is a lack of accommodation. Far from the luxury resorts of Tahiti and Bora Bora, most accommodation options are limited to the local 'pensions' (bed and breakfasts) which are usually located at the reef passes and only catering to the diving tourist, leaving the reality of traveling there with the intention of kiteboarding nearly impossible without a boat.
My experiences over the two months during that first trip aboard Discovery left me dumbfounded by everything that this place had to offer and I realized that I had lucked into the perfect vehicle to experience this location.
I had to come back, and I had managed to one more time since then. I knew other people would want to join me, but because of the logistics it wouldn't be easy as you needed a boat and – although there are some up there – there aren't any to charter.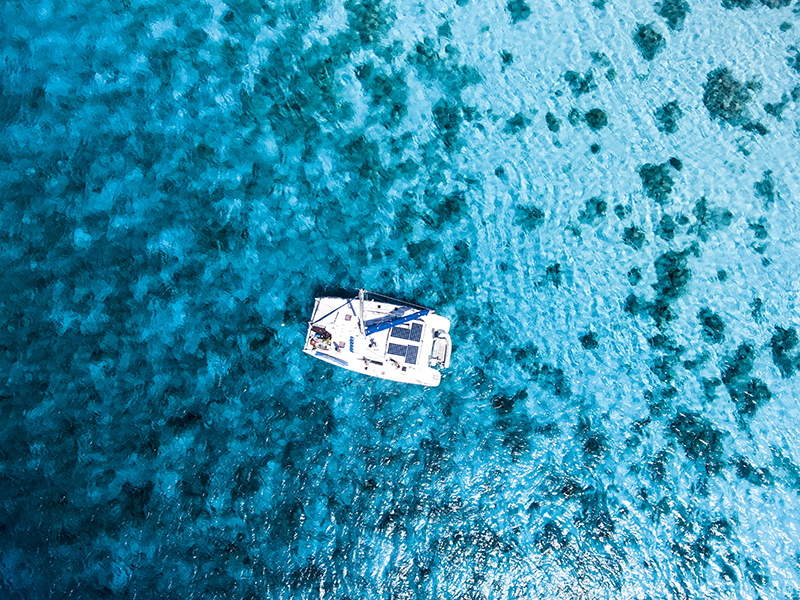 It wasn't until recently when I started the Reo Stevens Coaching program and began the idea of providing kitesurfing trips myself that I was actually able to put together the logistics of bringing people there to experience the same "specialness" that I had experienced myself over the previous years.
Here's a glimpse into what the remote locations of French Polynesia has to offer:
The Disconnect:
There's not much in the form of connectivity in this part of the world and what little is offered is unreliable enough or slow enough to only frustrate you and waste your time. It's a bittersweet taste but separating from the rest of the world allows you to reconnect to things that matter most at any point in time – the people and world around you. I'm not going to lie to you, connectivity withdrawals are real, it's a concept that you laugh at when you first think about it but you find yourself reaching for a phone in your pocket every 10 minutes only to realize that it doesn't have the ability to do much more than snap a photo or play a song that's on its storage. But the bitter turns to sweet after a few days when the need subsides and you begin to relax and settle in and truly experience what this location has to offer without distraction. After all, you are on vacation! Enjoy it.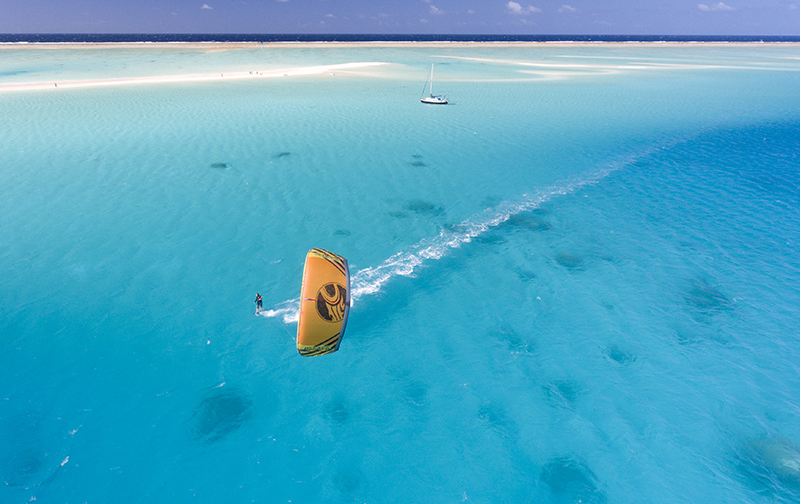 The Kiting:
The thing about atolls is it's always offshore somewhere – and in the Tuamotus that just means that you need to find an area with a big enough of a gap in the endless palm trees that the wind can freely pass over the land to find your next personal kite spot.
French Polynesia offers some of the best flat water kiting in the cleanest and clearest waters I have ever seen – and due to its remote location, no one is around. Picture perfect in almost any direction you look, with a warm, steady 20 knot breeze. It's a kiteboarder's nirvana.
Not every atoll is set up for kiteboarding but a few of them are ideal. They offer miles of offshore, butter smooth conditions for you to go exploring. The advantage of these locations on a kite is that the extremely shallow draft of a kiteboard allows you to go in to areas that no other watercraft can get to as easily or quickly. Imagine blazing full speed over clear water and white sand while small sharks and rays scurry away – it is a remarkable experience. When you're done exploring your new kite spot, the butter smooth waters offer you the perfect opportunity to work on your turns and jumps with no chop in sight to distract you or make you lose an edge.
Kite session done? Just need a break? Head back to the anchored boat, park your kite off the stern and sit back in the shade recharging your body while your kite sits waiting for your next session. Can it get any better than that?!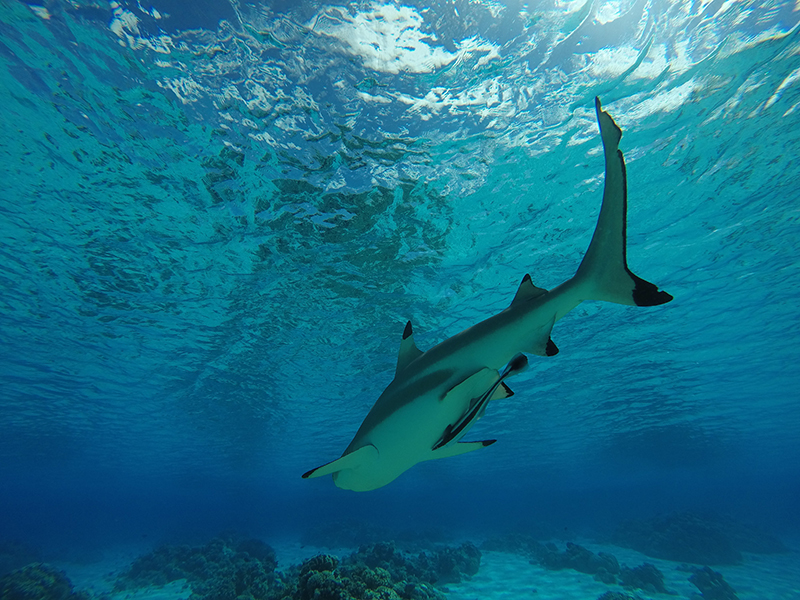 Becoming Accustomed to the Uncomfortable:
"SHARK! Everyone get out of the water!" A typical line that you hear in many a Hollywood movie that has given them the stereotype of man-eating killers – which is just absurd. Sharks offer a stigma of danger but in reality most of them are more afraid of you than you are of them or simply don't care two cents about you. If one comes a little too close to you, a simple look at them can be enough to scare them in the opposite direction.
One atoll in particular has a massive amount of shark life. It's something that actually attracts a lot of scientists to the area to study them and to discover why they congregate in this area in such a large number. When we first arrived it was a bit daunting when you see more sharks than you could quickly count at one time. During the first few days, it was the typical, "Wow, look a shark! Check it out!" which turned into, "You go for a swim, I'm not going in". To eventually just accepting them as another fish in the ocean and realizing that they were fine to be around and swim with and didn't really pose any danger at all.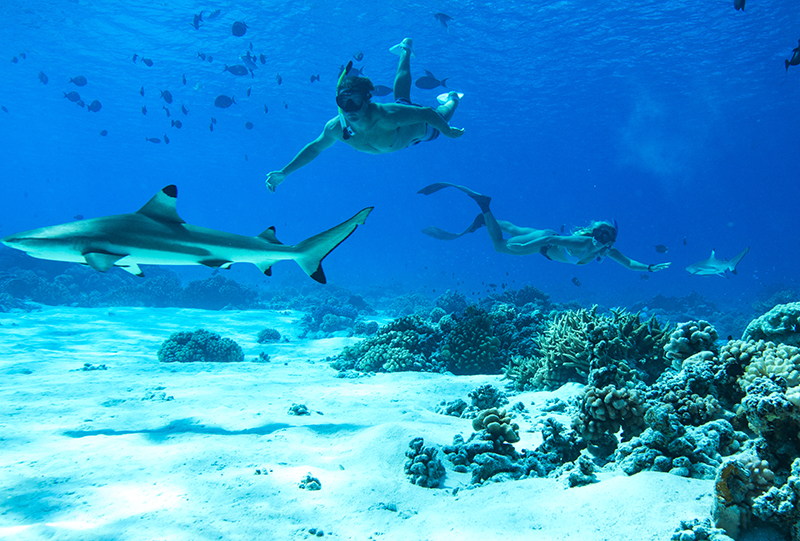 The Wall of Sharks:
I'm not much of a scuba diver and have only done it a handful of times. It was something that I just didn't really enjoy as the added equipment and the constant blow of bubbles in my face really distracted me from the overall experience of being underwater. So I've always just freedived when I've explored the underwater world. However, one of the passes we were anchored at was known for its "wall of sharks".
At any given time, you can find large numbers of reef sharks schooling and swimming almost stationary in the strong current. Most of these sharks are no bigger than 3ft (one meter) and are either black tips, white tips or grey reef sharks.
The wall of sharks was about 60-70ft down from the water's surface, which is within my personal freedive range but I would not be able to stay down there long enough to appreciate and really observe the sharks themselves. Scuba was necessary and this was one of the few times I actually wanted to strap a tank on my back.
The dive was incredible, we found a cave in the reef that we could fit into and "hide" like a fish from the sharks, allowing them to come closer and fill our field of view – we called it "Shark TV".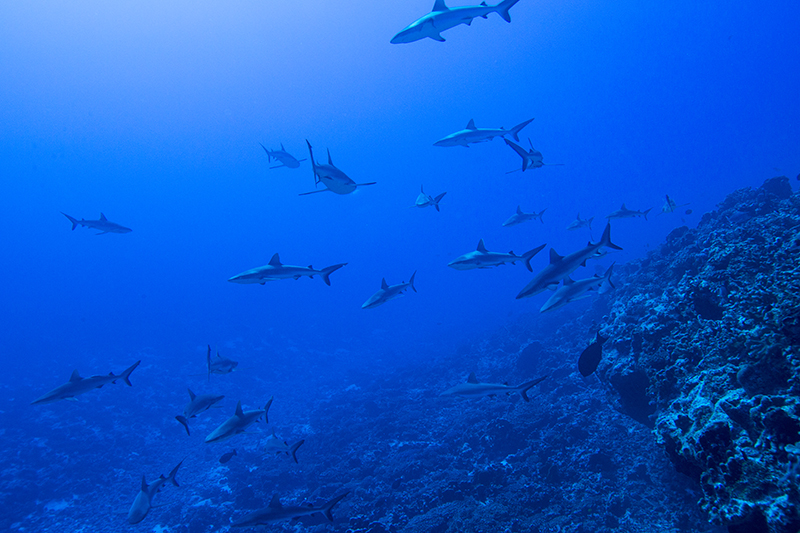 Unexpected encounters:
One evening anchored in the pass we were all relaxing after a long day of diving when we noticed some action in the water near the shallows. It's not uncommon to see a little bit of "action" in the water from time to time, but this was a lot of action. We put our evening "sun-downers" down on the table and walked up to the bow of the boat to see what exactly was going on. There were countless sharks in the shallows in a frenzy. We've been in the area for a week and hadn't seen anything close to that type of activity. What was happening was the reef fish were spawning, attracting all the predators in the area to this one location to feed. Not just sharks but all the larger reef fish, as well as two massive dogtooth tunas! You never see those in less than 50ft of water and they were right there at the surface! Amazing to see.
For about 20 minutes the surface of the water was in a state of chaos with fins going in all directions, darting and weaving, going after the spawning fish. It was an amazing sight and something that we would've all missed if we were not there staying on the boat.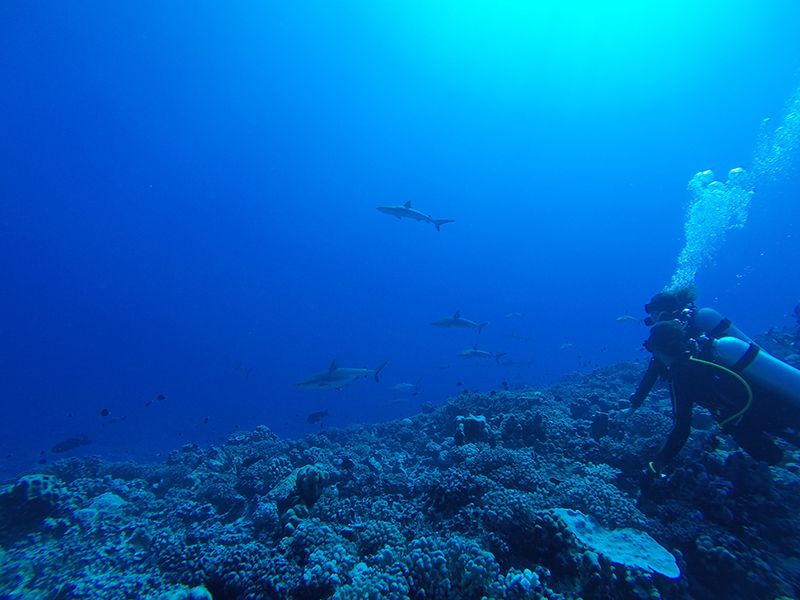 The South Pacific is one of the most amazing places in the world, with three of my favorite destinations in the world being located there – French Polynesia being one of them. There is still so much left to see and will keep me coming back for years to come.
For more info on how you can experience this place yourself check out reostevenscoaching.com
This article originally appeared in TheKiteMag #23. To subscribe, go here.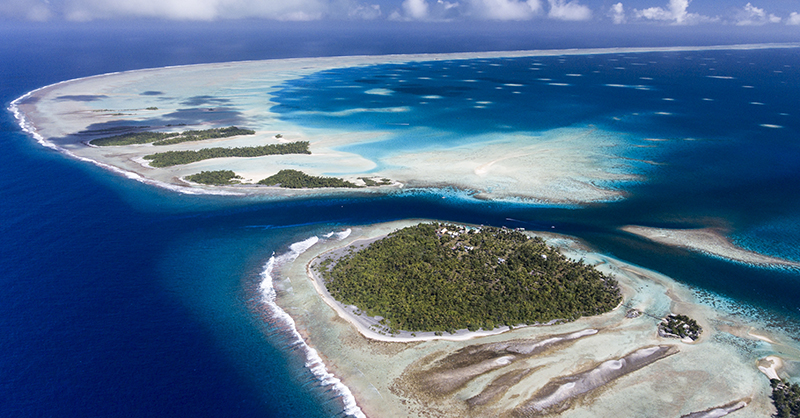 To travel to places like this or others, visit www.kitesurfholidays.com