When life gives you lemons, make lemonade. So says CrazyFly team rider, filmmaker and photographer Laci Kobulsky, who gave us the lowdown on the 2021 CrazyFly product photoshoot. This would normally take place in tropical climes, but this year happened in Sicily instead. Seems an adequate substitute to us.
Words and photos: Laci Kobulsky
---
It was late January and plans were set for the photoshoot in Egypt in May – we booked flights, hotels and a boat – life was sweet. Two months later and the world was in chaos: borders closed, flights canceled, and orders stopped. We had no idea what to do, and given the situation, we not only canceled the 2021 photoshoot, but put the whole 2021 product line on hold. No orders means no business, and we had absolutely no idea what would happen.
A couple of months later things were looking a little brighter. We realized that just maybe we could come out of this alive. People started to crawl out of their homes and do fun stuff again. I did some kiting in my home country Slovakia for the first time ever, and boy was I surprised at the beautiful spots we have. Sure, conditions were not always on par with Brazil's standard, but safe to say I scored a few solid sessions. One spot in particular took my breath away – it was a small fishing pond my friend Erik found on Google Maps under the High Tatras. I took a few nice shots there and suggested the idea to the CrazyFly team of doing a mini photoshoot in our home country.
To my surprise they told me they were actually super busy! They had not expected it but suddenly the orders came rolling in. Apparently, instead of going on vacation people were deciding to invest in new gear. CrazyFly reinstated the 2021 line, but like some other brands, divided it into two releases – one summer release and some products for the winter. I looked forward to receiving the new products to shoot. Producing a new range of products after a pause takes some time and the new gear arrived on my doorstep in mid-July. The problem is that summer tends to have very light wind in Slovakia, so the wait began. We had one day with possible wind and we went for it, but unfortunately it was not really strong enough. We could just about ride and got some ride-by photos, but this was far from a proper photoshoot.
At the beginning of August I had to travel to Sicily for a job, so I suggested taking the new gear along. In Sicily things were looking more like the normal world so I called CrazyFly headquarters and requested some riders to shoot with. Given the restrictions, we could not bring the star Posito Martinez from the Dominican Republic, so the job fell on Liloo Fourré and Alex Meindl. I quickly drafted a plan on where to go – I wanted more remote spots with some nice color in the water so we could get some of that tropical vibe! In fact, the spots we found were really sick and I'm not sure we would have found better conditions for kiting – even in the Caribbean.
For two days we went to a place called Capo Feto in western Sicily, with nice shallow water and steady wind, and one day we had stronger wind at a wave spot called Puzziteddu, although we had no waves on that day. On a normal photoshoot we have more people to help – a photographer, filmmaker, assistant, driver and so on, but now we were down to three people – Liloo, Alex and myself. Sure, it was quite relaxed not to have our bosses looking over our shoulder, but when it got windy, things got hectic. We took turns behind the camera, holding the flash, flying the drone, kiting, driving and cooking (well, mostly restaurant choosing…).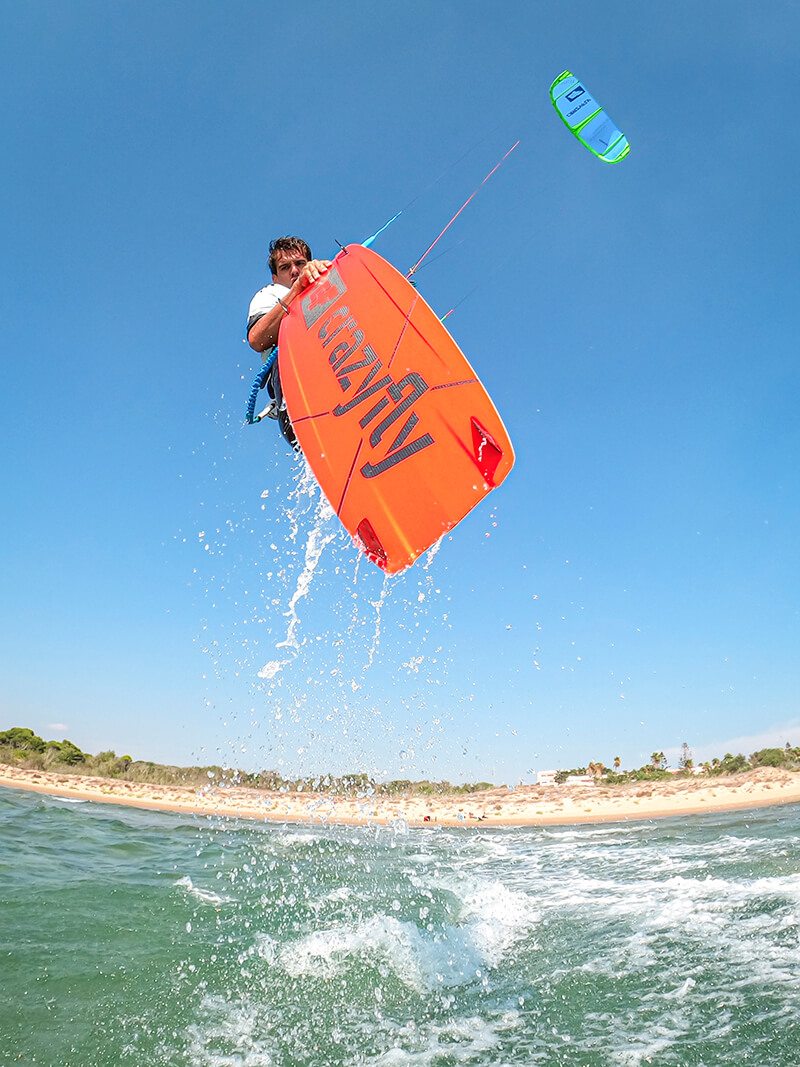 "THE SPOTS WE FOUND WERE REALLY SICK AND I'M NOT SURE WE WOULD HAVE FOUND BETTER CONDITIONS FOR KITING – EVEN IN THE CARIBBEAN."
All in all, we had a great time and to be honest it was a nice change to have a smaller, more relaxed photoshoot. But I am really looking forward to next year, and have my fingers crossed hard that the world is in a better place so we can yet again venture to some paradise location and discover new spots. See you at the 2022 photoshoot! ■
This feature originally appeared in TheKiteMag #40. To subscribe, head here.