Kari Schibevaag finds more sublime Scandinavian spots close to home. This time a tiny island with apparently endless opportunities for anyone who enjoys spending time in the water… which – as we know – Kari does.
If you head to Norway, to Vestfjorden in Lofoten, approximately 8 kilometers away from Svolvær, you will find a small and beautiful island called Skrova. The island is actually less than four square kilometers in size, and only 190 people live there. It is a fishing and whaling village and has been on my bucket list for a long time. It is only an hour-and-a-half away from where I have my mini house at Flakstad, but for some reason I've never found the time to go.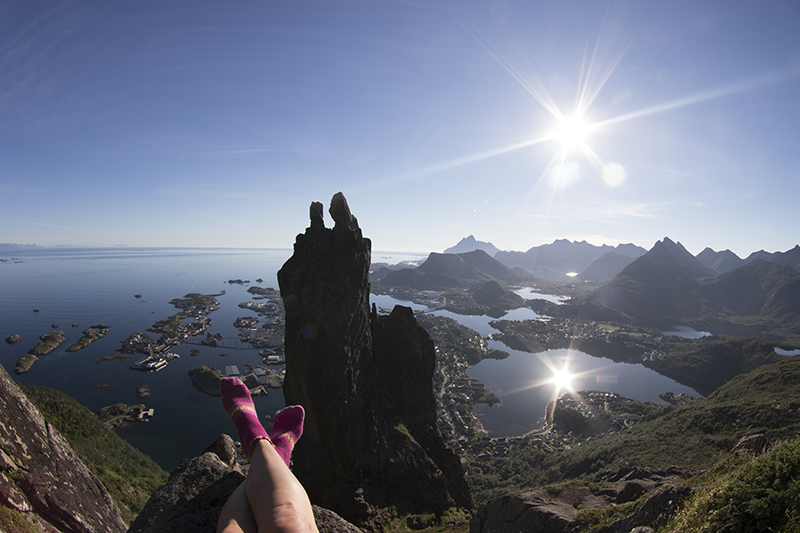 Truls and I checked it out on Google Maps and decided it was time to finally go there. It looked like the island had several good kite spots with many small white sandy beaches so we packed my old campervan and drove from Flakstad to Svolvær to do some hiking in the region before heading over to the island. I brought my van because it's my house when I travel, but you don't really need a car if you want to visit Skrova. You can catch a boat from Svolvær and sleep in a tent, rent a room, or rent a fisherman's cabin (also known as a "Rorbu").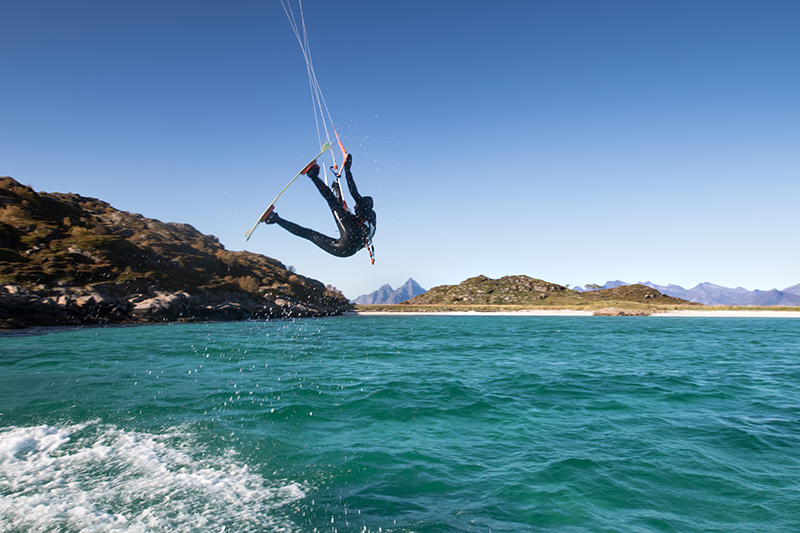 Before hitting the island, I decided to take on one of the most famous hikes in this region, from Svolværgeita to Djevelporten. You have to climb the last part, so getting a local guide for this hike is recommended. The view from Djevelporten is amazing and you can actually see Skrova from there. I sat on the top looking out over Skrova together with Truls, and was it great to think that I would soon be taking the boat out there…
Depending on the season, the number of boat departures changes. We traveled in September which is a busier season so the boat has departures every day. The boat trip was really short, only 30 minutes or so, and it was a beautiful trip and I really enjoyed sitting there watching the island coming closer and closer.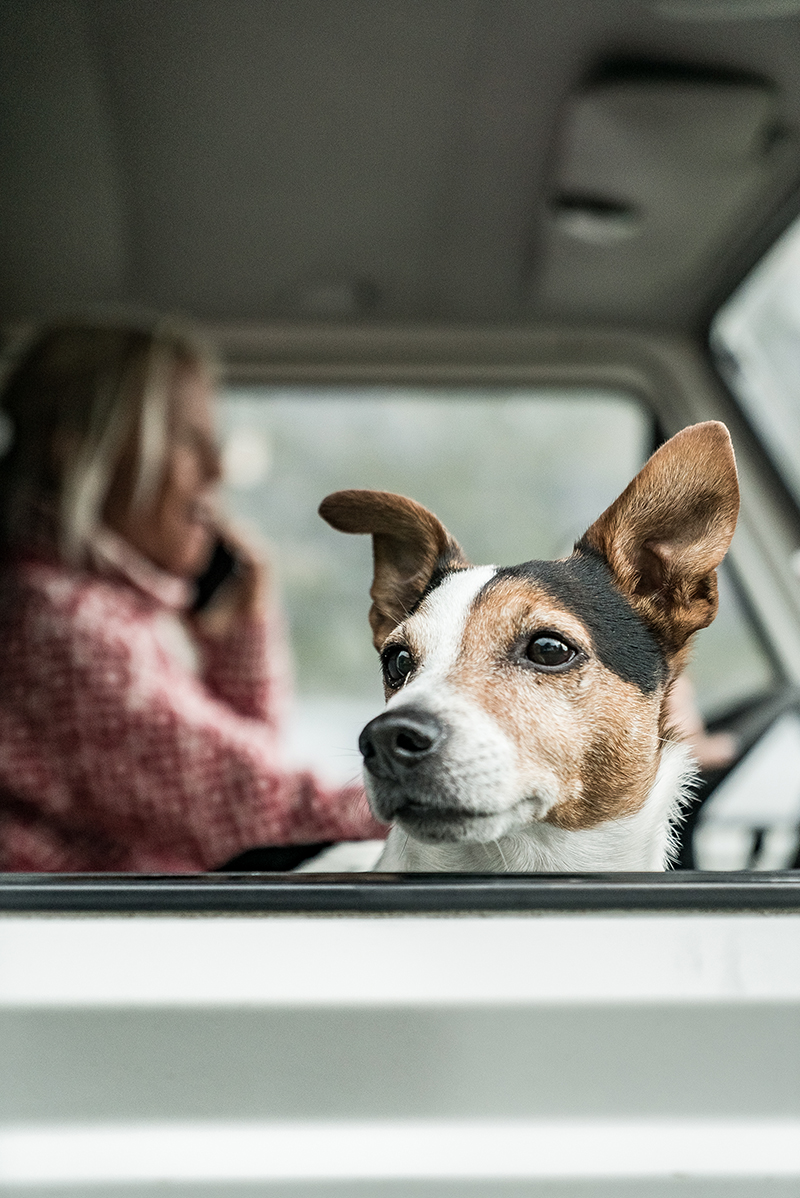 I was going to meet some friends at Skrova, but they were still back at the mainland when I arrived at Skrova, so I had some time to kill and thought I would take a drive around the island. I was a little surprised when it took only 10 minutes to drive around the whole island! However, I didn't see access to any beaches and was wondering how to get out to them?!
I decided that I needed a higher vantage point, so I stopped by a mountain, Skrovafjellet, that is 281 meters above sea level. It's the highest mountain on the island, so I climbed it to get a good view. When I reached the top I could see the beaches and the crystal clear water. I knew then that this was a paradise for kiters. The only problem was – how do I get there?

I went back down to meet up with my friends who had arrived with the boat. I told them what I was thinking about the island and they told me that it would be easy – with a boat – and luckily for me, they had one!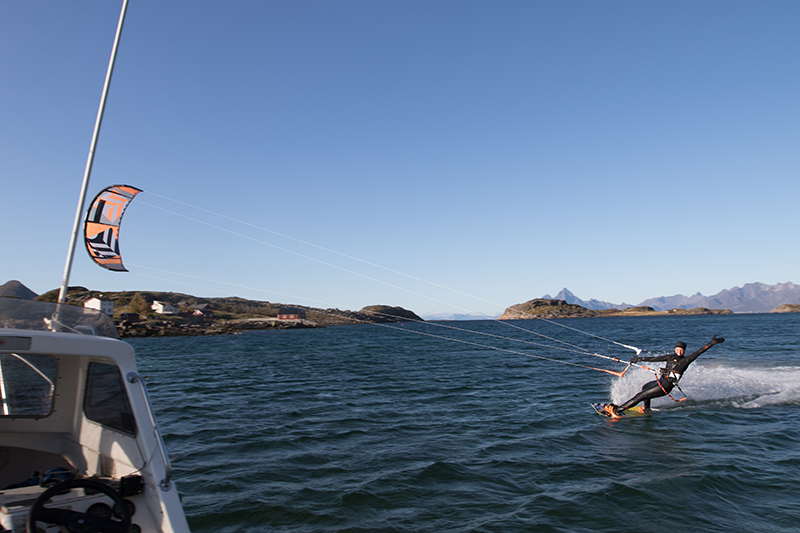 We went out with a boat that night to have a first look around, and discovered that the island is good for so many activities. Diving, fishing, kayaking, SUPing and kiting, just for starters. The next morning it was windy and I knew I could kite. I was excited to get out and placed my kiting gear in the boat. It was hard to decide what beach to stop at, so we started at the top and kited from beach to beach with the boat following behind. It was cool to cross around between the islands and getting to a new beach with just a short distance to travel. The water was crystal clear, and I found spots with super flat water. What a day it was!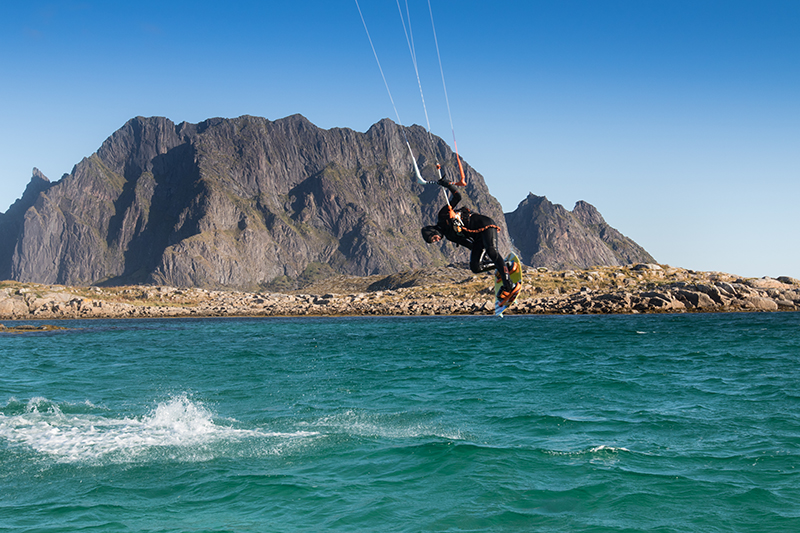 After experiencing Skrova, I knew that I wanted to go back there, so I started planning a kite camp there with my friends. We are arranging the 'Sea Skrova Festival' and I will be taking the kiting lessons and the kite gathering. 

I am looking forward to getting back to the beaches and this island and I'll bring my tent so I can sleep out on some of the smaller islands outside of Skrova. The good thing is that the sun is shining almost 24/7 this time of year, so it is even possible to go for a SUP trip or have kite lessons in the middle of the night… It really is an island with endless opportunities.
This article originally appeared in TheKiteMag #27. To subscribe, go here.