La Ventana has a rep as flat water nirvana with a side-order of occasional wave riding (if you don't mind a bit of a drive). It doesn't have a rep as a park riding destination. What did it take to change that? Just a group of long-time La Ventana visitors, a few tequilas, some motivation, and a few long days… And, as you will see in the next issue with Brandon and pals, they nailed it, and now even have a park event lined up for 2019. Choco Park founder member Fritz Otiker takes us through the project.
This isn't a story about massive cactus fields, tasty fish tacos, the ever so welcoming Mexican culture, reliable thermal winds, late night desert parties or the amazing wind sports community. Nope. This is a story about a group of friends, coming together from all over the world to contribute something to a small kiteboarding community. Why? Well, the obvious escape from our problems outside of our 'bubble'. Then there's kiteboarding too. All in all, the main attraction is our community in La Ventana, where we call our camp the Friend Zone.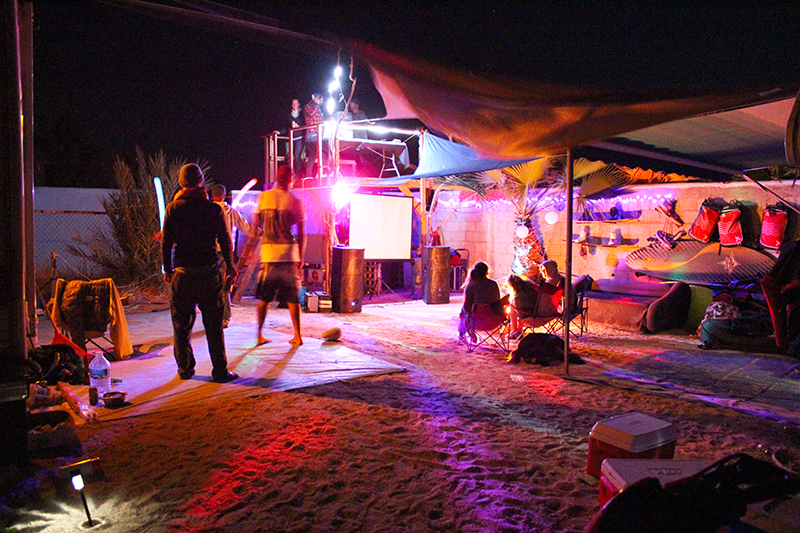 The Friend Zone is all about – you guessed it – friends. And we have an abundance of them. Talented, beautiful, brilliant people from all walks of life. Connecting in some way or another through past life experiences and the various activities available in LV. It's not like what you may encounter at other kite destinations. We are a group that accepts everyone for who they are. And this year we wanted to do something new to improve our already world-class kite set up.
First we talked about it, then we talked about it some more. The drinks flowed, the waterfall of tequila dripped down our chins and we sprinkled in some desert antics before we decided what to do. Once that was out of the way, the decision was made. The Choco Kite Park was it. We began brainstorming it in full detail. Fast forward two seasons after the Friend Zone was created, and there lay our pile of wood from a palapa deck we had built during a previous season. It was a sufficient amount of materials that could be re-purposed into a kite park feature. All agreed that it would be best used as a slide-up into a long rail. Leaving us with enough wood left over for a small ollie-up rail.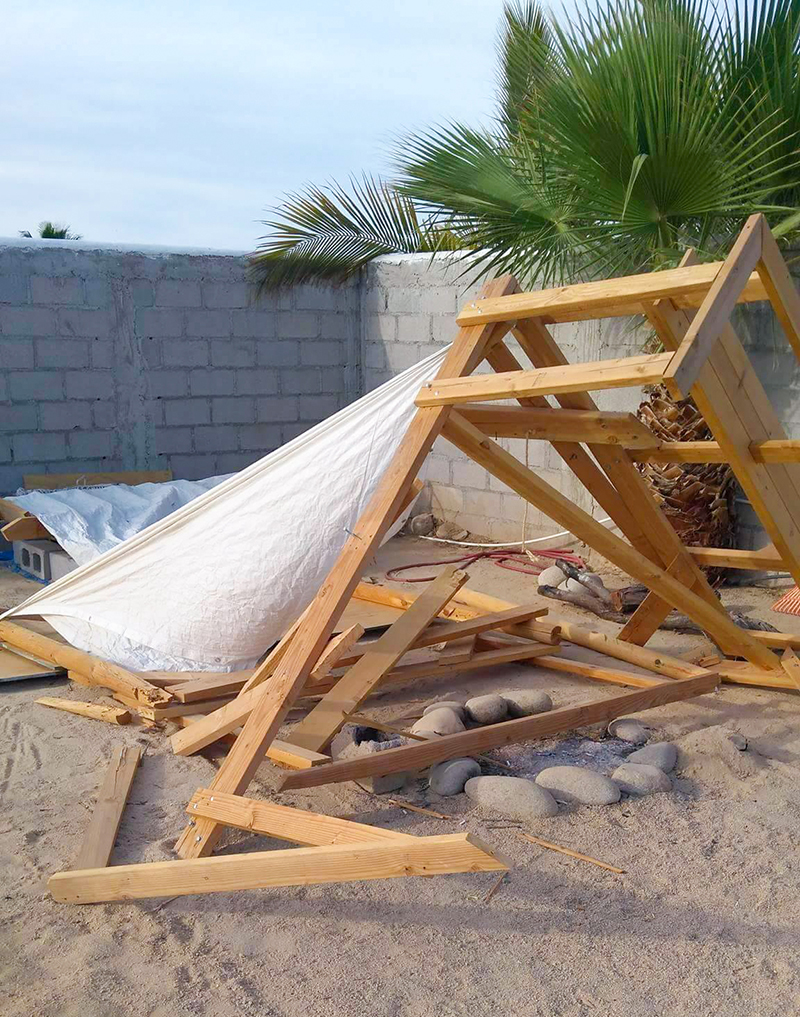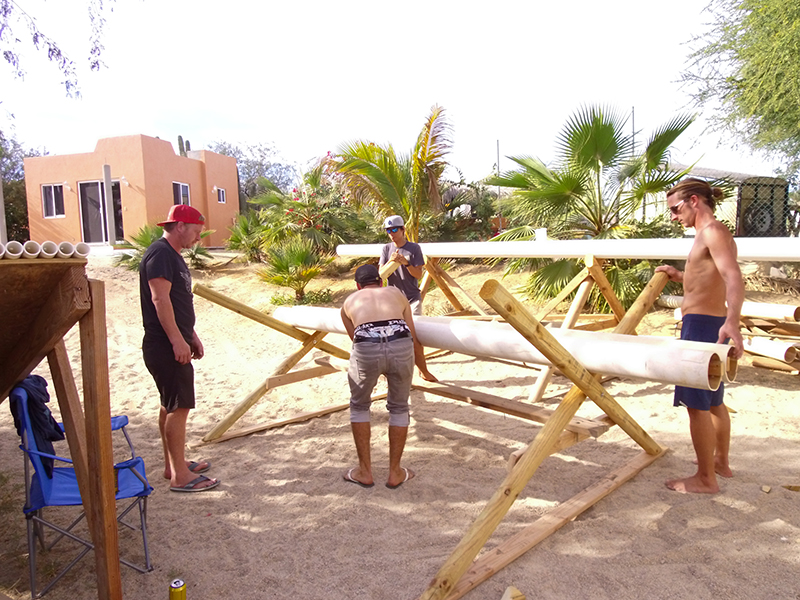 Then Kris Kinn had an idea for a kicker and contact was made with Dave Groves in Los Barriles who had a kicker buried in the sand at the beach. It had been sitting there for over six years and – thanks to Dalaney's LV Beach Resort and the use of their truck/trailer – we were able to dig it out and transport it back to LV.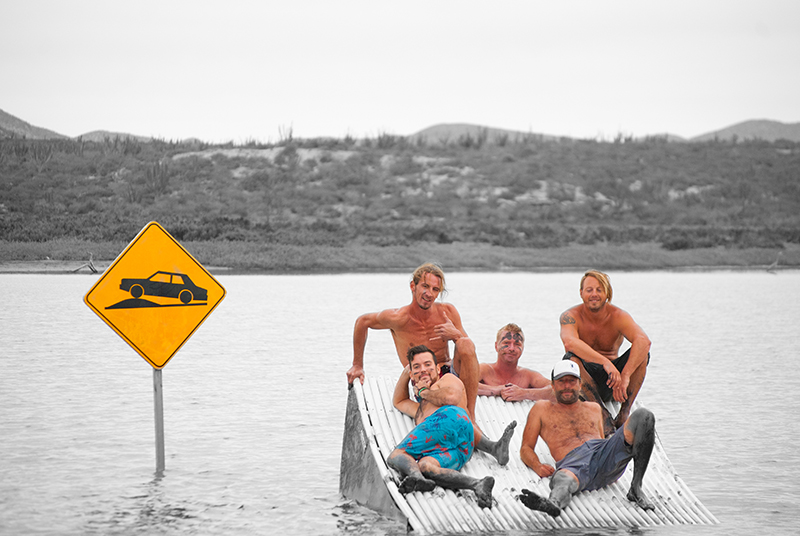 Problem Solving
Our plans for this park were loose, but as the project progressed, suddenly started to take shape. Luckily we had all the help we needed located at the Friend Zone and the crew were ready to make this dream become a reality.
Location, money, materials, labor and transportation were the five major road blocks we encountered. Choco Lake was already our flat water freestyle lagoon and it could easily hold ten riders if we separated the features properly. It was the perfect tidal lagoon, isolated from town and away from the ever growing crowd on the water in La Ventana. Plenty of room for us to stretch out our wings and give this park build a go. Finding the tubes and stainless steel fasteners proved difficult in a small Baja town, so we had to get crafty by tapping into the local network.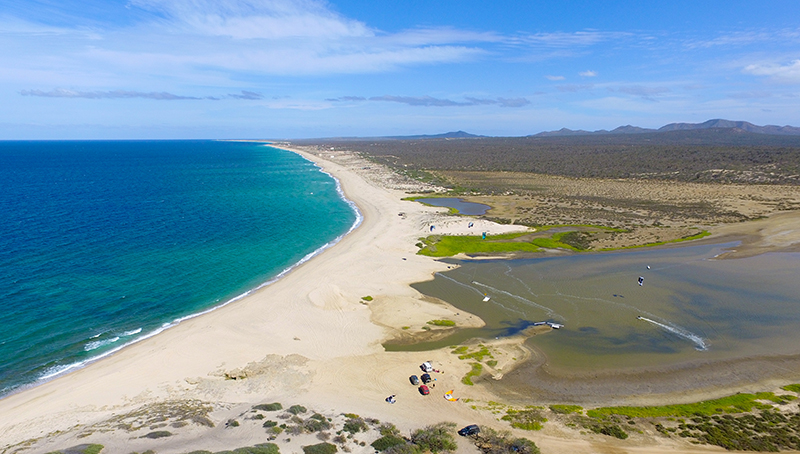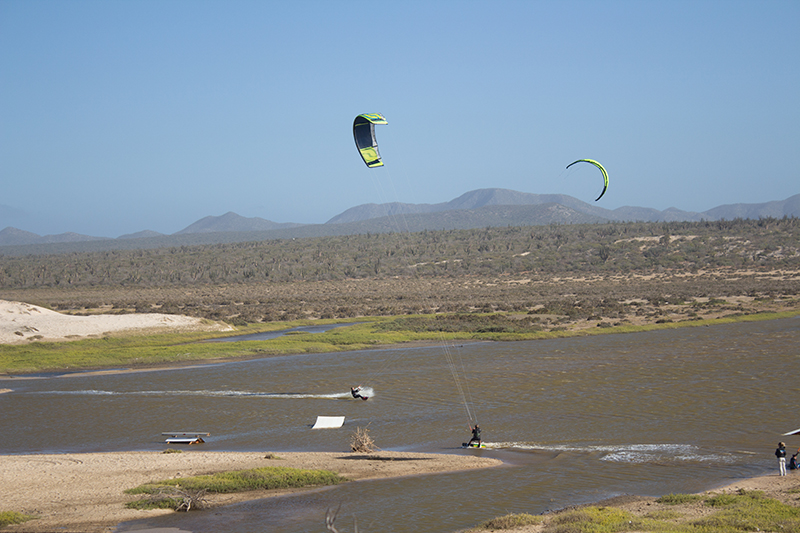 Time was ticking and a lot of work had to be finished, but once we built the features and made the drop happen, riders started to hit them full force. It was like an explosion of breakthroughs and progression for each rider. I've never witnessed anything like it before.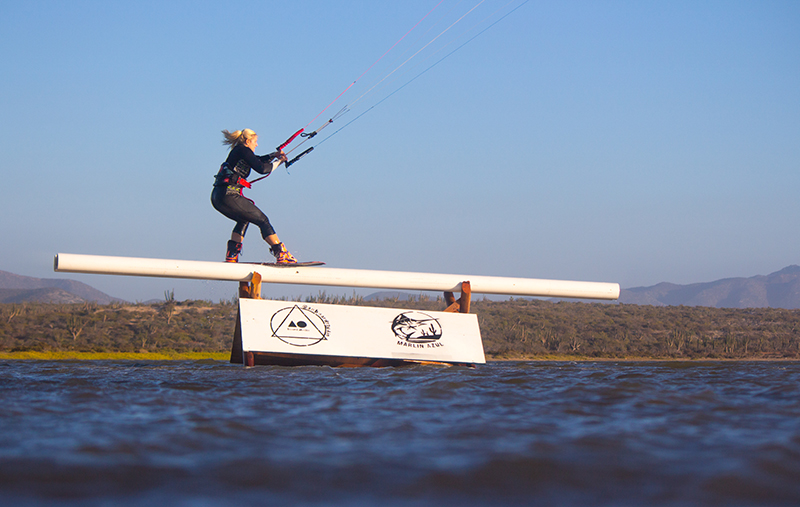 Even guys who had never unhooked before were stepping up, hitting all of the features. We finally had the comradery of the same spirit and energy, nestled up into one place. We took our 'individual' sport and made it a fun, collaborative team activity. Critiquing each other while waiting your turn in rotation was the norm. Not to mention there was a fifty-fifty chance the peanut gallery would remind you each time you 'kooked out' or cheer you on if you stomped a trick.
New Friends
When the park build started, we weren't quite sure if anyone from town would come and whether or not we had the full support of the kite community. Let's get real, it was way out in the middle of the desert and no one was 100% confident if their vehicle would even make it through the fifteen minute journey. But, much to our surprise, the La Ventana community rose up in full support of the project. We even received a visit from a bunch of pros who wanted a taste of the action…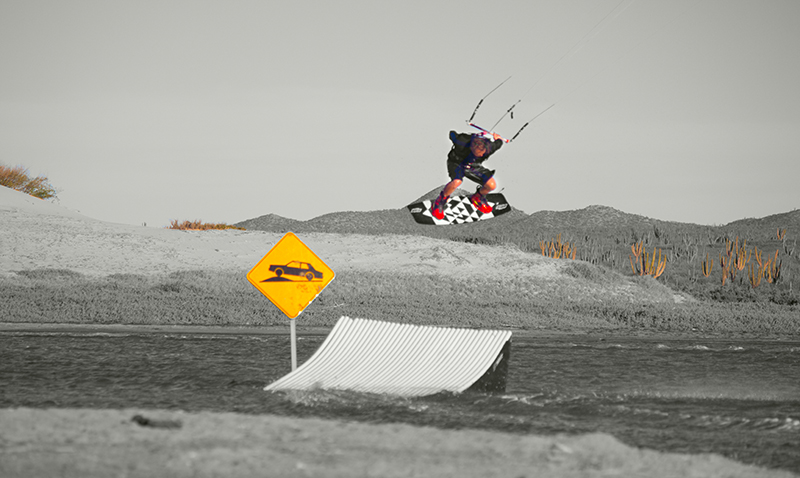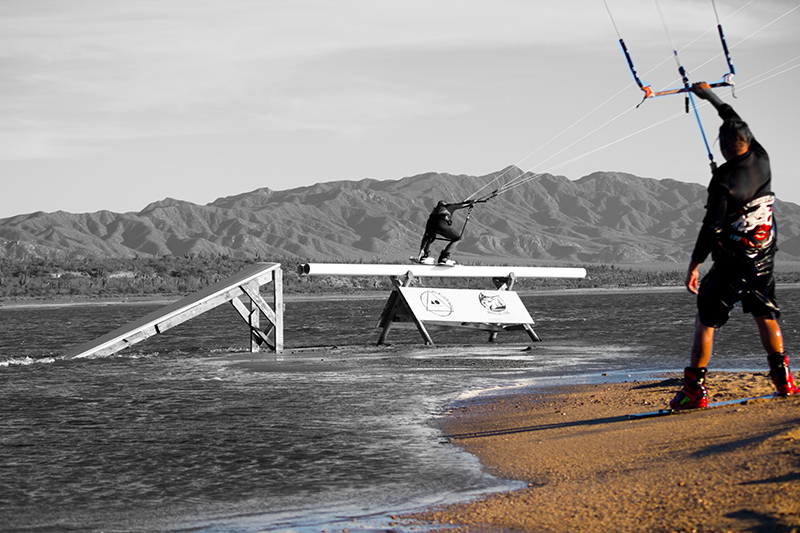 A lot of lessons were learned from building this park. It brought all of us together to one location, cheering, teasing and pushing each other's skills beyond our comfort level. Our main takeaway from building a kite park was: it doesn't happen overnight. It's a labor intensive process. You definitely need a team of people that can dedicate their time to it. These trials and tribulations have allowed us to better plan for our second season of the Choco Kite Park. So much so, we will be hosting the Baja Kite Park Showdown January 11-13, 2019. Held the weekend before the La Ventana Classic Kiteboarding Competition… Onwards and upwards!
This article originally appeared in TheKiteMag #28. To subscribe, go here.