Aside from being one of the most successful riders in kiteboarding's history, Eric Rienstra also has a rep for being a passionate advocate of the perception and reputation of the sport. It really does matter to him. He's a popular guy and we were inundated with questions for him from other riders, although you'll need a basic grounding in the politics of Game of Thrones to appreciate a few of the answers…
Photos: Toby Bromwich
Jason Slezak: How big do you see the Kite Park League getting and how much do you think it will positively affect the park niche of the overall sport of kiteboarding?
I see the Park Tour eventually getting as big as the Freestyle Tour. We have already seen Freestyle World Champions like Christophe Tack, Aaron Hadlow, and Karolina Winkowska make the switch, and more freestylers are trying it out every year. I am hopeful that this will increase the number of parks around the world as well as increase the marketing value of all the park riders, resulting in bigger sponsorship contracts and more park related products being produced.
Rich Sabo: How do you stay so calm and poised without your signature dreadlocks?
My dreadlocks were simply an outward visual representation of my inner self, not the other way around. The release of the ego and self-image by just looking the way you are without trying or worrying how people perceive you is the whole point. So to say that the lack of them would cause me to be any different would be a contradiction to the whole philosophy. They did however help a ton in projecting a counter culture vibe that both attracted likeminded people to me and kept the douche bags that care what you look like away. Now I feel like I'm under cover and I actually have to talk to people to find out if they are cool or not…
Ewan Jaspan: Can you give us a quick rundown on how kiteboarding is like Game of Thrones?
Well, there are a bunch of different factions all trying to claw their way onto the Iron Throne but no one seems to be able to stay there for long!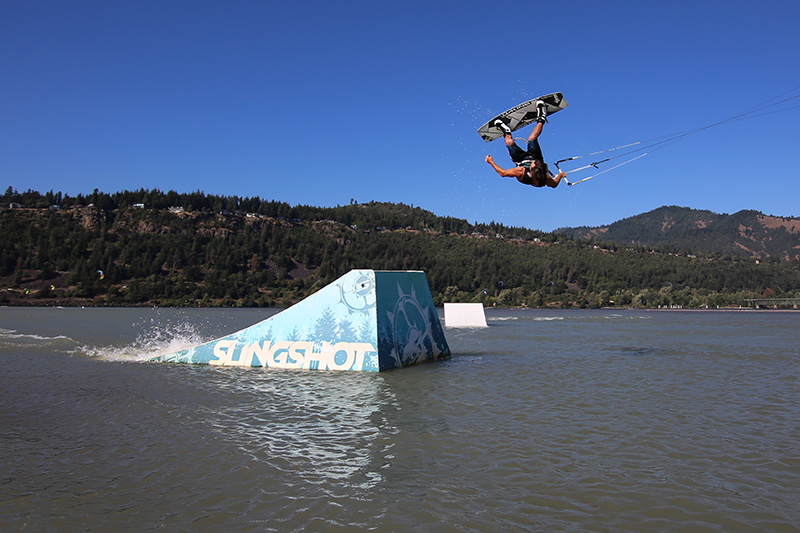 Noè Font: We haven't seen a video part from you in a while? Are you planning on stepping it up from Fully Automatic?
Well my riding has stepped up a bit, but with all the events and traveling I have been doing lately it is hard to find time to stay put and have a videographer like Nate Appel around. I've been shooting a lot of quick edits here and there, but because of the terms of my sponsor contracts I try to focus on photos more these days.
James Boulding: Top 3 tunes for hitting a kicker?
Frick Park Market – Mac Miller
Bang Bang – Swollen Members
Nature of the Beast – Mad Child
Reo Stevens: Last time we spoke you filled me in with the major dysfunctions going on with all the different organizations in the sport. What do you think now?
Yep Daenerys has landed in Westeros! The Seven Kingdoms will soon be united once again.
Craig Cunningham: Where do you see the sport of kiteboarding going in the next few years?
Going big, so big waves, big sliders, and big air!
Julia Castro: Eric, what do you think about politics in 2017?
Politics these days is making me want to just kill everyone and let the Earth go back to the way it was before humans, but that is exactly what 'they' want: Divide and conquer! The destruction of community is the first step for a fascist overthrow of Democracy. If everyone lives in fear of each other, that's more power to the system and less to the people. The cries of people that actually try to make things better from within our political system, like Bernie Sanders, fall on deaf ears. So I'll just keep hiding out in the flow state and pretend there is no one else on Earth…
Colleen Carroll: You've been one of the most nomadic professional kiteboarders I know, not calling anywhere home for the entirety of your kiteboarding career. If you could paint for us your ultimate 'home' setup, what would it be?
A house boat with a pool on top with deployable kickers to gap up to the pool and rails going down the other side. The pool would have a glass bottom so people inside can look up and see the riders go over them. The whole thing would sail with a massive kite, with an electric motor only for emergencies. Or a kite powered barge with the top deck fully soiled out for growing food and inside divide it into a small motel for all the homies, with a club and skate ramps everywhere instead of stairs so you never have to walk anywhere. That would do me.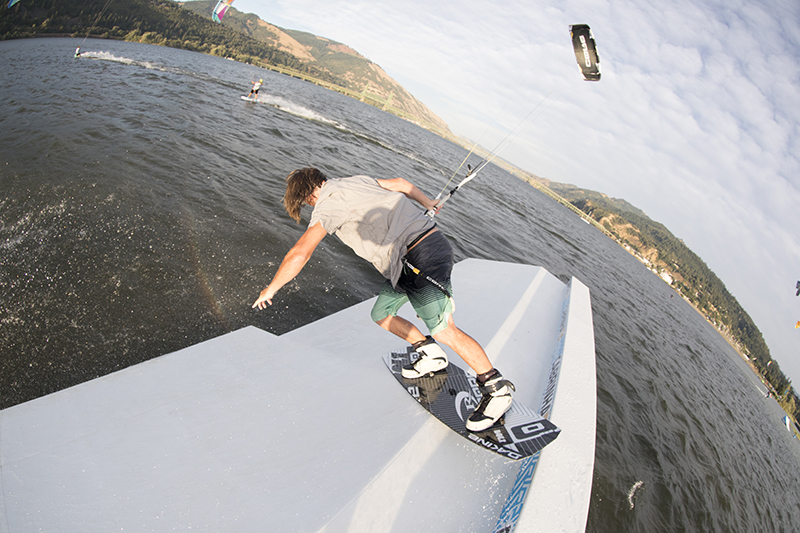 Brandon Scheid: How is it possible that you never wear a wetsuit, even when I'm in my full suit in the freezing Hood River?
I'm a white walker.
Sensi Graves: How has not having dreads anymore affected how you're perceived in the kite community?
Well, no one recognizes me anymore! Especially as I got a new kite sponsor at the same time.
Sam Medysky: Is it true you camped out in the bushes in Hood River for an entire summer?
Yeah that was an amazing summer! The only reason I had to leave the Spit was to cross the street to go to the bars at night.
Phil Janke (Marketing, CORE): You live your own and very unique style of life that is deeply connected to the sport, traveling and competitions. Where do you see yourself in 10 and 25 years' time and what would you like to be doing?
In 10 years I will probably be competing in other disciplines like racing instead of focusing on Park. Also I would expect to be more involved in event organization and judging. In 25 years I hope to be a full time employee at a kite brand or magazine, and if not I'll probably become a history teacher.
Alex Lewis-Hughes: If you could change one thing within the kite industry what would it be?
I'd like to change the public image of the sport as viewed by other board sports. Coming from a snowboarding background and community in Lake Tahoe, I have a bit of insight into what other professional boardsport riders think of kiting. The perception is still that it is only for old people, so my effort throughout my entire career has been focused on proving that everything they can do on their boards is possible with a kite and that the potential beyond that is limitless…
This article originally appeared in TheKiteMag #21. To subscribe, go here.