Liquid Force's Gary Siskar takes us through a couple of the most head-turning boards we've seen for a few years…
It's super nice to see some truly fresh boards hitting the market, and your Moon Patrol and Space Craft are certainly eye catching! Can you tell us first of all how you arrived at (or returned to!) the concept.
Yeah! So, the idea came to life when Jason Slezak and myself came off the water on a particularly big wind day in Hood River. It was super gusty, blowing into the low 40s with sizable river swell. But, due to the crap wind quality, the water was choppy and all over the place making it hard to stay connected to the surfboard sans straps. Almost simultaneously both of us blurted out "wouldn't it be rad if we could ride a directional, carvey, snowboard out there?" So there you have it. The revitalization of the directional or "mutant" kiteboard. It is crazy that everything always runs in full circles! Snowboards back in the day started as directional and then evolved into some pretty funky shapes that became easy to ride all over the mountain and to ride switch. Snowboard brands such as Avalanche, Barefoot, Sims with the Kidwell, and Look with the Lamar Trick Stick, were introducing shapes that started to break the mould, progressing to functional weird shapes. Then snowboards evolved to twins, boring…
Now, fast forward to the past couple of years, the directional orientated, functional snowboard shapes have come back along with a rejuvenated passion by snowboarders to carve, search for pow and shred the entire mountain. Brands like Spring Break, Gentam Stick, United Shapes, Korua shapes and Arbor have been making directional boards that perform no matter which way you are riding. That is where we pull our inspiration from… Making a modern day directional that carves both forward and switch off the heel or toe, boosts huge and handles a wide range of conditions.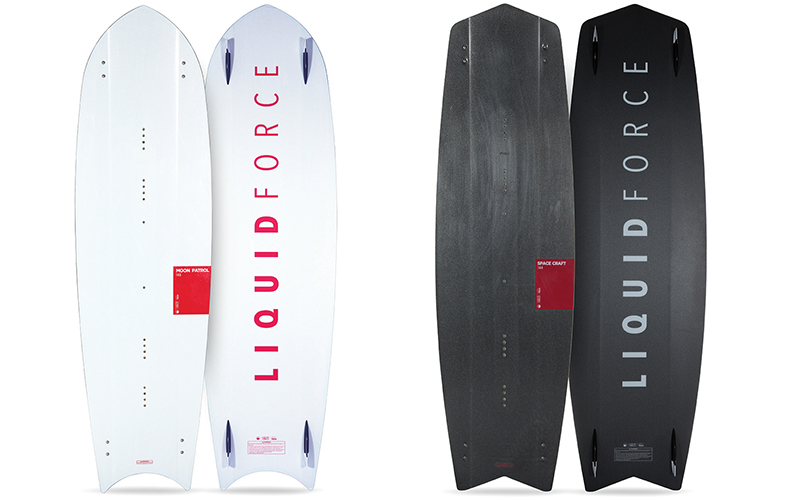 So is the construction the same as your twin tips?
Yes, so the construction of the Moon Patrol and the Space Craft share our "profiled" wood core construction that the Drive and Aloha twins use.
And which elements of your twin tip range do they borrow from?
Besides the profiled construction, both the Moon Patrol and the Space Craft have an asymmetrical rocker or "surf" rocker line. What this means is there is more nose rocker than tail rocker. The nose of both share the rocker line of the Legacy twin and the tail rockers are equal to that of the Drive kiteboards. This allows for smooth heel to toe turns, and also soaks up the pesky chop.
How is the stance set and what are the options here?
To talk about the stance, we do have to talk about the outline shape. The wide point of the outline is slightly oriented towards the tail. This allowed us to give a set back stance option to get a very surfy / snowboardy, carvey feel, or you can still run a centered stance for a more traditional twin feel.
What are the fin options?
The boards are designed with four standard fin placements. However, the board comes with six fins. 4 x 4cm and 2 x 5cm fins. We did this so you have the option to step up the rear fins to give a bit more drive and hold if you find yourself ripping in the surf or some heavy slashable chop.
Would you look at switching your feet around when you're riding then?
Nah…the boards are still meant to be ridden with straps and they are still pretty small to be switching the feet. At first glance they may look a bit daunting to ride switch (tail first) but actually the way the tails are designed and with the Drive rocker they ride tail first pretty much just like your twin. Also, come on: everyone loves to jam a toe to heel slash transition!
What are the sizes?
Both boards are in a singular size. The Moon Patrol is a 146 with a roundish nose and moon tail. This board I would equate to your side country or back country powder snowboard. Good for drawing big floaty lines, smooth, stylish straight airs, and chop domination. The Space Craft is a 144. This board would be more like your inbounds all-mountain board. The Space Craft makes the water feel like fresh carved corduroy and is snappy for quick tricks.
Where have you ridden them and what would you describe as optimum conditions?
We have been riding these boards all over the place and in all types of conditions. First rides were in Hood River in messy, sloppy river chop and swell, and they make the rough stuff a blast. There are a few stand out session memories at a location called Rufus, which is notorious for its sweeping river swell. The Moon Patrol made these big lumps of water feel like bounding off snow pillows! We have also used the board extensively in surf! I personally have had a few stand out sessions on the Oregon coast where getting though the inside on a surfboard was hectic, but on the Moon Patrol boosting over the white water walls and carving the open wave faces brought me a whole new appreciation for a board that is so manageable with straps. Also in Cape Town, where Jason Slezak, Jarrod David and myself would fight over who would use the board in the nuking wind and super messy surf in our Dolphin to Doodles downwind shred sessions. I could go on and on, but I think you get the picture: the Moon Patrol and Space Craft deliver smiles for miles.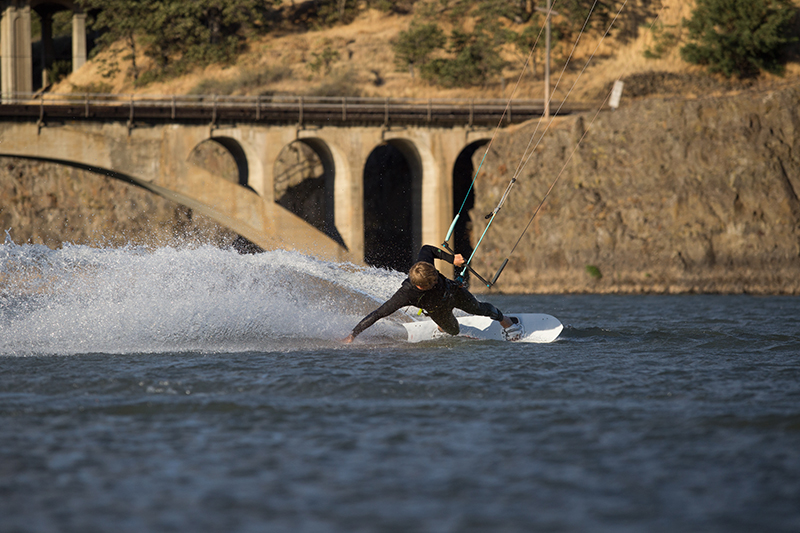 Did you see any other brands with their binoculars out when you were testing them in Hood River?!
Hood River is great to test gear in general – other than surfboards of course – and yeah there are plenty of other brands here putting future product through the paces. So we did keep them a tad under wraps as we knew we were onto something special!
These are obviously going to be super-fun boards to ride – do you see guys taking them on as their main board?
For sure people are going to adopt either a Moon Patrol or Space Craft. The boards have versatility that reach beyond a standard twin. If you are one of these riders that spends most of the time in choppy conditions in a lake or bay, with a once in a while jaunt into the surf, these boards will be the 100% call.
They've been available for a couple of months now – how have sales been and what has the feedback been like?
Every Moon Patrol and Space Craft that we have made has been sold! So that is GREAT news! The retailers are bringing in a small selection and for the most part if they are in their wind season they have sold out! The "want to try" is off the hook and there are a lot of people who remember the old "mutant" days who naturally equate these boards to the past mutants and to the negative aspects of these so they want to demo. After the first run their minds are all changed and blown away!
So will there be more Hippy Sticks in the range for next year?!
Oh time will tell… But I will say that we are having a blast on these and with the current success of the Moon Patrol and Space Craft, we have been exploring what the next step would be for the Hippy Sticks line…