Some exciting news from the Cab camp with a new kite, new foil line up and a new HQ. Team and Marketing Manager James Boulding takes us through things…
2019 is upon us and you've just released your new line up. Which products are you most excited about and why?
We're kicking things off into 2019 with a brand new kite – the MOTO. This project grew from a humble three-strut kite design into a triple threat performance machine. It is simply one of our highest performing kites to date with a massive range of use. It excels in three of the most exciting disciplines the sport has to offer… Freeride, Freesurf and Foilboarding. It quickly became a favorite for a few of our riders, one in particular, Theo Demanez whose take on freeriding seems to be perfectly matched by the kite's ability to depower greatly and be nimble in the sky.
Outside of the kite department I think one of the most exciting new releases is our new foiling HI:RISE eco-system. We have produced two new wing sets and a new fuselage to compliment our range of growing foilboards. The HI:RISE Speed wing set is a moderate aspect wing with a faster profile made for going fast. It is designed for speed and stability when freeriding, and stops short of being a full blown racing wing. This wing will go as fast as you want to ride it so hold tight to fly fast! The HI:RISE Lift is a lower aspect, high lifting wing which is perfect for many things. For starters, it's a great way to introduce yourself to hydro foiling with its easy and stable lifting platform. With its ability to lift at low speeds, the HI:RISE Lift wing set is also the choice of riders looking to foil board in the surf. This year we've also added the X:Breed Foil to the range of boards. The X:Breed Foil allows you to mount any of our HI:RISE foils to it, whilst on its own offers a board with solid surfing performance and exceptional freestyle abilities. The track system allows you to determine the mast position and the extra volume of the board helps when performing gybes and tacks on the foil. It is the perfect one board option when surf and foiling is on the menu.
For 2019 we have also released a premium multi-adjustment strap binding. It's designed for outstanding fit and comfort. The incremental side adjustment provides an industry first innovative heel to toe adjustability to modify the shape, position and fit. Two choices of footpad come with the H20, so you can choose either a plush and soft option for comfort or a performance-oriented impact absorbing option. We're really excited about these straps, especially with the introduction of the Big Air tour to compliment the King of the Air competition which sees some of the tricks going towards the old school direction, with kiteloop boardoffs being a bit hit at this year's KOTA event, so we're excited to see our riders really step their game up with these on.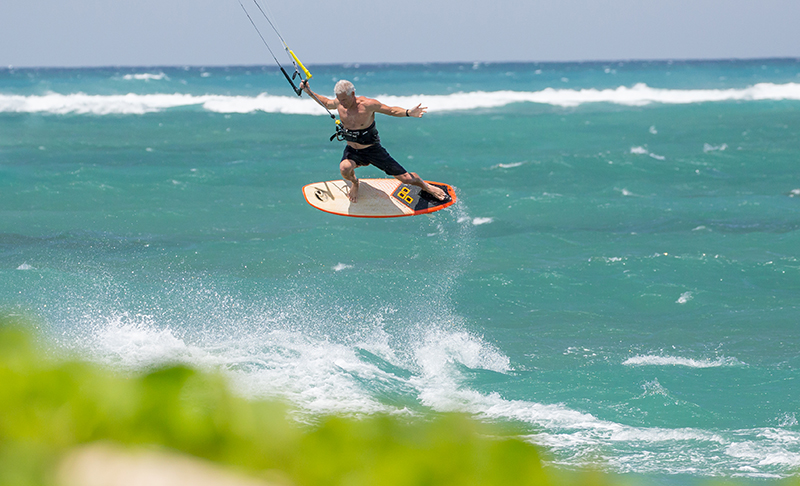 And in terms of the whole line up – what have you just released, and could you give us a brief overview of the headlines in terms of what's new…
Sure, so this year we've added two new surfboards to the lineup that focus on some of the emerging styles of free surfing. This new collection now covers an incredibly wide range of surf and wind conditions and allows for an even wider range of styles. So the Cutlass is the ideal board for small to mid-size waves or even in no waves at all! It's perfect for mixing strapless freestyle and surfing in any conditions. Then the X:Breed has a twin nose and tail shape that draws a straighter rail line. This means it has the feeling of riding a bigger board in a shorter, more compact package. Both boards are weapons in the freestyle arena and the X:Breed Foil option gives you added bonus of being able to convert into a foilboard.
And any other news from the Cabrinha crew?
This year we're been proud to relocate the brands headquarters to its birthplace and creative hub on Maui, Hawaii. By gathering the brand's core of Product Development, Brand Management and Marketing under one roof in a unique and inspiring environment we're excited to pave the way for the future. With a full office we have an extensive team covering all parts of the brand, it really gives us an edge for coming up with ideas and being creative together. Ideas can be mulled over during a morning surf and with wind virtually all year long it's easy for us to put so much time into the test phases of our product. There is a fantastic heritage on Maui with sports and the Cabrinha family atmosphere extends far outside the office walls. Long term relationships with some of the Maui lifeguards has not only increased the positive relationship with kitesurfers and the local community, but it has also enabled them to help us with sun and water testing of our canopies. It's also handy if you get into trouble on a big day! Cabrinha has always prided itself with being innovation leaders and we see it as the only way the sport will continue to thrive and grow so we're extremely excited to have the team under one roof and to see where things go.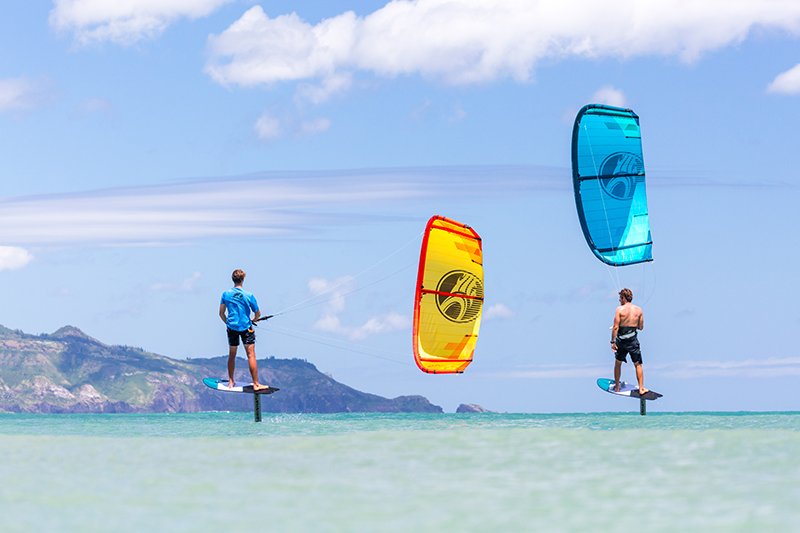 Elliot Leboe: Back to the Future
As we're looking forward at some of the newest products to hit the lineup, it seems like destiny that Elliot Leboe, one of kitesurfing's true pioneers, returned to the fold to shoot some products with the Cabrinha crew this year. What did he think of where the sport is at now?
Hey Elliot, how was it back with Cabrinha and shooting kitesurfing again?
Well, I have a long history with the Cabrinha brand – almost 20 years – from both a riding and filming perspective. My involvement progressed from riding professionally into the filming side of things. For this shoot it was refreshing to reunite and shoot with a whole new crew of younger riders. I was truly impressed at the level of riding and the chill positive vibe everyone had. Makes for easy filming when the riders are on point, and it's a relaxed atmosphere.
You shoot a lot of surfing nowadays and work with some of the best surfers – how do the kiters compare?
Yeah I have an interesting mix of being able to shoot some of the best surfers on the planet here on Maui, as well as some of the best kitesurfers. Through the years I have always had a somewhat critical eye on the comparisons of kitesurfing and surfing. In the past, riders were riding waves and doing airs with kites, but a lot of images you would see would be guys with not much style, barrel shots where they guy was 'kinda' getting under the lip on the shoulder of the wave, but not really deep enough to be considered a legit barrel in the surf world. A large part of the progression on the kitesurfing side of things has happened with equipment innovations, kites that fully depower when you need it to, boards and fins have become more refined and controllable, to handle the higher speeds. After working with Keahi and Matt for this last shoot I'm now convinced that kitesurfing is as close to surfing as ever, both on a performance and style level. You see full rail carves in the hook with a relaxed style, and some of the footage of Keahi pulling in deep into barrels on Oahu was absolutely mind boggling. It is now to the point where you could Photoshop out the bar and lines and couldn't tell if the guy was kiting or surfing.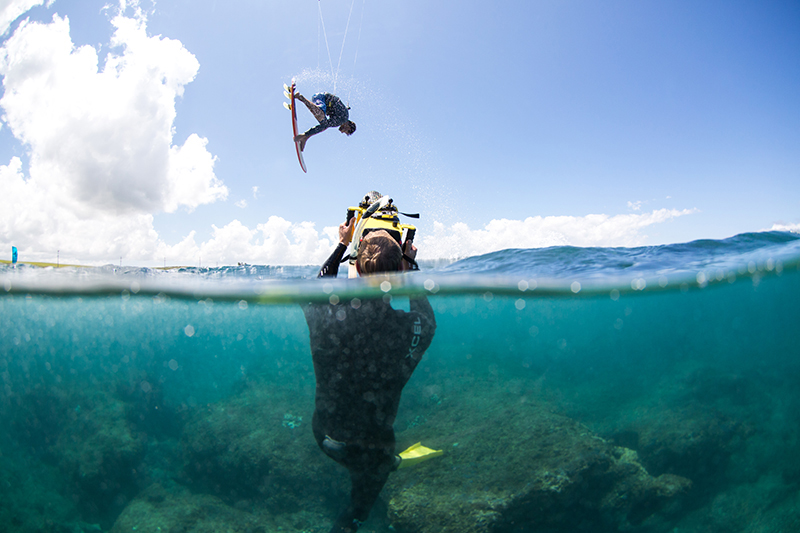 You were one of the first ever guys to try foiling with a kite – 15 years ago! Things have changed a bit since then, right?
For sure. I love the whole foil movement but I never thought I would see it get to the level it is at today.
Pete and myself began foiling back in 2003 with kites. We were using modified aluminum Airchair foils attached to custom boards and snowboard boots and bindings. It was so much fun to ride but not so fun to be in snowboard boots at the beach with a heavy boat anchor attached to your feet! Now I am blown away at what guys are doing now on foils. The composite and aluminum technology plus weight savings of the new foils has aided in the radical performance gains of the foiling you see today.
What was the best thing about the shoot?
Mostly just the relaxed atmosphere everyone had. It really helps in capturing those natural moments which aren't forced. I loved shooting the foils underwater – such a great angle – as well as any time we get wave action. I always prefer to be swimming in the water shooting because when you're done you feel like you've shared the session with the riders. It was really inspiring to work with the younger generation of riders. They all have a great work ethic, are super positive and are knowledgeable about how to line up to get shots. Even when we had mediocre conditions, everyone stayed motivated to shoot.
This article originally appeared in TheKiteMag #27. To subscribe, go here.