Who needs to kite on tropical beaches in nothing but boardshorts, when you can kite in freezing temperatures, wearing so much rubber that only your face is showing? Red Bull King of the Air regular Steven Akkersdijk introduced wave slayer Willow-River Tonkin to the unique weather of beautiful Ireland to see if they could strike gold at the end of one of the magical island's many rainbows…
Words: Steven Akkersdijk and Willow-River Tonkin
Photos: Lukas Pitsch and Julieta Pereyra
---
Steven: Ever since I visited Ireland for the first time it has held a special place in my mind. What is it that keeps drawing me back to this magnificent island? West of Great Britain, Ireland's rough coastlines and immense cliffs drop into a boiling sea. Above the cliffs you'll find open grass fields dotted with stone houses, the occasional pub selling Guinness, and a lot of roaming sheep who don't seem to care about the weather – unless it gets really bad, at which point they'll huddle together or shelter behind the wreck of an abandoned house. To be honest, the weather in Ireland is horrible for 60% of the time. It's guaranteed to rain every day, and the only way to dry your damp clothes is in front of a fire. However, after the rain comes sunshine, creating immense rainbows that will blow your mind. This sums up the other 40% of your time in Ireland – moments where everything lines up and the clouds, combined with sun, paint the hills with beautiful colors. This is what draws me back – the feeling you get when you're out there in the wild, sharing the moment with your best mates and the sheep.
I told Willow about Ireland during one of our trips. He couldn't imagine kiting in a winter wetsuit with hood, gloves and boots – Willow grew up in Mauritius which is pretty much the opposite of Ireland. They have amazing white beaches and palm trees, while the reef surrounding the island provides calm waters close to shore and perfect point breaks further out. We had discussed a new shooting location for the CORE Nexus 2 kite, an all-rounder for wave and hooked twintip riding, for me the kite to put in my board bag when I want to do everything the ocean throws at me. This makes it the perfect kite to take on a trip to Ireland. After a chat with the head of marketing, who loved the idea, we decided to do our product shoot in Ireland and take Willow as a rider. On the journey he said he was totally open-minded and ready to tackle whatever Ireland had to offer. And – to our surprise – he managed the thick wetsuit way better than expected!
We were located around Brandon Bay for most of the trip as it offers so many different faces, and the bays provide good conditions for different wind directions. With a westerly or north-westerly wind, we had awesome conditions in the huge bay, and for any south-westerly winds we could drive over the peninsula to Inch Beach. Local knowledge and reading the forecast and maps really helps as there are so many different options. Our first few days consisted of a mix of wave riding and twintip sessions. The south-west wind brought some fun swell, but was often combined with bad weather and unstable wind conditions. We really had to pick the right moment in the day to get sun, wind and waves at the same time. There was a big swell forecast and it looked like it would be the right direction, so we decided to check out a point break that can be really good. However, when we arrived it was pretty much flat and the few waves there were breaking on the rocks – it was one of those classic moments where we got skunked by the forecast. But after waiting a while, the waves picked up and the beach next to the point break actually started to get some nice waves. We ended up having an awesome session right until sunset, with big smiles on our faces. There was a golden light shining on the hills and we forgot all about the waiting we had done earlier in the day.
"After the rain comes sunshine, creating immense rainbows that will blow your mind."
After the south-west storm passed, we were treated to a front arriving from the north – this provided steady winds and super sunny days. The only downside was the temperature that dropped down to six degrees Celsius. We ended up kiting with boots and gloves so we didn't lose the feeling in our fingers and toes, a new experience for Willow. The swell dropped to the point where it didn't make sense to continue hunting for waves, so we ended up looking for spots to twintip and came across some real gems – river mouths that delivered different conditions as the tide changed, from little channels at low tide to small rolling swell providing playful kickers at high tide. All this with a background that would make your jaw hit the floor.
Over the three weeks we spent in Ireland there were so many different conditions that we got to play in. Not every day was a success, but it was surprising how many sessions we could have if we were flexible and didn't mind getting a bit wet from the rain. I'm confident to say we can all look back on an amazing time, and I can only recommend giving it a try for yourself.
Willow: I love traveling around the world on the hunt for awesome locations and conditions. When CORE told me we were going to Rainbow Land to experience something completely different to what we are used to, I couldn't have been more excited for a new adventure. We were unsure of what to expect, and it was definitely a shock how cold the water could actually be. But we were prepared for the unexpected, and had everything from surfboards to surf foils, rain jackets to winter jackets; we even took paragliders. You name it, we had it, and trust me, we used all of it! Unlike Mauritius with its trade winds, Ireland relies on storms out at sea to bring in wind and waves, but that often comes with rain. So one day we were soaring over dunes or paragliding up in the mountains, and the next day we were kiting completely over-powered on a 7m. It can feel like kiting on the North Sea in Germany as they're both cold and rainy, but the waves in Germany are just not comparable to those you can score in Ireland. It wasn't quite One Eye, one of the best and most consistent waves in the world, but we discovered a very long right-hand point break that peeled along the coast. We were in awe when we arrived – nobody else was out, and it was begging for someone to come and rip it to pieces, so that's exactly what Steven and I did!
I enjoyed riding a twintip as well when the swell dropped. I'll ride anything that gets my adrenaline pumping or my heart racing, especially when it gets really windy. Seeing Steven change from one board to another, whether it was a twintip, surfboard or foil, and absolutely shred on all three of them, really motivated me to the max to be versatile. We even did some surf foiling. Luckily Steven brought his foiling set up in his camper van so we took advantage of it when the conditions got glassy. In Brandon Bay there were little split peaks off a sand bar going left and right, so there were plenty of spots around to get a few good pumps and rides in – I loved it.
Ireland is truly an incredible place. After all those sessions and long cold rainy days, we were so tired. I was literally asleep at 6.30pm some nights! We did manage to go out once or twice to get a feeling of the Irish pubs and the crew loved a pint of the Guinness. And luckily for them I don't drink so I was always the designated driver!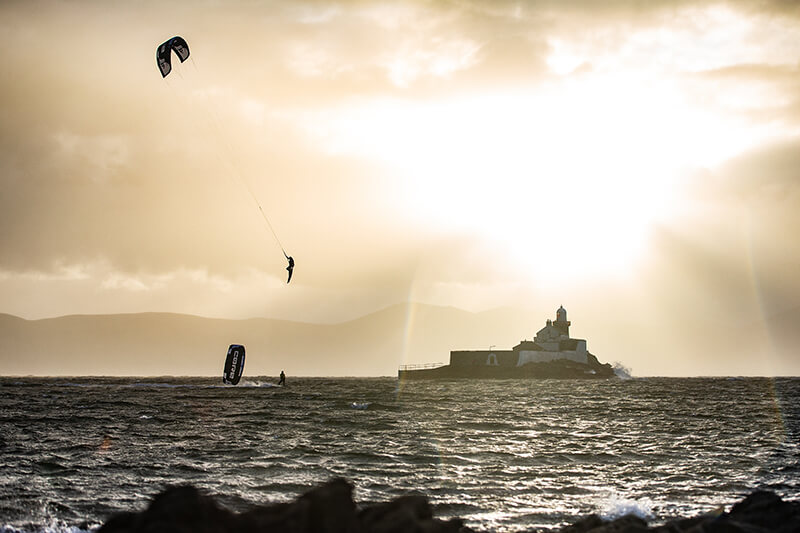 Editor Note: While we had Willow on the line, we asked for a little update on the recent oil spill in Mauritius. Here's what he had to say…
It has been devastating. Seeing one of the most beautiful lagoons and beaches in Mauritius being completely ruined is pretty shocking to see. And also seeing dozens of whales and dolphins washing up onto the shore has been heart breaking. I spent a few weeks going there nearly every day to help clean up the mess. It's something I have only seen on TV, so when I experienced cleaning up this thick crude oil with my own hands it felt surreal. More recently we have had many professionals finally come in to try and clean up the mess, so for the moment us volunteers have to hold back and let them do their work, and only assist them when they need us. This can be pretty hard when all you want to do is get involved and help. On the plus side I have to say only around 3% of the coast line has been affected so the rest of the island is completely fine without any damage whatsoever. So don't worry, your next kite trip to Mauritius is not ruined because of the Wakashio ship. As soon as the borders open up, book your tickets and come join me because I am feeling so alone out here on One Eye! ■
This feature originally appeared in TheKiteMag #39. To subscribe, head here.