Ricardo Campello from Venezuela is a professional windsurfer, but will happily turn his hand to kiting when the wind is on the lighter side. Or in this case when the water is too shallow for a windsurf fin…
Photos: Freddy Arellano and Simon Bez
---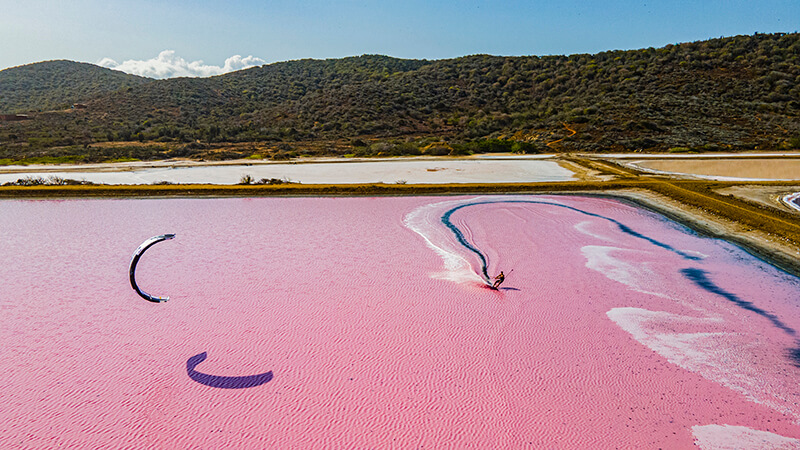 These salinas, lagoons where salt is produced, are on the island where I grew up, Isla de Margarita in Venezuela. They don't always have water in them, so when I went back home recently for a few months, I kept my eye out for a suitable day to kite there. Although Margarita is a very windy place, with the well-known kite spot El Yaque, the salinas are tricky with the wind so you really have to wait for the right day. When I finally spotted a day that looked like it would work, I headed to the salinas with my 12m Nexus 2. On the first day conditions were perfect and I had an awesome session, so I headed back the next day for more, but there was only just enough wind to get me going.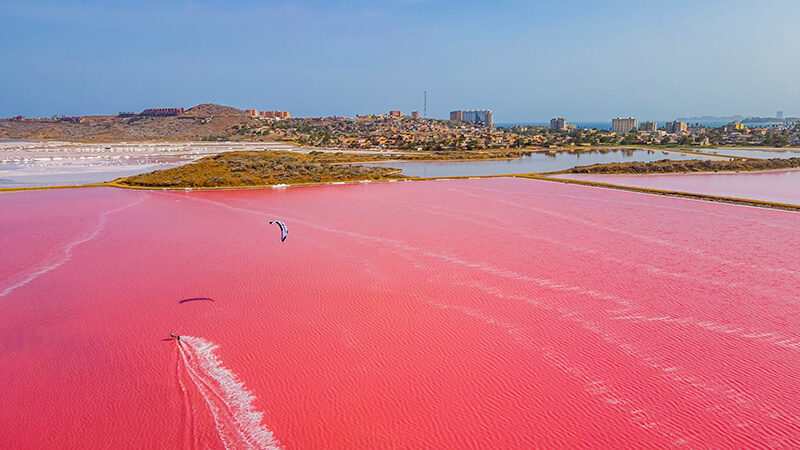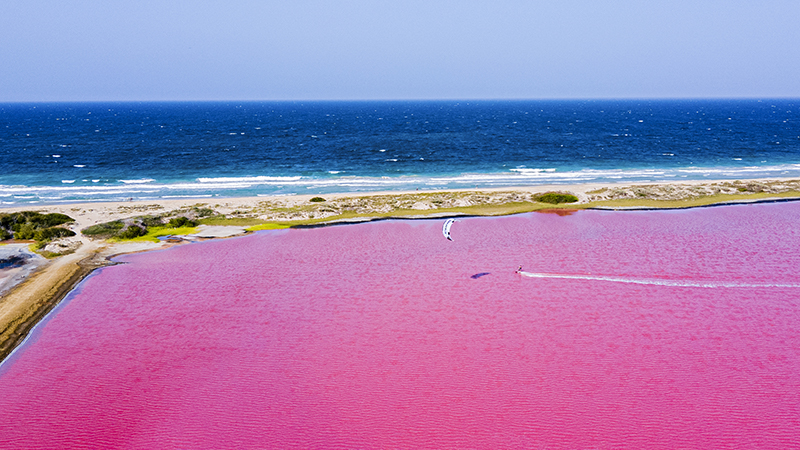 You can't tell from the photos but the water is really shallow, only about ankle high, and the bottom has a deep layer of pure salt. When you step on the bottom your feet sink all the way to your knee, and the first layer of salt cuts and scratches your feet and legs. In the past I kited in a place called Salinas de Cumaragua, in northwestern Venezuela – in comparison to that spot, this one is actually quite mellow – the other one is solid crystalized salt so is basically like sharp glass! Even though this spot is more mellow, I still didn't take many risks because I didn't want to hurt myself. Unfortunately, on the second day I had the kite too low and then dropped it and ended up falling over, just doing a gybe transition. I cut my leg a bit, which, as you can imagine, stung like hell thanks to the pure salt.
People have asked me why the water is pink. All the salt from the nearby ocean gets concentrated inside the lagoons with barely any water movement, and pretty much the only organisms that can live in such salty water are algae that excrete red pigments, thus turning the water pink. So although it makes for some cool photos, would I recommend kiting there? Well apart from the high salt level, the water is also super hot and oily, and if it goes into your nose or eyes you are not going to enjoy the experience. But hey, I was willing to take the risk to get the shots! ■
This feature originally appeared in TheKiteMag #43. To read the full issue, subscribe here.