Big wave surfing and kiting has seen more women riding at the highest levels recently, and when Jaws started firing this season, Maui-based Olivia Jenkins got involved. This had us reaching for the Point Break DVD and reliving our favorite quotes: "It's not tragic to die doing what you love." Luckily Olivia lived to tell the tale.
Photos: Erik Aeder, Fish Bowl Diaries and Patri McLaughlin
---
One day at the end of November I looked on Surfline and noticed a big purple blob heading in our direction, towards Hawaii. This meant a swell was incoming and it was highly likely Jaws would break. I kept checking Windguru in advance of the expected arrival. Every day the wind strength forecast would change – five knots one day, 15 knots the next. It was difficult to tell if we would be given the option to kite Jaws on this date. On the 1st of December I looked at buoy station 51101, which is located northwest of Oahu, and provides swell readings approximately 12 hours away. There was an 18-foot reading – this meant the next morning would be huge! Still unsure if it would be windy, I prepared my boards, kites, inflation vest and jet ski, in anticipation that I would be kiting Jaws the next day.
I awoke early the next morning. I live about a five-minute walk from the beach, so throughout the night I could hear the crashing waves and I knew the swell had arrived. I looked at my phone and read a text message from my friend who had woken up at 5am to tow-surf Jaws. She said it was still glassy and people were paddling it, and that there were some huge sets, but it was slow. We waited a couple of hours before getting out onto the water. We launched the ski from Maliko Gulch and proceeded up to Jaws. The wind still felt light, but it seemed as though a breeze was picking up. I went with a group of five on two jet skis: Patri McLaughlin, Jesse Richman, Zach Perry, and Niccolo Porcella.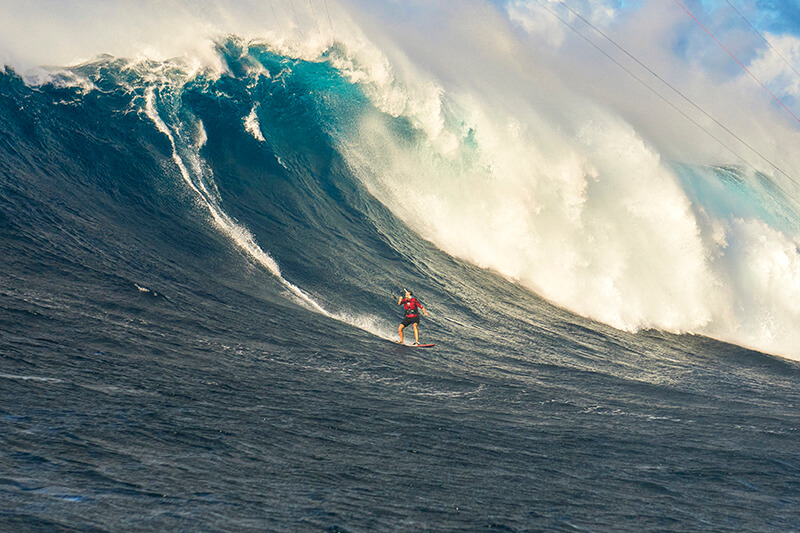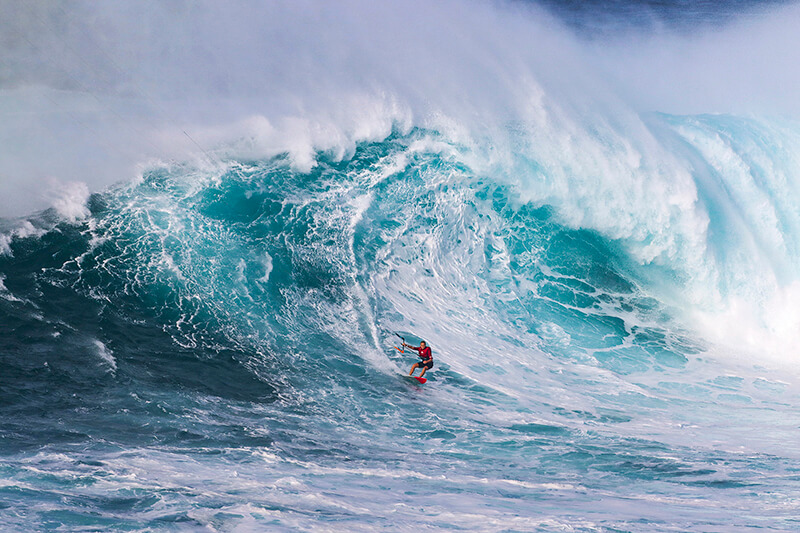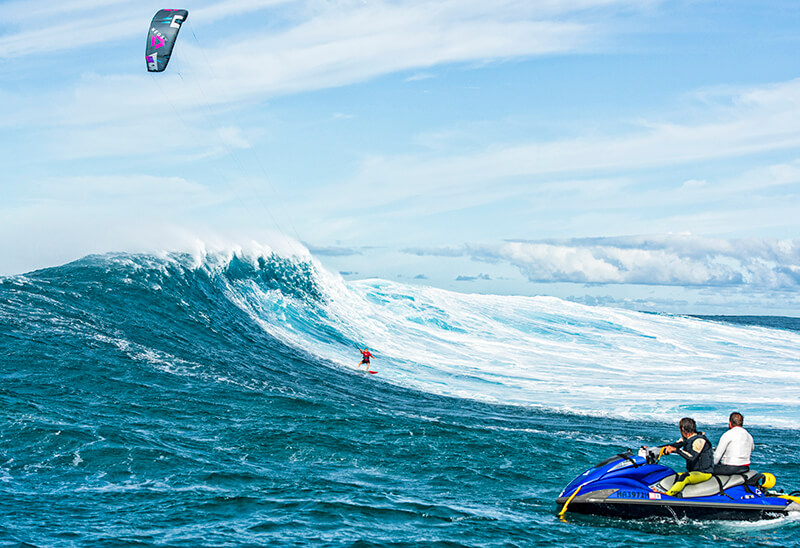 When we approached Jaws, it became evident that everyone else had had the same idea as us. There were probably 15 boats and 20 jet skis, 10 people paddling and 10 groups tow-surfing – it was a zoo! At first there was definitely not enough wind. We watched for quite a while and then Jesse decided to give it a go. He pumped up a 7m. The wind picked up a little bit but not much. About 10 more windsurfers also rigged up and added to the crowded lineup. I initially did not feel comfortable with the light wind, so I decided to wait and watch for around two hours.
At around 3pm, the paddlers had all gone in, so I decided to give it a shot. I pumped up a 7m Duotone Neo SLS on the jet ski. With the light wind, it took me around 30 minutes to tack back upwind to get into the lineup. Throughout the session I had quite a difficult time staying upwind and wished I had been on an 8m or 9m. It was a very packed lineup with many tow teams and windsurfers. On the big sets, there would be about 10 tow teams, and even a tow-windsurfer trying to catch them. However, I was stoked to manage to catch a couple of smaller waves in between the big sets.
I was very grateful for my team on the jet skis looking out for me. Patri had dislocated his shoulder so he was running safety for me. He has also picked up photography during his recovery and managed to snap some photos of me out there. He's now back on the water and we have since had a few more sessions at Jaws with more wind. It has been firing so far this season, long may it continue… ■
This feature originally appeared in TheKiteMag #41. To read the full issue, subscribe here.