Last issue our cover featured Camdyn Kellett, a young up-and-coming Big Air rider from Cape Town, who can execute a kiteloop of consequence. As winter set in there and the usual southeaster died out, Camdyn, and his father and photographer, Andrew, hit the road and found a new spot to capture some rad angles…
---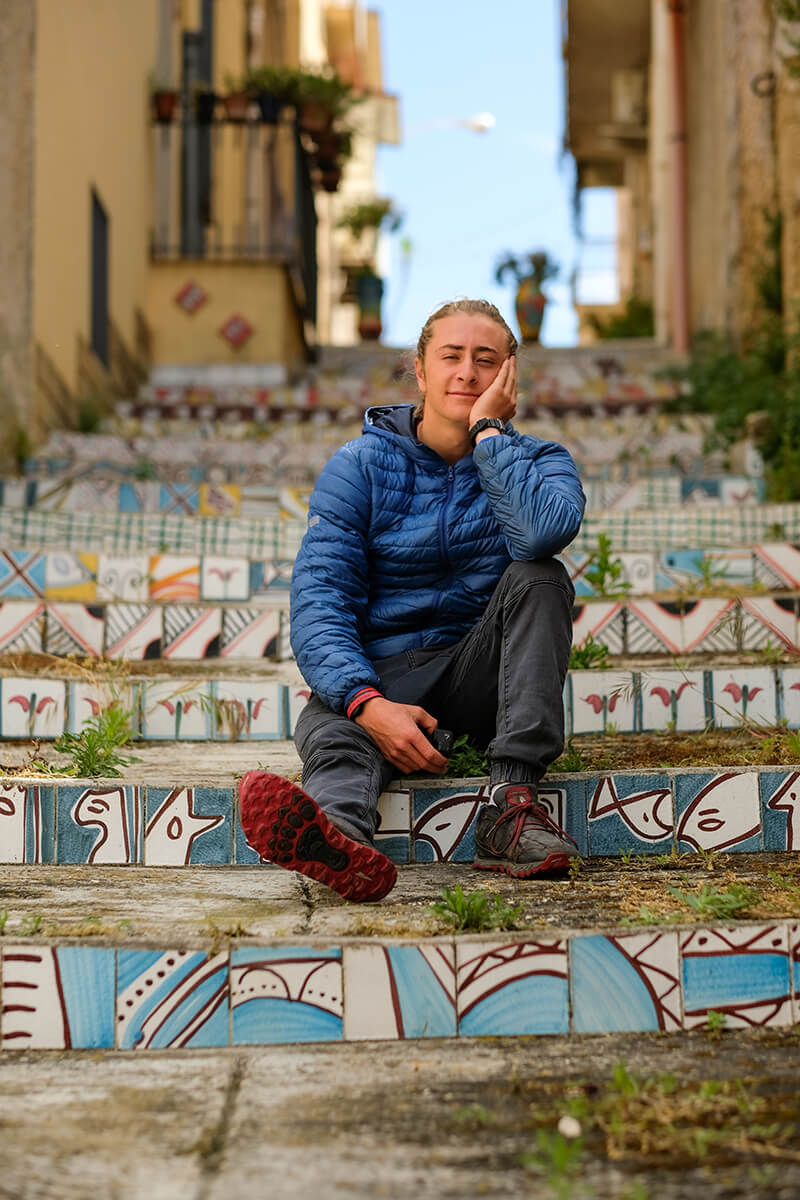 Andrew: With difficult Covid lockdown rules forcing us indoors and away from the beaches in South Africa, it feels like we have hardly had a kiting season in 2021. The lack of the Red Bull King of the Air competition in Cape Town and the travel bans from Europe meant a serious flatline of hype in the sport. So with our first storm bringing on the change in season in Cape Town – also known as the Cape of Storms – we were still searching for that epic day for photographing some scenic Big Air shots. What does it take to get incredible kite footage? A picturesque destination is critical, above average wind conditions, a rider who is able to perform under pressure, someone behind the lens who can withstand being blasted on the beach and capture the 'moment' and, well, luck. Yes, a lot of luck with timing and conditions…
Camdyn: When the winter northwest wind blows in Cape Town it is either a light pre-storm wind or a fully raging gale-force cold front. Naturally, with wind blowing the opposite direction to normal, different spots light up, and what was previously offshore is now perfectly onshore. That was the case with Rooi-Els. I have driven past this spot many times on the way to Hermanus, the typical northwest spot near Cape Town. Hermanus is an awesome offshore lagoon, but this season the northerly winds have been very volatile, blowing a few degrees off the usual straight northwest, making the lagoon extremely gusty and dangerous for Big Air.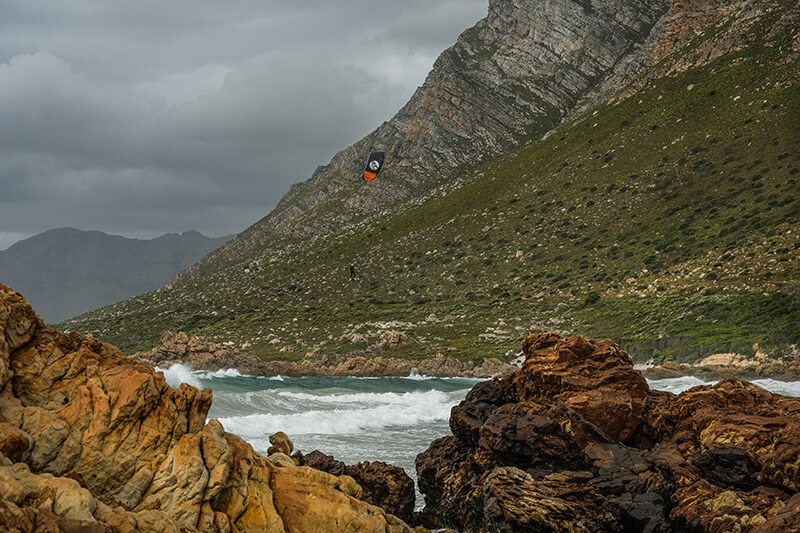 Andrew: Rooi-Els is not known for kiting. It is located along one of the most scenic drives in Cape Town and is often blasted with the offshore southeaster during the summer months. In winter, it produces a slight cross-onshore with the most amazing mountainous backdrop. All that was needed was the wind!
Camdyn: This season has been very strange. The first few months started off quite slow with on and off southeast conditions and very little northwest action. Generally we get about five or so northwest storms rolling through in the summer, but so far only a handful have come through mostly with weak and patchy wind. In season, I usually do a detailed forecast check every few days, and finally, out of the blue a cold front was barreling toward us from the South Pole! The time was right and the wind was coming; now it was up to me to be prepared for the storm.
Andrew: Shooting short-line kite action requires above average wind. We are talking 35 to 45 knots, which allows some assistance in landing low loops and ultimately not getting injured. These conditions clearly don't happen every day and Cam is very prepared with regards to checking out weather and wind predictions. These conditions obviously bring an edge to the intensity on the beach whilst photographing – with me getting sandblasted, spray misting up lenses and trying to remain stable in the wind when framing your shot. There is nowhere to hide! I don't shoot with long lenses much and very rarely shoot off a tripod. I prefer to be dynamic and amongst the action.
Camdyn: When we arrived at the spot, the conditions looked less than favorable. The wind was a bit more cross-shore than predicted and super gusty. My biggest concern about onshore spots, especially when it is gusting over 40 knots, is the possibility of ending up on the sand if you misjudge your distance from the beach. It is a bit more of a mission but obviously you need to jump farther out. It's a catch-22, because it's much harder for the photographer to frame the shot if they need to zoom in any more than they have to.
Andrew: I've shot Cam several times on short lines and he certainly makes it easy to setup and stage a shot with his consistency of riding and ability to visualize what we are trying to achieve. Having said that, I have seen him blow out many times with broken lines, ripped kites, broken boards and heavy landings. One time in 40 knots plus, he landed badly and his board exploded on impact, ripping his helmet off and rag-dolling him across the water. It is hard to watch but the 10,000 hours rule applies. The more you do things the better you get.
Camdyn: I assessed the conditions and decided to pump my 7m and start out on long lines, to at least try and get a few stormy shots with the new gear. Riding Big Air on a 7m is harsh. Its much smaller surface area catches less lift, and you come down hard! I came in after a grueling survival session and switched to my 10m lines. Generally this is the way to go if a session seems to be going south. As soon as the kite was up my mood changed. This is the real reason I am out here today; the conditions are perfect for short lines – no excuses left!
"WHEN WE ARRIVED AT THE SPOT, THE CONDITIONS LOOKED LESS THAN FAVORABLE. THE WIND WAS A BIT MORE CROSS-SHORE THAN PREDICTED AND SUPER GUSTY."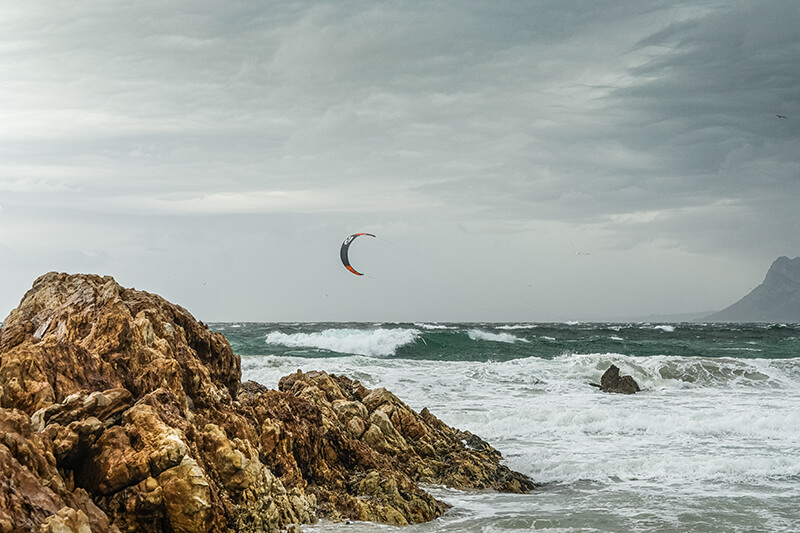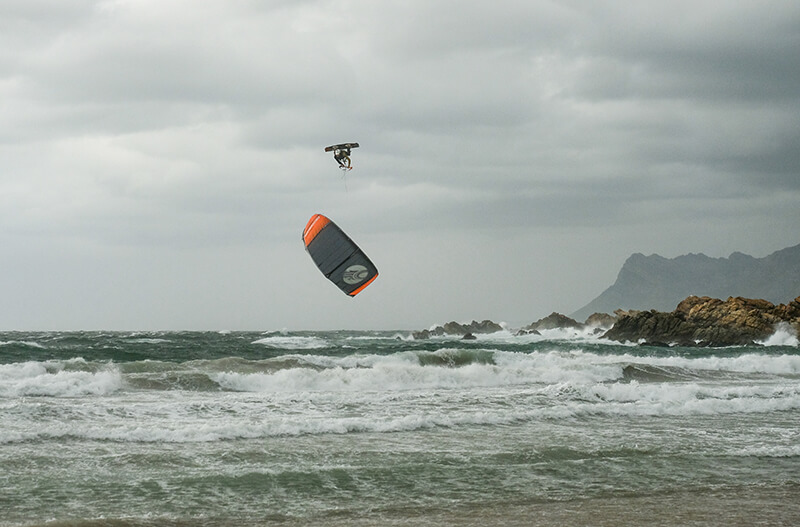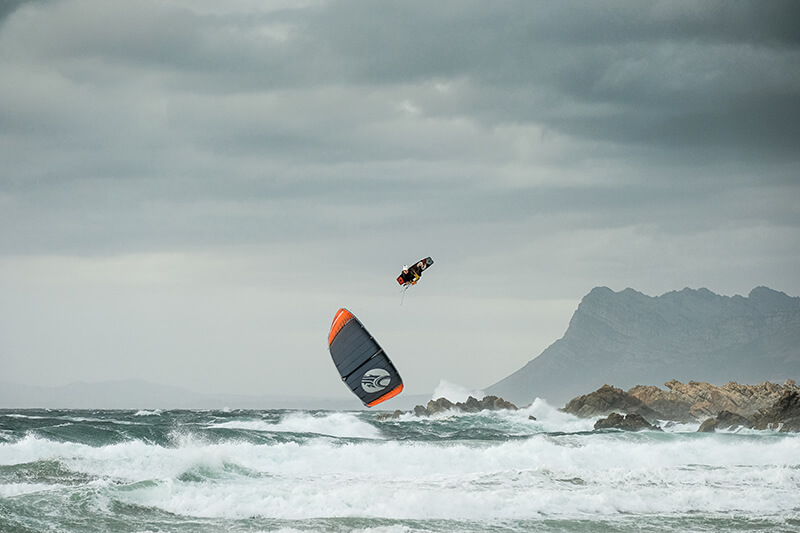 Andrew: The session started off pretty gusty with big swell dumping on the shallow bank. I was getting some good scenic shots but certainly nothing standout. Cam's 12m lines were broken from the Big Air Kite competition the week before, and all he had was an old bar with 10m lines. I convinced him to give them a bash as the conditions had just peaked and I was searching for something to shoot with the stormy backdrop. As he does, he comes out guns blazing! I find myself struggling to keep up and capture the incredible performance, struggling with the perfect frame and the right aperture for the darkening sky, cleaning lenses, switching between video and stills, with sand blasting, spray flying and rain squalls. We often shoot together, alone in remote locations and I always feel privileged to witness his performance first-hand, but I also felt the pressure to capture the images which help highlight his natural ability.
Camdyn: As the kite launched the wind properly came through. When you are overpowered on 10m lines, you know it's on! Over the last season I have exclusively ridden 12m lines so getting back on the 10's was going to be interesting. The two-meter difference seems negligible but when the difference is 20 percent of your line length it starts to make sense. 10's are notorious for sending you into an uncontrolled backroll if you don't fully commit, and that's exactly what happened on my first loop attempt! It is always confidence shaking when you come down hard on your first trick, but for me that is just something to improve the next time. Needless to say, the rest of the session was on-point with some of the biggest loops I have ever done! I came out of that session feeling on top of the world!
Andrew: He comes in saying he is done… perhaps a little rattled by the previous crash. I know him, and I know when to push him and when to stand back. It is a tough gig being a father of an extreme sports athlete, but I know his ability and mental state. Damn, I taught him to kite on my back not so long ago! I convinced him to give me a few more opportunities to capture something worthy of the effort he was putting in – I was in my groove as the photographer. He didn't disappoint, with the kite brushing the crest of the wave and his body meters above. This is short line kiting at its best – intense, relentless, unforgiving, yet so rewarding. ■
This feature originally appeared in TheKiteMag #42. To read the full issue, subscribe here.