At TheKiteMag we have worked with Ydwer since the very beginning (and Editor-in-Chief Alex worked with him before then). His photography skills are exceptional, and an email from Ydwer always means finding some space in the next issue – or on the cover… He is one of a very select group of kite photographers that truly understand our sport and always manage to capture that perfect angle and showcase kitesurfing at its finest.
As you probably know Ydwer had an accident a few weeks back and is currently undergoing rehabilitation – you can find out more here.
We ran this feature with Ydwer a couple of years ago in the mag. He choose some of his favourite shots and captioned them for us. There were plenty to choose from!
We thought this would be a good time to run it online. All the best Ydwer.
---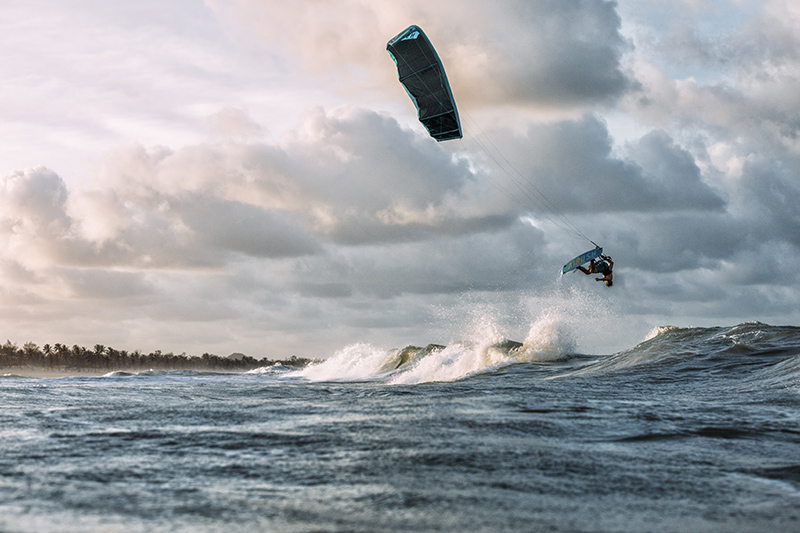 Rider: Bas Koole
It's been a while since I went on a trip with Bas Koole. We used to go to Brazil every season for years so it was a great time for us to get together. This time round Bas had to be at the freestyle tour stop in Cumbuco and I had to go to the GKA event in Prea so we decided to spend a week like the good old times in Cumbuco before we had to work. A little bit of kitesurfing, shooting and a couple of caipirinhas to bring back the good old memories. We have both gone on slightly different paths but when we work together the magic is still there. This shot is from a kicker session between Cumbuco and the lagoon Cauipe. The same spot where we shot a short video a couple of years ago. The waves don't look that big from the beach but the shore break is rough, unpredictable and there's always a lot of current when you swim. Afterwards it feels like you've been in a fight getting punched all over your body.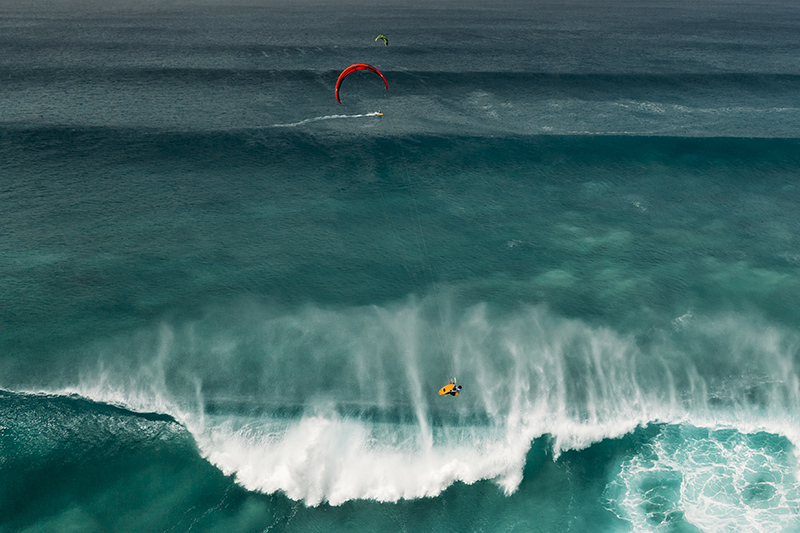 Rider: Mitu Monteiro
Santa Maria is Mitu's home town and Punta Preta is his backyard. This is where he grew up and learned kitesurfing. These days it's incredible to see him riding these waves like no-one else. You can see he knows this reef so well, knows when to turn, when to go for the barrel and when to kick out. In this shot I'm not hundred percent sure if he's making the re-entry or if he's kicking out. One thing is for sure: he's always fully in control.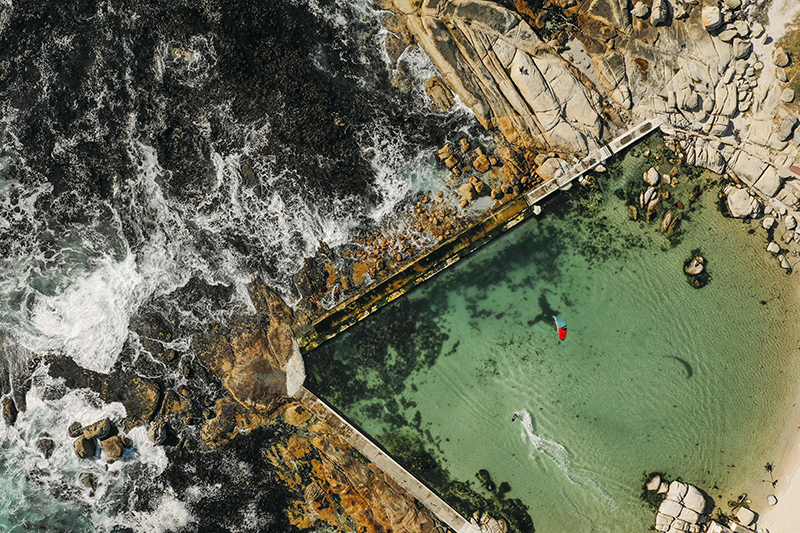 Rider: Kevin Langeree
Cape Town is known for its strong winds and heavy waves. When the conditions are not quite there, it's fun to look for something else. Together with Kevin Langeree I went searching for spots that we could use for our next photoshoot and we passed this cool little natural rock pool. You can't actually kite here, but it's a cool shot, especially with the drone showing the round boulders you find in Cape Town, and the pool filled with water from the ocean next to it.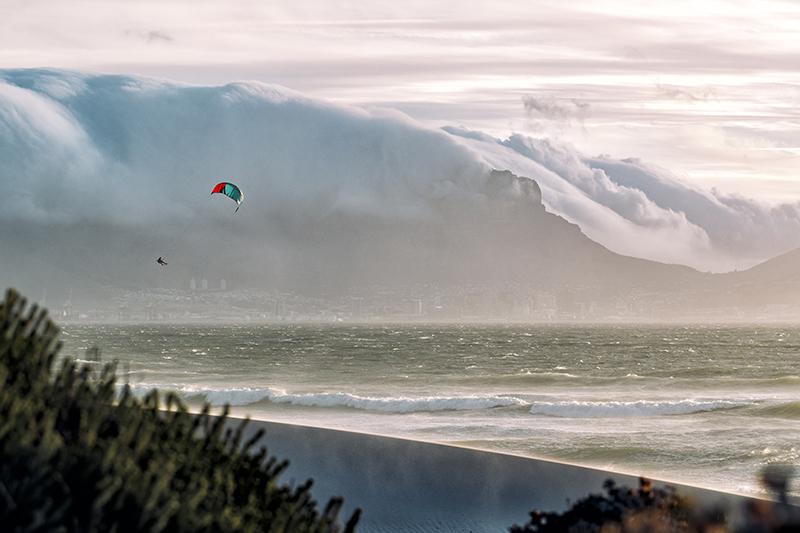 Cape Town is the capital of kitesurfing and every year the best riders in the world head down to jump as high as they can and improve their strong wind skills. There's one guy coming to South Africa for a decade, you'll find him out there every single day to get his game plan straight. Kevin Langeree is one of the best Big Air kitesurfers you can find out there, and last year he managed to win his third King of the Air title, with two in a row. I spend quite some time with Kevin shooting in Cape Town during the season, and this shot was captured during one of his training sessions. When the clouds race down the mountain the air fills with sand and salt. Not the most ideal conditions to shoot, but the rewards are great.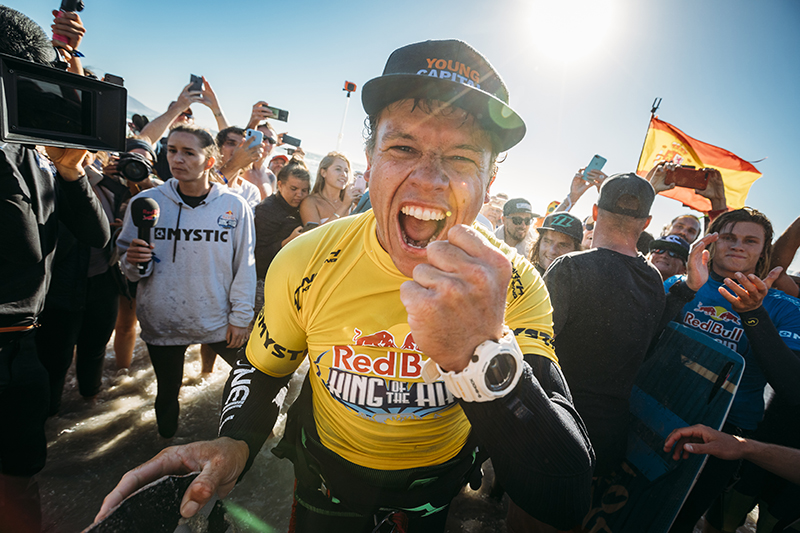 Just before the announcement at the Red Bull King of the Air you could feel the tension of the riders. They were standing together waiting for the result of the final heat. Jesse Richman, Liam Whaley and Kevin Langeree were in the middle of the crowd and it was intense. When they finally announced the King of the Air there was an explosion of emotions. Being part of it, right in the middle, is an amazing feeling.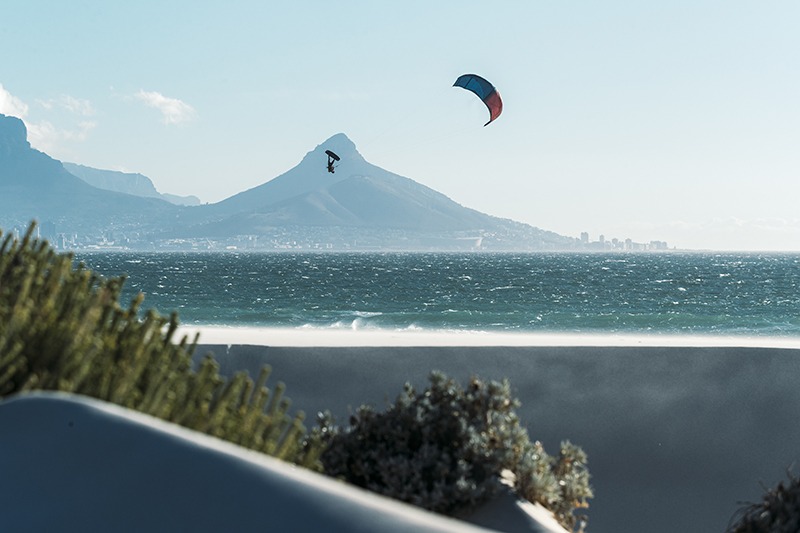 Rider: Oswald Smith
One of my favorite all-round kitesurfers at the moment is Oswald Smith. It doesn't matter if you shoot freestyle, wave or Big Air with him. He always seems to amaze you and is always going all-in. Cape Town is his hometown and this is probably why he is good in everything. It has a great variety of conditions within just one hour's drive. For me it's the best winter destination, and I spend more than four months every season there to meet people from the industry, organize photoshoots and get on the water myself. It's the perfect kitesurf lifestyle destination.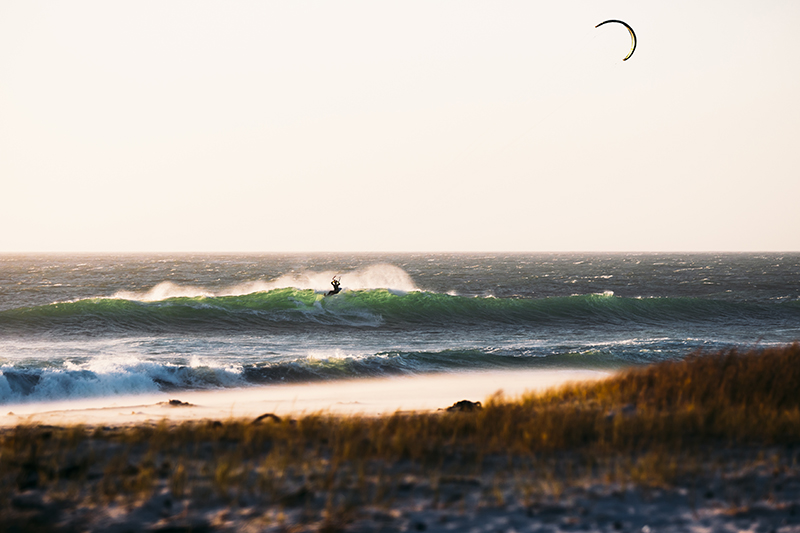 Rider: Jalou Langeree
This season wasn't the best for waves in Cape Town but a little search with Jalou Langeree gave us this sunset session along the West Coast. I love the backlight coming through the wave creating this green see-through line with the golden spray coming off the lip with the slightly offshore wind. For me it's always a pleasure to shoot with Jalou as she is one of the top female wave riders, and if you find the conditions you're guaranteed to score some good shots.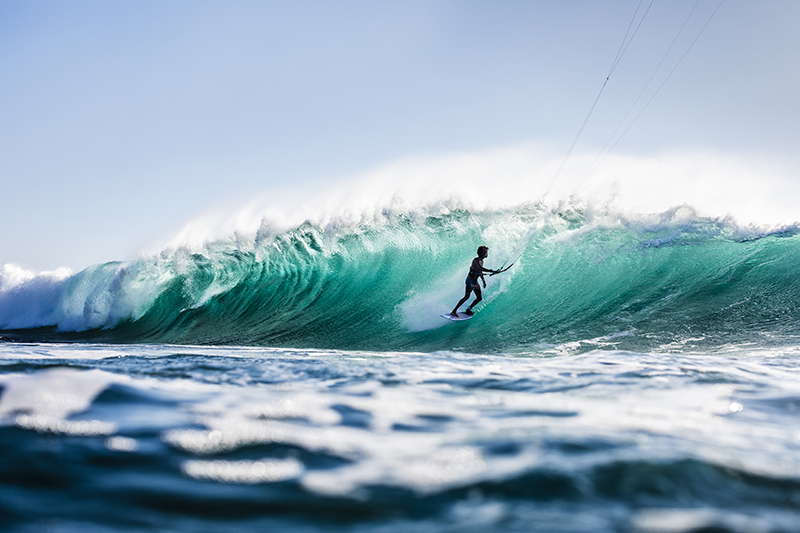 Rider: Matchu Lopes
This was the first time I went to Indonesia to shoot kitesurfing. I saw amazing photos of this spot so I was super exited. During the first couple of days the swell wasn't so big, so it was perfect for me to get to know the spot. Swimming out there on your own is not so easy and you kind of have to learn the wave. Some sets are bigger and break further out, but if the temptation of the smaller waves is too high you might get caught and go over the falls. When the swell finally arrived I took out my 50mm which is actually an amazing lens for in the water. This shot is probably one of the first sets with Matchu. I like the way he looks back at the wave. The next one he actually pulled in and scored the cover of TheKiteMag.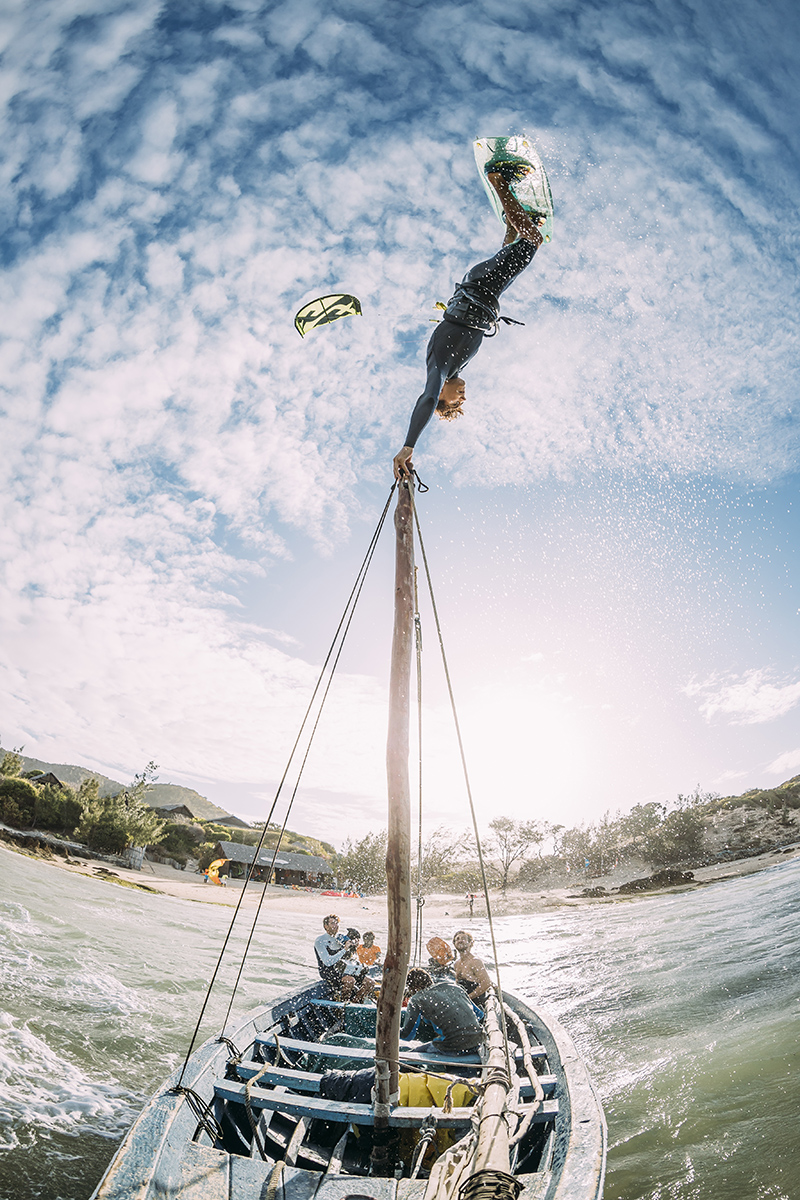 Rider: Maxim Chabloz
You have see him on the podium during the last couple of freestyle competitions and he's one of the young talents in kitesurfing pushing the freestyle limits to the next level. Maxime is one of those top athletes, not only being good at kitesurfing but just being good at any sports. Last year he became junior world champion in freeride skiing. For me this makes him a true athlete and I'm really looking forward to see him pushing it during the freestyle tour this year. This photo shows him having some fun on the water which I think you should never forget.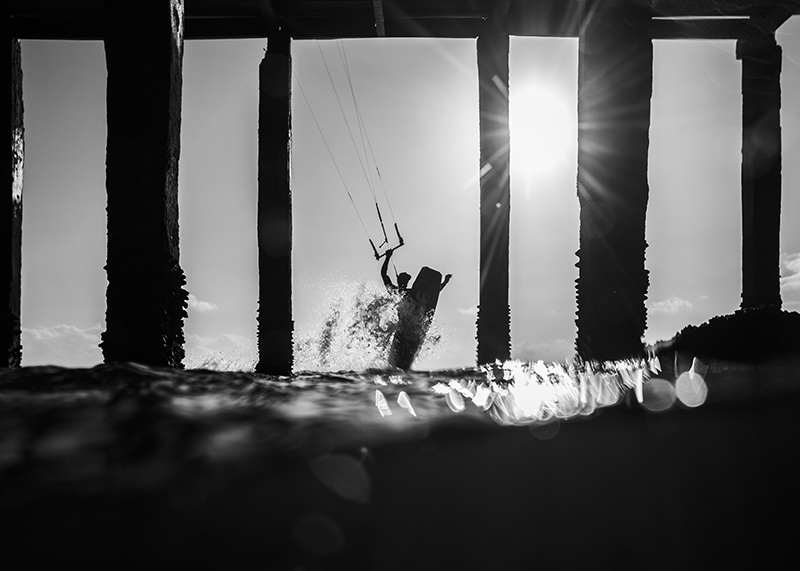 Rider: Michael Fernandes
During my last trip to Madagascar I had the honor to shoot with Micka Fernandes. A super diverse rider that can do everything and has a very unique style. He's been in the kitesurfing industry from the beginning but not really looking for exposure. Being one of F-Ones top riders he can still match up to the younger generation though…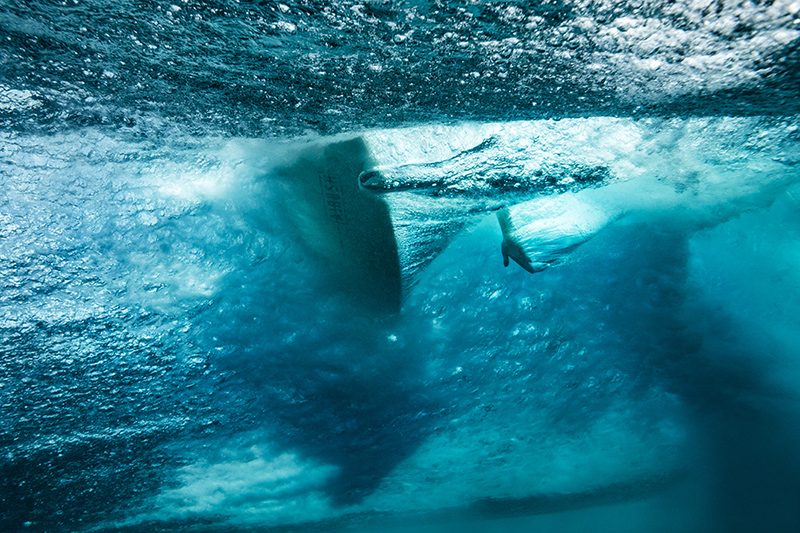 Rider: Billy Hampton
I really like to get close to the action. That means with kitesurfing shooting from the water is the way to go. A solid water housing makes sure I can get out in tough conditions and still operate my camera with all its functions. I really like this shot as it gives something to imagine. The cutback with a hand drag is something a lot of kitesurfers can relate to but I think it's cool that it's from under water in the breaking wave.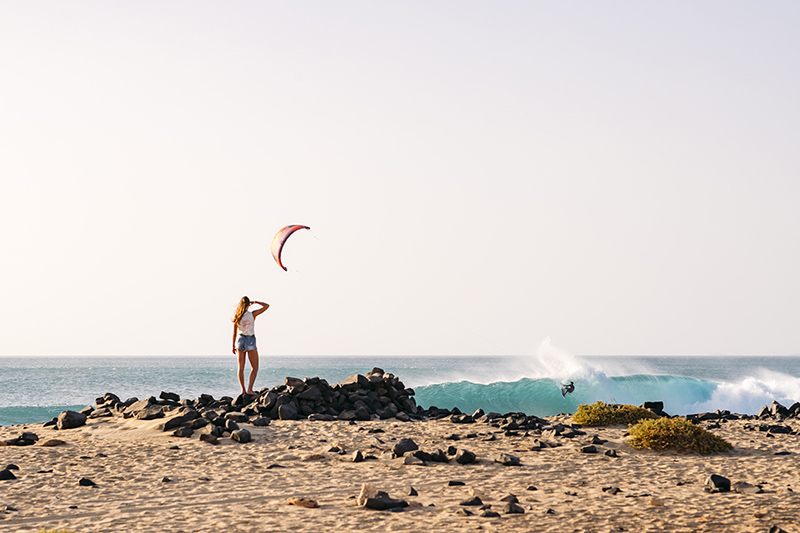 Rider: Airton Cozzolino
The competition ended in really insane conditions like I've never witnessed before, and even after the event the swell was still coming in and some of the riders couldn't get enough. I even had a session myself and it's great to experience a wave that you try to capture all the time. It makes you appreciate what the riders are always going through, and you realize that it's pretty amazing what they are capable off! Sometimes it looks easy, but it's not… This is Airton hitting the lip at Punta Preta. After everyone has left you can find him out there on his own until it's dark. It is no wonder he's so good.