RRD rider and multiple podium placer Kari Schibevaag takes us on a rambling adventure through the stunning Norwegian Fjords. Think camping, bonfires, paddle boarding, cold water swimming, and some kiting of course, but with a bit of a twist…
Photos: Lars Korvald unless stated
---
The Atlantic Road in Norway, with its snake-like shape, is a feat of engineering as it runs over the sea, with eight bridges connecting small islands to each other and to the mainland. This road has been considered one of the most beautiful in the world, and when you see pictures of it, it just looks amazing. I have been fixated on this road for quite a while and every time a picture of it came up it had me thinking how cool it would be to kite there. I knew it wasn't an ideal kite spot as there are no good launching places, but the idea of being out there in the sea, admiring the massive structure and watching cars cross the bridges, was so enticing and a challenge I just had to pull off.
It was June and I was in Stavanger, my hometown, starting my way north to the Lofoten Islands. I was planning to stop at the Atlantic Road on the way up to see if it was possible to jump in the sea there. I had stopped by it on my previous trip down south, but the weather had been impossible for kiting. The view was amazing though and I knew I had to come back. I am always checking the forecast of the places I want to visit, to see if it's worth stopping or if it's better to just keep on going north or south. There are so many places I want to visit in Norway, and although it isn't a big country, it is good to plan ahead as it is long and fragmented. But it is such a cool country as its geography has created unique landscapes with hidden gems, with so many spots for kiting, winging, paddle boarding and hiking.
First up was a visit to Loen, a small village situated deep in Nordfjord, close to the Jostedalsbreen National Park. In pictures this place looks amazing for paddle boarding and camping. You can camp close to the blue water that pours down from one of the many glaciers of the Park, and hop onto your paddle board right next to where you camp – just perfect! One of my friends, Tine, also wanted to visit Loen and we met on the road just before it. The road in is narrow and it is always a bit scary to drive the camper van on roads like this, but luckily I'm used to narrow roads. We found a great spot close to the sea to camp and the weather was amazing. With the sun shining, and the water blue and flat, we were both excited to be there and get in the water. It was freezing cold as we expected since it comes from the glacier, but we had a swim then got the paddle boards ready and went for a paddle around the lake. It is so beautiful… Life felt good, with delicious food at the beach, paddle boarding, hikes to the glaciers and to an old farm in the mountains, and just relaxing with no people around as it was the off-season. We had some beautiful days together before I had to head further north and Tine headed home.
I then picked up Marcela Verdugo, a good friend who is from Chile but living in Norway. She's a kiter, a mountaineer, an adventure girl just like me, and we work really well together – the best kind of friend. We headed to Ålesund, a pretty city beside the sea on the west coast. It is not a small city, but this time we had no time for city life. There are many things to do in the area and there is almost always wind. Vigra Island, a 15 minute drive from the main town, is the place for kiting. After a kite we made dinner, had a bonfire at the beach and watched a magical sunset.
The next morning we headed on, happy to be on the road together. Marcela was in charge of checking the forecast and it was looking good for kiting. She told me to hurry up so we would get the best of the wind. We stopped at Farstadsanden where the wind was side-onshore and perfect for kiting. We jumped into our wetsuits in no time and Truls the dog was running around the beach, being our Baywatch lifeguard. After a few hours in the water having fun we headed back to the camper to get some food and continue our way towards The Atlantic Road.
"This road has been considered one of the most beautiful in the world, and when you see pictures of it, it just looks amazing. "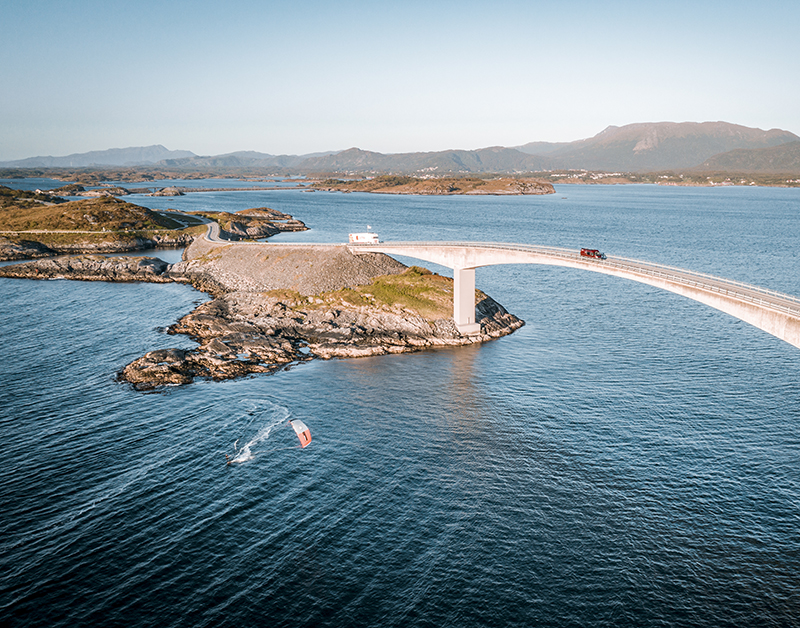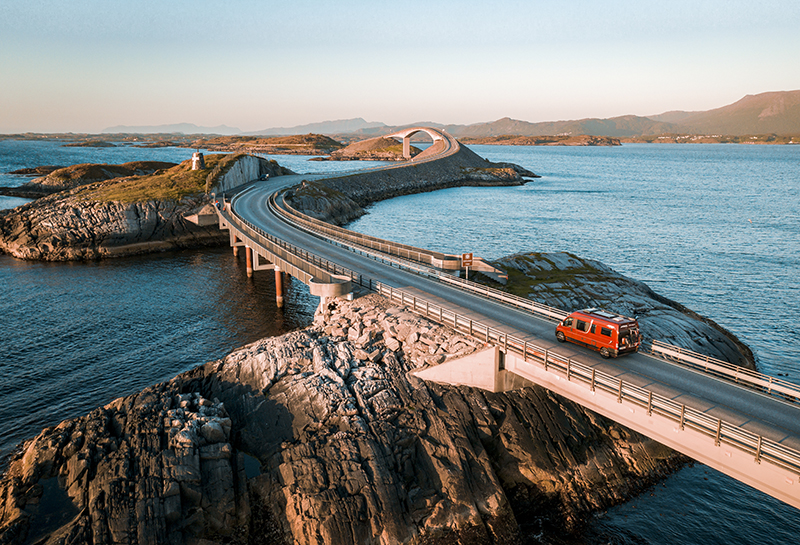 I have to admit I was a bit excited about the idea of trying to kite there. I didn't know if I could do it, but I had dreamt about it for some time already and I just had to try! My friends Lars and Henrikke were there to take pictures and fly the drone. We got there just in time for the perfect light and luckily there was also wind to kite. Marcela helped me get in the sea safely and Lars was filming with the drone. The wind was a bit light, but it was amazing to be out there looking at this famous road from the sea. What a view, I think I will remember this session for the rest of my life.
That evening was special, the sunset was like a dream and the food tasted extra good with the company of good friends around the camper and the smile I had on my face was even bigger than usual. What a day it had been… ■
This feature originally appeared in TheKiteMag #40. To subscribe, head here.