Tired of quick-fix Instagram clips, Laci Kobulsky was keen to produce something bigger, something memorable: something more like kite movies used to be… With his plan hatched he just needed a rider – and who better to team up with than Aaron Hadlow?! Here Laci takes us through the philosophy of the project and where they are at with it so far…
These days the internet is swarming with kiteboarding videos, edits, clips, stories, GIFs and other forms of visual content. I have been making kiteboarding videos for over 10 years now for various riders and kite centers, my count is way over the couple of hundreds, so I admit that I am also partly responsible for this swarm. And while it's nice to have so many options to show the content as the creator, all the internet formats have one disadvantage: they are fast. Videos must be cut quickly, ready for Instagram consumption, we need to cram all that amazing footage we spend so much time shooting into a couple minutes, and very often we are forced to delete many of our favorite clips that will stay unseen.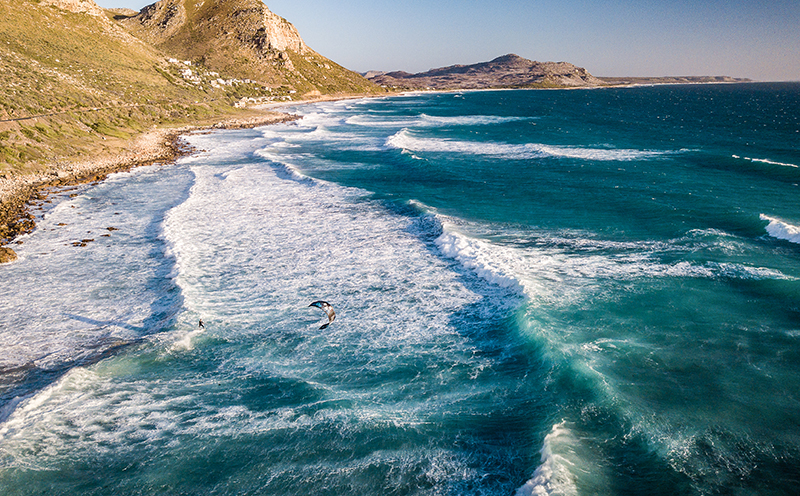 This year I had the opportunity to work on a different project that would open a new creative door to me, and give me much needed space. I have already worked with the legendary Aaron Hadlow a few times in the past, most notably on the award-winning edit "Reflection" shot in Sicily, but this year we decided to focus on a full-length documentary simply called "TWENTY". This longer project will give us the much needed creative space to showcase all the moves and locations properly. Sometimes there is a wonderful slow-motion clip that lasts 30 seconds, and instead of cutting a short part, we can now let it run. But don't expect the movie to be a compilation of a slow-mo shots, rather something that invites you to sit down and enjoy the show…
So, throughout this whole year (and a little extra in early 2019) I am traveling and shooting with Aaron. So far, we have done Cape Town, the Caribbean, the USA and UK, with Brazil left this November. Along the road we've also worked on a side project on YouTube – a show hosted by Aaron called "Aaron Airs" which has kept the social media following masses up to speed with our progress.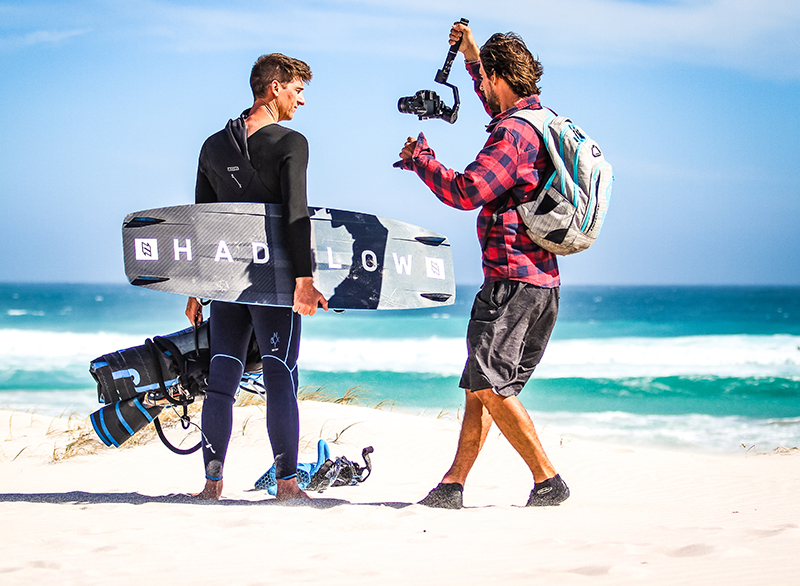 So. What is the movie going to be about? Well simply put: it's about kiteboarding and its various disciplines, all projected throughout Aaron's long professional career. We will try to show and explain the three major disciplines Aaron has been at the forefront of – Freestyle, Big Air and Park – so the viewers can understand what each discipline is about and see some of the world's best athletes perform their moves.
Who would be better for such a task than Aaron, the guy who has had such an influence on the sport over the years?! We did not stop there, we said let's go all in and let's shoot each discipline in the location that is simply PERFECT for it. If we are talking about Park – we travel to the world's best kite park in Cape Hatteras. Big Air is obviously going to happen in windy Cape Town, and where else other than Brazil would you go for some sick Freestyle tricks?!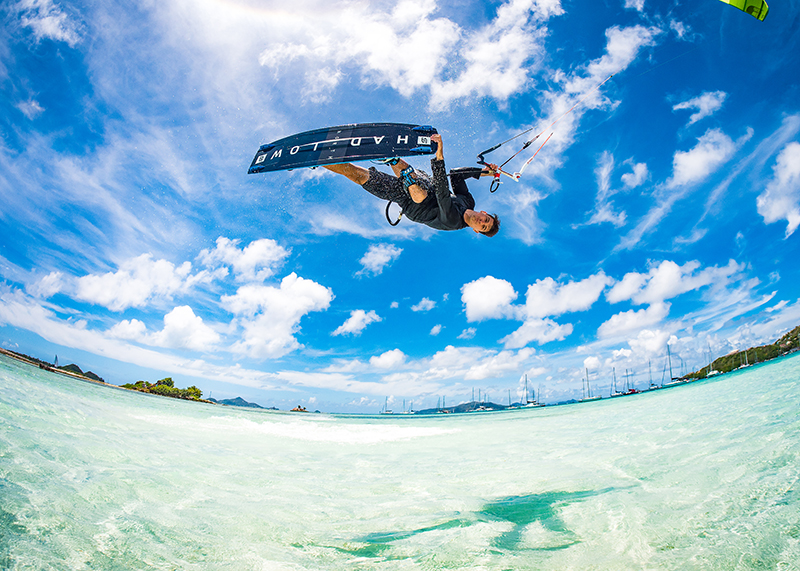 But the movie is also a personal story about Aaron's career and his contribution. Alongside him, you will see some of his friends and some of the best riders in each discipline. It is hard work to tell the story right, but our minds are set on the goal. The movie will be released summer 2019, so keep your eyes out for movie news and updates on the web: twenty.aaronhadlow.com. And on social media, follow the hashtag #AaronHadlow20.
SHOOT LOCATIONS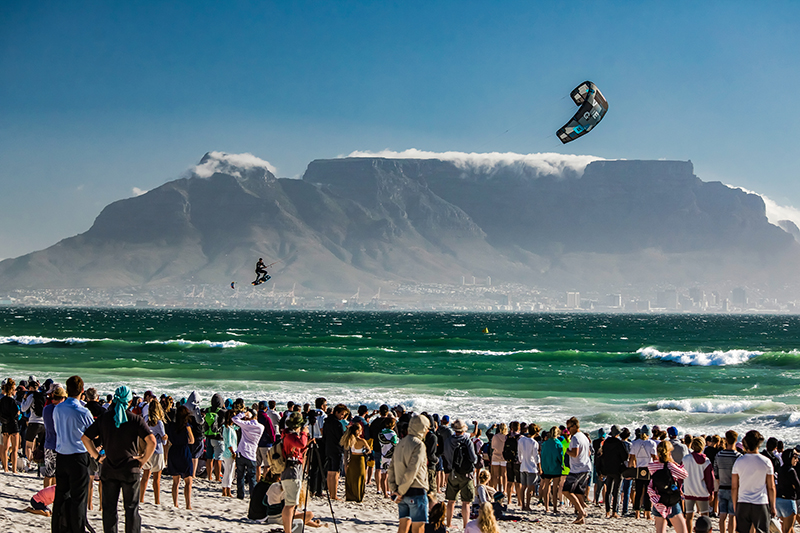 I. BIG AIR – Cape Town
A few locations were definites from the very beginning of this project, and one of them was Cape Town. This place is not only the obvious choice for Big Air kiteboarders from all around the world, but also the place that probably gave Aaron the most. He moved here with his parents when he was a young grom and the tough freestyle conditions prepared him for the World Tour, that he went on to dominate with an unprecedented six titles. We spent a month here, not only shooting Megaloops in front of Table Mountain, but also traveling to different spots, kiting together with Aaron's dad Ian or recording interviews with his friends. The highlight must have been Aaron's new trick during the King of The Air – a Megaloop Board-off Frontroll. I was watching the action from behind the lens – Aaron's position was not so secure towards the end of his heat, so he knew he had to go big. I knew he was training for Board-off Megaloops a few weeks prior to the event, but seeing him blowing everybody's minds by quickly changing his board in the last minute and landing this NBD move under pressure was some spectacle! Luckily my camera was rolling and Aaron was in focus!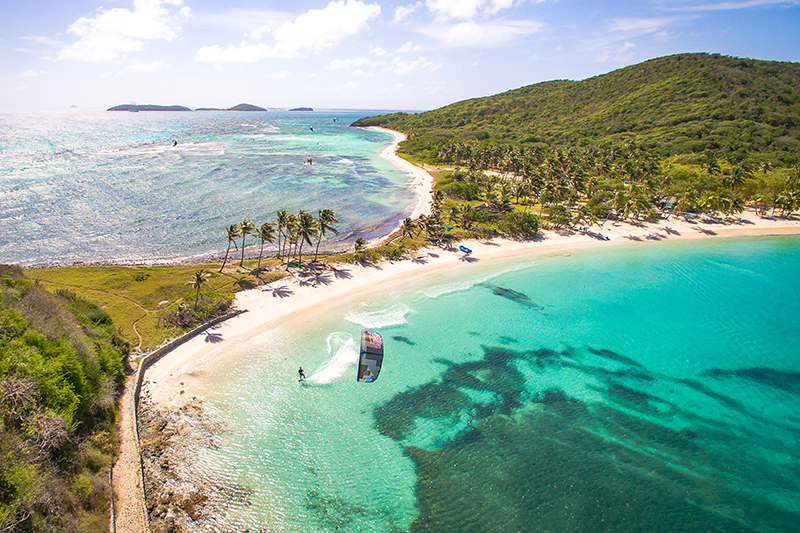 II. FREESTYLE – Caribbean
We knew we needed a change of scenery after windy Cape Town and also some "paradise vibes" for the movie. Sacrificing nothing, we decided to board the 'Caribbean Kite Cruise' catamaran with its owner Richard as captain, and cruise around the beautiful Grenadines in search of the perfect wind and flat-water conditions for freestyle tricks! This trip was probably the most enjoyable shooting location. We were alone on the boat without any distractions, just focused on getting the shots. Also my job behind the camera was much easier, since the locations looked amazing from every angle I pointed my camera. On a usual shoot, you always have to go around and play with the scene to make it look good, which was not an issue with the beautiful turquoise water and white sandy beaches on this shoot.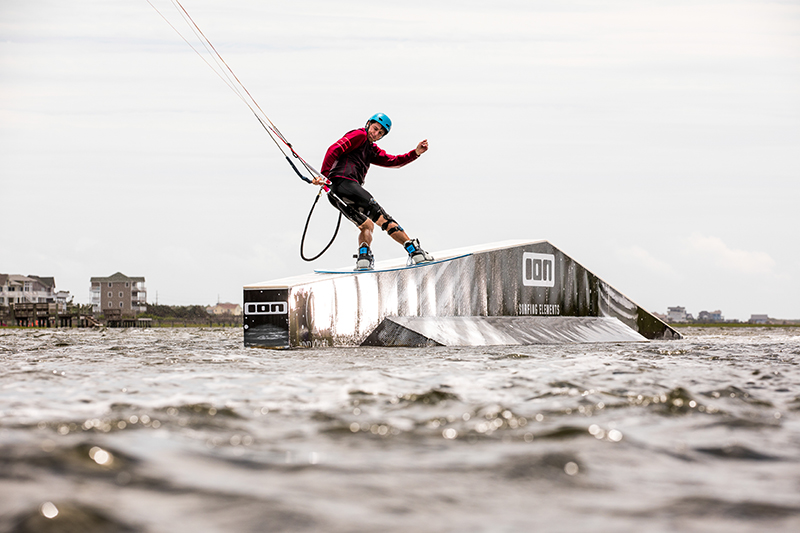 III. PARK – USA
While working on this kind of a project, I get to see many interesting places that I would have trouble to see otherwise. One of them (and definitely the place I was looking forward to seeing the most) was the kite park at REAL Watersports in Cape Hatteras. REAL started Triple-S events more than 10 years ago, and since then has maintained its status as the most prominent place for park riding in the world. In total we spent about three weeks here, ending with the Triple-S where shooting for the movie was limited. Overall it was a great trip. Noè, Craig and Sam joined us for some variety in the tricks. I was using the gimbal a lot so instead of the shaky clips we are used to from regular park edits, so people should expect more of a cinematic show. Also Aaron and Craig were pushing themselves with new tricks and landing some, so it was a double win trip for them.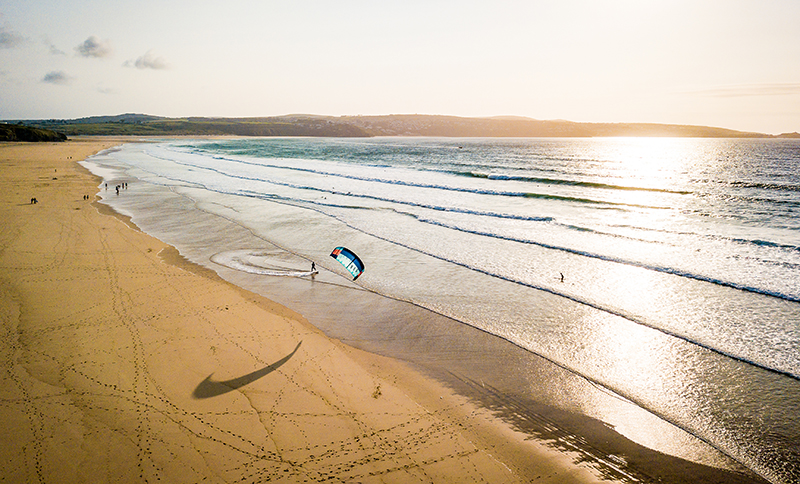 IV. ALL – UK
In August, when most of the European kiters travel south for warm weather and windy conditions, we went in the opposite direction and visited Aaron's home in England. From there we traveled to the spot where he first started kiting, and also went on some trips with his friends Lewis and Tom. This will not be a separate section of the movie, more for the story bits, for interviews and also for the grand finale of the movie. And you'll just have to wait and see what that is…
Aaron Hadlow: TWENTY drops in 2019. To keep track of the latest news, visit: twenty.aaronhadlow.com
#AaronHadlow20
This article originally appeared in TheKiteMag #28. To subscribe, go here.