When it comes to 'living the pro kiter dream' surely it doesn't get much better than being sent over to California a couple weeks before an event, just so you can slowly cruise down the coast in an RV checking out the sites? 12 lucky members of the Flysurfer/Levitaz team got that call…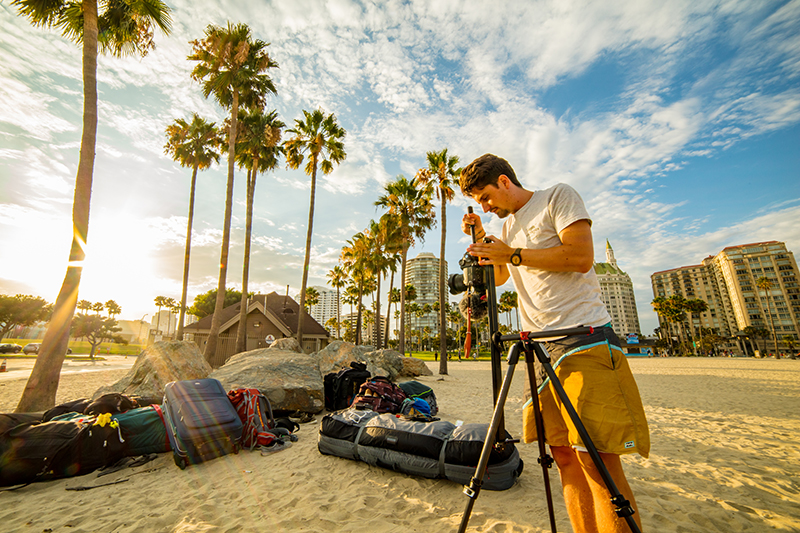 Day #1
Chris, Dominik and I met at the airport, with around ten hours of transatlantic flight ahead of us. The first challenge occurs, which is probably familiar to most kitesurfers. All together we brought 160kg of gear. To the question, "is it more than 30kg each?" Chris was super confident: "of course not!" Well. It was… In the end the bag was 42kg and we had to split it up, packing and unpacking and figuring out who has to put the wet, stinky wetsuit in his bag, but in the end we made it.
Next stop, Atlanta, USA. Arriving here the next challenge came up: explaining to the security guy exactly why I was traveling with 11 guys in two RVs through California without a fixed address. Then he finds out that I am a doctor and just wants to have some information about how to reduce his blood pressure apart from meds! My best info was reducing stress by kitesurfing…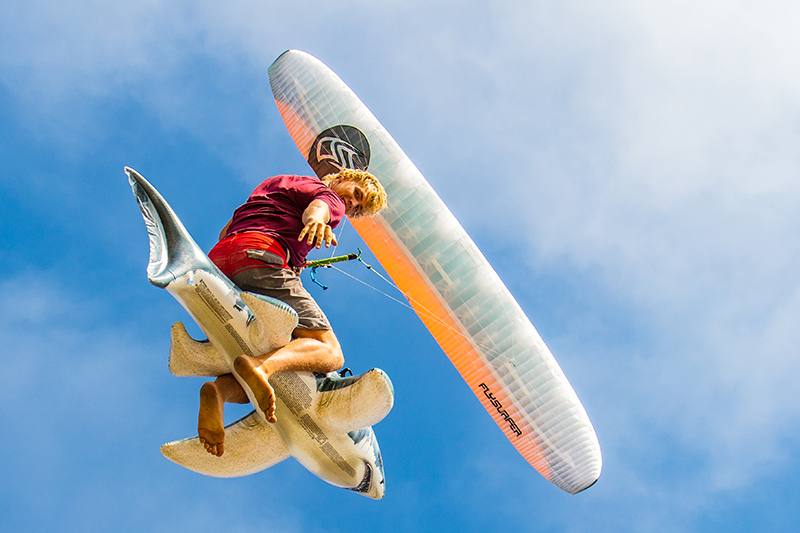 After another three hour trip we arrive in San Diego. Landing downtown and passing through the city's skyline was already quite a special welcome. Luckily, our local friend Will picked us up in his surf van, fitting all of our gear and taking us straight to the next sports bar, where we had a couple of beers before falling into a coma after being awake for 24 hours!
Day #2
Our first day in the US starts with Dominik and I both waking up at 5am and finding each other online as we are both already posting on Instagram. So we decide to go for a walk through the neighborhood, looking for a nice spot to watch the sunrise. It's been 10 years since my last time in the states, so everything looks a bit unreal to me, almost like in the movies. Big trucks and SUVs everywhere, Starbucks at each corner and of course surfers living the Californian dream.
After a chilled morning it's time to pick up the RVs. We are quite excited since the cars looked pretty big in the pictures. And they don't disappoint – they are huge. In Germany you'd definitely need a special truck license for these things! But Chris and Domi do a pretty good job maneuvering them around the corners. Luckily there are six lanes on the highway…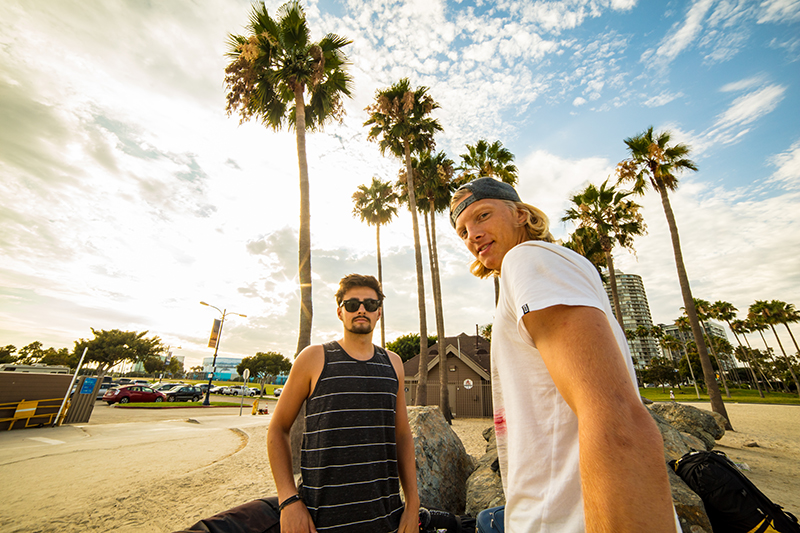 So after a short foil session at Sales Bay in San Diego, we start trippin' towards LA to pick up the rest of the group. When we arrive at Long Beach, it's quite a fun image to see five guys sitting on this mountain of kite gear at the beach. But the fact is that if you are going to a competition you need something like six kites, five bars, two boards and much more. So after splitting into two groups for the RVs, we have a 'manager' and a party bus – we're good to go for the adventure!
Day #3
First we stop all together at Huntington Beach. The US Surf Open is taking place this weekend – unfortunately we have a tight schedule and can't stay for the whole event but it's already exciting to see the set up and feel the surf vibe surrounding the whole town. There are nice cafés and surf shops all around that exude the Californian vibe. After filming and taking some lifestyle shots, we head to our first kitesurf session. Long Beach it is and the gear war begins: 11 pro kiters gearing up their foils. One hour and a team meeting later we are ready to go. I have to say it looks quite impressive when the whole Flysurfer/Levitaz team trains in formation. With their race foils they fly over the water all perfectly matching each other. And you can see that this is a real team – friends on and off the water and this is what we live for…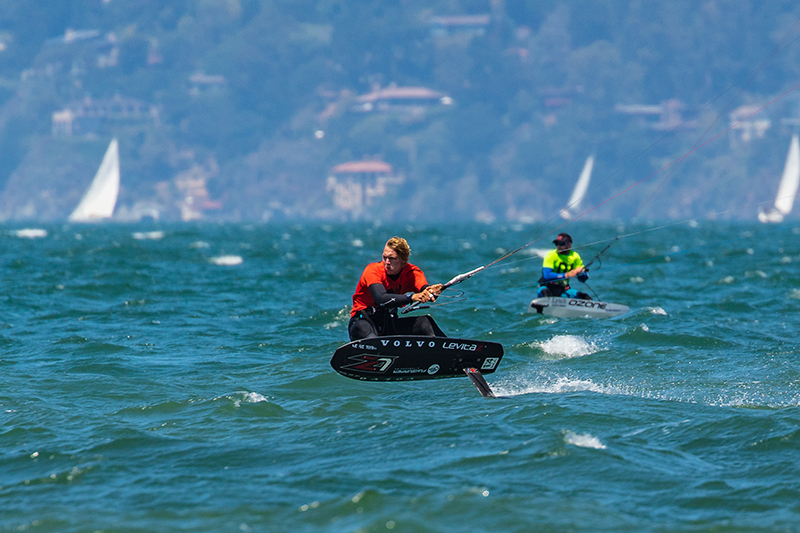 Day #4
After waking up for the first time in a proper RV park above Malibu beach, I am so grateful for a proper shower and a healthy breakfast with oatmeal, almond milk and of course "mate" tea delivered by Jose who is spreading the Argentinian lifestyle. Today we are checking out two different spots. First we go straight to Malibu beach and it is crazy how many surf schools are out here, they brought the kids in in several buses (I feel familiar with this image from home in the mountains – just that it is skiing and not surfing). Right now I feel quite far from home and wonder how it would have been to grow up here. Just grabbing the surfboard after school and going for a ride with your friends whenever you feel like it. In my next life I want to be a surfer! Haha!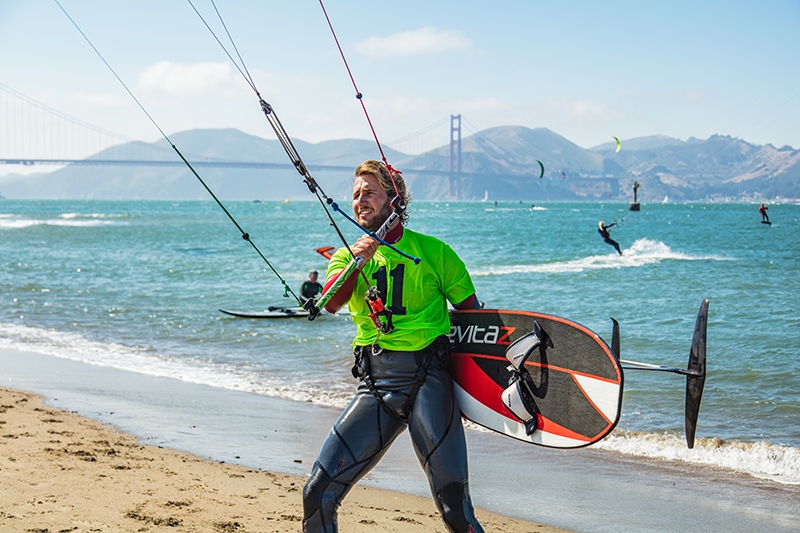 This was the first time I'd tried foiling. I knew it was going to be hard, but man this was damn hard! If you should ever try this, make sure to wear a helmet and a long wetsuit if you don't want to end up as sushi. Here are some hints the pros gave me: make sure to bodydrag far outside 'cause you will be at the beach in no time, only put the front foot in the strap and the back one in front of the strap, so you have more weight in the front which keeps the foil down in the beginning, and if (or better to say when, because you will for sure!) you fall it is easier to get away from the foil. And then you should start with just pushing the board down and just ride it like a surfboard without getting the foil out of the water. This is hard enough, trust me. Anyway if you can do that safely then you can try to put some weight in the back and lift the foil out of the water. And there you go, in theory… Me? Well I'll keep on trying.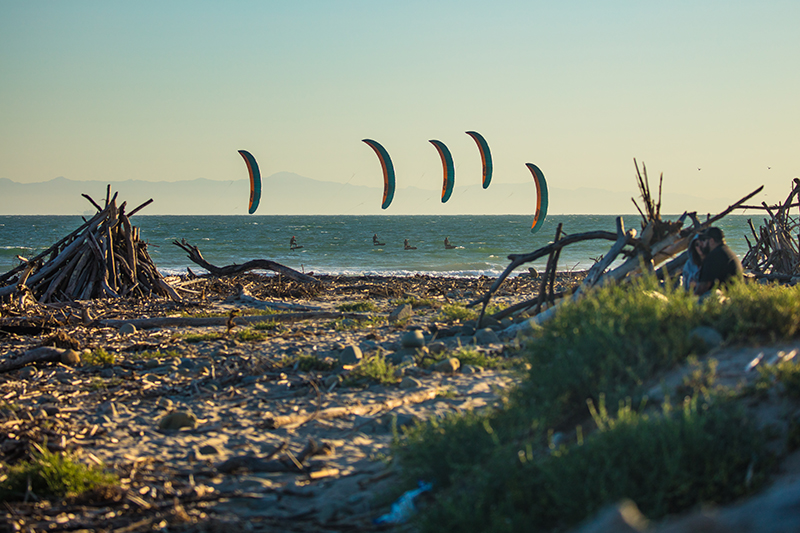 Day #5
We are in Santa Barbara now, and we have a chilled lay day after all the time on the road. Although we are not lazy, so after some lifestyle shooting and long hours at Starbucks uploading media, it is time for the guys to train a bit in light winds. This is the future of competitive kiteboarding if you ask me. It is quite nice not to wait for wind all day long and just be able to ride even if there is just a little breeze…
Day #6
After a little party night we have a chilled morning with breakfast at a local Mexican restaurant. Scrambled eggs, beans and free-refill coffee kind of saves us until we hit the road again – there is quite some drive ahead of us until our final destination in San Francisco. Next stop on the way is Pismo Beach. On the way there we drive through the countryside because the costal road is closed. It is quite impressive how the climate changes in this short period of time. Here in the national parks, a little away from the sea, you have proper desert whereas Malibu and Santa Barbara look a bit more like Maui with little green hills and palm trees. We drive hard to be at the spot in time so the boys can train a bit in the right conditions. Up in San Francisco the water will be way colder and the wind stronger, and it is important that they can adapt their bodies and minds to the race surroundings – shortly before the race you don't want to have any surprises. The gear and focus has to be set.
Day #7
We move closer and closer towards San Francisco. We are fully into life on the road now, having barbecues in RV parks, lunch breaks at Starbucks waiting desperately for the video upload to be done, and we are documenting everything for our social media life of course. Sometimes I wish – at least for myself – I could just enjoy things and keep them in my memories. But as an athlete these days you need to be present all the time. It is not enough anymore to just be good in your sport, there is much more that brings the money in. It is a lot about social reach, followers and likes. And on the other hand you are creating something on which you can proudly look back, moreover you are inspiring people to go out and try something, discover and push the limits.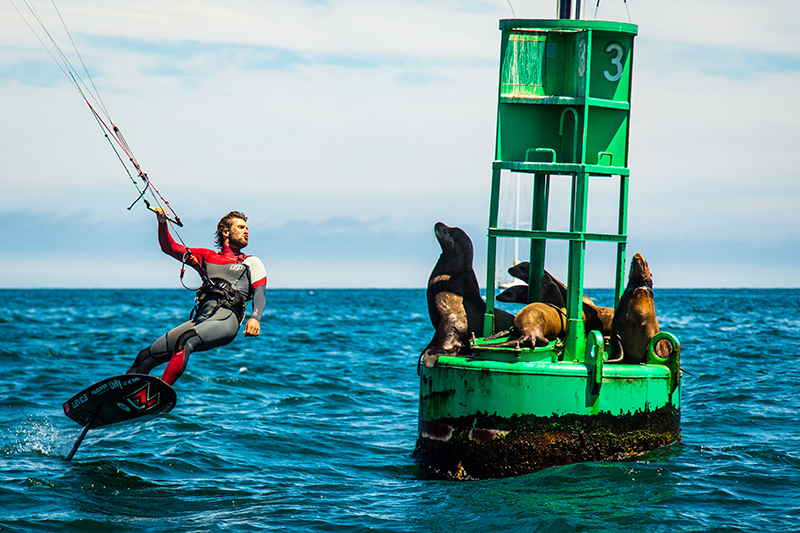 Day #8
We finally made it to San Francisco and Crissy Fields! Wow this place is even better than I thought. It's right in the middle of the city and next to the Golden Gate Bridge. It looks epic how the huge container ships pass under the bridge through the mist and kiters and windsurfers are sneaking inbetween. Learning how to foil here is definitely going to be interesting. There is a five knot current, and there are whales, sea lions and, apparently, big sharks – well, YOLO, I guess I won't get this chance again… So I stick to my plan and always say yes to every opportunity that comes up. Just go with the flow – even though I am shitting my pants, haha! But the local community here is super friendly and helpful and offers information over the whole spot so I feel a bit safer. Still, I want to be sure and try with my twin tip first and Stoke tube kite. It is pretty gusty but that doesn't matter because you are so stoked about the scenery that you don't even have time to think about the conditions. From the water you see either the Golden Gate Bridge, the city, or Alcatraz. I didn't make it under the bridge with this setup yet, but I will come back one day, that's for sure. What a day!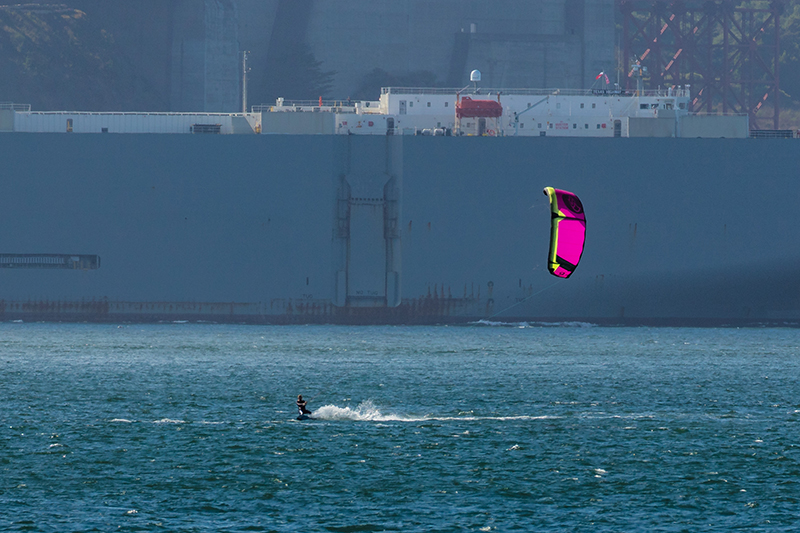 Day #9
It is way colder up here because of the high humidity and the wind. So after the first night here I decided to have a relaxed morning and sleep in a bit, reading a medical journal to ease my conscience, although I think I will never lose that inner urge to gather more and more knowledge. I thought after university I would be done with that, but the world is just moving so fast. Last night I had a real good talk about that with Benni, our videographer, who is studying mechanical engineering. The fact is that kitesurfing and an academic career don't exclude each other. And even if you are a professional kiter, you should always keep in mind that there is a life after kitesurfing.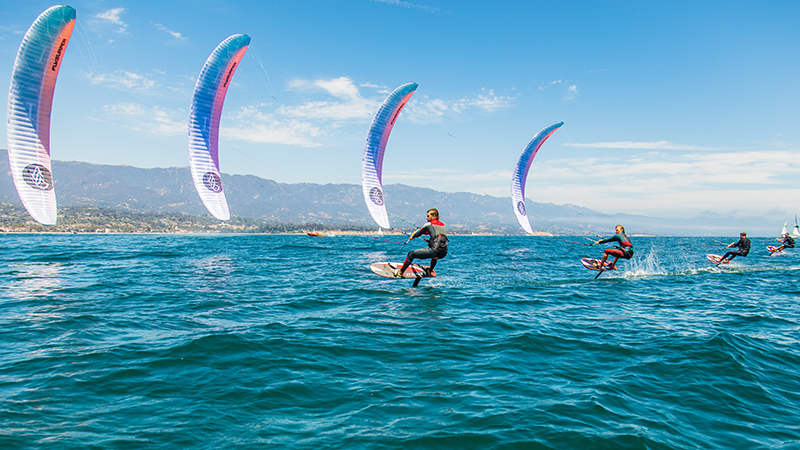 So today was the day I learnt how to foil. The conditions could have been better, it is gusty, choppy and cold. But there is nothing to complain about. I am in California. I am able to be in the water all day and I have experts teaching me. So even though I was quite nervous I threw myself into it and hit the water. It was quite challenging but with Alex kiting around me I felt safe and managed to glide for a couple of minutes. It feels incredible, you feel like you're flying without any friction or gravity. Even though I feel like a complete beginner again, I am stoked and can't wait to try again tomorrow.
Day #10
Another party night out in Sausalito on the other side of the bay. These guys know how to have fun! I am still stoked how everything looks like it is in the movies – we are having pancakes and eggs and bacon in a real American diner with free-refill coffee. Today we are enjoying ourselves. I have to say the guys are pretty good in nutrition, more than you might expect. Apart from having the attitude of 20 something boys, they act like real athletes and you can feel that the tension is increasing a little bit as the race gets closer.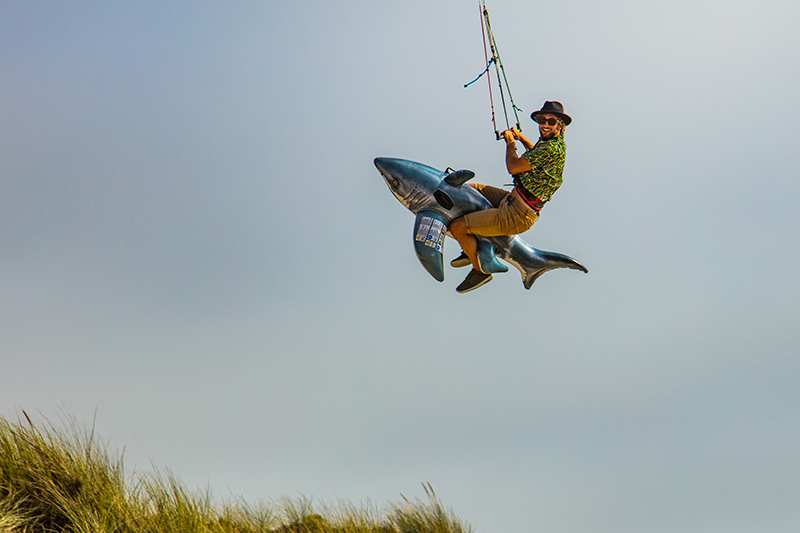 Day #11
Today I was pumped to learn how to properly foil. I already learnt how to gear up everything and it felt a bit like my beginnings of kiting, but I guess you always keep an open mind and learn new things to move on and improve. In fact, doing multiple sports like surfing, skateboarding, or wakeboarding really helps you to become more confident in boardsports. So after I set up my foil I couldn't wait to get on the water. I was surprised how it already felt way easier to get out of the water and just ride than it had in the last few days. So I keep on going and going towards the Golden Gate Bridge. I was so stoked that I can glide a few meters that I totally forget everything around me. So I also forget about waiting for the boys and suddenly I found myself under the bridge. This is scary and awesome at the same time. Since I heard it is sharky just outside of the bridge, I decide to turn around. Then I realize that I have no clue how to go downwind with the foil! I am doing the dolphin and keep crashing a lot. The wind is very gusty beneath the bridge and I get closer and closer to the bridge pillar. And now there is no wind here at all…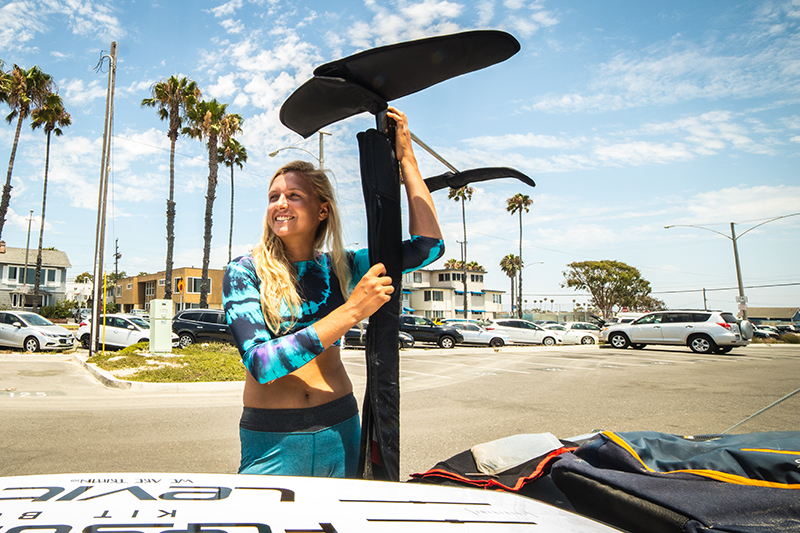 And so I find myself under the Golden Gate Bridge, no wind, most probably sharks, and huge container ships coming closer. I remind myself not to panic, like I try to do at work in the emergency room. I try to stay calm and think about what to do next. I try to relaunch the kite away from the bridge where there is probably more wind. It works pretty well, as the Stoke is super easy to relaunch. But as soon as it is up it keeps stalling because of the weird wind circulation behind the pillar. So after three or four tries my kite fully tangles. But then karma kicks in – I gave food to a homeless guy this morning – and two jet skis show up right at the moment when I was thinking "this is it". Well there are worse ways to die than kiting under the Golden Gate Bridge. But here they are: Steve and Jack. First I think these guys are Coastguards and that this is going to be very expensive, as I know from rescues in winter. But it turns out these guys are just riding around the bay for fun and it is not their first rescue either. So I ask one of them to grab the board and I deflate the kite, hop on the ski and off we go. I am so lucky and I realize that life is so good to me. I am having a fun ride back to the beach and a nice chat with Steve. This is so American – they really are super friendly and helpful without expecting anything. And this is it – I am safe at the beach and Alex shows up to help me with my tangled bar. The other boys are giving me shit but I guess I deserve it after that…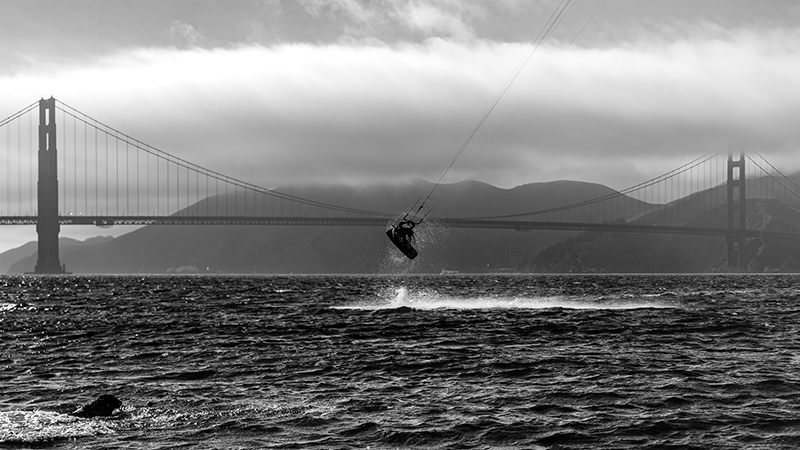 Day #12
It's the second day of competition. Our boys ended up quite good yesterday. We were the only real team at the event. It is nice to see how the guys help each other out. There is Benni, the kite designer who is gearing them up professionally, Chris and Jose checking if everyone has enough water and food and launching and landing kites. And even though the boys have to compete against each other they are still friends on land which is a rare thing – as I know from other athletes. So they end up top ten again and we are happy with the good results.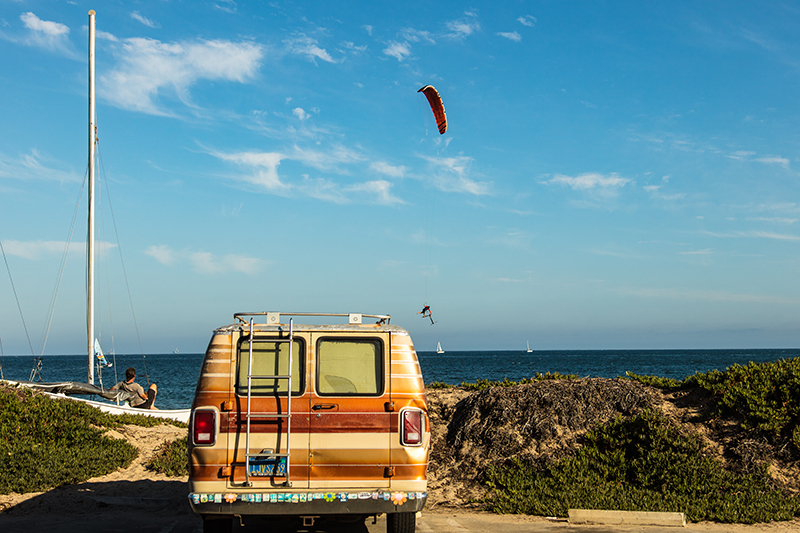 Day #13
Today is the big competition day for the boys and some will regret going out last night. But after a good American breakfast, everyone is fit and pumped to go race the long distance. So we unpack the RV again like we do every day – I have to say it is crazy how we fit those 11 foils and more than 40 kites in one truck. They are really concerned about their gear and keep everything as clean as possible – unlike the dishes in the kitchen. But living with so many people on such narrow space, I am still impressed on how well the trip has gone so far. Tomorrow is the last day but everyone is so tired from competing that we just go for ice-cream on Chestnut Street and then sleep.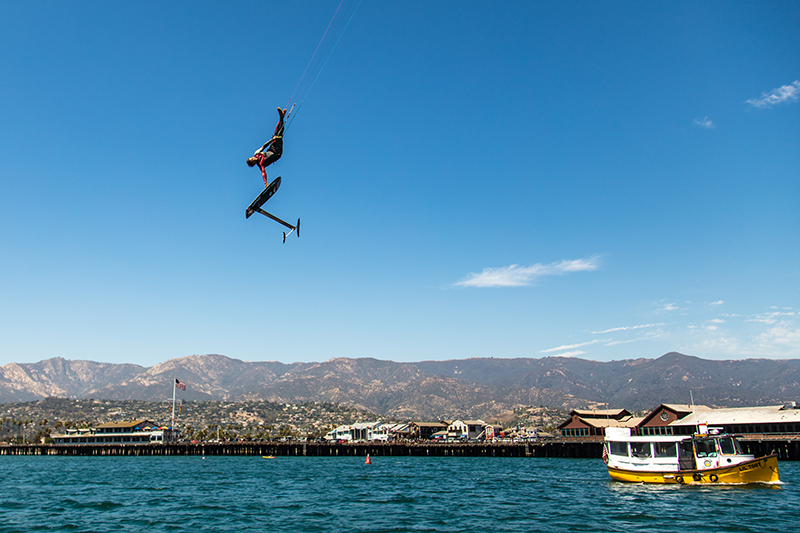 Day #14
Our two weeks are over. Being on the road feels like we were traveling for at least four weeks. We have seen so many spots, people, cities and lifestyles. It was a busy time, we were working a lot but we never missed out on the chance to laugh. It amazes me how a trip like this can build a real team, the group dynamic kept going and pushed us further and further. We are not just a group of people who share the love to kite anymore, I consider the boys as kind of a family now. We were sharing so many moments, feelings and situations that we got to know each other really well. We had our ups and downs but all in all I still cannot believe how so many different and strong characters can live in such a confined space without an actual explosion! For me this was one of the trips I will keep in my mind for a lifetime. It will never happen like this in the exact way but we are already planning our next #wearetrippin trip. I am sure it will be another lifetime memory – and I can't wait for it to start…
This article originally appeared in TheKiteMag #25. To subscribe, go here.
Keen for California? Check out the USA options at KitesurfHolidays.com