Here comes Christmas and – making it out just in time to fill stockings and pillow cases the world over – TheKiteMag #23 slides into your life like a sled on a snowy rooftop. Keeping any cold winter haters happy, we head into Mauritius, Indo, French Polynesia, Cape Town and a whole other bunch of toasty locales, while also keeping it real in a wetsuit in a few other 'fresher' kite spots. We've got new products, industry exclusives, tips and techniques and – as ever – we test a whole bunch of new kit, and give you the results. We've even got a 'How To' guide on how to make it into the pages of this very magazine. Want a taste? Our pleasure! See below.
But first, you might wanna check this out…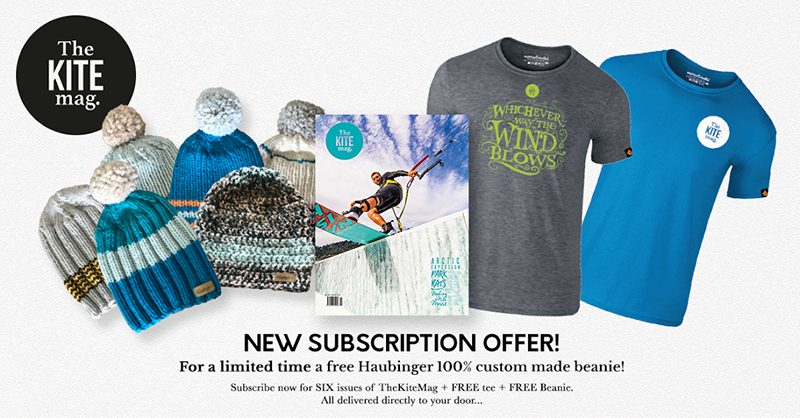 FACT: There has never been a more perfect time to take out a subscription to TheKiteMag. For a limited period, new subscribers will get SIX issues of the magazine across the year, a FREE TKM tee and now a FREE Haubinger custom-made beanie too! And all for a bit of a steal… the perfect Christmas gift to that favorite kite-junkie of yours ? ?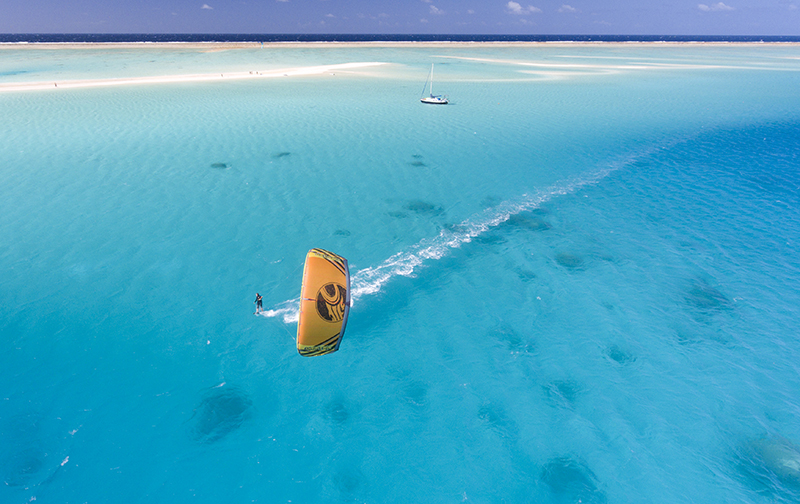 "The wall of sharks was about 60-70ft down from the water's surface, which is within my personal freedive range but I would not be able to stay down there long enough to appreciate and really observe the sharks themselves. The dive was incredible, we found a cave in the reef that we could fit into and "hide" like a fish from the sharks, allowing them to come closer and fill our field of view – we called it 'Shark TV'."
Reo Stevens heads deep into the beautiful solitude of the French Polynesian islands, in search of flat water perfection. He finds that, and a whole load of wildlife too…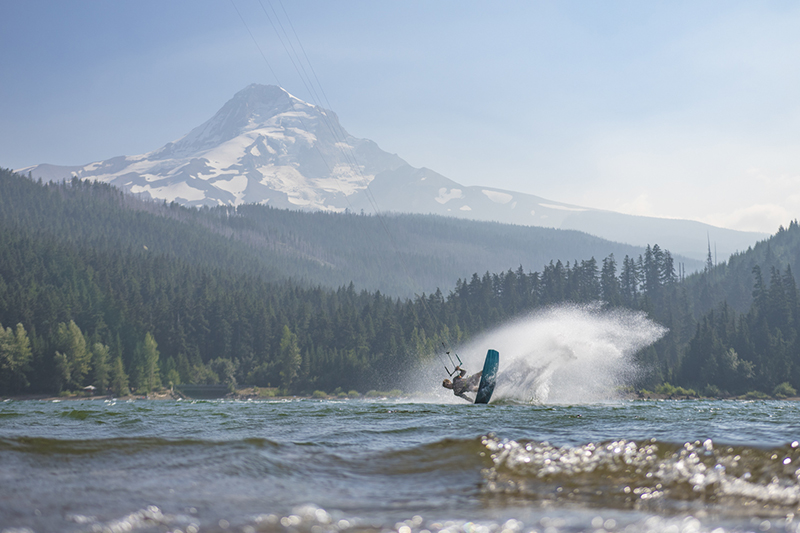 "Almost by accident I ended up finding the wind and the wonderful sport of kiting and, luckily, I eventually achieved my goal. And I would say I achieved it not because I was ever the best kiteboarder, but because I knew at the end of the day this was still a job, and jobs take work."
Brandon Scheid knows he's a lucky man to have the life and career he has, kiting some of the most magical spots around the globe. But, as he lays out a year in his busy life, he makes the case that it has its down sides too…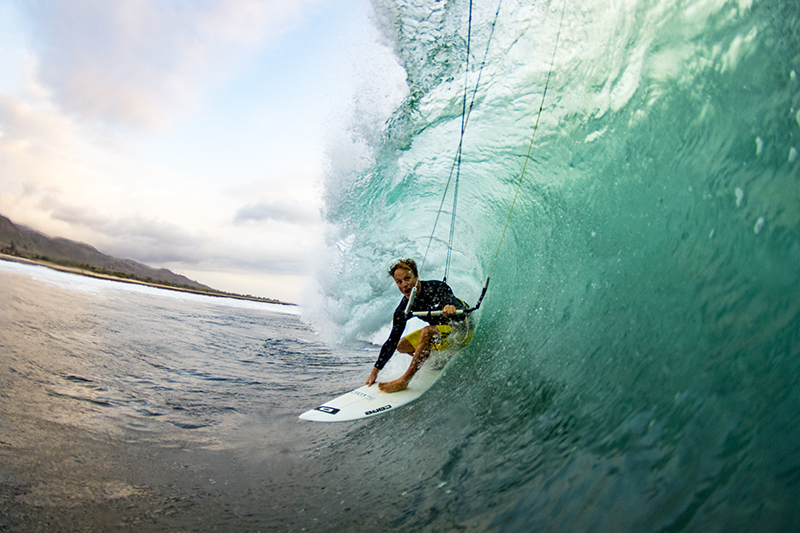 "As I exploded my bags in my new digs looking for fins and wax to get the session started, JW was meticulously bolting his water housing together with his go-to fisheye lens. The adrenalin was flowing hard now, even after a day of hectic travel. The goal now was to charge some low tide barrels if possible."
Rob Kidnie heads into the Indonesian archipelago on his annual barrel-searching pilgrimage, hooking up with Bali ex-pat and seasoned photographer Jason Wolcott. And, as you can probably already gather from the image above, they totally scored…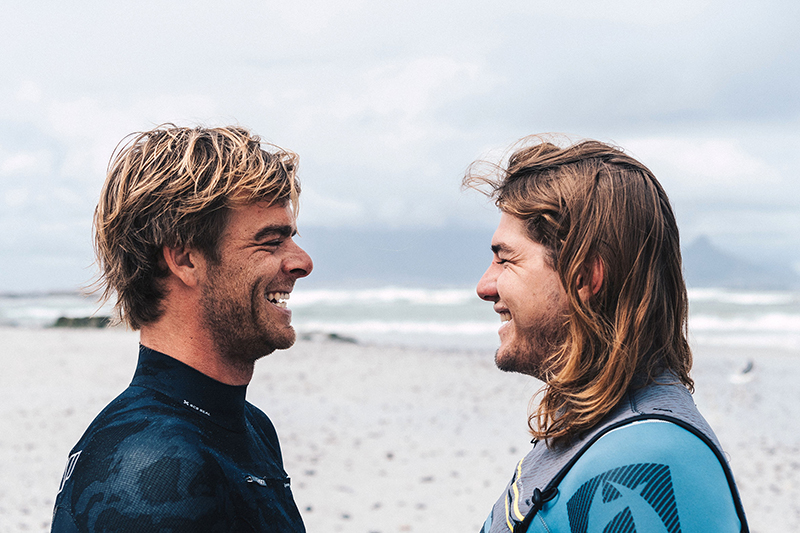 Nick Jacobsen and Joshua Emanuel are two riders who are tipped to turn Big Air kiteboarding on its head by hitting that magic (and as yet unattained) 30 meter mark. They are both currently in Cape Town, Big Air's unofficial capital, and both are ready to turn it on. We square them up against each other, and step back…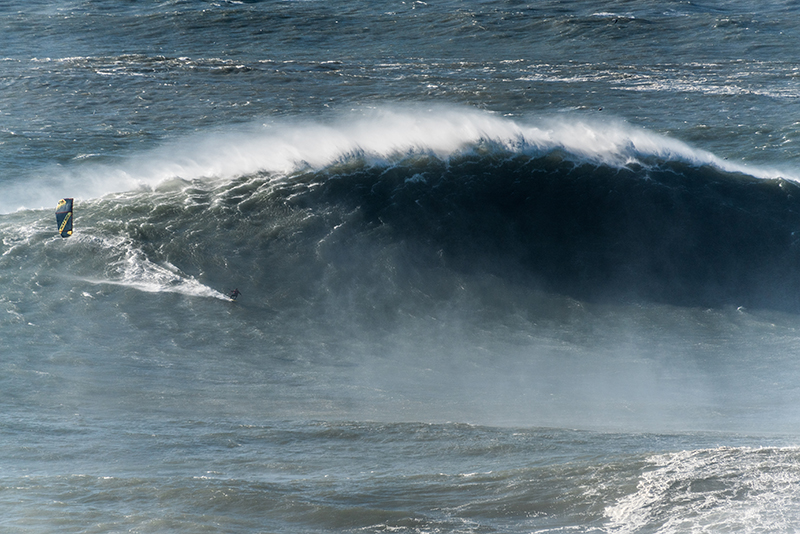 "Completely alone on what was now more like a War Zone than a lineup, a kitesurfer appeared out of nowhere. First on the outside far away from the peaks, but really quickly I could sense that he meant business. He was fully committed and he was there to charge – no doubt about it."
On the same day and at the same spot where Big Wave surfer Andrew Cotton recently broke his back, Pedro Miranda happened to be witness to Jesse Richman dropping in to some of the biggest surf on the planet.
We have his tale and, most importantly, his shots…


"It's not all about social media and I can't stand reading that to be a pro you need a good Facebook and Instagram. Face-to-face is the number one when it comes to communication, and how you conduct yourself on the beach (or wherever you are) is just as important. I once read somewhere that you should try and launch five people before going out yourself. I never forgot that advice as it has so many great meanings."
Responding to a question from Bas Koole in our Tangled Lines feature, Lewis Crathern offers up his tips for those wanting to push for the pro kiteboarder career, as well as offering up many other nuggets of wisdom as he answers a selection of questions from his colleagues and peers.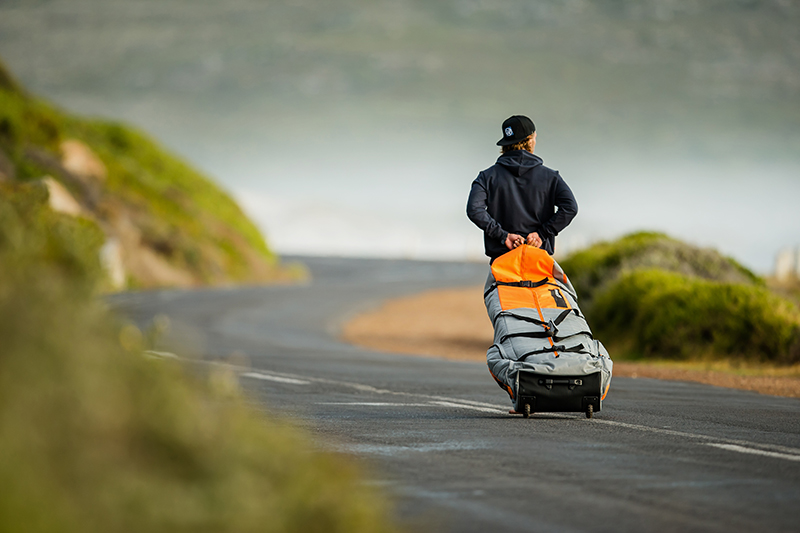 As seasoned travelers will no doubt attest to, your choice of baggage is a very important factor when you're hauling kit in and out of airports/trains/taxis/revolving doors in pursuit of wind and waves…
Fear not. We've got the comprehensive buyer's guide for those looking to change up their baggage and keep those boards/kites/laptops in the same amount of pieces as they went in.
To get hold of your copy of TheKiteMag #23 now, just head here.