We are officially 30 issues young!
And to celebrate, we've got a truly awesome edition of the magazine dropping now. As always, there are plenty of tales of kiteboarding adventure, lessons in technique, event reportage and new kit news, but coming free with issue #30 is our first ever ULTIMATE TEST Guide: an in-depth field test of a huge range of kites, boards and foils. See below for more information on that, and a further little glimpse of what's in this issue…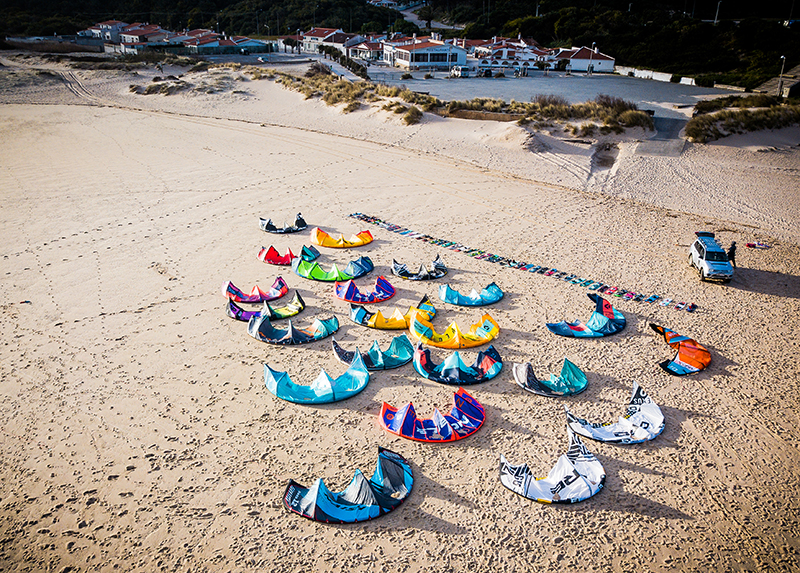 THE ULTIMATE TEST GUIDE 2019
"The focus was on being completely independent and to have an infallible system so that you can expect completely legitimate results based on the opinions of real-world kiters. So it's 100% based on clear statistical feedback from hours of riding by the test team." – Alex Hapgood, TheKiteMag Editor
It is the biggest test in the history of kiteboarding, both for the amount of kit tested, as well as the amount of hours put into the testing. Whether you're just starting out and want recommendations for a rookie setup, you're a seasoned kiteboarder looking to up your game, or you just want to see how your kit fares against the rest… you need The Ultimate Test Guide. The best part is, it comes completely free with issue 30. So go seek it on shelves or subscribe and get it sent directly. And while we're popping it in the mail, you can watch the teaser video here.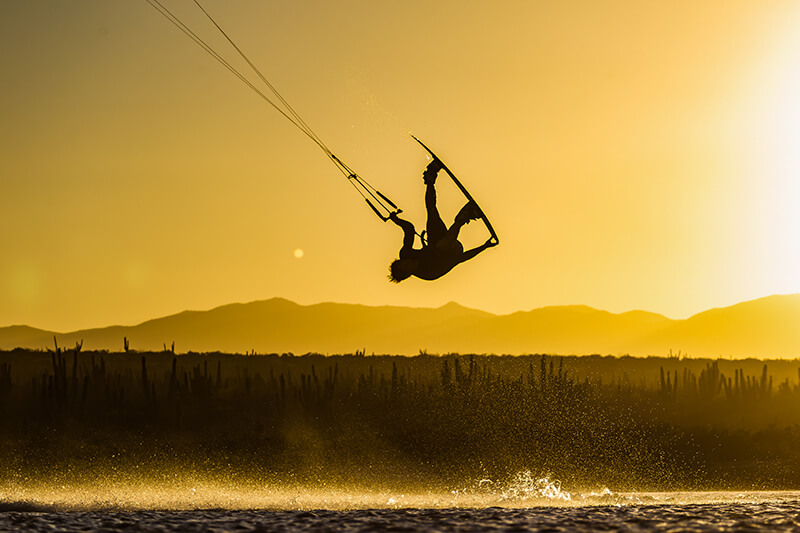 THE EASY LIFE AWAITS
"From the beautiful turquoise waters and cactus-filled desert of the hot springs, through all the various little points and breaks in town, down to the salty slider filled waters of Choco Lake, one can find a different session almost every day. Combine all that with a two-and-a-half hour drive to the Pacific side for proper wave riding, and we weren't short of things to do during our two-week trip."
Brandon Scheid was tasked to arrange a winter photo shoot for Liquid Force, and one place immediately sprung to mind that ticked every single box: La Ventana in Baja. Brandon gives us the lowdown, Vincent Bergeron provides the shots.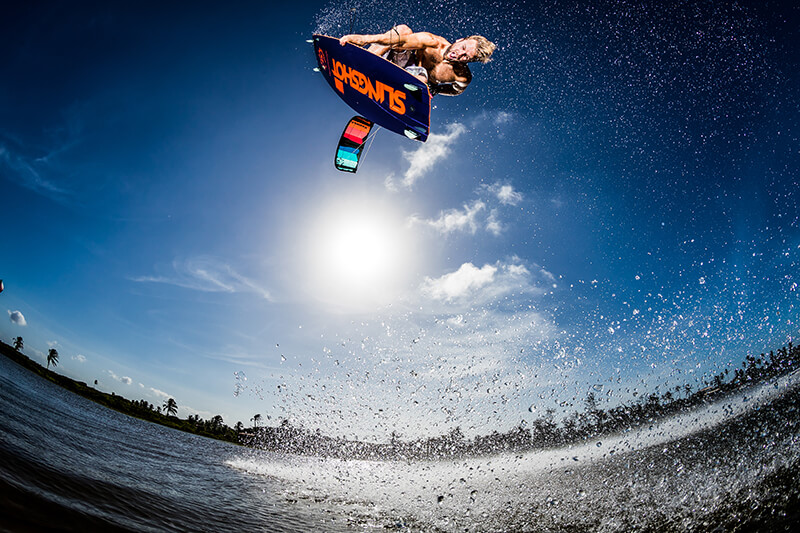 BIG IN BRAZIL
"As I was in Brazil already, I tried to extract as much information off the locals as possible as to where to find the strongest wind, so that we were ready to hit the road and to find the best that Brazil had to offer for boosting."
Also given the responsibility of arranging a trip (and in part thanks to Carlos Mario's expired passport) Sam Light took the Slingshot crew off-road to some lesser-visited spots further north up the Brazilian coastline. Crowd-free epicness was discovered…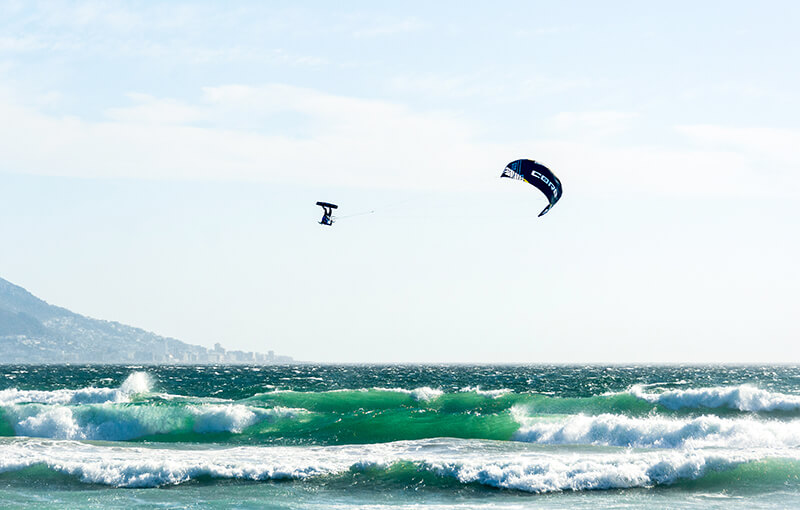 GALLERY: KOTA 2019
"Josh Emmanuel knows the set up here as well as anyone and it showed. His performance was up there with those of the very best but he was riding with a rib injury and a crash saw him pull out before the 4th round. He was stoked with his performance though, and no doubt he'll be back next year."
Was it the best King of the Air event ever? This is what people are saying. Well, we were there to get the shots and the competition highlights, so even if you happened to be in a cave while it went down, you can catch up with the key moments in issue 30…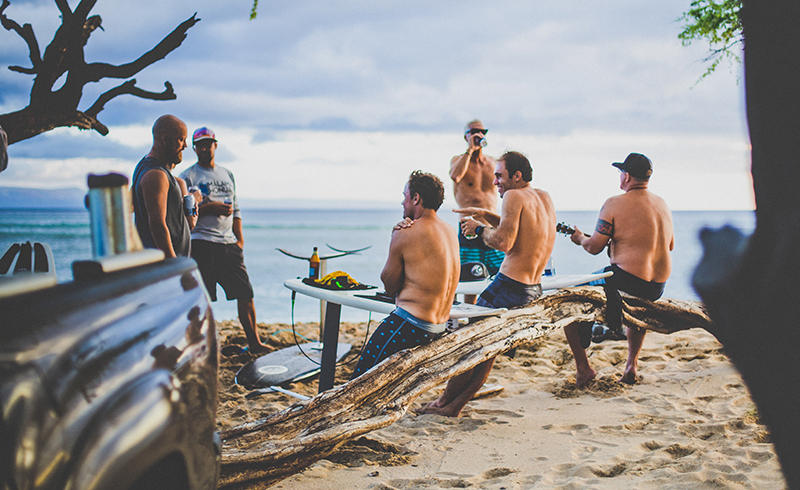 UNDER THE HOOD: CABRINHA
"We are creating high performance tools and toys for a subset of the surf culture. Creativity is a requirement in order to solve complex design challenges and creativity is a much needed element to connect these products with the people who use them. I think our brand's reputation for this has grown naturally over time. The right people gravitate to us because they understand this mindset and they are confident that they can make a difference in this sport."

Pete Cabrinha and his design team tell us all about the creative workings of a seasoned brand that's at the apex of the industry.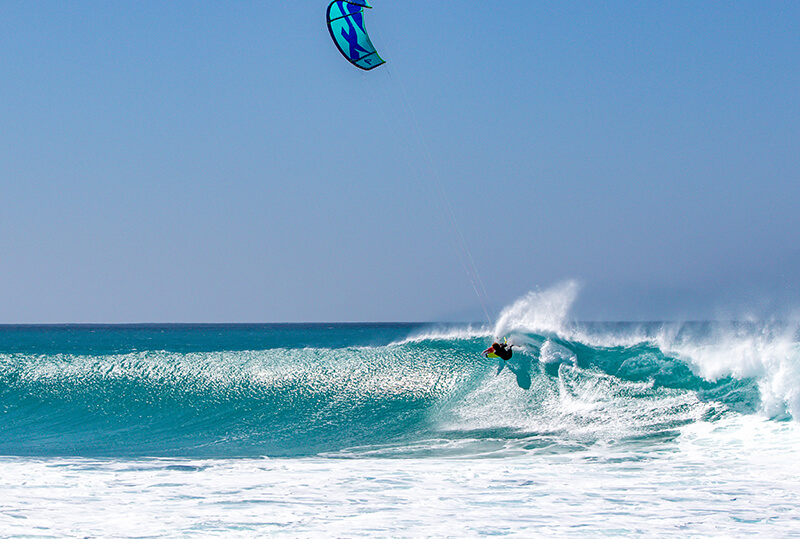 MY BEACH: MITU MONTEIRO
"I guess I was eight or nine years old. I took a bag of stolen bread, a bottle of water and my bodyboard and headed off to Ponta Preta by foot. Everybody was excited about the big swell that was hitting the island… Oh my God, almost 30 years have passed since that day but I can still vividly remember how hard I was holding onto the leash of my bodyboard, praying not to die!"

Oh, how things have changed. Mitu switched up the shark biscuit for a kite and surfboard and is now a fully-fledged master of the peak at Sal. We find out everything he digs about this magical spot in the Cape Verdes…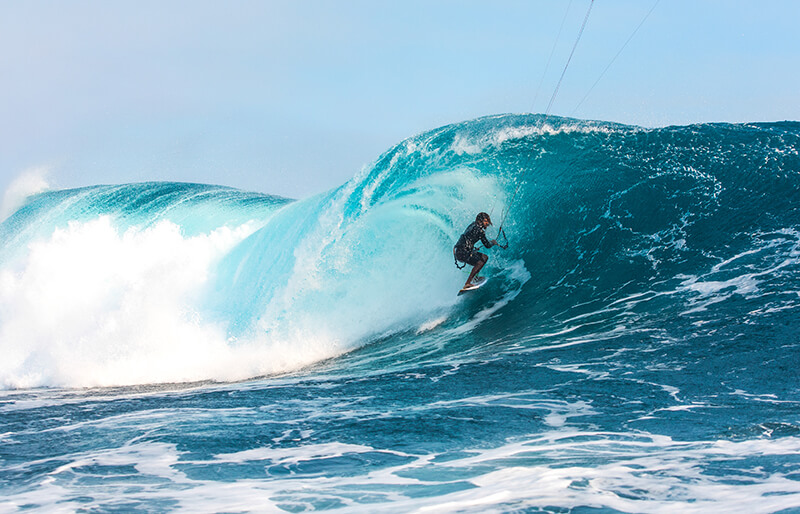 UNDERCOVER AUSTRALIA
"Our best session was in a secret spot, hidden by thick bush and protected by difficult off-road tracks, where we risked getting stuck several times. On the way we passed various signs referring to the great amount of dangerous animals populating the area. The signs of warned about more than 180 different deadly species! I don't know if they were just there to scare people, but I can assure you they were definitely scaring me…"

Matchu Lopes and the Duotone wave team plan a stopover in West Oz prior to the next GKA competition in Melbourne. Cue plenty of barrels, plenty of nature, and plenty of down-under charm. And, as a bonus for everybody, they didn't become anything's lunch.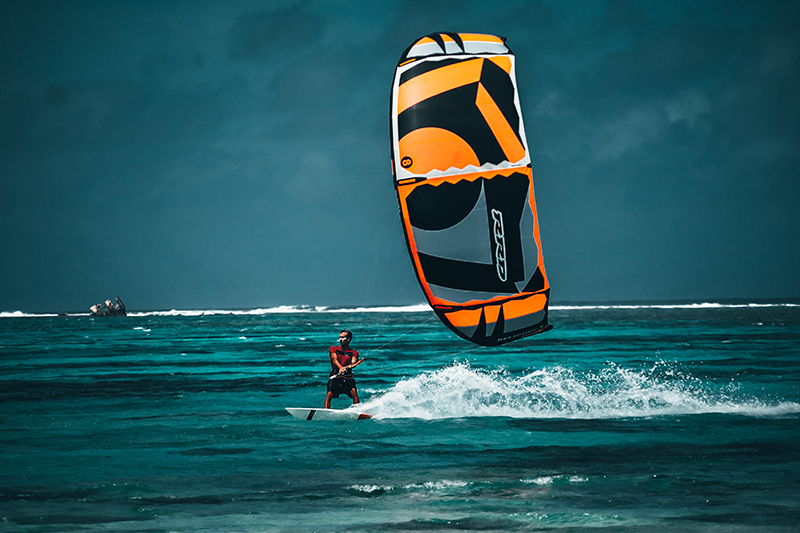 TROPICAL TRAINING
"The good thing is that the waves break in such a predictable way, the waves can be easy to ride if you're not looking too much for the super steep radical section, as obviously the closer you get to the lip, the bigger the chance for you to be eaten! So choose your section wisely depending on how much risk you want to take. The higher your level, the more you are going to want to smash, and the more you're going to find yourself in the 'don't try this at home' zone!"
Ralph Boelen takes his commitment to the Kite-Surf World Tour very seriously. So much so, in fact, that he takes himself off to Mauritius every year in the company of Joanna, his wife and photographer, to make sure he is at peak competition level for the tour. Can't be bad…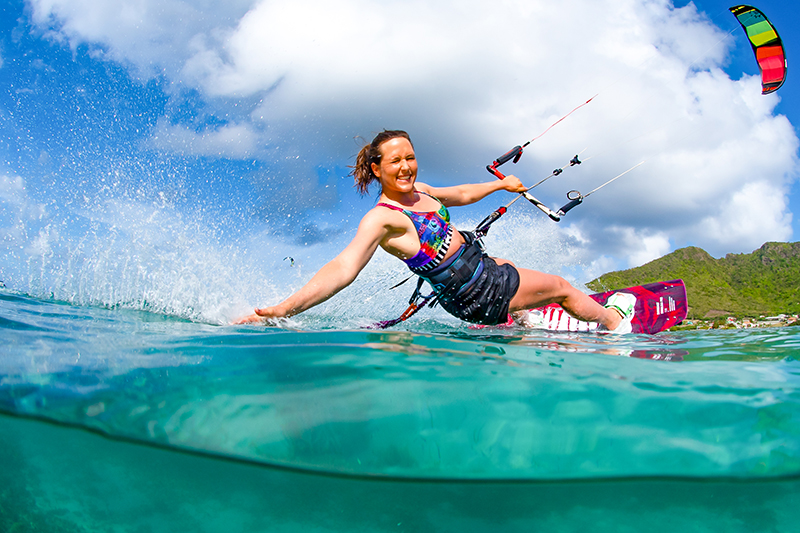 TELL ME ABOUT IT: RIDE ENGINE
"We're based on the Pacific. It's cold, it's rough, and there are some really big fish. The big fish don't really matter but it really paints a picture of how gnarly the California coast is! We test our suits the one way they should be tested: in the water, kiteboarding and surfing."
Be it their harnesses, wetsuits, or out-of-the-water apparel, Ride Engine are damn good at what they do, with plenty of tech in the design, and a super cool aesthetic. Alex Fox talks us through their latest gear release…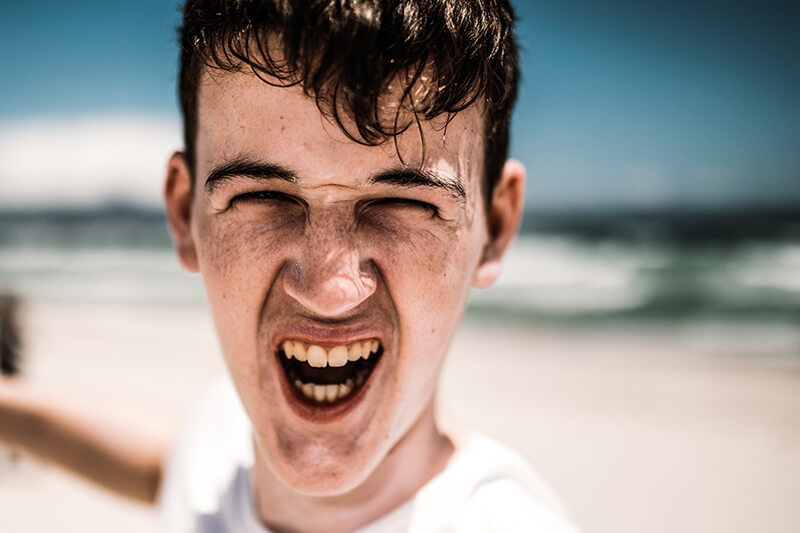 2019: THE YEAR OF THE BOOST?
"When the table cloth is already pushed over Table Mountain in the morning, and the wind really starts building around 2pm, then you know the conditions are going to be serious towards the evening. Sometimes it gets so strong that only a few people are left on the water. When I'm fully powered on my 8 or 9 meter then there is lots of space on the water, that's when it's perfect for me."
The 30 meter mark has been smashed. So how much higher can we get? Maarten Haeger (pictured) and Ross-Dillon Player are two riders at the top of the boosting game. We find out what's possible and what's next…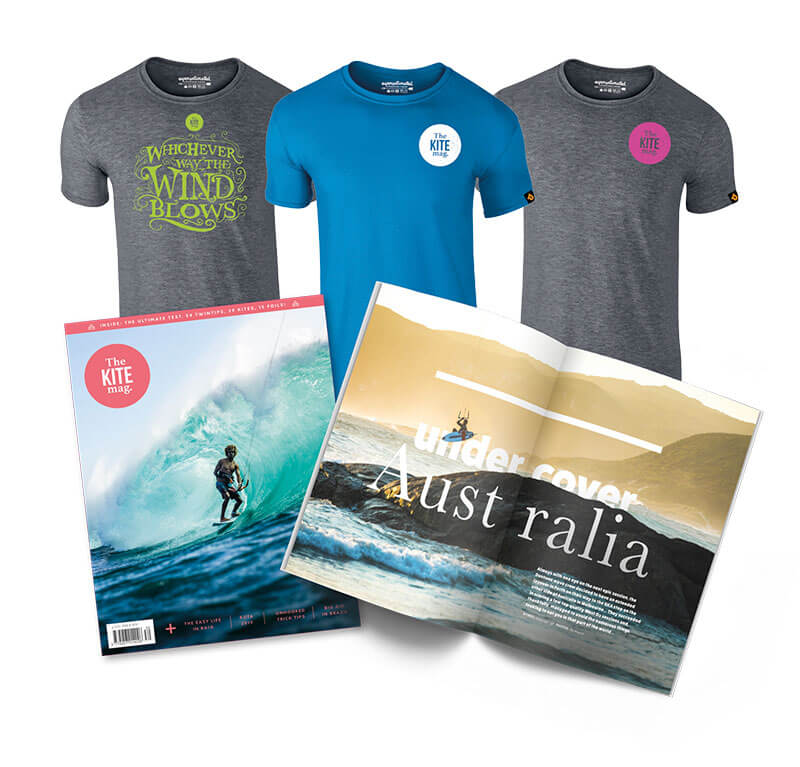 SUBSCRIBER DEAL
Subscribe to TheKiteMag now for SIX issues of the magazine, as well as a FREE TheKiteMag tee and cap. It's our best deal ever, and it will all get delivered straight to your door…